Are you searching for the best pregnancy and maternity WordPress themes?
Whether you'd like to create a business website or a personal blog, I have a WP theme ready for you to realize your goals and intentions.
These themes are tailor-made to celebrate the MIRACLE of life and provide a nurturing platform to connect with a supportive community of fellow parents.
What's best is that none require any experience with building websites.
In other words, it could be your first time, and you'll still create a PRO-LEVEL online presence.
Awesome, I know!
That said, whether documenting your pregnancy milestones, sharing invaluable parenting advice, or considering launching an online maternity boutique, these themes will empower you to get the job done like a CHAMP.
How I Tested Pregnancy WordPress Themes
I wanted to ensure all you mommies, daddies, and business enthusiasts get the best bang for your buck.
Thus, I EXTENSIVELY tested each theme to A-test its reliability, compatibility, customizations and functionality and performance.
I started by reviewing user feedback, ratings, frequency of updates, documentation and even talked to the support team (are they friendly and helpful?).
Then, I installed each theme on our demo website to analyze performance – speed and responsiveness. I took both approaches, manual and with the help of Pingdom and Google Mobile-Friendly tools.
(You may also be interested in Ales's tutorial on how to install a WordPress theme smoothly.)
One of the first things I did was also to skim through the theme admin and setup to EVALUATE how user- and beginner-friendly the interface and navigation are.
I only included themes that offer a user-friendly experience!
I then paid close attention to the theme's flexibility in terms of customization options and its compatibility with popular WordPress plugins, so it's easy to enhance the functionality of your website.
You're equipped with everything for a great start and even better finish, aka your dream pregnancy-related website!
QUICK-PICK: Ultimate Pregnancy WP Themes
Best Maternity & Pregnancy WordPress Themes
1. MediCenter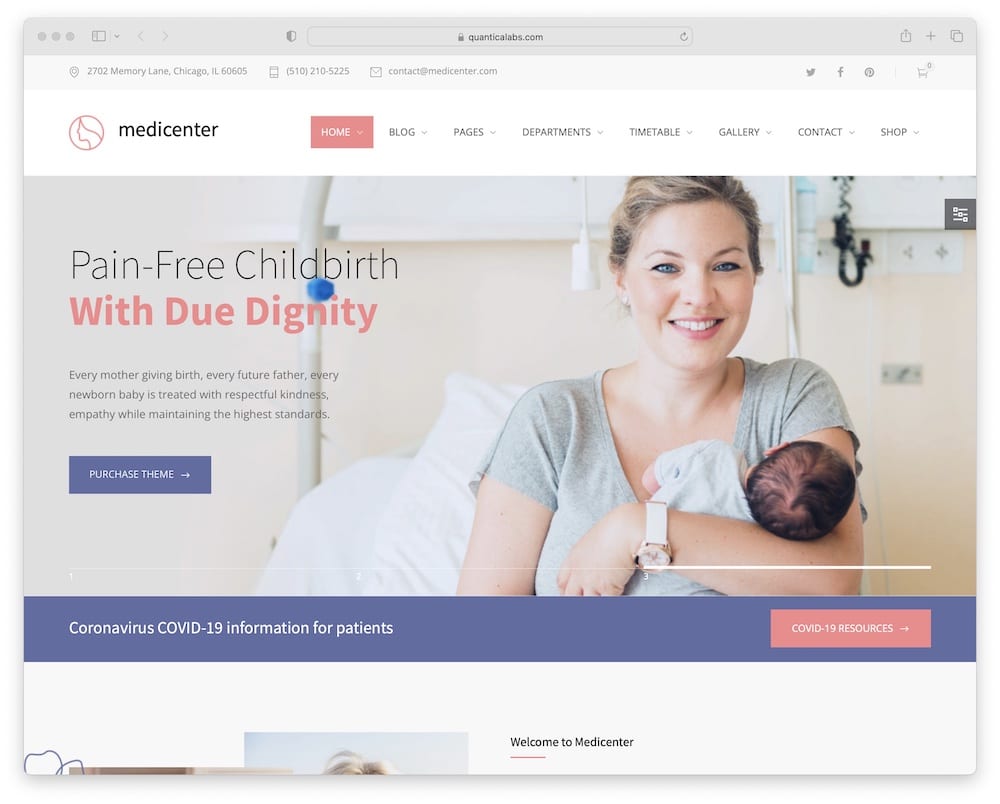 Honor one of life's greatest miracles via the MediCenter pregnancy & maternity WordPress theme.
MediCenter includes a gorgeous pre-made pregnancy clinic demo that can be customized to all your sprinkling ideas.
Simply click the install button and create your style of website with friendly drag and drop WP page builder (wink to WPBakery).
Psst, you also get FREE lifetime updates and professional customer support for six months. Yep, during this time, if something unpredictable happens to you, there's always someone that someone has your back.
Moreover, MediCenter is fully responsive, cross-browser compatible, and social media integrated. Keep in mind, social platforms have become the GO-TO sources of information.
Also… the Slider Revolution. My absolute favorite tool for creating stunning slideshows!
Don't you love MediCenter, too?
MediCenter features:
11,800+ sales
4.5+ star ratings
Built-in timetable
60+ fully configurable content elements
Price: $69 (may vary)
MORE INFO / DOWNLOAD
DEMO
2. Pregnancy

Do you want to craft the perfect website and share amazing pregnancy, labor, nursery, baby, or parenthood tips, news, products, consulting services, and much more?
Consider pretty Pregnancy maternity WordPress theme a superb option!
Pregnancy comes with a bundle of unique homepages, the most popular plugins, useful shortcodes, and detailed ready-to-use pages.
Everything you need is here!
Thanks to the stylish appointment form your customers can book your services online in no time (aka 0 effort).
We all know how exhausting pregnancy can be, so make everything about your business easy for MOM – this makes it more likely she will stay and be confident in booking your services (or purchasing products).
BTW: Adorable gallery displays of babies always make me "oohing and aahing"!
Pregnancy features:
950+ sales
4.8+ star ratings
Integrated appointment form
Trimester chart shortcode
Price: $59 (may vary)
MORE INFO / DOWNLOAD
DEMO
3. Angela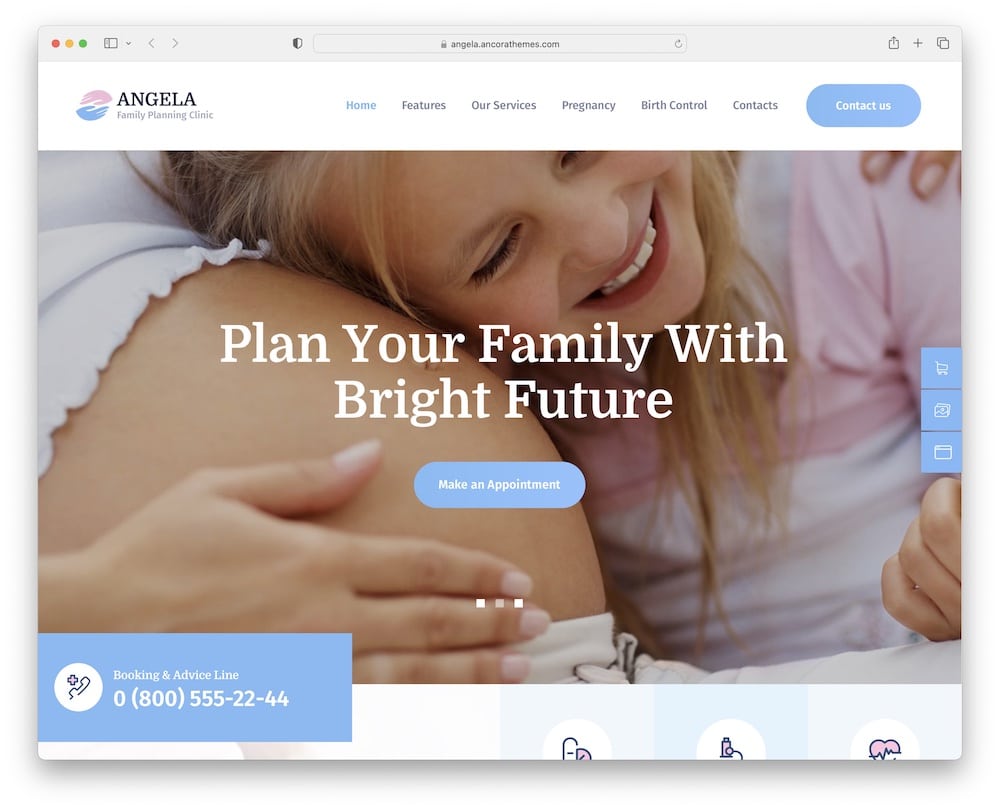 If you would love to excite parents about having a baby, you've come to the right place.
The Angela pregnancy WordPress theme is built with a keen eye for modern and elegant design.
The best part: You can easily customize it to whatever your style is! And I really like that all scrollable sections support the swipe effect.
Moreover, Angela includes a mega menu with a sticky option (nice!). A good menu can improve user experience by providing AWSOME navigation for your visitors.
If videos are more of your style, there are tons of options on how to include them into your site.
You can set them in your Slider Revolution's slides, about us page, or simply link your YouTube channel gallery to your site. (We also have a full tutorial on how to embed YouTube in WordPress.)
You got this!
Angela features:
MORE INFO / DOWNLOAD
DEMO
4. Mamita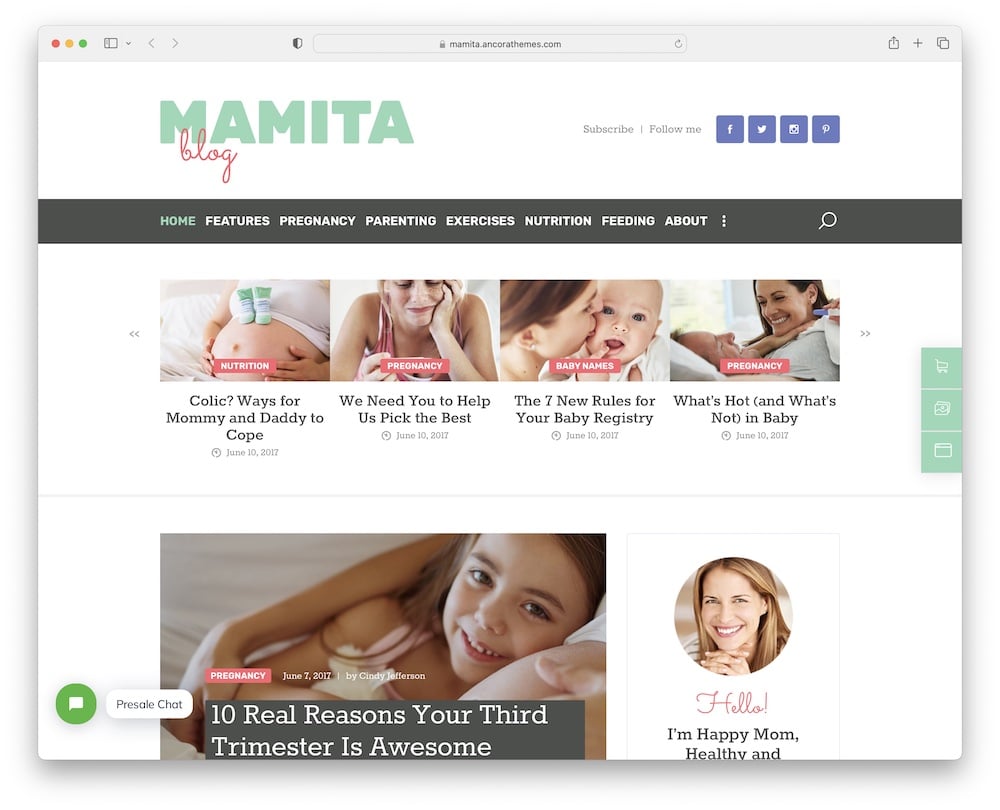 Create a pretty and easy-to-engage blog via the brilliant Mamita pregnancy & maternity WordPress theme.
Seriously, listen to me, with Mamita you can have a site inspired by your ideas, dreams, and goals.
This is your show, honey!
Simply choose your favorite pre-made homepage, install it, and start customizing. You can change, mix, add, remove, match, set up, and regular everything (Yes. A thousand times, Yes!).
Moreover, Mamita includes THE BEST plugins like Slider Revoluton, WPBakery page builder, Ajax WP technology, MailChimp, and much more.
I highly highly recommend you use Mamita for sharing advice, personal tips, crucial information, and real stories from parents to help keep pregnancy calm for women.
Do it better with the attractive Mamita!
Mamita features:
100+ sales
4.5+ star ratings
1-click demo data install
Multiple blog styles (to easily find your own)
Price: $69 (may vary)
MORE INFO / DOWNLOAD
DEMO
5. Healthy Pregnancy

Join in with the Healthy Pregnancy maternity WordPress theme on helping millions of parents to navigate the world of pregnancy.
You can quickly customize Healthy Pregnancy by choosing the header, fonts, colors, animations, banners, and icons you like the most.
Plus, flexible widgets and useful shortcodes enable you to add extra interaction and specific functions to your website.
I can't get enough of them!
Healthy Pregnancy also includes an events schedule (before and after birth) to help your visitors track the pregnancy checkup list with key information and facts.
Tip: Let your customers do the talking!
Also, don't forget to include testimonials, reviews, and other media recognition received by the public to build trust. PRICELESS!
Healthy Pregnancy features:
140+ sales
5-star rating
Ready-to-use custom form builder
Easy to translate (use your favorite WP translation plugin)
Price: $49 (may vary)
MORE INFO / DOWNLOAD
DEMO
6. Modern Housewife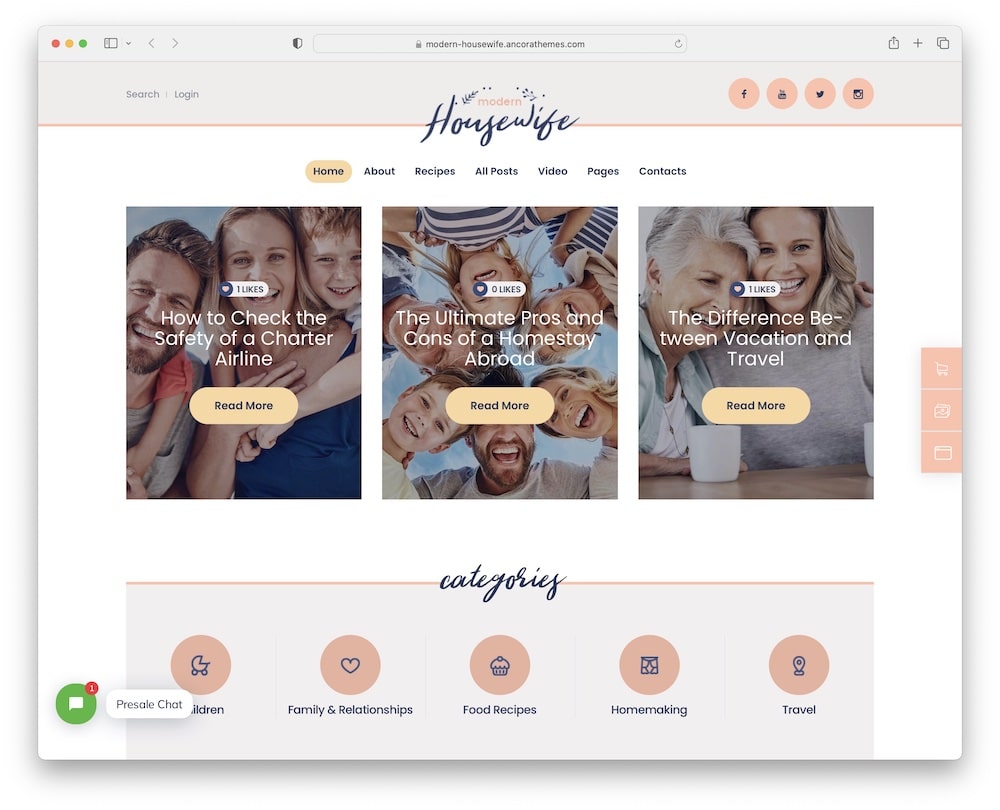 As you go through the Modern Housewife WordPress theme you will realize (like I did) that it is perfect for creating a valuable maternity blog!
You can engage with pregnant women and new parents via news, practical ideas, inspiring stories, advice, and medical information.
Plus, you can connect through social media platforms!
Moreover, Modern Housewife includes a remarkable set of pre-made pages, various header & footer styles, the most popular plugins, and unlimited colors. Ya gotta make it good.
BTW: You can even create your online store (with the no. 1 tool, WooCommerce!).
I must also mention the clever MailChimp all-in-one marketing solution that offers a fun and creative way to share your blog content with subscribers.
MAXIMIZE your performance with Modern Housewife!
Note: If you need more alternatives, check my best mommy blog WordPress themes collection.
Modern Housewife features:
100+ sales
4.5+ star ratings
Easy & fast editing & customization
Interactive Ajax search
Price: $69 (may vary)
MORE INFO / DOWNLOAD
DEMO
::
Note: This article was originally published on July 7, 2023. But our team regularly reviews it and updates it with necessary improvements for accuracy.