You'll easily WIN the game with these best T-shirt store WordPress themes even though you are diving into a very competitive market.
Reviewing the 13 best T-shirt WooCommerce themes took us nearly a year of study and research.
We're stoked to bring you unique designs that will place you right on top. (You deserve it!)
This post covers:
These themes work for everything – whether you're launching a niche or a general T-shirt store.
They ensure you:
Powerful foundation
Complete eCommerce system
Beginner-friendly interface (100% customizable)
Time- & money-saving
Enter the T-shirt market with a bang pronto.
QUICK-PICK: The Ultimate wp Themes for T-Shirt Stores
Quick selection (of the 9 best!) if you're in a hurry:
Best T-Shirt Store WooCommerce WordPress Themes
Fun fact: The T-shirt business is rising and brings in multiple billions of dollars annually.
CHA-CHING!
1. Ekommart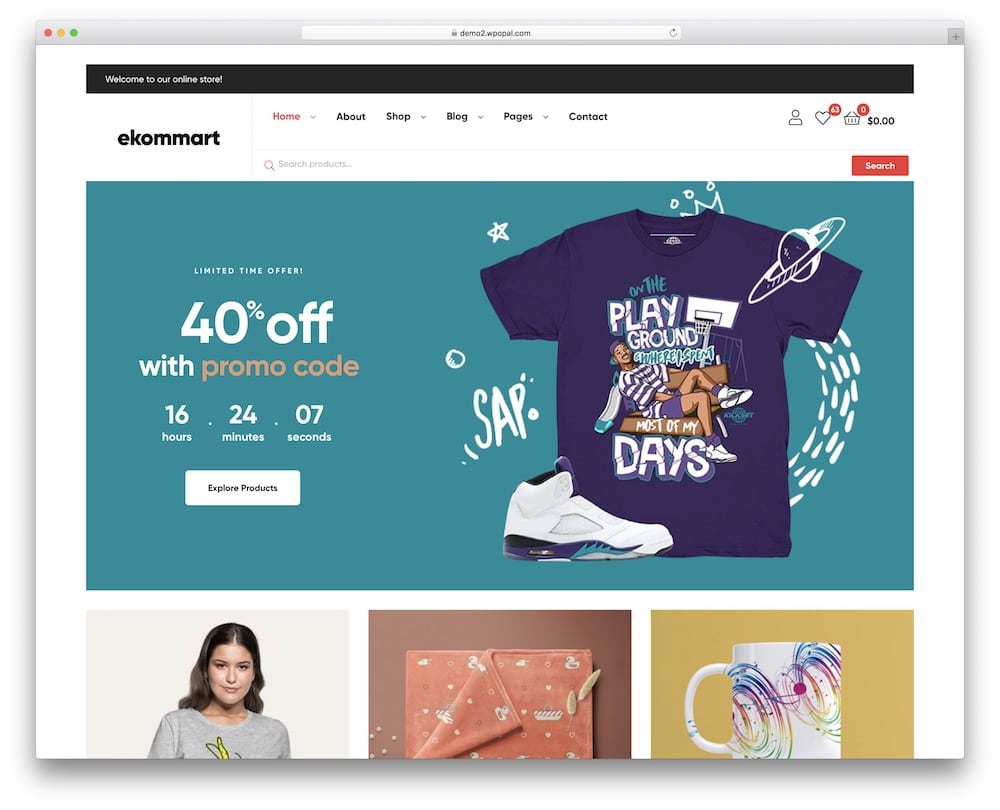 Want to sell your T-shirt designs online? Ekommart is an all-in-one eCommerce WordPress theme to showcase your designs beautifully.
However, you can also use Ekommart for different niches and products, as it easily caters to any products you fancy.
Ekommart includes over twenty pre-built homepages and a huge amount of INCREDIBLE features.
It even includes the Dokan multi-vendor marketplace plug that offers simple administration of item stock, discounts, coupons, orders, and sales.
Also, Ekommart is well-designed and optimized for all devices. Pick a pre-built demo with a single click and start selling your amazing shirt designs today.
Ekommart features:
3,900+ sales
4.7+ star rating
WPML & RTL ready
Price: $58 (may vary)
MORE INFO / DOWNLOAD
DEMO
2. Staaw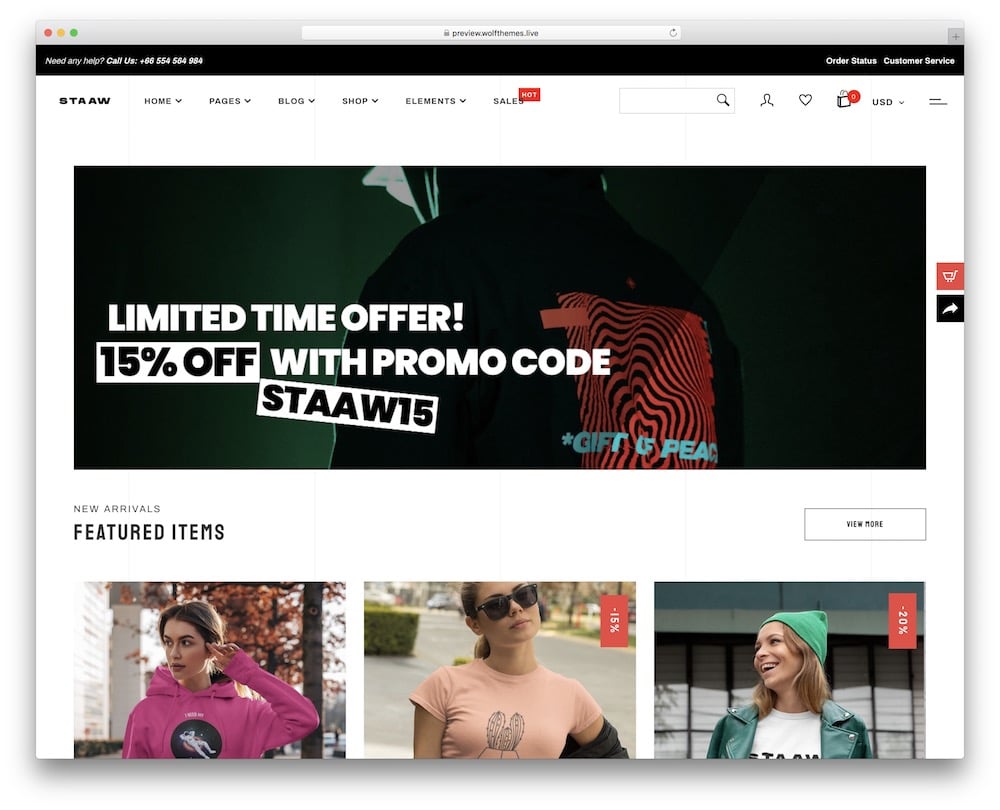 Staaw is IDEAL to use for the creation of your modern online T-shirt store.
From print-on-demand, online service to your own T-shirt shop, Staaw, offers everything you need to create your online business.
Staaw comes with a set of gorgeously designed and fully optimized index page demos that you can install with just a click. (But we also have a full guide on how to install a WP theme if you need help.)
Of course, this theme also supports WordPress slider plugins to ensure a stylish display of your products.
Other amazing features include mega menu, WPBakery page builder, Ajax shopping cart, MailChimp, and Contact Form 7 plugin, to name a few.
Hint: Don't miss our WooCommerce abandoned cart plugins collection to lose fewer customers.
Take a look at live templates and start building quickly.
Staaw features:
200+ sales
4.3+ star rating
Currency switcher
Price: $69 (may vary)
MORE INFO / DOWNLOAD
DEMO
3. Molla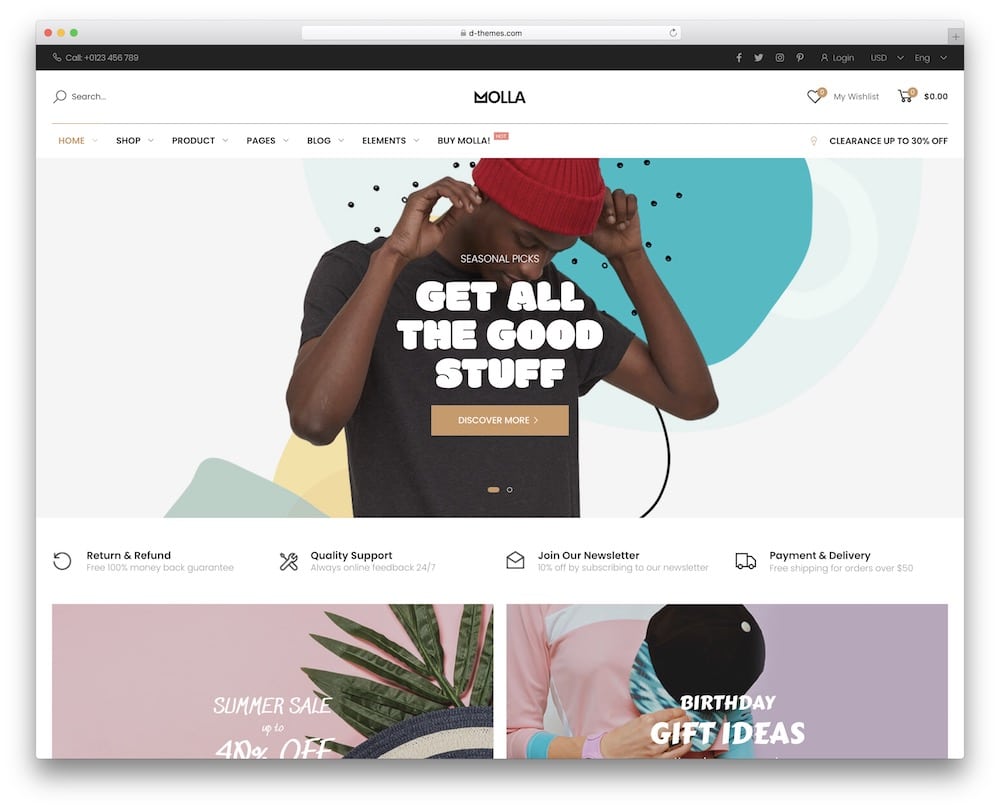 If you need a T-shirt store WordPress theme, you may want to check out Molla. It is a multi-purpose WooCommerce theme designed with ten years of experience and user feedback.
Molla has a huge variety of options, so you can EASILY configure everything. Of course, no coding skills and design knowledge is needed.
With Molla, you can effortlessly adjust layouts, colors, sidebars, typography, elements, widgets, and plugins.
Achieve your goals with high-speed performance, exclusive demos, and top-level support. Molla makes your life easier and your business stronger.
Molla features:
1,500+ sales
4.8+ star rating
CSS3 animations
Price: $59 (may vary)
MORE INFO / DOWNLOAD
DEMO
4. Foden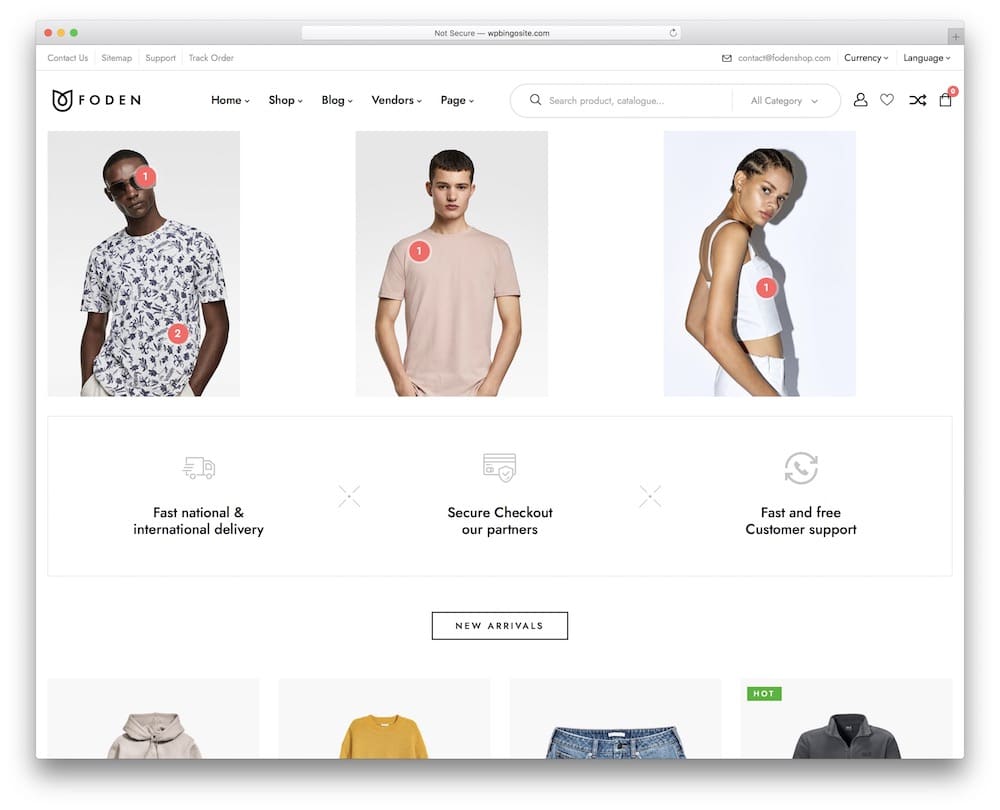 If you want to build a good online presence for your T-shirt store, you must see Foden. This theme has various homepages, headers, footers, and blog layouts, to choose from.
Foden is optimized for the Elementor plugin, so you immediately start building with the drag and drop easy concept.
Besides, Foden is compatible with multi-vendor plugins for robust marketplaces.
Foden includes useful amenities that make your online shop amazing and beneficial to your customers.
Moreover, it uses the LATEST technologies such as HTML5, CSS3, and more. Start designing your dream online T-shirt store now.
Foden features:
MORE INFO / DOWNLOAD
DEMO
5. Elson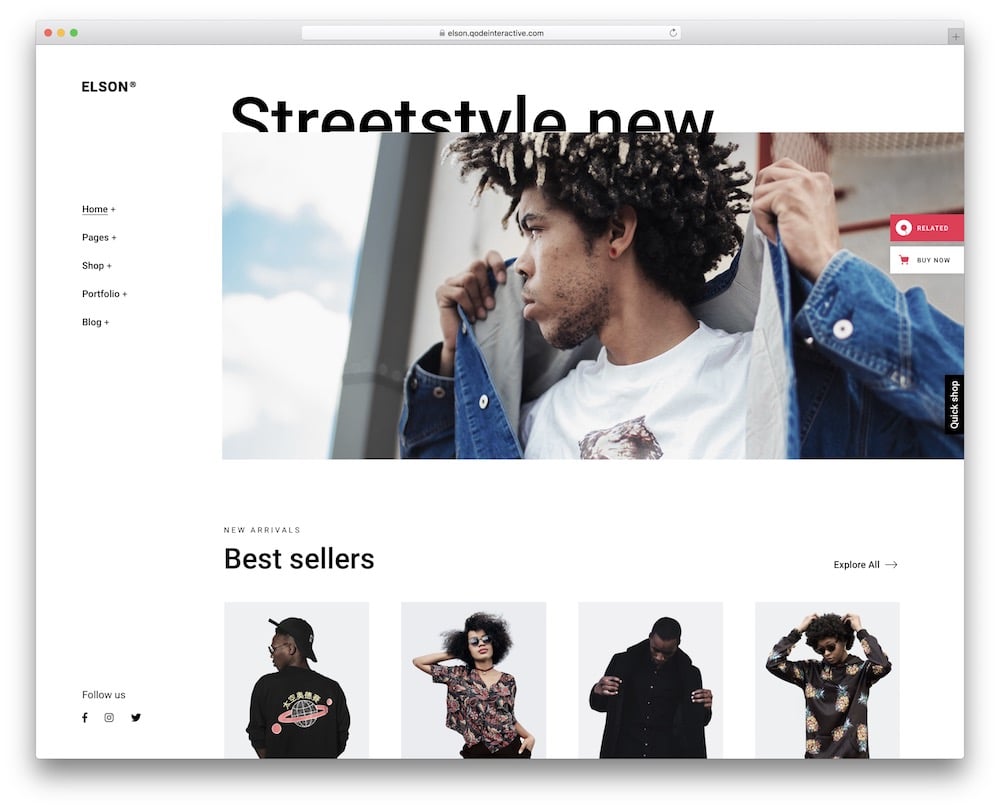 Creative and trendy Elson T-shirt store WordPress theme is a great solution for your new eCommerce website.
Elson helps you create the right look to showcase your products in the best way possible.
You get tons of templates, layouts, and shortcodes that are easy to import and use. It also comes with the child theme.
Elson comes with a WordPress page builder and Slider Revolution, two indispensable tools that make building your new site so much EASIER.
Elson is fast-loading, optimized for search engines, and retina-friendly. Start, run, and grow your business with the amazing Elson.
Elson features:
200+ sales
4.2+ star rating
Drop-down cart
Price: $89 (may vary)
MORE INFO / DOWNLOAD
DEMO
6. Metro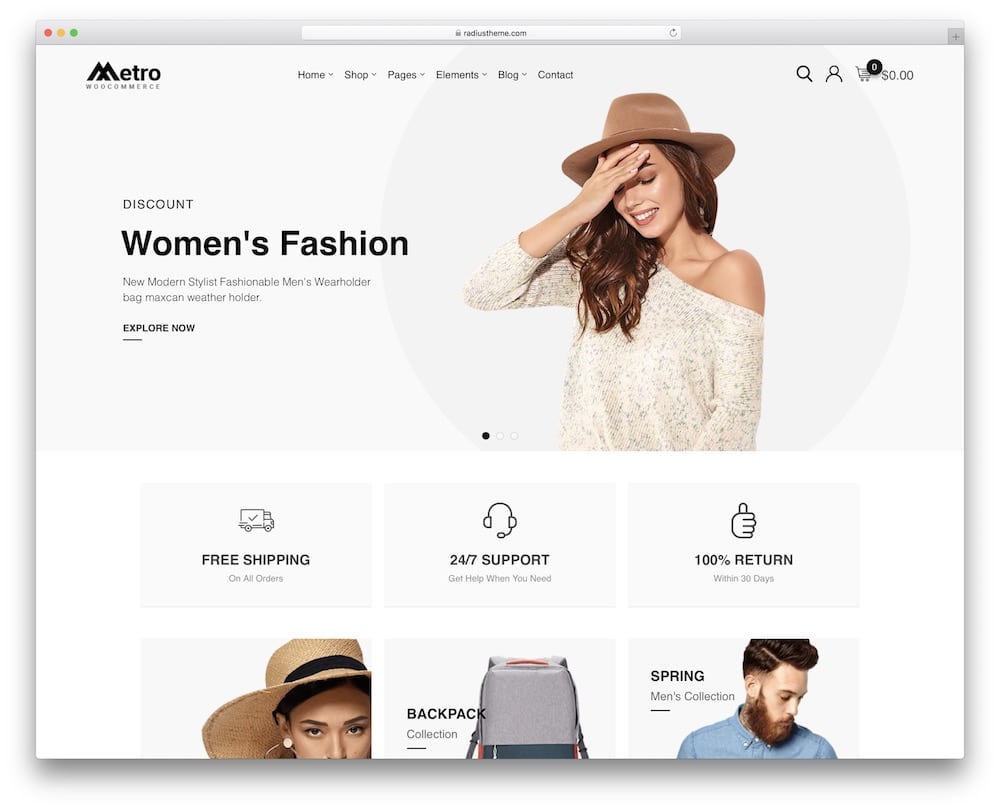 Metro is a T-shirt WordPress theme that gives your new site a classy and simple look.
You have an easy experience with launching your own online t-shirt store due to Metro's advanced features, plugins, and ready-made designs.
Of course, Metro features the best website builder plugin, Elementor, which makes creating a new site easy and fun.
A wide range of layout choices give you the chance to manage the design of the header, blog, shop page, archives; there's NO LIMIT to what you can create.
In short, Metro is a great WooCommerce theme for anyone who wants to create a gorgeous and functional t-shirt store.
Metro features:
3,500+ sales
4.8+ star rating
Shop & product layouts
Fast loading & mobile-friendly
Price: $35 (may vary)
MORE INFO / DOWNLOAD
DEMO
7. Goya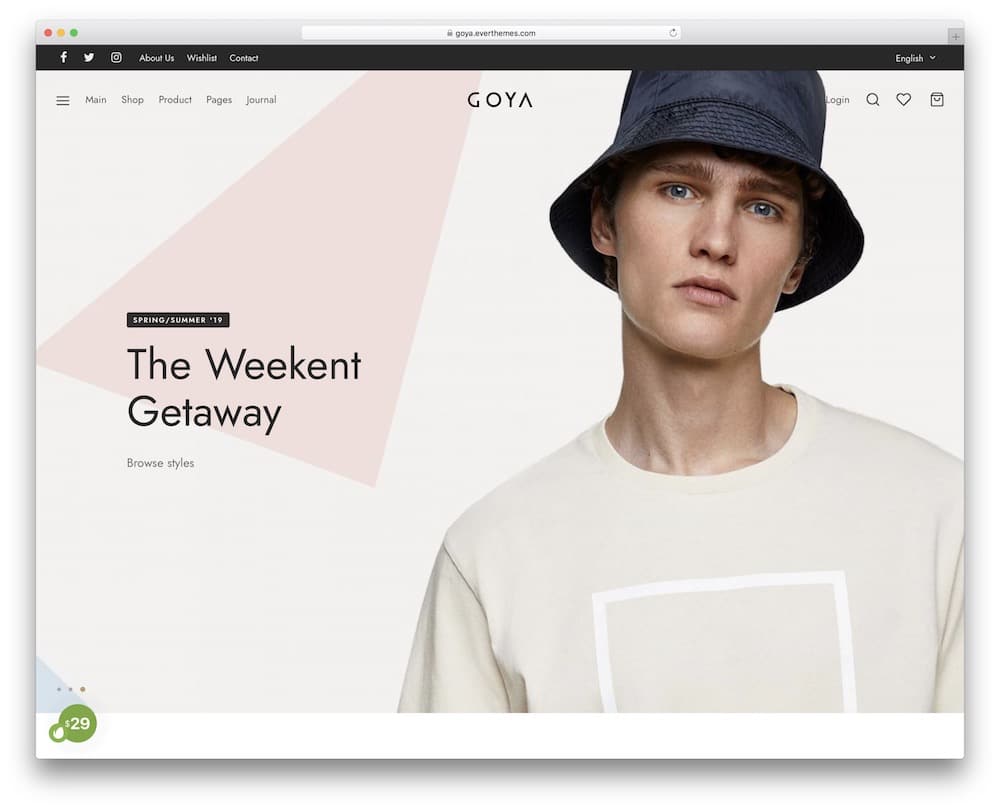 Goya has a minimalistic look and clean design to gorgeously showcase your products.
This T-shirt store WordPress theme has various predefined samples to pick from with just one-click import.
The great use of colors and elegant layouts immediately win your heart.
Goya has advanced (and fully customizable) mega menus to help your visitors find what they are looking for, as easy as "ABC."
There are also cool Ajax searching product options that make the user experience even finer.
Apart from that, you get a BUNDLE of premium and powerful plugins with Goya. Remember that dedicated and friendly support has your back, front, and sides.
Goya features:
8,100+ sales
4.6+ star rating
Single- & multi-step checkout
Integrate a WordPress menu plugin for epic navigation
Price: $29 (may vary)
MORE INFO / DOWNLOAD
DEMO
8. Anon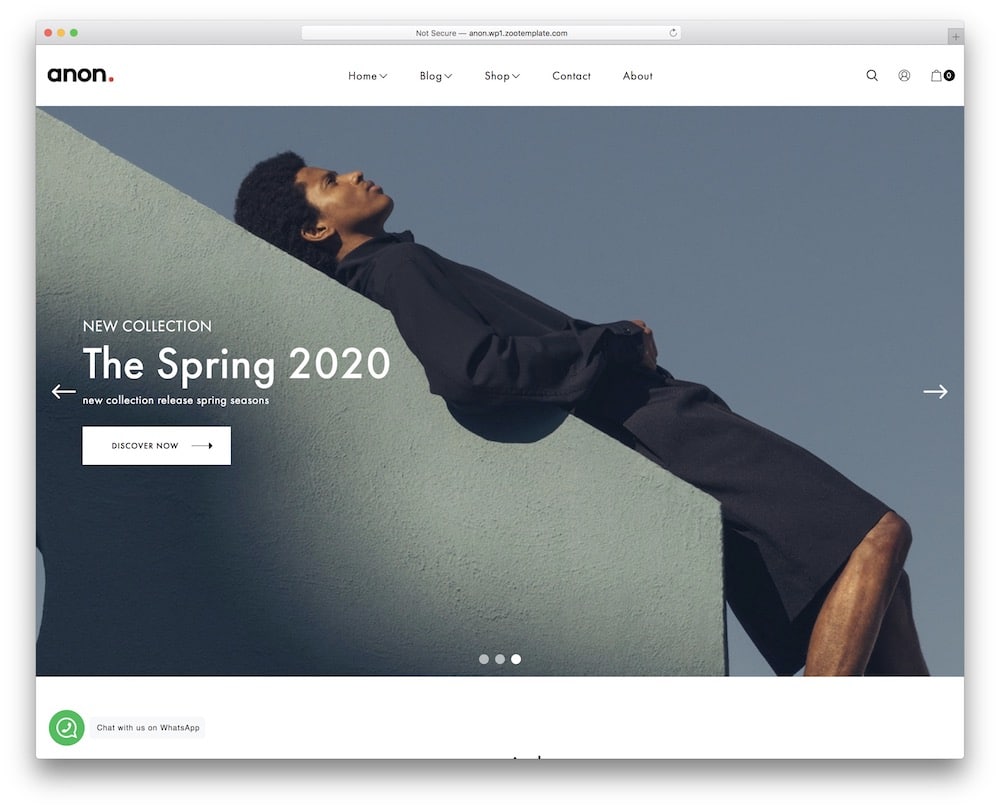 Anon is an elegant and gorgeous multi-purpose WooCommerce theme that was built for beautiful online stores.
This powerful and responsive T-shirt WooCommerce theme makes your business SHINE like a diamond.
It has eleven excellent pre-done homepages with unlimited header and footer possibilities.
Moreover, to make your store more user-friendly, this theme supports plugins like Instant search AutoComplete, Catalog Mode, and many others.
Also, Anon offers you multiple ways to express your thoughts via a professional WordPress business blog.
Overall, this theme runs fast due to its high-performance design across all devices and platforms.
Anon features:
1,000+ sales
4.1+ star rating
Shipping calculator/threshold
Instant live search
Price: $59 (may vary)
MORE INFO / DOWNLOAD
DEMO
9. Lusion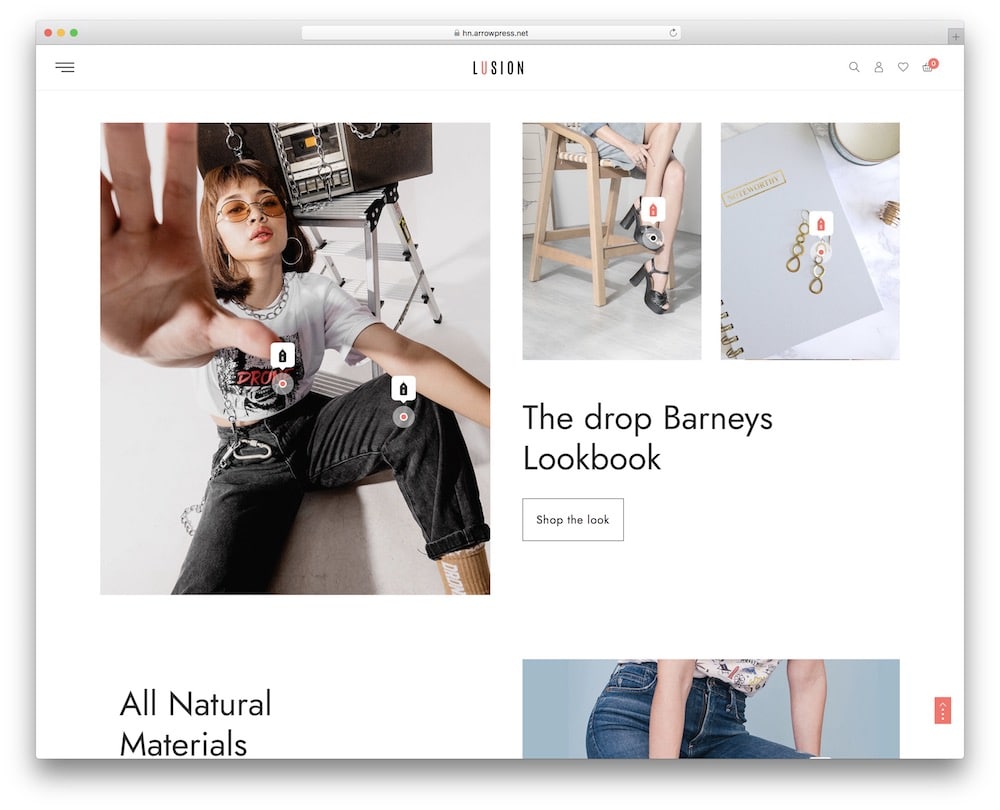 Lusion T-shirt store WordPress theme has tons of goodies to help you craft your amazing eCommerce site.
You need not make anything from scratch with pre-made layouts, templates, and elements.
Lusion is retina ready and looks impressive on any device. This modern and clean theme attracts viewers and new customers to do business with you.
You also get a collection of over 25 landing page templates so that you can FOCUS on your special offer, product, or discount and encourage your visitors to take action.
Lusion's support team is very friendly, fast, and competent on top of all the cool features.
Lusion features:
1,900+ sales
4.3+ star rating
Fake sales pop-up
Product recommendation
Price: $39 (may vary)
MORE INFO / DOWNLOAD
DEMO
10. Catana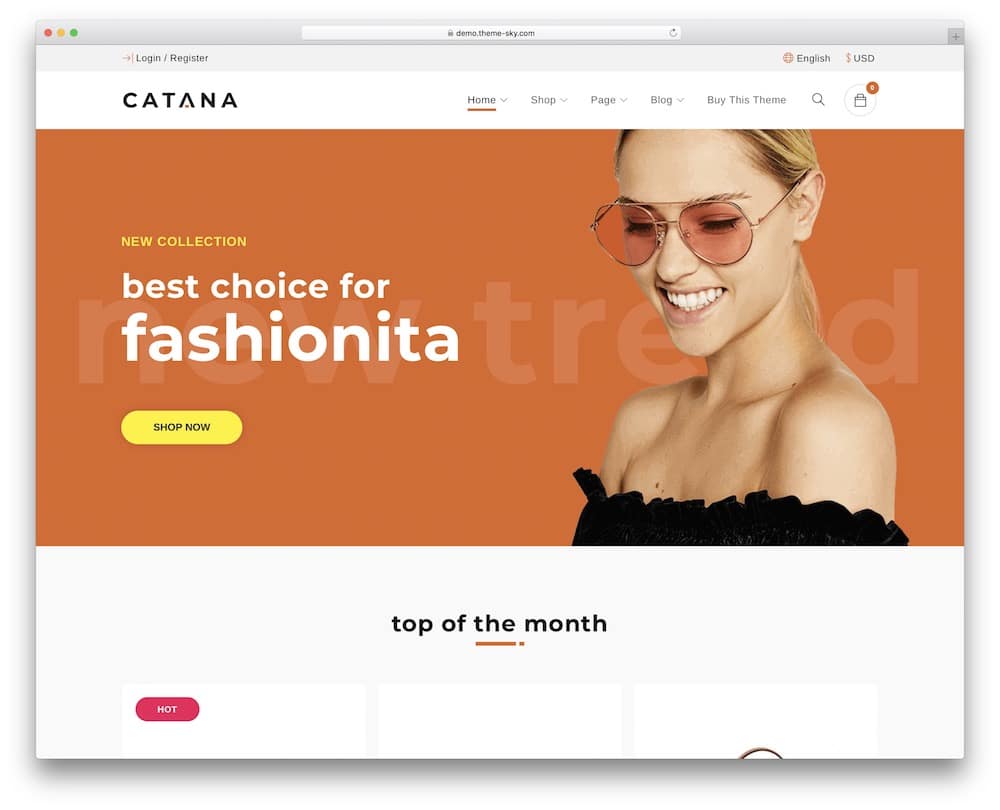 Catana is a clean, modern, and responsive T-shirt store WordPress theme designed for impactful websites.
The theme has built-in WPBakery page builder, amazing Slider Revolution, and mega menu.
The theme offers different homepages, headers, layouts, and product styles. Catana comes with a lot of much-needed features and is super user-friendly.
This theme also offers UNIQUE ways of shopping on your site with amazing Ajax technology. Also, Catana is regularly updated and fully documented for those who want to learn more about the theme.
Are you ready to make a powerful and flexible online store?
Catana features:
310+ sales
5-star rating
Add-to cart pop-up
Price: $59 (may vary)
MORE INFO / DOWNLOAD
DEMO
11. Enzy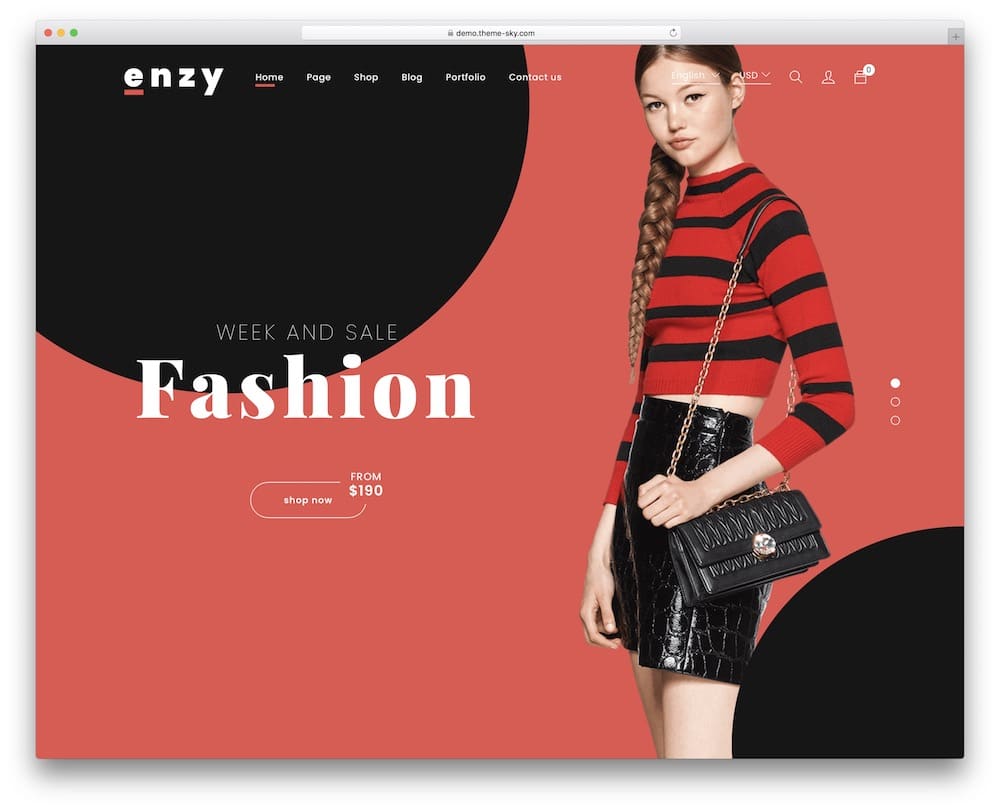 Enzy is a professional and elegant T-shirt store WordPress theme suitable for an amazing online shop.
It comes with easy-to-understand WPBakery builder that helps you build a fully functional store with the drag and drop concept.
With that, you NEVER need to write code to execute customizations to Enzy.
To make the user experience top-notch, Enzy offers you to showcase your products in 3D and 360-degree views.
This lets your customers rotate, zoom, and pinch products to see every detail.
Enjoy.
Enzy features:
520+ sales
5-star rating
Quick shop
Sizing chart
Price: $59 (may vary)
MORE INFO / DOWNLOAD
DEMO
12. Kera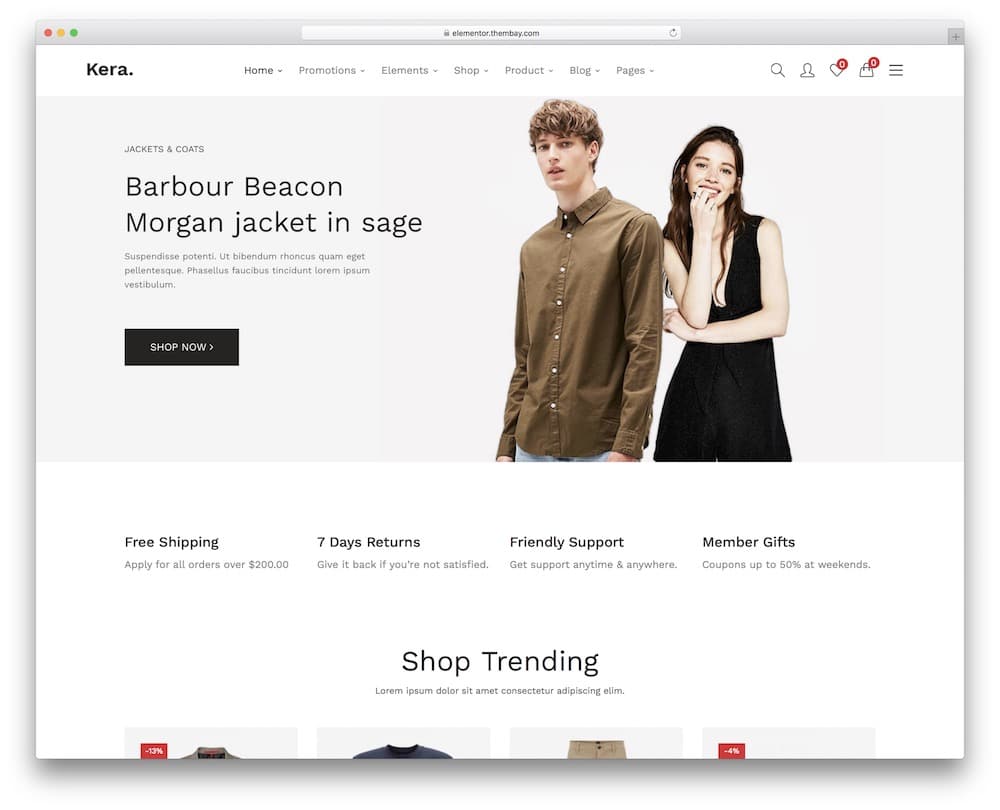 Kera T-shirt store WordPress theme gives you endless possibilities in building your new site.
This modern and beautiful theme is suitable for something niche or something general.
You can choose from gorgeous pre-made designs and benefit from one-click sample material import.
An enormous bundle of features and goodies highlights your day and ensures your building goes smoothly.
Moreover, this theme lets the user filter your products by price, size, brands, color, to create more user-friendly searches.
Kera is an excellent choice to display MULTIPLE contents and products.
Kera features:
380+ sales
4.9+ star rating
Flash sale
Easy function to add a contact form
Price: $39 (may vary)
MORE INFO / DOWNLOAD
DEMO
13. Shopwise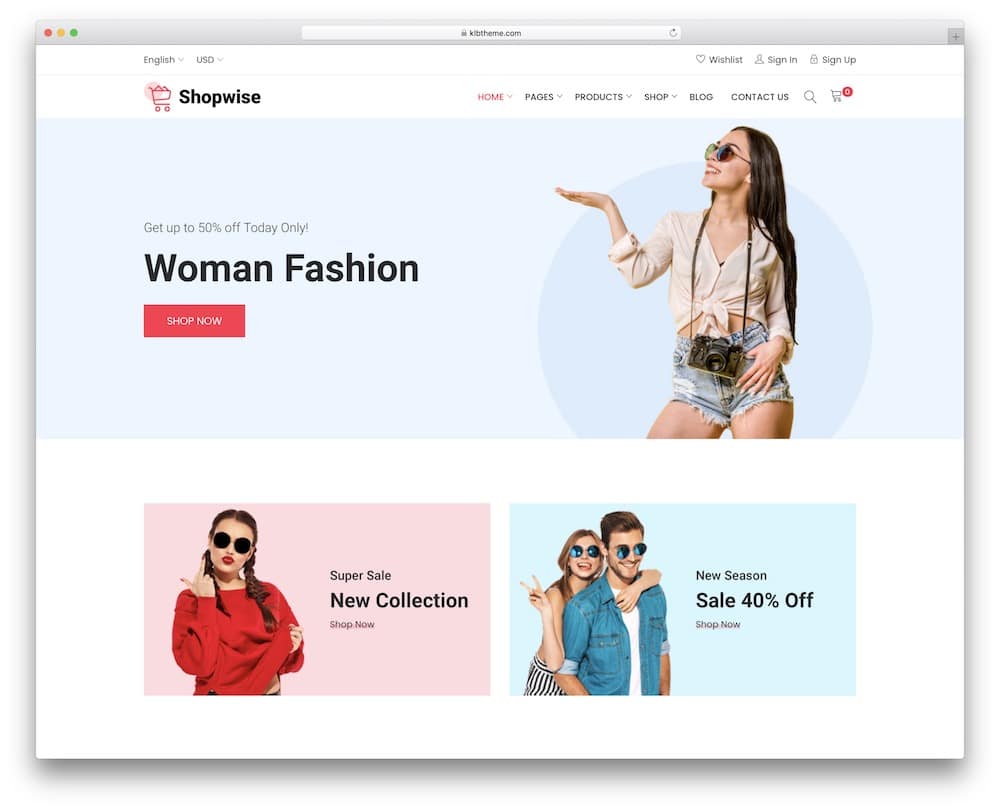 Minimal and pretty T-shirt WooCommerce theme, Shopwise, is all that you need for an online store.
Shopwise gives you endless possibilities in building and crafting your new site exactly as you wish.
This theme is perfect for anyone who wants to START his own eCommerce business, especially selling tees.
Thanks to the mega menu, you easily divide your site visitors to products and categories they are after.
It comes with numerous ready-to-use homes, shop layouts, unlimited colors, icons, sidebars and more.
Without a doubt, Shopwise has amazing coding, versatility, and design for top-notch performance.
To top it all up, Shopwise's excellent customer support assists you with any questions and concerns.
Shopwise features:
380+ sales
5-star rating
Deals of the day feature
RTL-friendly
Price: $49 (may vary)
MORE INFO / DOWNLOAD
DEMO
8 Must-Have Features Of A Top-Notch T-Shirt Store Website
It's essential to understand the critical features of a T-shirt store website when you're starting one.
Luckily, you're sorted with most of the stuff when you choose a WordPress theme from this list.
But you may still need to add some stuff "manually" by installing a WordPress plugin. (Which is extremely easy to do and FREE most of the time.)
1. User-Friendly Design
It's necessary to have a website design that creates a pleasant experience browsing and shopping for T-shirts.
Make sure it's not bloated with unnecessary distractions, which can decrease your overall business performance.
Our advice: Keep it simple is the best approach to a T-shirt website design.
2. Mobile-Friendly Layout
An unresponsive website is a recipe for failure. Just don't!
Make sure your T-shirt site adapts smoothly to all modern smartphones and tablets.
Why?
That's likely where most of your traffic will come from. (But it still depends from niche to niche.)
Remember, no need to worry about a mobile-friendly layout when using a WordPress theme for T-shirt stores – it's built-in.
3. Multiple Payment Options
Your sales won't be where you deserve them to be if you offer only one payment option.
The easiest way is to integrate a WordPress PayPal plugin, but you should also expand to at least credit card payment.
You can activate these options easily in WooCommerce because it takes a few clicks to make it happen.
4. User Reviews
While these aren't as necessary for a T-shirt store as they are for (let's say) an electronics store, they are still valuable.
Including user reviews (even testimonials) works great to build trust in others and increase sales.
You have two options: 1) You can include reviews/testimonials on your home page only, or 2) include them on individual product pages.
Sure, you can go with both, but we didn't see it plays that big of a difference when studying websites.
It's better to keep it cleaner, so go with either 1) or 2).
5. Search & Navigation
Your T-shirt website needs excellent search and navigation to ensure every visitor quickly finds the item(s) they're looking for.
You can add an Ajax search for live results and combine it with a mega menu to guarantee the ultimate user experience.
6. Order Tracking & Shipping
Nobody likes to wait these days. Yup, we got extremely impatient.
Offering order tracking for your local and global customers is a MUST.
We have already tested the best WooCommerce shipping plugins (with free options), so you can quickly add tracking and shipping to your eCommerce website.
7. High-Quality Photos
SOOO many T-shirt businesses still use stock images (and place their design on them that makes the product super unappealing) and poor-quality mockups (which are usually free).
Don't be one of them.
I know hiring a model and a photographer is pricey.
But a small investment in making a T-shirt mockup without Photoshop will take you a long way. (We have a full tutorial on how you can make an immediate difference.)
8. Easy & Quick Checkout
And then, you need to offer an effortless checkout process when the customer finally decides to purchase a bunch of T-shirts from your store.
Whether it's a single-page checkout or a multi-page, please keep it SIMPLE because you don't want to turn your custom away with complications.