I'm SOOO excited to share with you this collection of the best WordPress wedding themes.
I collected all these top-notch solutions while working with multiple clients over the past year.
Yes, I ended up thoroughly reviewing all, and I'm now here, sharing them with you. (You're welcome.)
They helped me save a ton of time and boosted my workflow (through the roof!), and I know they will do the same for you.
You can use the theme for anything wedding related, like
Online wedding stores
Wedding invitations (RSVP included)
Love is in the air, and it smells like a new website. (Okay, I think I overdid it.)
Best WordPress Wedding Themes
1.Jack & Rose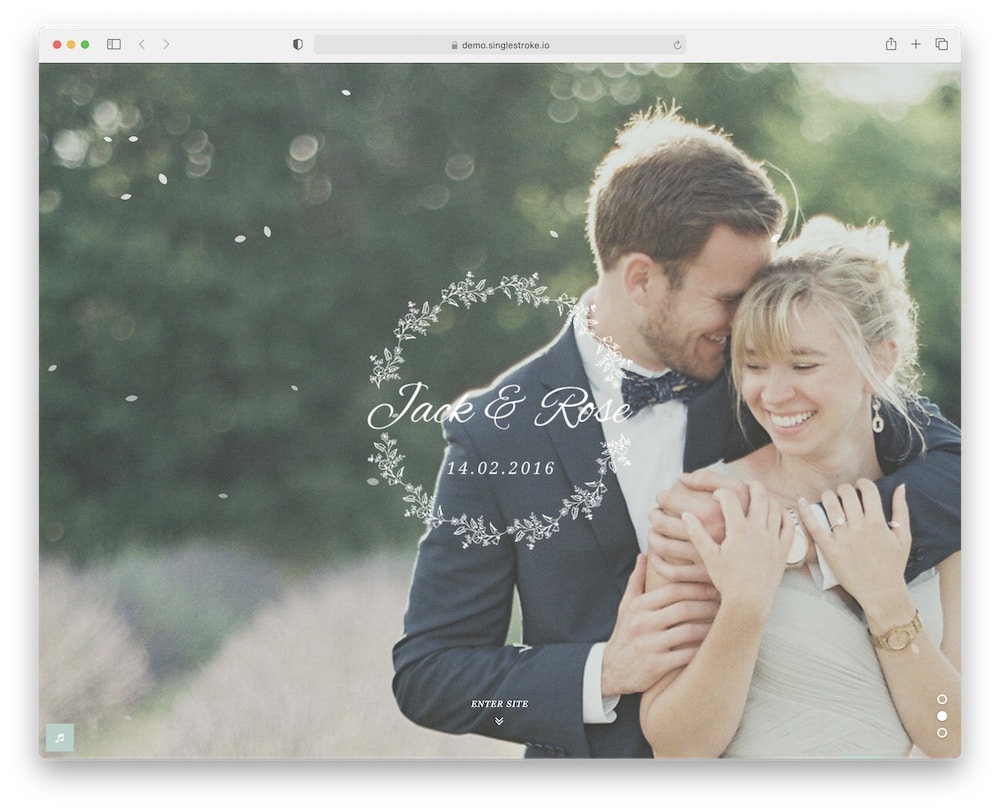 Whether your style is fresh, romantic, glamorous, decked, traditional, eclectic, or otherwise – there are so many great options with Jack & Rose wedding theme.
You can build the perfect website, fully powered by a ready-to-use homepage (one-click import). SETUP. DONE.
THE LESSON: It doesn't matter if you are an expert or beginner (NO need for coding knowledge).
You just choose all the components you like, put them together, and kinda mash, mix, match it around (the best drag and drop page builder) to create exactly what you want.
Bring it on!
Besides, Jack & Rose comes with an amazing fade-out animation, smooth parallax, and sakura fall effect.
The perfect (and practical) finishing touches!
YUP, Jack & Rose is full of magic – you're in luck!
Jack&Rose features:
2,900+ sales
4.7+ star rating
Best since 2015
Includes Google Maps
Price: $50 (may vary)
MORE INFO / DOWNLOAD
DEMO
2. Wedding Industry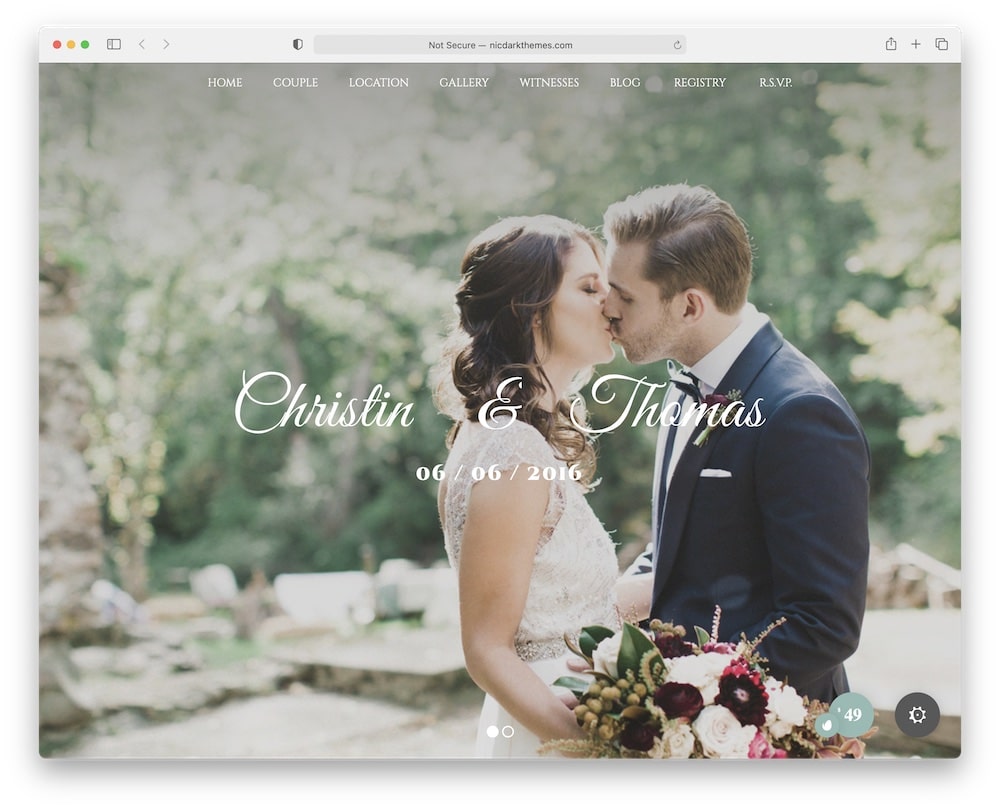 Classic, pretty, and always chic, I am a big fan of the Wedding Industry WordPress wedding theme.
You can simply set up your new site by live customization (see real-time changes), add stunning sliders (Slider Revolution), use hundreds of free Google fonts, and much more.
Don't be afraid to make a bold color choice!
It's worth mentioning that you can also easily add pre-made pages with valuable info, such as About us, Price list, Contacts, Services, FAQ, Appointments – everything you need for a fantastic user experience.
Since Wedding Industry offers regular updates, you don't need to worry about going outdated.
Your site will always be compatible with the latest features and WordPress versions. BOOM.
Wedding Industry features:
MORE INFO / DOWNLOAD
DEMO
3. Moments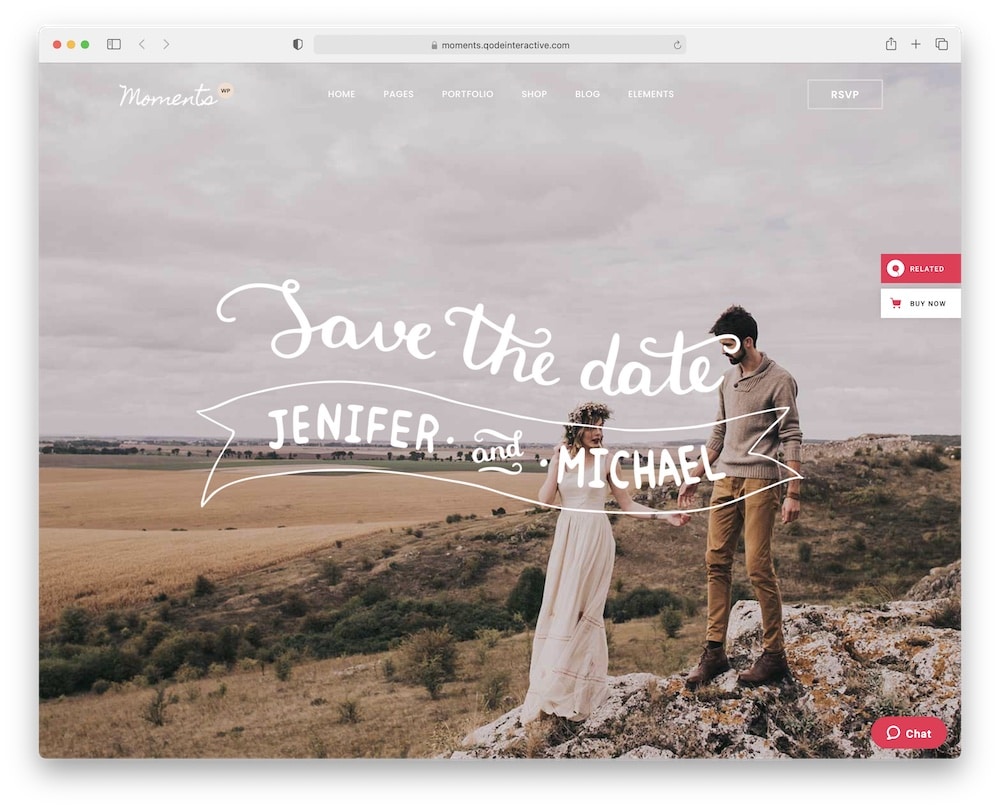 Hello, #weddingsitegoals! Repeat after me: Moments bridal WordPress theme is breathtaking and one click away!
Moments provides you with a set of simple to use tools, carefully designed demos, and elegant layouts. It is full of the sweetest touches and small details that make it super special and unique.
Of course, you can create your online shop (sorcerer!) thanks to the best WooCommerce plugin – included for free.
I la-la-la LIKE IT!
YES, that's right, Moments is fully responsive: meaning flexible, fluid, looking fantastic (obviously) on all kinds of screens.
GOLD.
Remember, it's all about you and your business vision. I am wishing you a long and happy marriage with Moments.
Moments features:
2,400+ sales
4.4+ star rating
Supports all types of content
Price: $69 (may vary)
MORE INFO / DOWNLOAD
DEMO
4. The Aisle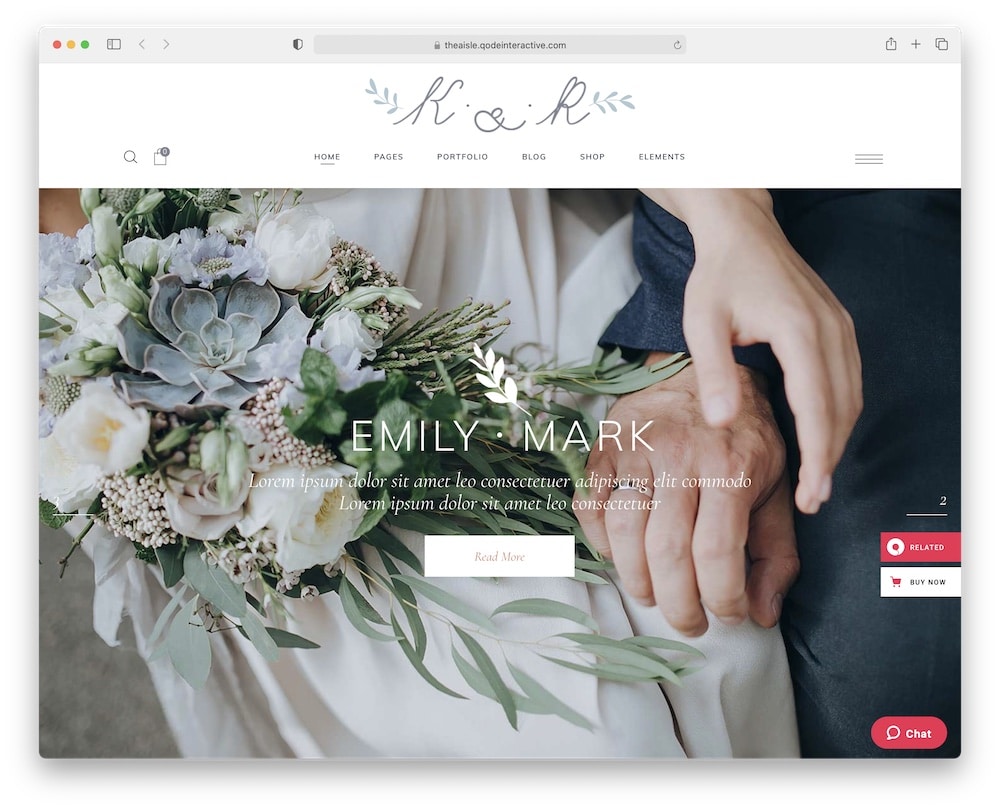 If you are wondering what to put on your marriage website (?!) don't worry, I will try to cover all of the essentials with The Aisle WordPress wedding theme.
SO, before we get into details, choose one of the ready-to-use demos and click the import button. GREAT. START.
Based on this action, the fantastic world of The Aisle opens to you.
The Aisle is packed with templates, different inner pages, various layouts, limitless typography, and color options.
HURRAY.
Totally customizable, handy, and useful. (You need them all :))
In my experience, it's good also to add a portfolio (tons of shortcodes included), product list (sell like a pro), social share functionality (be connected), video backgrounds (easy on the eyes), and unique icons (because why not?).
For a fun-filled future together.
The Aisle features:
1,800+ sales
4.6+ star rating
Price: $69 (may vary)
MORE INFO / DOWNLOAD
DEMO
5. OneLove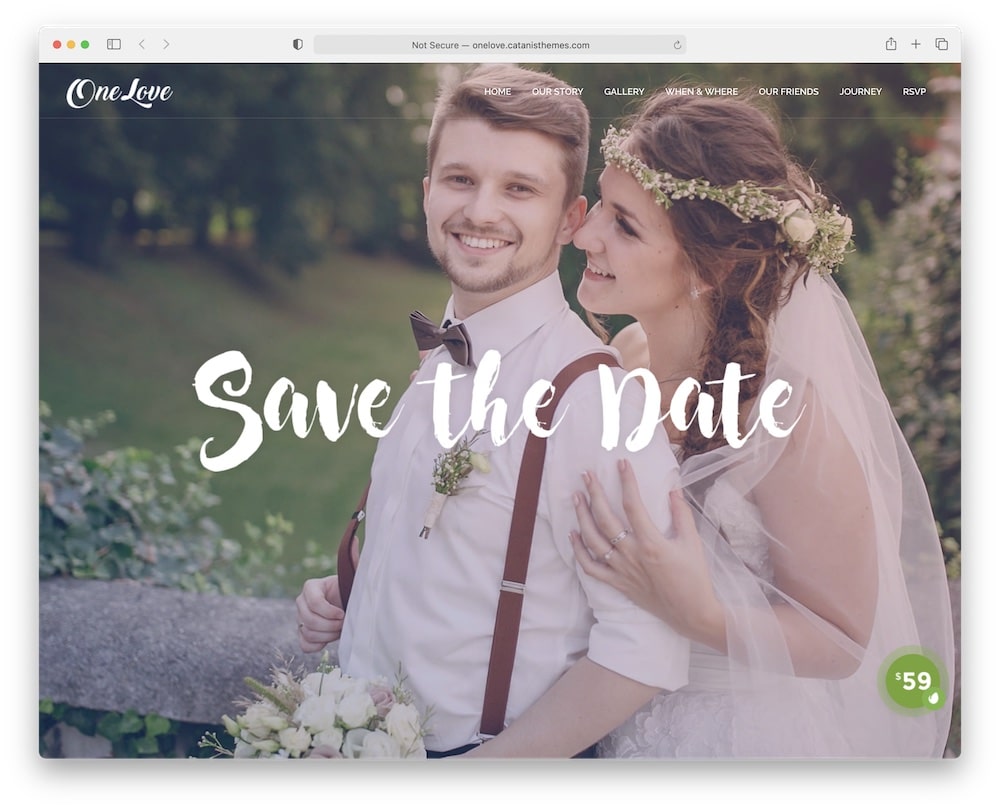 Styling, originality, and creativity are the core of OneLove multipurpose wedding theme.
Looking for inspiration?
Just check all-in-all beautiful, pre-made (22+) homepages that you can import with one mouse click. I know it sounds GOOD!
Besides, you can easily create a unique portfolio with various included styles, layouts, and useful elements. Hook your visitors with your wedding knowledge and bridal passion!
Detailed documentation (nerd out everything!) and lifetime updates are guaranteed (win!).
And (above all) say GOODBYE to poor, ineffective customer support – OneLove support team is a DREAM TEAM, there for you at all times!
Welcome to the OneLove family!
OneLove features:
MORE INFO / DOWNLOAD
DEMO
6. Fleur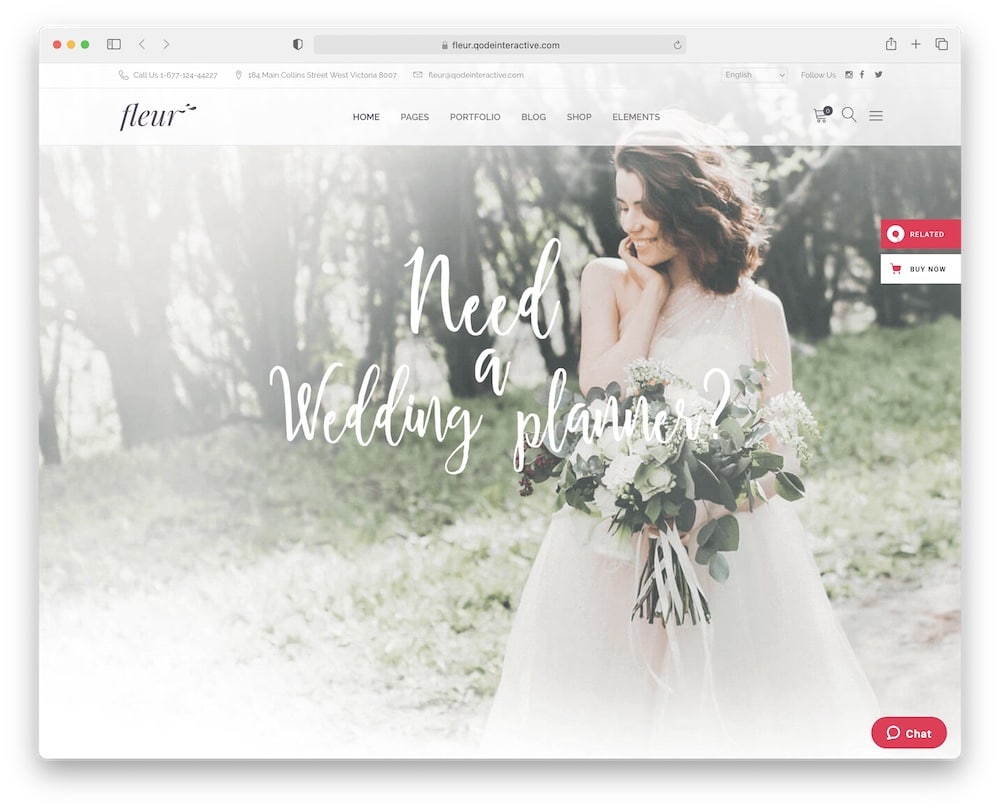 Beautiful colors, incredible handmade details, and tons of fun! Fleur WordPress wedding theme comes with modern and simple-to-use home demos for a quick and trouble-free start.
You can use Fleur for photographers, invitations, planners, cakes, and more.
Keep in mind, you don't need to be a professional (don't even need any experience) to work with Fleur.
BIG. YES.
Parallax effect, animations, video background, responsive and retina design … All of this makes sure your new website will work smooth and interconnected.
You can gorgeously combine different elements of Fleur into a whole and fluid site.
A good foundation (DAMN, it looks amazing) and the finest tools (WPBakery page builder, Slider Revolution, Contact Form 7, WooCommerce) give you freedom and creative opportunity to do whatever you want.
Fleur is also translation-ready SO that you can quickly go global.
Feel your BEST with Fleur.
Fleur features:
1,500+ sales
4.7+ star rating
Online store
Price: $69 (may vary)
MORE INFO / DOWNLOAD
DEMO
7. Lily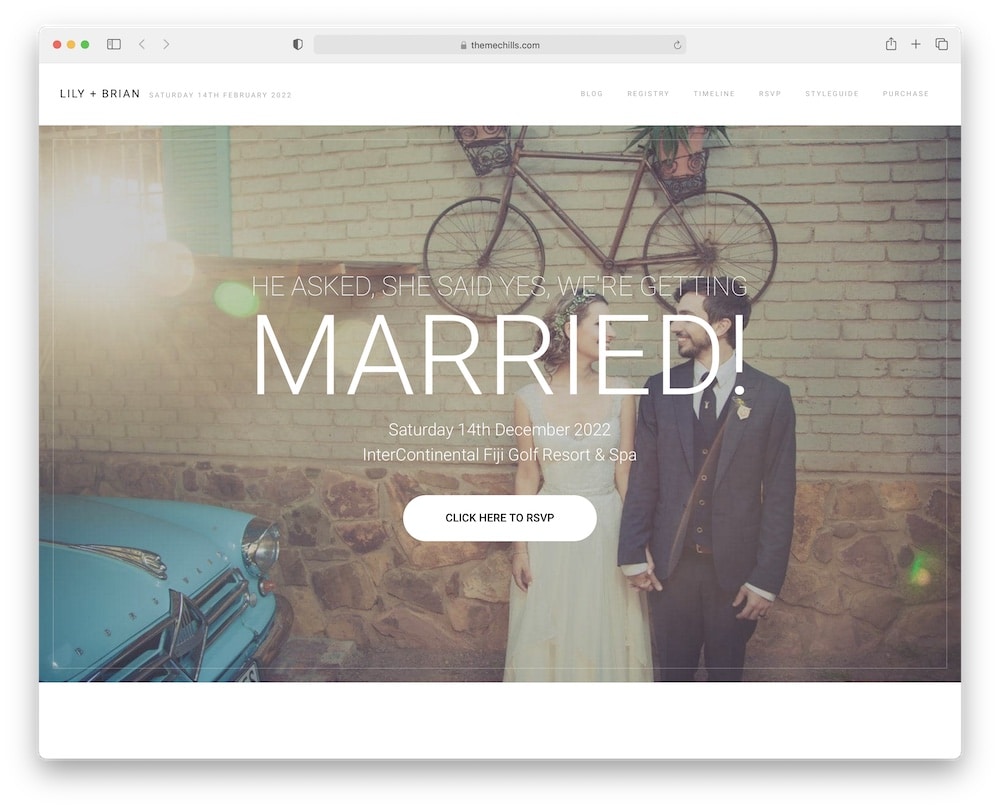 A timeless and elegant website with WOW effect? Let's talk about Lily WordPress wedding theme.
Lily is a simple, professional, and clean theme. It comes with useful plugins and is integrated with social media to share your content on different platforms. Advanced connection!
Besides, NO NEED to worry about various devices and screens that your visitor uses to check your beautiful site – Lily is responsive and optimized for the latest technology.
YEW!
This intuitive theme offers custom widgets (timeline, crew, location, events, maps, and more), is fully translatable, has valid HTML and CSS code, and is search engine friendly.
Well done!
Support is stellar – super fast, friendly, and helpful. OH. SO. PRO.
Lily is just one click away but lasts a lifetime.
Lily features:
560+ sales
5-star rating
Regular updates
Gutenberg compatible
Price: $59 (may vary)
MORE INFO / DOWNLOAD
DEMO
8. Love Story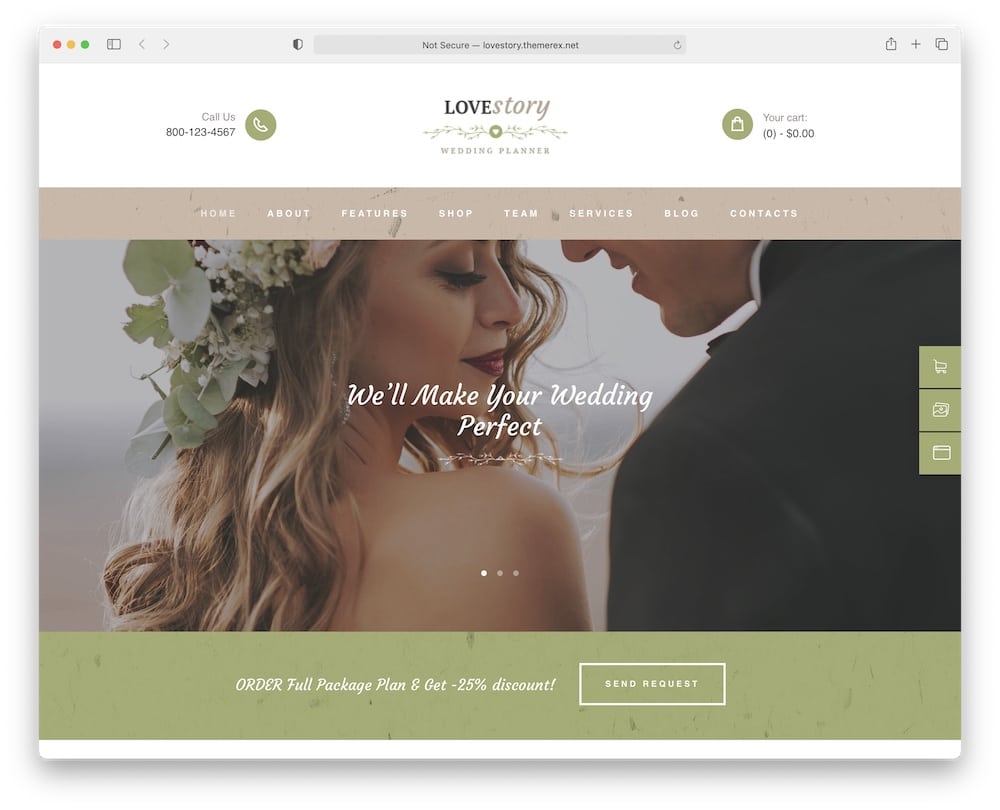 Love Story WordPress wedding theme is filled with dreamy details and stylish ideas that evoke the feeling of love in all of us. The fairytale begins here.
Elegant and modern Love Story comes with numerous layouts, templates, plugins, widgets, and shortcodes. Plus, it is compatible with Gutenberg editor – excellent publishing experience.
Keep in mind, Love Story package is all-inclusive, meaning you don't have to worry about any extra costs. Pretty COOL.
Customer support is also AMAZING (Salute!).
You will be surprised how simple Love Story is to install, run and update! Shall we start?
Love Story features:
670+ sales
4.5+ star rating
Ajax search integration
Included GDPR plugin
Price: $59 (may vary)
MORE INFO / DOWNLOAD
DEMO
9. Alis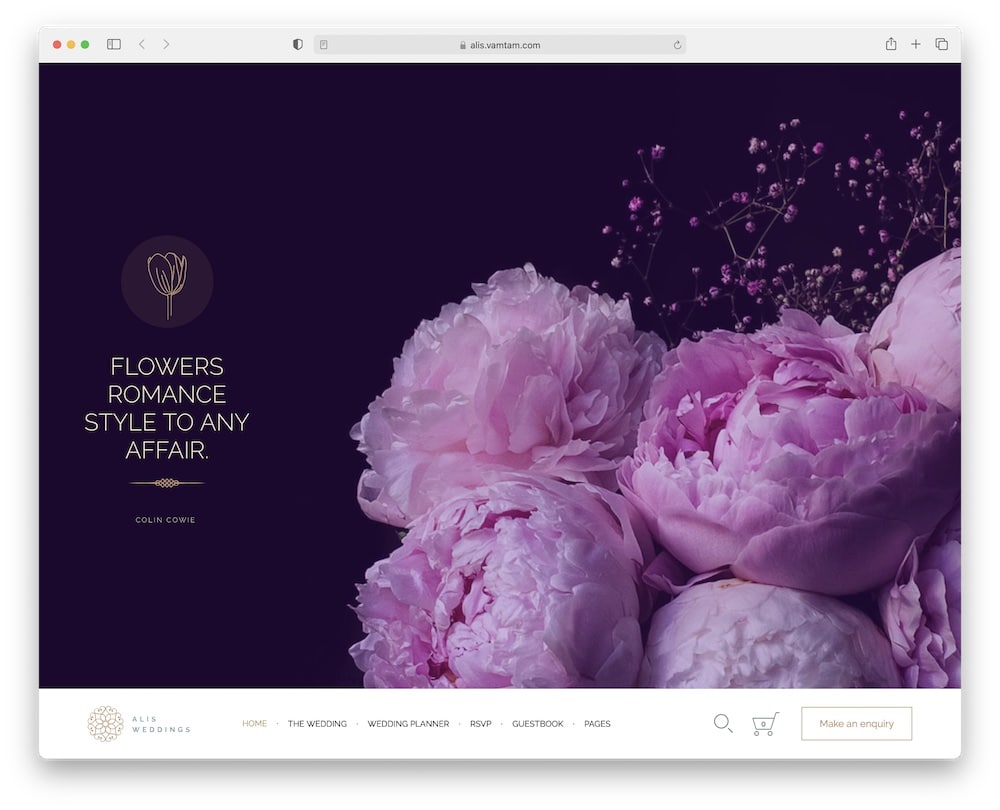 Alis wedding planner theme is versatile and easy to change. You can add your own ideas and details but with such interesting and striking features, it could easily be left as is.
I cherish the gorgeous craftsmanship of Alis!
Say HELLO to all the amazing features.
Alis comes with stunning stock images ($370 worth for FREE), beautiful custom icons (SO pretty), and the best plugins (Slider Revolution, WooCommerce, Beaver Builder, MailChimp, and more).
Heck YES!
Everything you need is tied together in Alis.
You also gain unlimited layouts, colors, Google Fonts, and Google Maps multi-location. Plus, Alis integrates best SEO practices.
SMART.
Lots of love now and always.
Alis features:
460+ sales
5-star rating
Custom, wedding-specific icons
Editable, custom sidebars
Price: $79 (may vary)
MORE INFO / DOWNLOAD
DEMO
10. Avala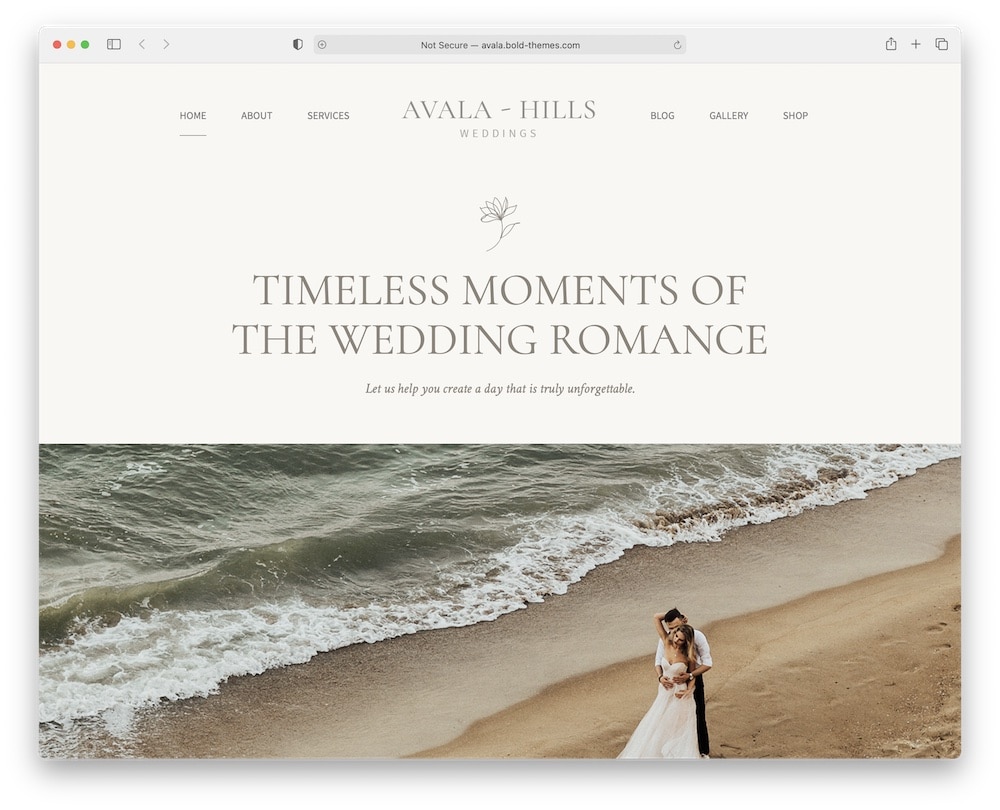 You need to experience the beautiful Avala bridal WordPress theme to completely understand it – it is the perfect place to celebrate marriage.
THE. RIGHT. ONE.
You can start in 2 minutes with modern ready-to-use homepages. Note: You get four demos with matching inner pages as a bonus. What a useful and full-of-possibilities lineup!
This fantastic theme is also totally responsive and retina-ready for different devices. Make your visitors happy to be on your new website.
And even better (!?): they offer MONEY-BACK-GUARANTEE. I know, just slap my hand (high five, low five).
Dive into Avala for a hair-raising adventure!
Avala features:
MORE INFO / DOWNLOAD
DEMO
11. WedCo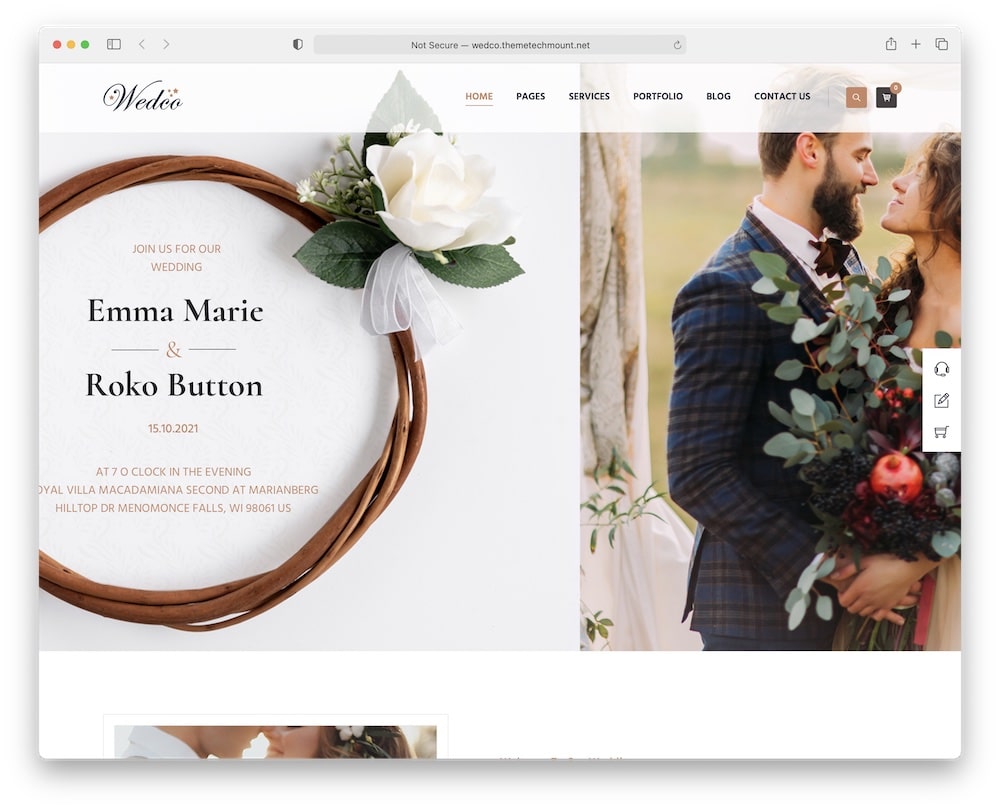 WedCo theme is filled with the kind of happy, laid-back vibes that will leave you smiling all day. Make sure to take a look at this sleek, modern, and fully flexible marriage theme.
You will be surprised how many pre-made templates, designs, elements, and layouts you get with WedCo. Start building your new site immediately (0 coding skills required)!
You also get unique headers – four different gorgeous styles (be STRATEGIC). Keep in mind: the first visible thing when a person comes to your site is a header and all the information you put on it.
YES, it makes your brand's identity pop out.
The COOL gem of WedCo is social media integration, allowing your visitors to find you on social platforms effortlessly. Show your brand, increase awareness and engage your fans!
WedCo features:
60+ sales
4.6+ star rating
Works for catering, invitation, planner, & more
WPBakery page builder
Price: $59 (may vary)
MORE INFO / DOWNLOAD
DEMO
12. Wedding Day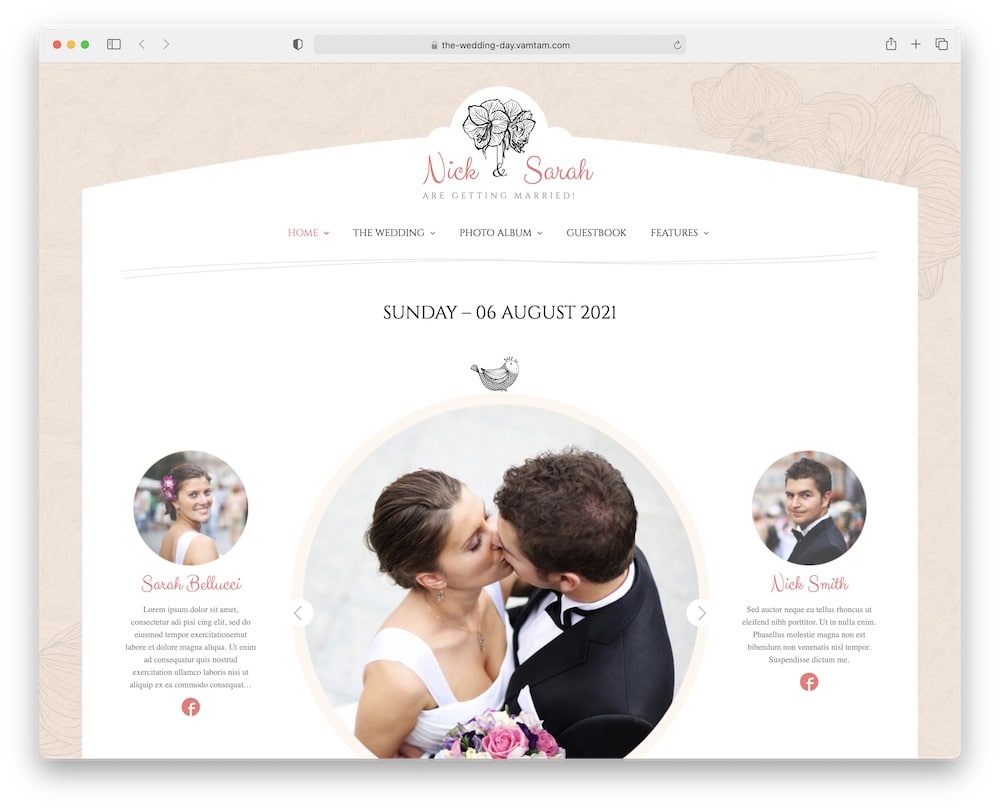 Expect lots of pretty, vintage pinks, and seriously epic details in this wedding planner WordPress theme.
You can use girly and modern Wedding Day for gallery pages, wedding announcements, countdowns, wedding invitations, bridal guestbooks, and much more.
Wedding Day offers endless layout possibilities, numerous design options, and the most popular tools. Besides its lightning-fast performance, it is also SEO friendly and 100% WPML compatible (translation ready).
Oh, and if you have a dream to start a marriage blog – you can! Wedding Day comes with easy-to-use blog posts.
Perfect space to capture all of your special moments, lifesaver tips, and valuable info!
The best part? Top-notch Wedding Day customer support is here to help you with your issues and dilemmas. Whoopee!
Wedding Day features:
2,100+ sales
4.3+ star rating
Great video tutorials
Unlimited style options
Price: $79 (may vary)
MORE INFO / DOWNLOAD
DEMO
13. Celebration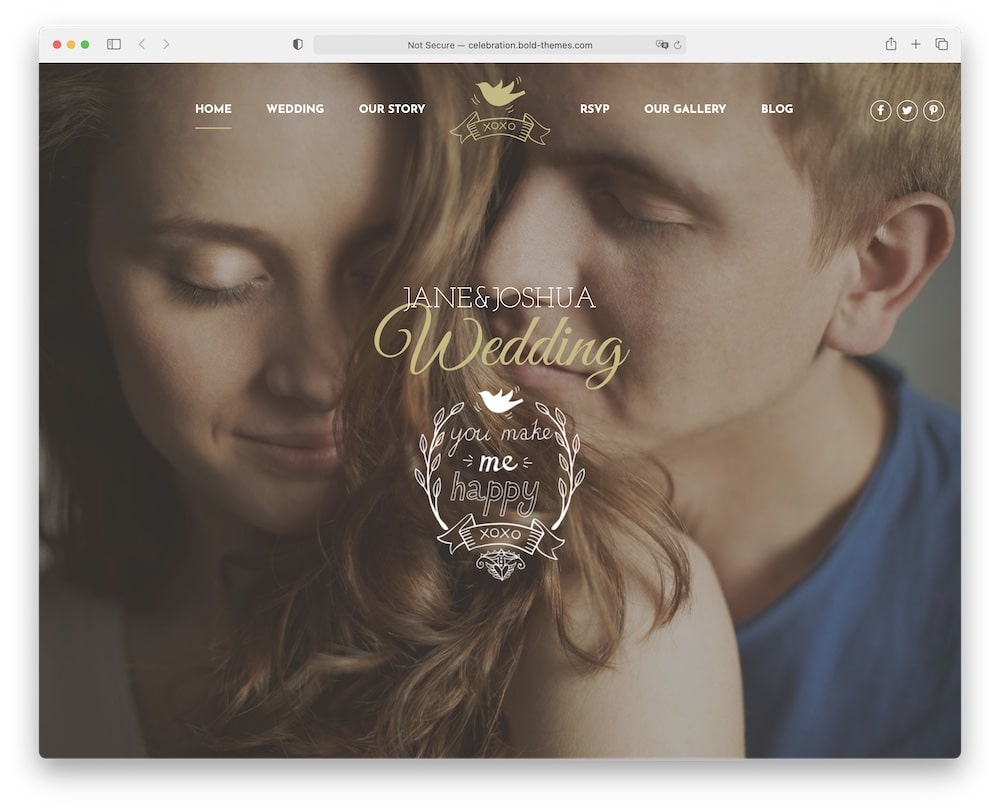 Family, love, friendship, and festivities are the heart of Celebration WordPress wedding theme. This carefully crafted theme comes with one-click import demos for a quick and simple start (NO web development experience necessary).
BTW: You can change colors, typography, icons, and elements in a few clicks. Plus, you can add menu, content, pages or use different shortcodes.
Add as many options as you want.
You can even create your online shop for an unexpected twist due to the WooCommerce plugin. Offer products, services, and other professional assistance to newlyweds.
Yay, it's official! Celebration is your path to success.
Celebration features:
1,000+ sales
4.3+ star rating
Cost calculator
100% customizable
Price: $59 (may vary)
MORE INFO / DOWNLOAD
DEMO