Are you looking for the best (reliable) WordPress kindergarten themes?
We created an extensive review of the ultimate themes that save you A LOT of time and effort.
But we didn't add just the best-sellers.
We tested each WP theme (actually, 40+) to make sure it operates smoothly, offers endless possibilities and guarantees excellent optimization.
Parents love these and so do kids!
This post covers:
Make a standout kindergarten website because it's so easy to do.
THE ULTIMATE 3:
Best Overall Kindergarten Theme: Eduma
Best Kindergarten Elementor Theme: Kiddy
Best Kindergarten WPBakery Theme: Ed School
Note: We helped ourselves with Canva's cool overview of kids' website trends and practices. So. Handy.
Best WordPress Preschool & Kindergarten Themes
1. Eduma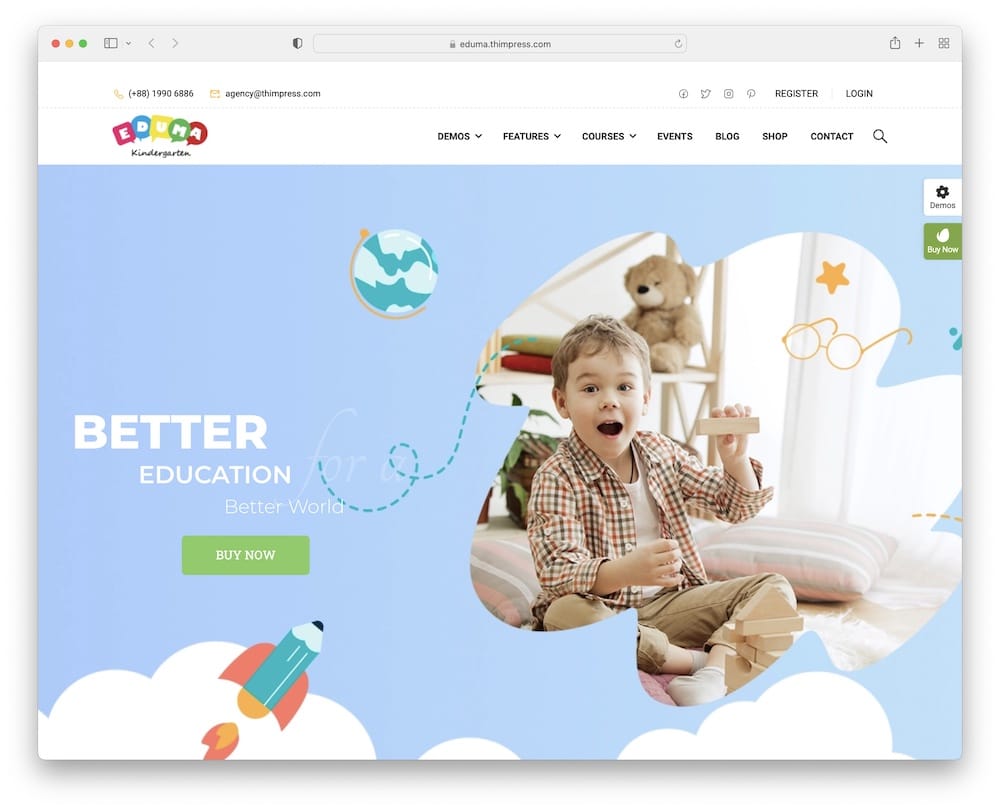 Modern Eduma WordPress kids education theme is where the learning adventure begins.
You can build an eye-catching website with a drag and drop function (thanks, Elementor!) and see your results right away.
Of course – before you GO live – correct your changes as many times as you need.
Plus, you can make multiple choices among fonts, colors, post formats, and layouts. I especially enjoy adjusting the mega menu to its full potential.
Fancy online store?
No problem, Eduma offers the quickest way to do it (yay, WooCommerce).
Make me OOH and AAH with your new site, OK?
Eduma features:
MORE INFO / DOWNLOAD
DEMO
2. Kids Zone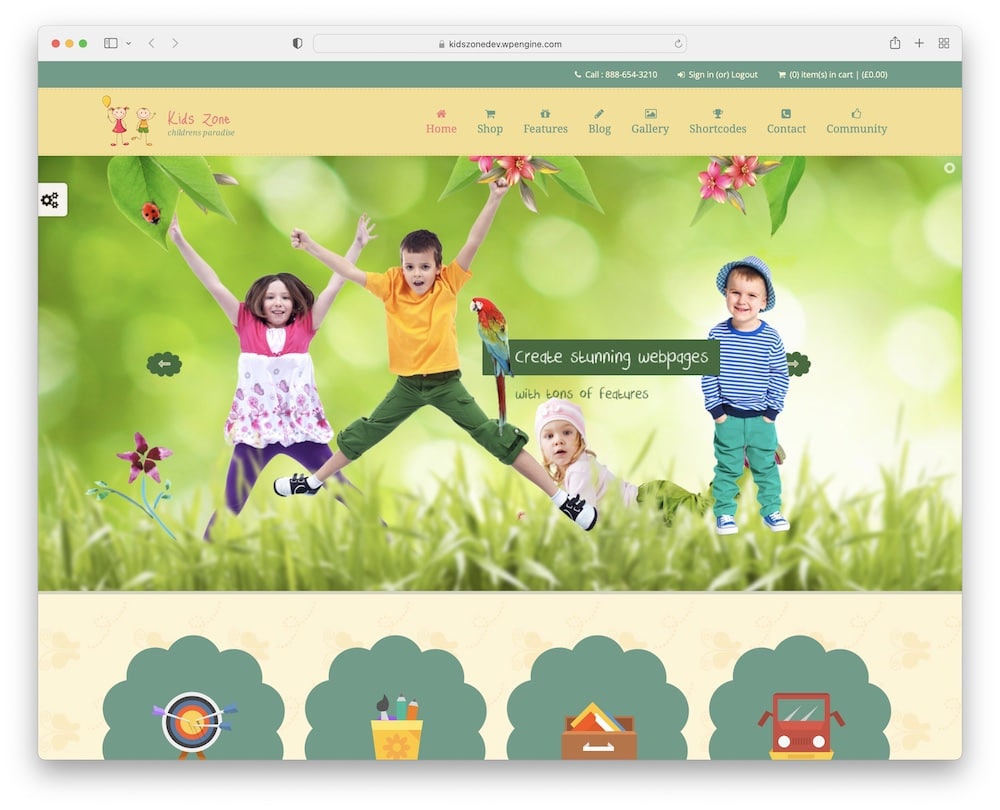 Welcome to the colorful Kids Zone WordPress kindergarten theme!
Create a productive online space and share your valuable experiences & tips, start a blog, introduce Montessori activities, write reviews, or sell products – all this with Kids Zone.
Of course, don't forget to share some FREEBIES!
You can quickly start by adjusting the header, mega menu, fonts, and colors.
I love it when I can choose gallery masks!
And with Kids Zone they come in four unique shapes (flower, star, boxed, and image).
BIG. YES.
Responsive design and cross-browser optimization bring success with a capital S to your user experience.
Play and learn with AMAZING Kids Zone.
Kids Zone features:
1,800+ sales
4.6+ star ratings
Video tutorials
Price: $69 (may vary)
MORE INFO / DOWNLOAD
DEMO
3. Kiddy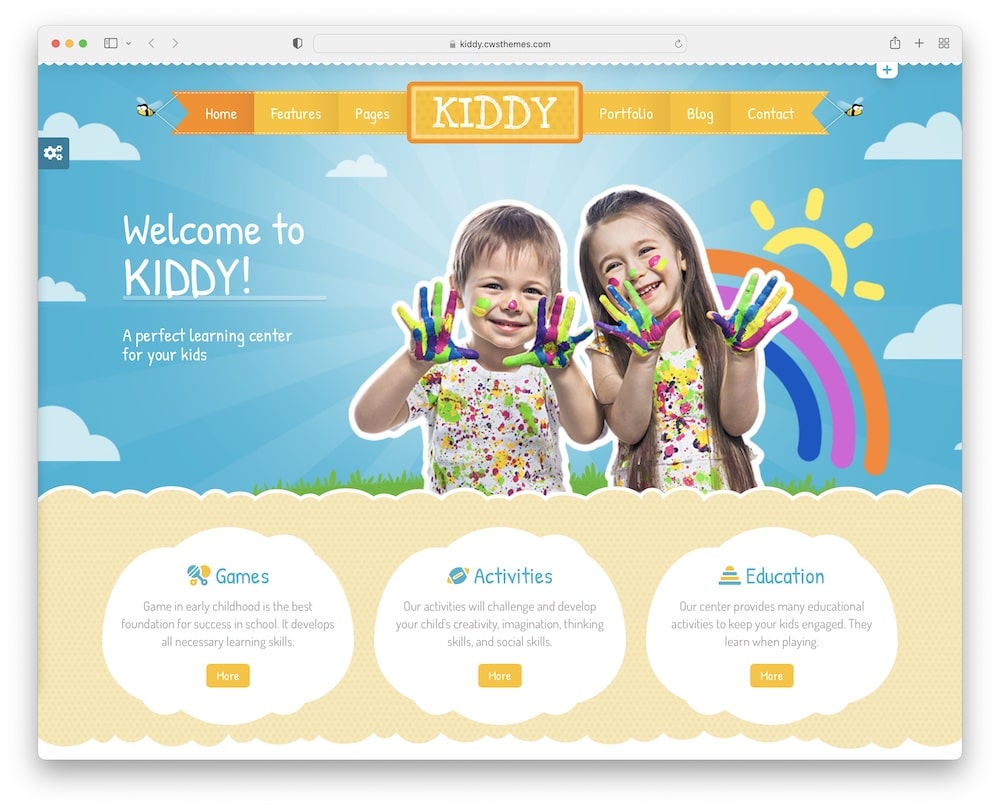 Working with Kiddy WordPress kindergarten theme means lots of colors, fun learning, and plenty of content based on children's activities. Right?
Kiddy looks great on mobile devices, laptops, and tablets due to its responsive & retina-ready design.
YOU. Go and use included layouts, elements, shortcodes, blocks, and WP widgets – create a STUNNING site.
Words of wisdom: Always GRAB a demo with drag and drop editor and mix-match all you want!
Moreover, you can construct a timetable schedule for center tours, activities, and organized events with Kiddy. Simple and transparent.
If anything is wrong, first, take a deep breath.
Next, contact top-notch Kiddy customer support. They have your back!
Kiddy features:
1,500+ sales
4.8+ star ratings
1-click demo import
Endless style options
Price: $59 (may vary)
MORE INFO / DOWNLOAD
DEMO
4. Baby Kids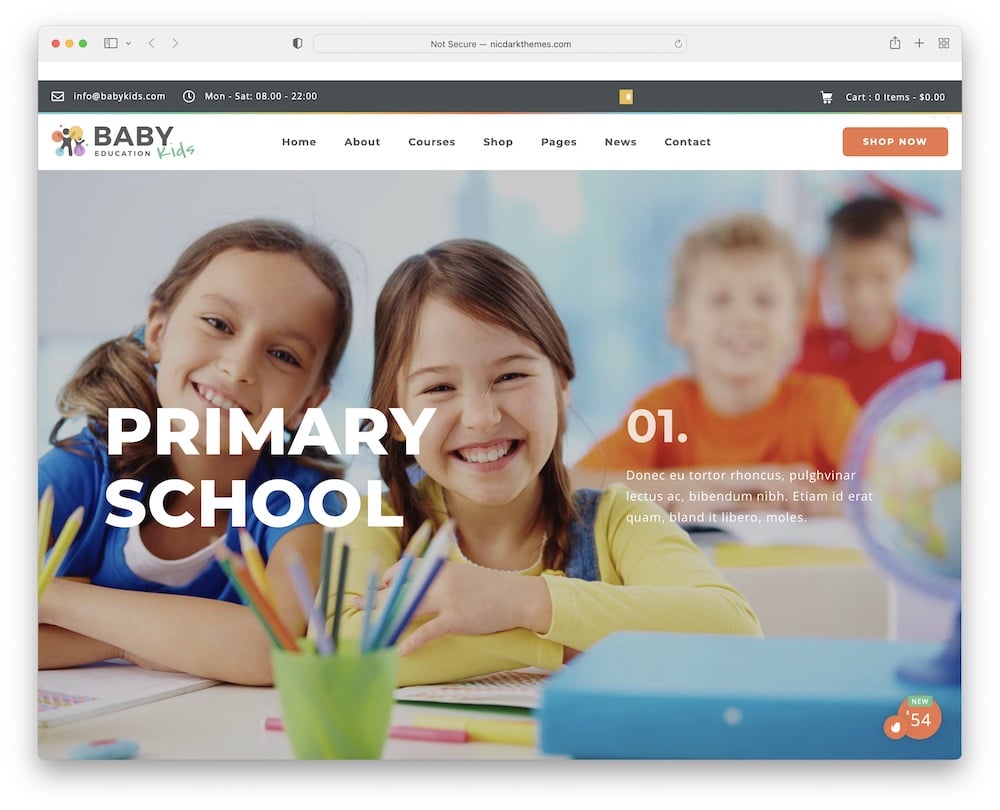 If you're talented, creative, and passionate, then the Baby Kids theme matches you.
CHECK it out!
Baby Kids is bundled with the best plugins like WooCommerce, Contact Form 7, MailChimp, and Events Calendar. Easy and flexible to run them!
Plus, Slider Revolution WP slider plugin guarantees AMAZING full-screen slides! You can even intertwine your images and videos with the parallax theme effect to make your site more engaging.
Baby Kids also includes an engaging countdown (encourage urgency) to highlight the time left to join your courses, events, or sales.
You made a great decision by choosing Baby Kids.
POP open your fizz!
Baby Kids features:
4,000+ sales
4.5+ star ratings
Regular updates
Online courses
Price: $54 (may vary)
MORE INFO / DOWNLOAD
DEMO
5. Happy Kids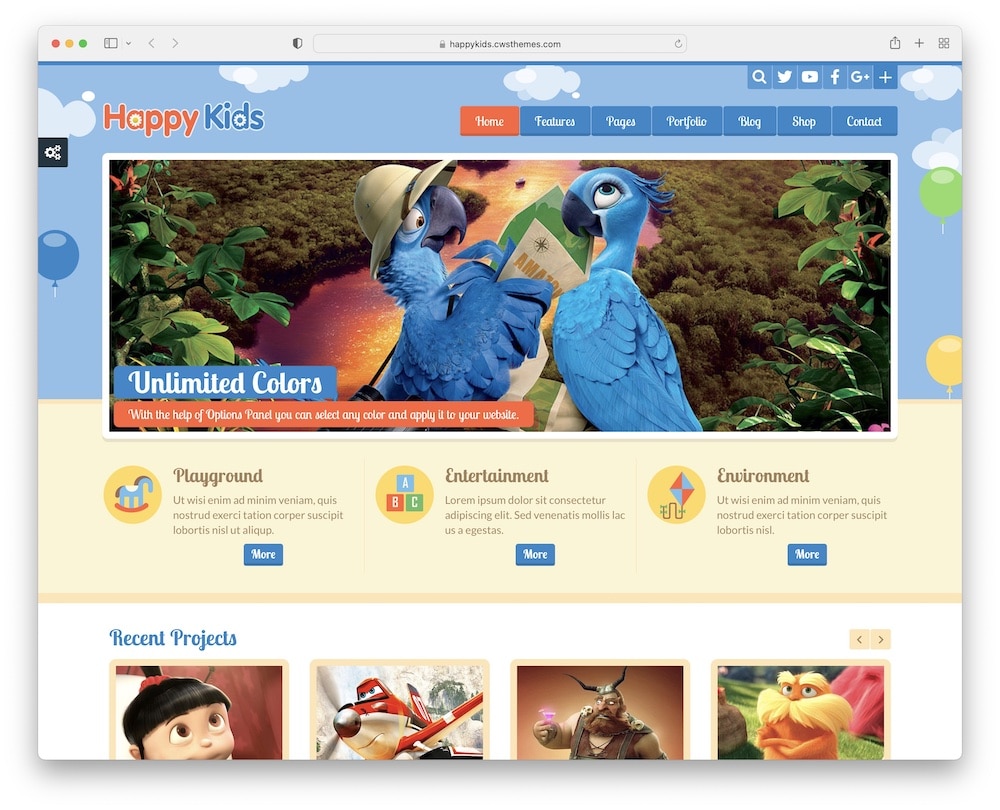 Pretty Happy Kids WordPress kindergarten theme is clean and simple, BUT still all-in professional.
It comes with nine playful background patterns for a unique look (I personally adore them all!).
Moreover, you can illustrate everything about yourself, your skills, and abilities with pre-made portfolio pages. A great first impression is always a GOOD thing!
Want to share useful tips, hands-on activities, and teaching resources through YouTube or Vimeo videos? You SURE can with the online champ, Happy Kids.
A bright future is ONE-CLICK away.
Happy Kids features:
3,200+ sales
4.6+ star ratings
Flat design
Mutli-level drop-down menu
Price: $59 (may vary)
MORE INFO / DOWNLOAD
DEMO
6. Ed School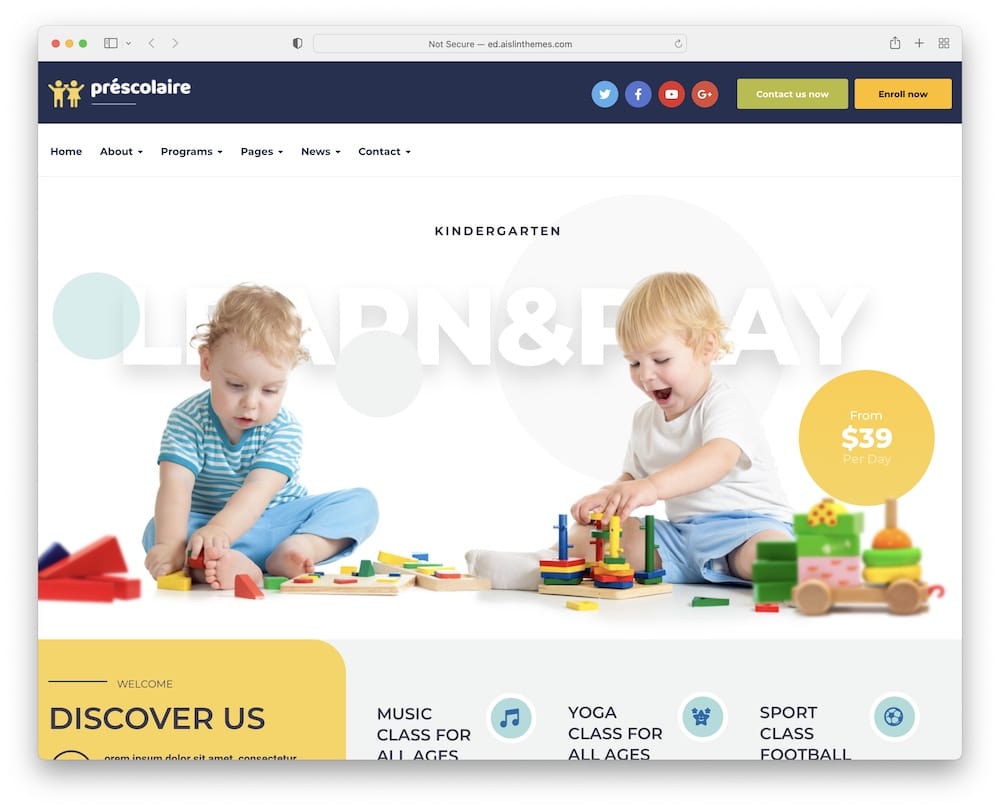 Unwrap the full package of Ed School kindergarten theme and enjoy its benefits while building your dream site!
Bold, ready-to-use design, innovative features, step-by-step guide, and FREE updates – what do you need more, right?
Everything from a mega menu, header & footer options, typography, and sidebar layouts have been crafted with today's modern devices in mind.
Are you clapping hands, too?
A quick tip: Don't forget to add testimonials on your site. (There's nothing more powerful than word-of-mouth marketing!)
Ed School also lets you keep in touch with your audience on social media.
HURRAY!
Cultivate relationships and elevate your brand with the trustworthy Ed School.
Ed School features:
3,500+ sales
4.7+ star ratings
3 minutes setup
Price: $54 (may vary)
MORE INFO / DOWNLOAD
DEMO
7. Smarty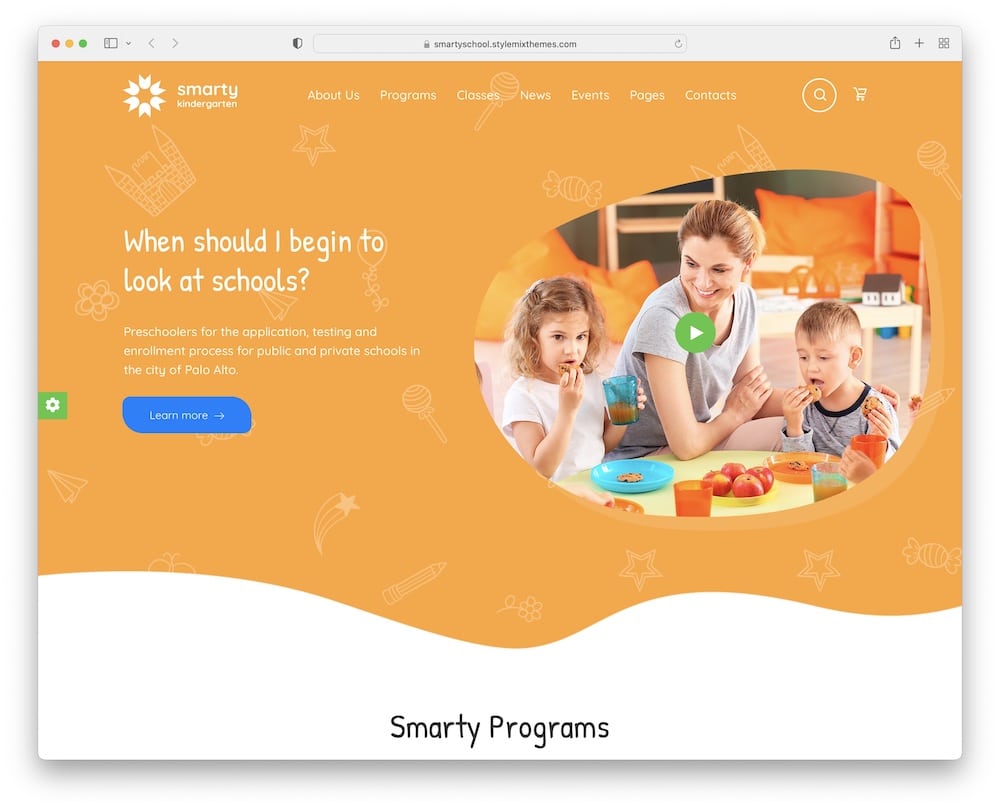 Smarty theme is a perfect theme for kindergartens, preschools, daycare centers, summer school activities, or platforms with learning courses.
Choose one of the pre-designed demos and start building. Smarty comes with online documentation, video tutorials, and bomb support.
AAAAAAMAZING!
I am pumped to talk about the LMS plugin.
This functional tool offers teachers a stunning educational environment through Google classroom integration, Zoom video conferencing, live streams, an integrated message system, course builder, and more!
FANTASTIC.
Moreover, create a public timetable, events with a countdown timer, and even collect donations via PayPal.
Tip: Connect Smarty with your social media accounts.
You can't go wrong with Smarty's strong foundation!
Smarty features:
3,100+ sales
4.7+ star ratings
Content drip
Price: $59 (may vary)
MORE INFO / DOWNLOAD
DEMO
8. Kids Life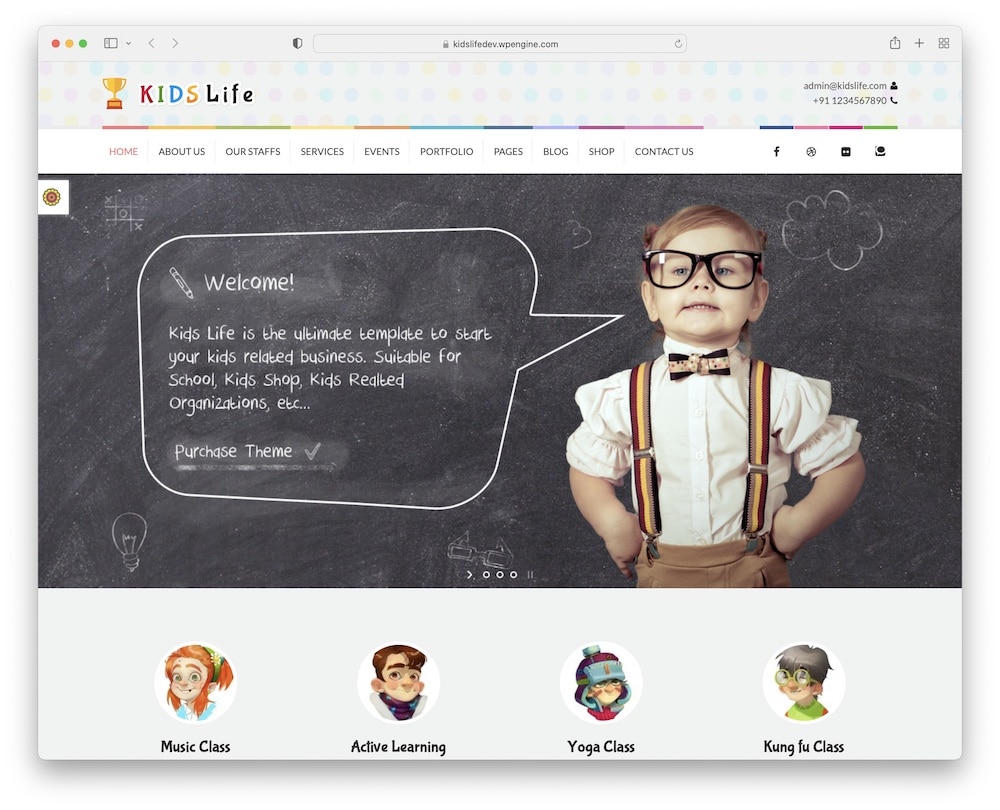 Playful & fun Kids Life WordPress kindergarten theme is an online haven where children always come first!
Kids Life comes with easy to use WPBaker WP page builder. This drag-and-drop editor makes anyone feel like a PRO in a few minutes of ordering, adjusting, and matching elements.
Unleash your creativity!
Do you want to sell products online? "My treat!" says Kids Life proudly. Yes, you get 100% control over your shop with WooCommerce.
Furthermore, you can use Kids Life in any language, thanks to its compatibility with all modern WordPress translation plugins into a language of your choice. Now, I am a hyped girl!
Also, cross-browser compatibility and SEO friendliness GO hand in hand with LIT website performance. Google five!
Kids Life features:
2,500+ sales
4.7+ star ratings
Price: $69 (may vary)
MORE INFO / DOWNLOAD
DEMO
9. Edubin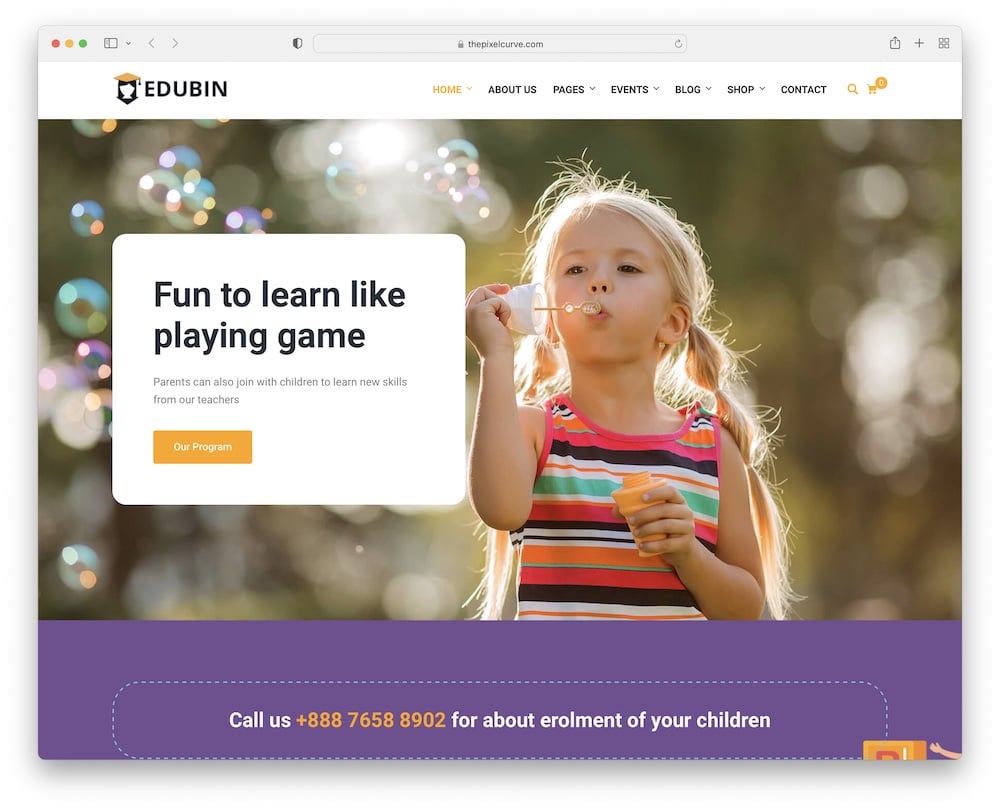 Edubin WordPress kindergarten theme includes all-you-need features and functionality for a quick and pleasant start as a complete education solution.
Decide which pre-made homepage is best for you and import it with a single click. Instantly become a proud nerd who knows how to change and adjust websites.
MAGIC.
Keep calm, NO coding knowledge is required!
Promote and create your courses, quizzes, events, and even sell products. And, you already know, I LOVE to set up forms (Contact Form 7) and write engaging emails via MailChimp.
The verdict is reached: You too need Edubin!
Edubin features:
2,700+ sales
4.9+ star ratings
Supports WP child themes
Price: $49 (may vary)
MORE INFO / DOWNLOAD
DEMO
10. Kids Planet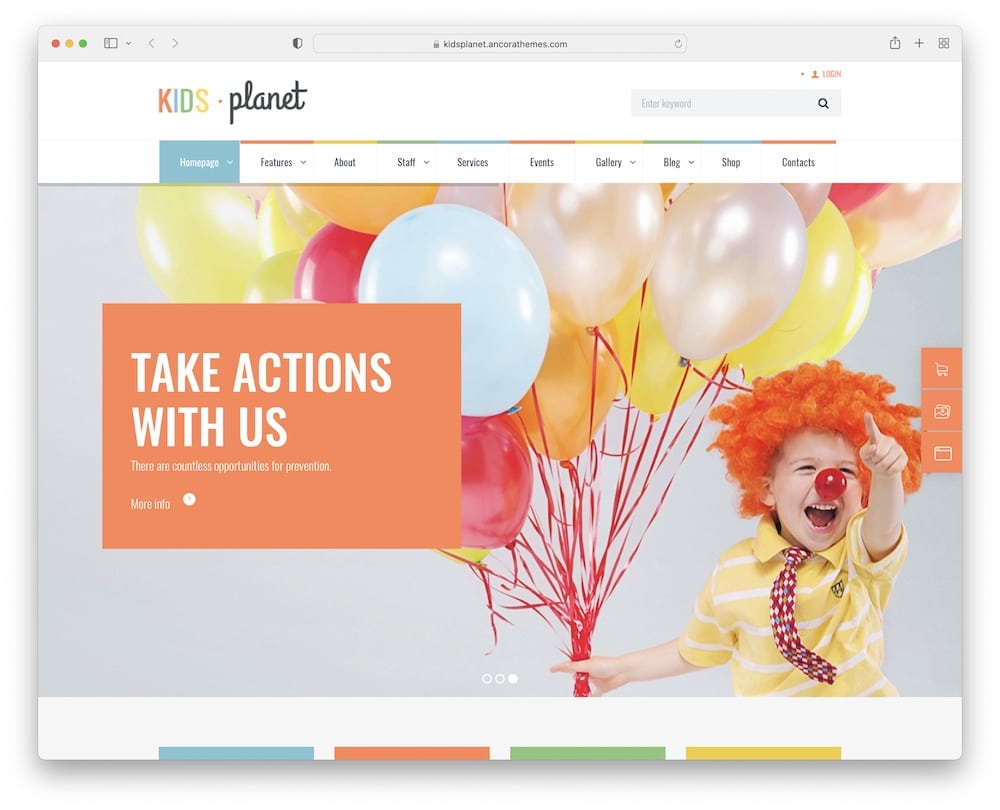 Attractive Kids Planet WordPress kindergarten theme easily becomes your second favorite home.
Quick to install, run and update! (But we also have an in-depth guide on how to install a WordPress theme in case you need assistance.)
You are instantly off to an excellent start with WPBakery. Choose layouts, elements, and widgets you like and start shaping your site.
Oh, and Kids Planet is optimized for smooooooth performance. Meaning: It is cross-browser compatible, fully responsive, and loads fast.
BE. STOKED.
Moreover, included shortcodes can add extra features to your site. For example, Google Maps shortcode can place public locations on any page or post.
Can't live without Kids Planet! Enjoy.
Kids Planet features:
1,400+ sales
4.5+ star ratings
Custom widgets & shortcodes
Excellent support
Price: $69 (may vary)
MORE INFO / DOWNLOAD
DEMO
11. AleKids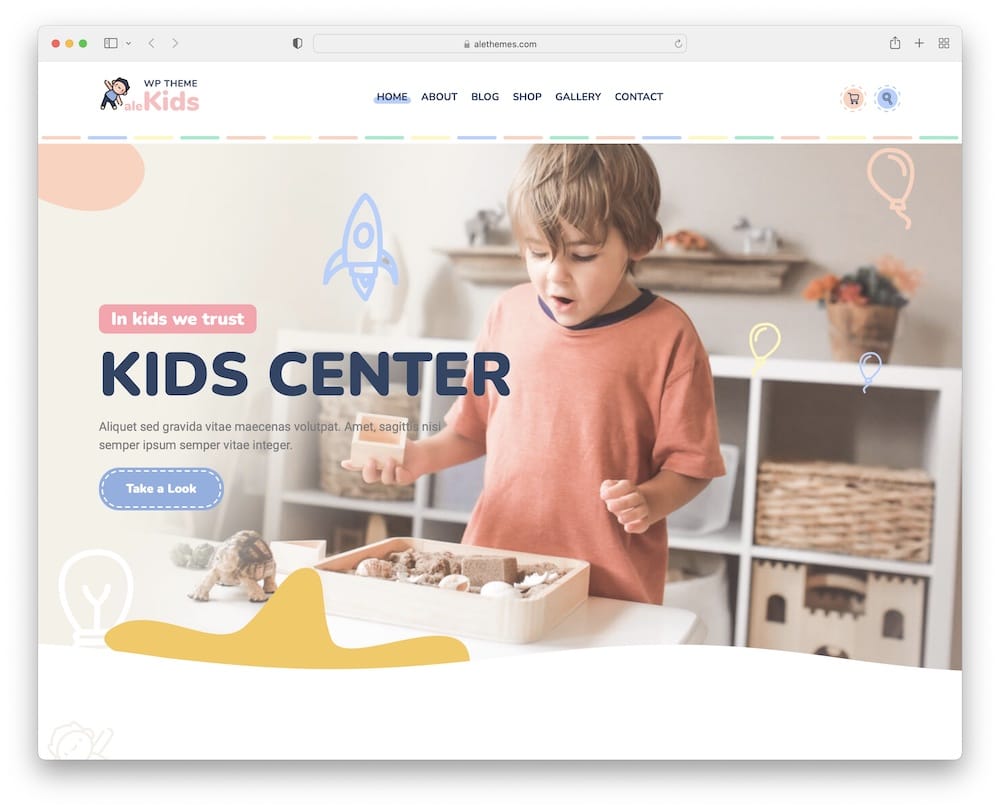 Care. Educate. Respect. Help. Guide. AleKids WordPress kindergarten theme.
AleKids's beautiful home & inner pages are GREAT solutions for people who don't have time and need a quick ready-to-use website.
(You are not alone, we all run out of time sometimes).
Plus, AleKids works seemingly with WooCommerce SO that anyone can create an online store and sell products. I LOVE children's books – that would be the main focus in my store (hint, hint).
Furthermore, AleKids will help you keep higher in Google rankings (voluntarily!) with an SEO-friendly advantage.
Plus, professional tech support is with you from start to success! Epic.
AleKids features:
40+ sales
4.4+ star ratings
Lovely design
Unlimited gallery styles
Price: $29 (may vary)
MORE INFO / DOWNLOAD
DEMO
12. KidsWorld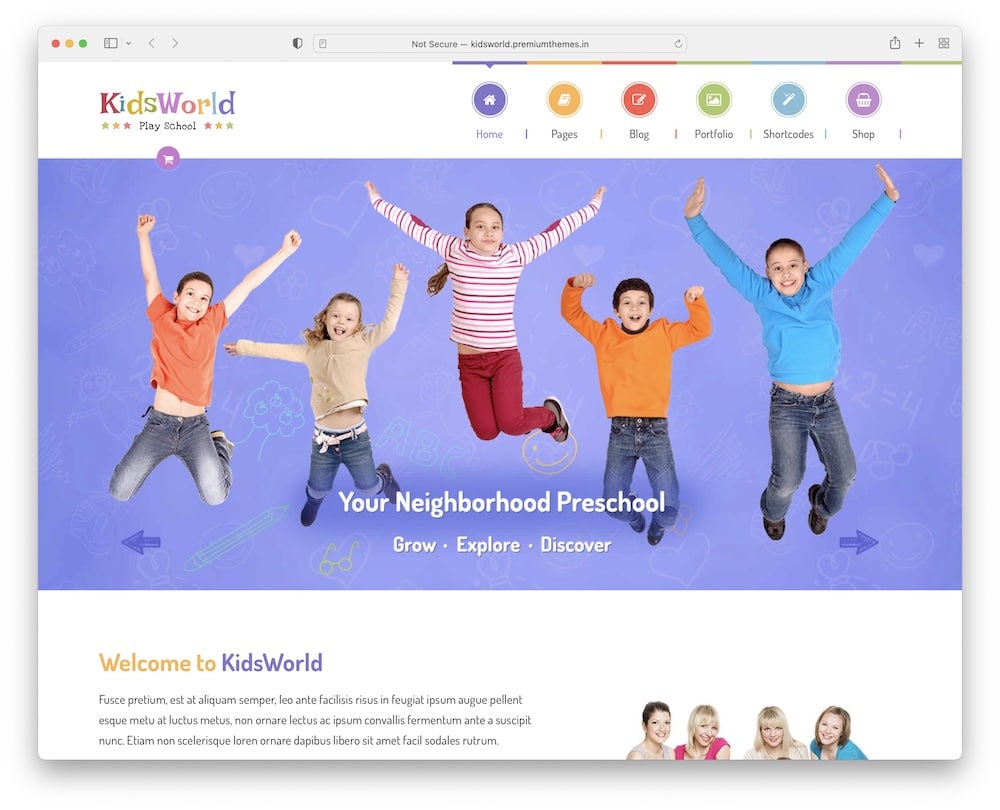 The fun-loving KidsWorld theme is an online world where kids are KINGS!
KidsWorld easily grabs visitors' attention with colorful skins, layouts, and sticky header.
Plus, you can add unlimited slides with Slider Revolution for an even bigger appeal. Recommendation: Include fully functional animations.
KidsWorld also allows you to showcase your portfolio beautifully.
Who doesn't want to keep track of their best work? (I like to observe my portfolio to see how I move forward and where I improved my strengths.)
IMPORTANT: Start a revealing blog!
KidsWorld has various post blog types, and simple-to-control layouts (grid, left to right sidebar, or full-width).
Your smile is KidsWorld's smile.
KidsWorld features:
960+ sales
4.8+ star ratings
Easy theme customizer
Timetable
Price: $59 (may vary)
MORE INFO / DOWNLOAD
DEMO
13. Kids Care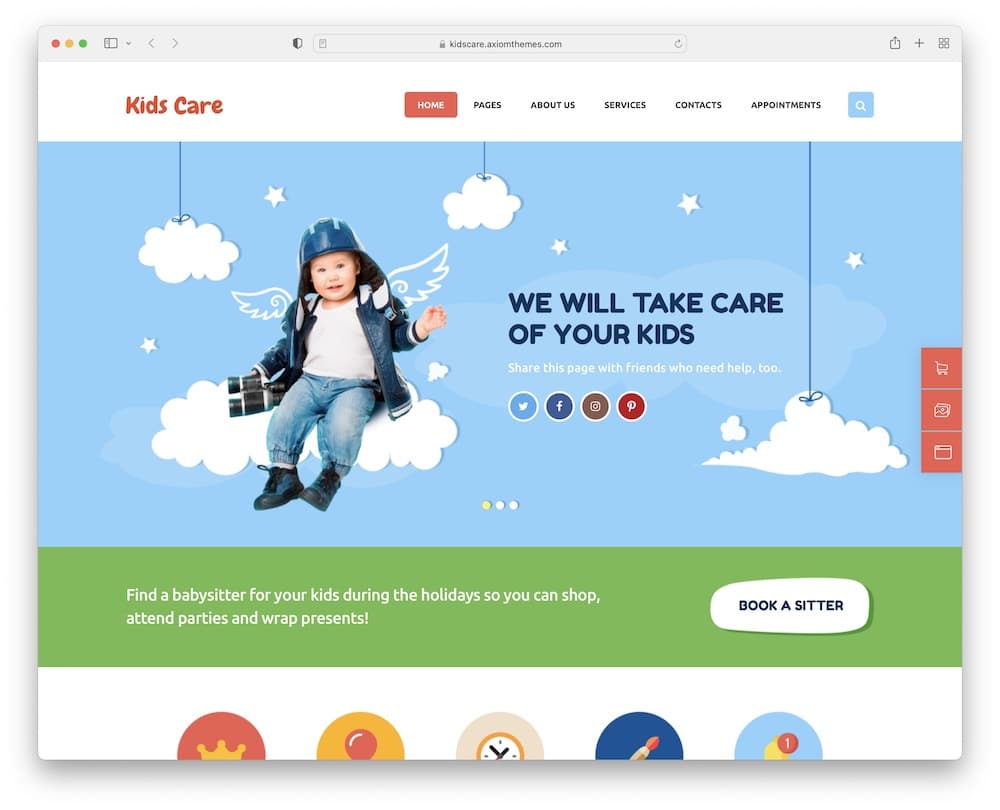 Enjoy the modern Kids Care WordPress theme and put a little magic into all kids with your lovely ideas, fun activities, teaching skills, etc.
A spectacular set of ready-to-use pages comes with the finest details and functional tools.
I personally think well of (who am I kidding, I am addicted to them!) Elementor page builder, Slider Revolution, MailChimp, and Contact Form 7.
Everything you need.
Including an online booking system! Visitors can book appointments directly on your website (fast and simple) with Kids Care.
So. COOL.
Want to connect your site with social media platforms? (Or add social share buttons to your WP site) A piece of cake for Kids Care.
Come. Sit. And play with Kids Care!
Kids Care features:
1,300+ sales
4.5+ star ratings
Header & footer builder
Custom everything (!)
Price: $69 (may vary)
MORE INFO / DOWNLOAD
DEMO
What To Look For In A Kindergarten Website?
Your website needs to represent your kindergarten in the best possible light.
And you can achieve this a lot easier with any of the above themes and these simple-to-follow tips that'll help you stand out from the masses.
When we did the necessary testing, we carefully reviewed these six must-haves to make your lives easier. We asked ourselves: "Does the theme tick all the boxes?"
6 Key Features Of A Great Kindergarten Website:
Responsive & fast loading: Your page needs to offer the ultimate performance to ensure the best user experience. It's a MUST that it loads fast on all devices, mobile and desktop.
Navigation: Create handy navigation, so all the necessary information and detail are easily accessible. (You can also create a sticky menu, so all the links are always available. And it's a fantastic UX booster.)
Contacts: Display your contacts in clearly visible locations, like the footer. But you can also make a contact page and integrate Google Maps to showcase your kindergarten's location.
Catchy graphics & elements: Even though parents will view your website (hopefully in the company of their children), remember to make it fun and engaging.
Services, programs: Give your outstanding services and programs all the shine they deserve through special sections and pages so they pop more.
Blog: And what will really set you apart from the rest is starting a blog. This is where you can announce events, create "meet the staff" posts, and share tips and tricks to help parents.
You should also not forget to add high-quality images of your kindergarten, playground, staff, etc.
::
Note: This article was originally published on June 26, 2022. But our team regularly reviews it and updates it with necessary improvements for accuracy.