Are you searching the web to find the best food truck WordPress themes?
I tested 22 "reliable" WordPress themes but found these nine to be the ultimate.
What's COOL about them is that they are very versatile, so you can use them for selling burgers, pizza slices, fish and chips, kebabs, etc.; you get the gist of it.
While all the demo material works fantastically well out of the box, you can fully customize each theme by dragging and dropping.
You don't need to have coding or design knowledge to build a professional food truck business website.
This post covers:
You're now ready to take your business to the next level!
THE ULTIMATE FOOD TRUCK THEMES:
How I Tested Food Truck WordPress Themes
I first checked each theme for regular updates and the quality of its support team.
From there, I reviewed the demo material, features, additional elements, custom widgets and shortcodes.
I also wanted to ensure that every theme is optimized for the best performance on mobile and desktop.
For this, I used Google's Mobile-Friendly Test and Pingdom Tools.
You can't go wrong with any – it's a GUARANTEE!
Best Food Truck WordPress Themes
1. The Food Truck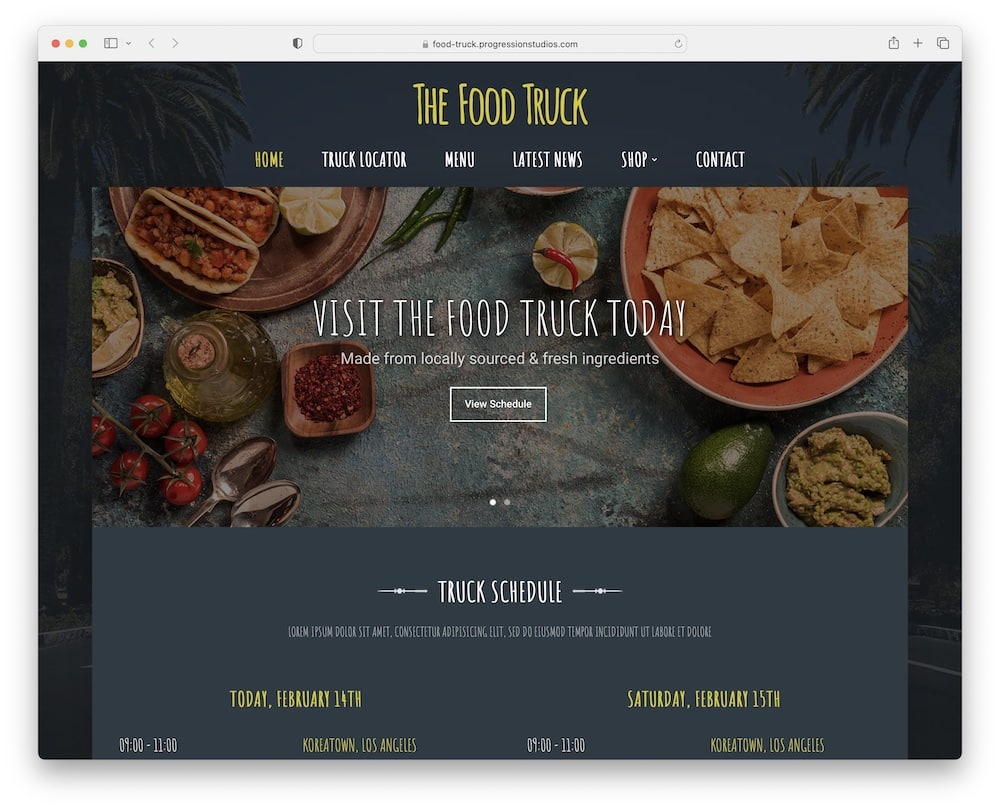 Are you thinking of starting a food truck business? You've come to the right place!
The Food Truck is a responsive and beautifully designed WordPress theme to build your website fast. You can easily change, adjust, and set up elements to the final look with drag & drop builder.
Moreover, pre-designed header & footer options, a flexible mega menu, and a COOL gallery layout are waiting for your content.
Plus, I love unlimited color possibilities!
Moreover, The Food Truck can be translated into any language needed. What? Sounds crazy, right? Well, it's not.
Bring your food into the hungry world.
The food truck features:
MORE INFO / DOWNLOAD
DEMO
2. Lunchbox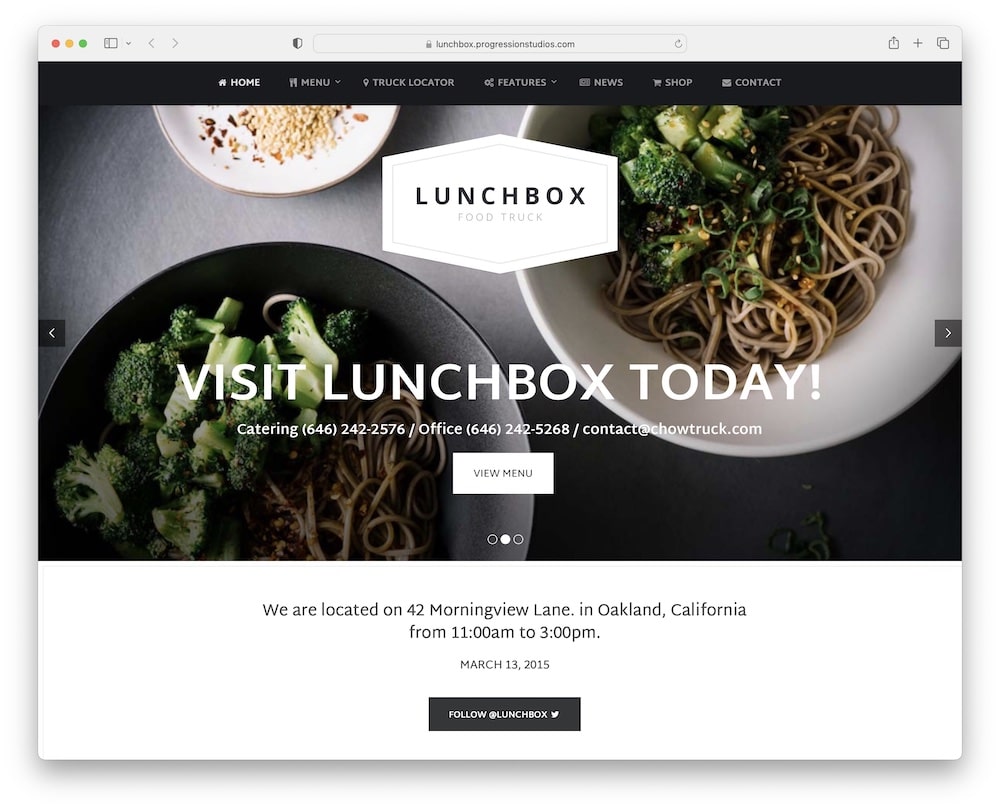 From catering (do you need an exclusive catering WordPress theme?) and social gatherings to marketing promotions or party events, the Lunchbox food truck WordPress theme is perfect for your business.
You can install a pre-made demo (functional from the box) and create a professional online look for your food truck with a simple click.
But you may also be interested in how to install a WP theme first (Ales create an awesome beginner-friendly guide for you).
Yup, Lunchbox is going to be your new bestie!
If you're like me, you will start by setting up a mega menu and slideshow (Hi, Slider Revolution plugin!) with your rich and yummy content.
Oh, and you can display useful contact forms for quick and simple connections with your potential clients.
Besides, Lunchbox's top-notch customer support is unstoppable with helpful support & detailed tips.
READY. STEADY. GO.
Lunchbox features:
670+ sales
4.8+ star ratings
Food menus
Truck locator map (you can also use a WP store locator plugin)
Price: $59 (may vary)
MORE INFO / DOWNLOAD
DEMO
3. Stego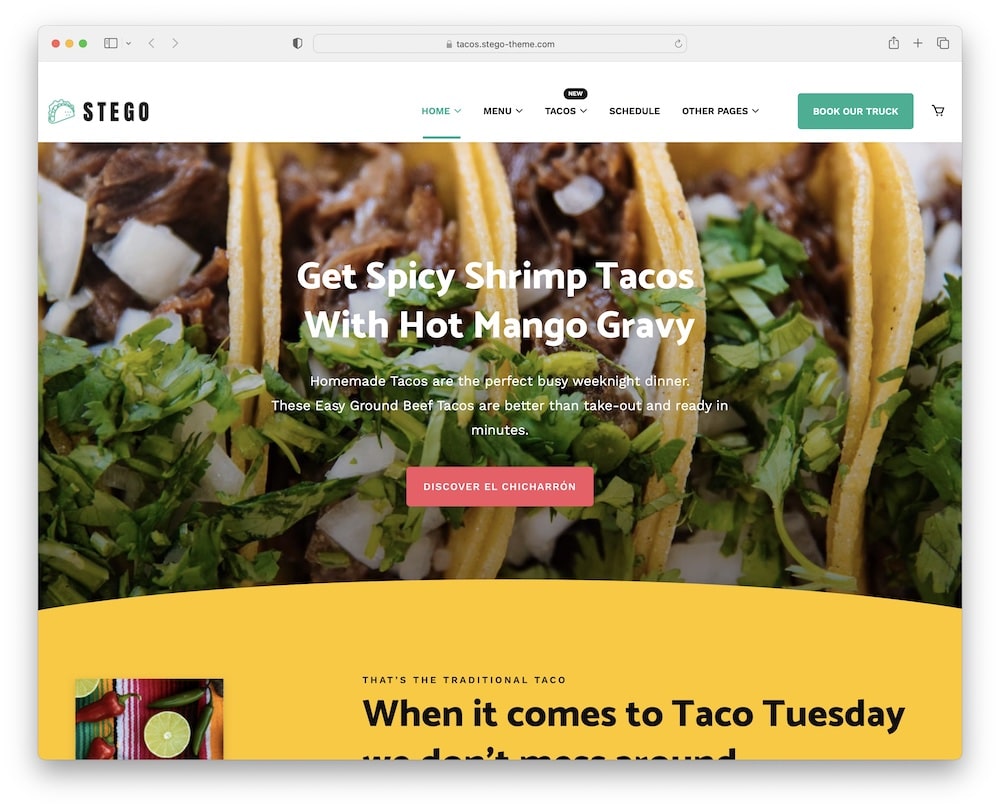 Check out this WordPress food truck theme and take your food brand to the next level!
You can use Stego to present your truck story, food menus, and testimonials. Plus, you can display your working hours and special (based on location) promotions.
Because hitting the streets with a strong website in place is key to success!
Moreover, you can start a blog about your food truck adventures, including a peek into the kitchen, events, and a glimpse of daily food truck life.
Of course, Stego is fully customizable with the drag-n-drop motion and does not require any coding or design skills.
Eating GOOD in the neighborhood!
Stego features:
80+ sales
4.5+ star ratings
Modern & creative design
Also works great as a WordPress pizza theme
Price: $38 (may vary)
MORE INFO / DOWNLOAD
DEMO
4. Foodtruck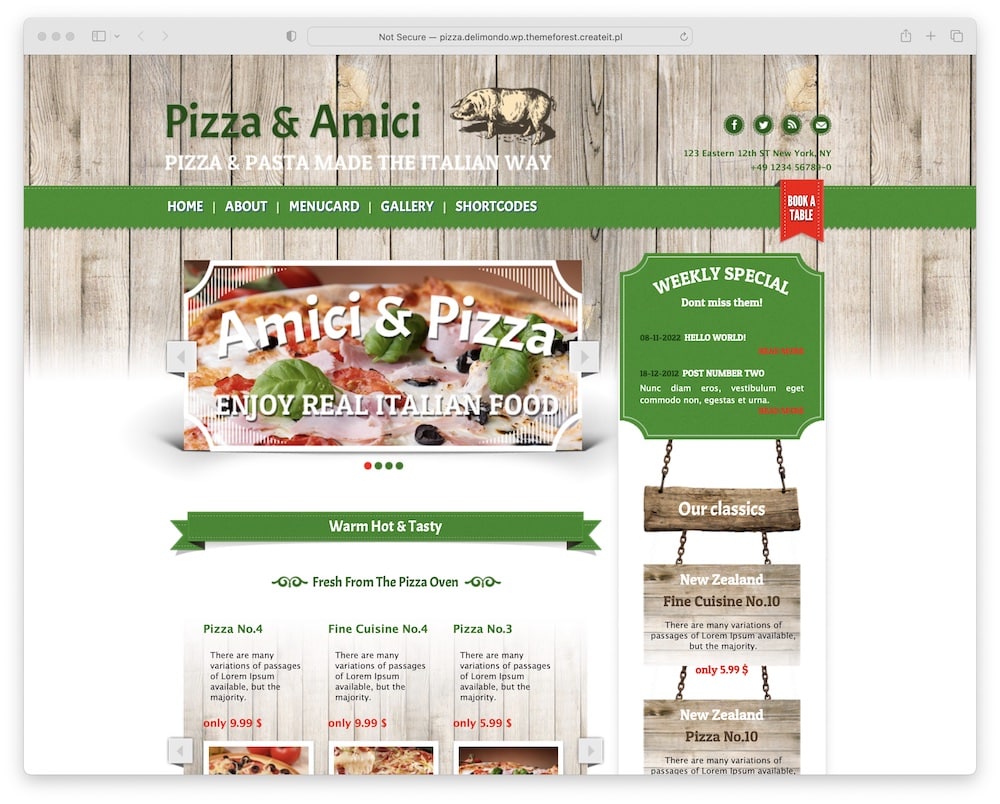 Stylish Foodtruck is happiness on wheels for finger-licking fans!
You can easily customize the Foodtruck theme with the handy WordPress page builder (WPBakery). Just add, change, remove, and set up its design as you need.
You can display your daily recommendations, promotions, and even take online reservations for events. Plus, you can connect Foodtruck with your social media accounts to grow your business.
I also think Google maps on the bottom of your website is a great feature for your switching location food truck.
It just makes it easy for people to know where you will serve your delicious food. (We have a full tutorial on how to add Google Maps in WP.)
Take a chance with Foodtruck!
Foodtruck features:
1,900+ sales
4.3+ star ratings
One- & multi-page layouts
Included PSD files
Price: $59 (may vary)
MORE INFO / DOWNLOAD
DEMO
5. Taqueria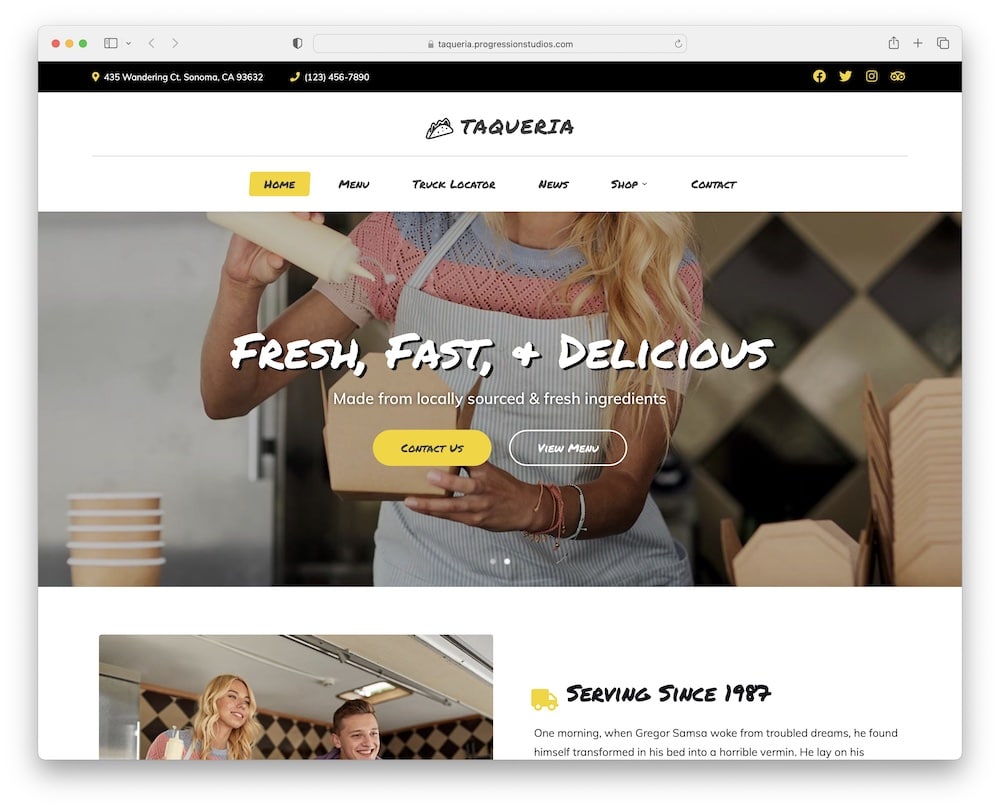 Taqueria food truck WordPress theme is coming to town. Do you know what that means?
Yup, your right!
Fresh food, grilled veggies, tasty sandwiches, and much more can be offered with modern and vibrant Taqueria.
Share your food truck story, create a beautiful gallery, and even start a blog about your serving journey.
Plus, a newsletter subscription form is a great way to tell people where you are located and what are your new ingredients or special promotions.
Moreover, creating slides, contact forms and popups is simple with Taqueria. Oh, and friendly customer support has your back – ALWAYS!
Your food truck is in good hands with Taqueria.
Taqueria features:
MORE INFO / DOWNLOAD
DEMO
6. Lafka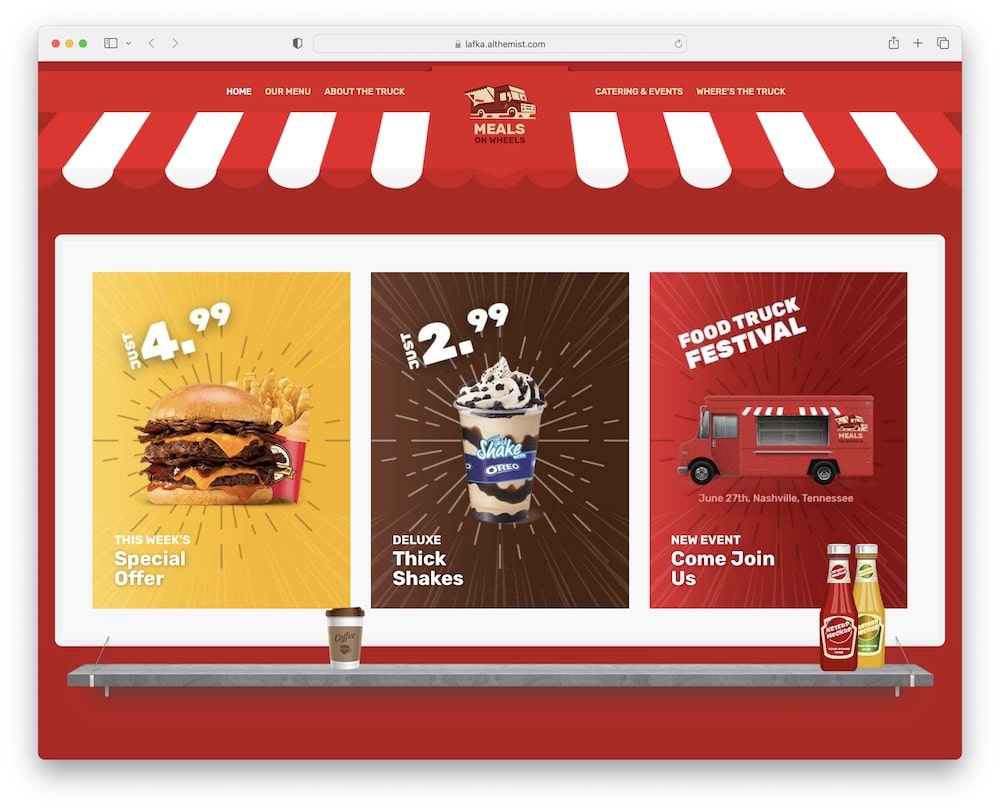 Travel and taste with the Lafka food truck WordPress theme.
Playful Lafka was made with beautiful attention to detail and offers the best tools for the street food business. YES, you get everything you will ever need.
Insert your logo, set up a menu, upload your photos, content, contact details, and you are good to go!
Oh, and yes, Lafka is Gutenberg-ready.
In fact, your clients can easily check out your truck's location (HI5, Google maps!) or even request it at their wedding, event, or business meeting.
Because meals on wheels have no limits.
By the way, it's always a COOL thing to have unlimited colors, backgrounds, and many Google fonts to choose from. Enjoy!
Lafka features:
2,500+ sales
4.6+ star ratings
Push notifications
Nutrition calculator
Price: $59 (may vary)
MORE INFO / DOWNLOAD
DEMO
7. Fast Food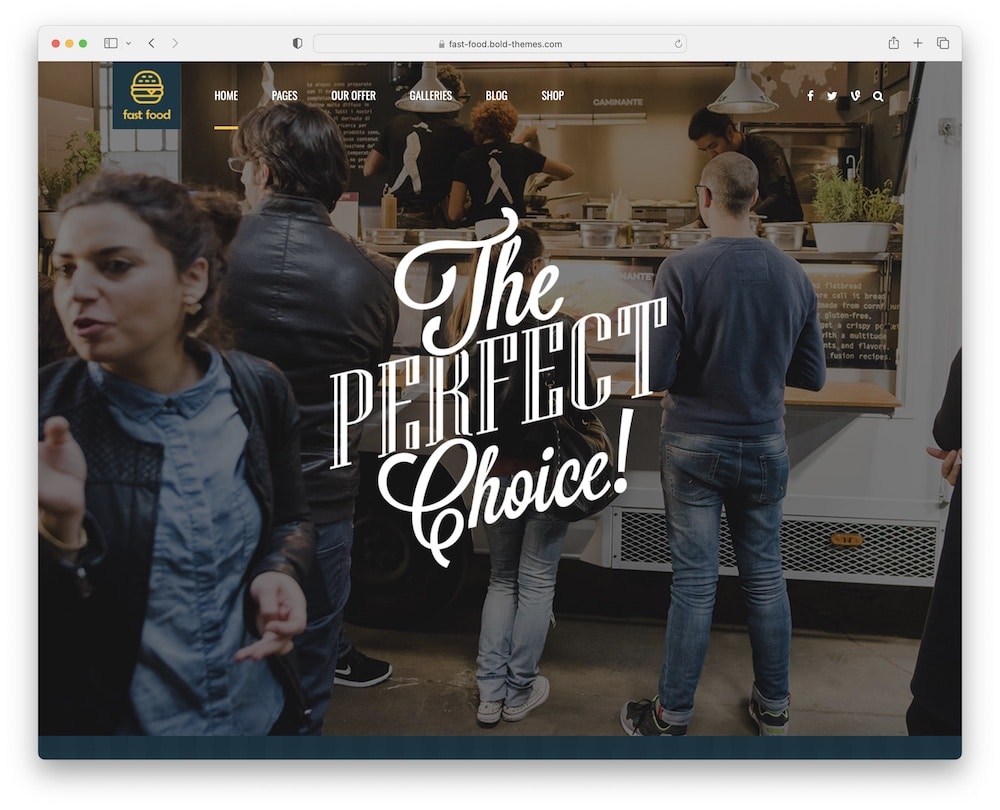 Trust your truck with Fast Food theme and customize its ready-to-use demo as you fancy.
You can choose from light or dark header, use WP widgets for extra functionality, play around with colors & fonts, and add custom icons. My FAV part of building a website!
Plus, this gorgeous food truck WordPress theme is fully responsive and retina ready, meaning it looks great on various screen sizes.
Pretty COOL, right?
Furthermore, Fast Food includes goodies such as WooCoomerce and a cost calculator.
Also, make sure to connect your site with social media accounts, and remember, life is too short for boring posts!
Yup, now it's time to commit and take action with Fast Food.
Note: I also created an extensive collection of the best fast food WordPress themes.
Fast food features:
MORE INFO / DOWNLOAD
DEMO
8. Foodo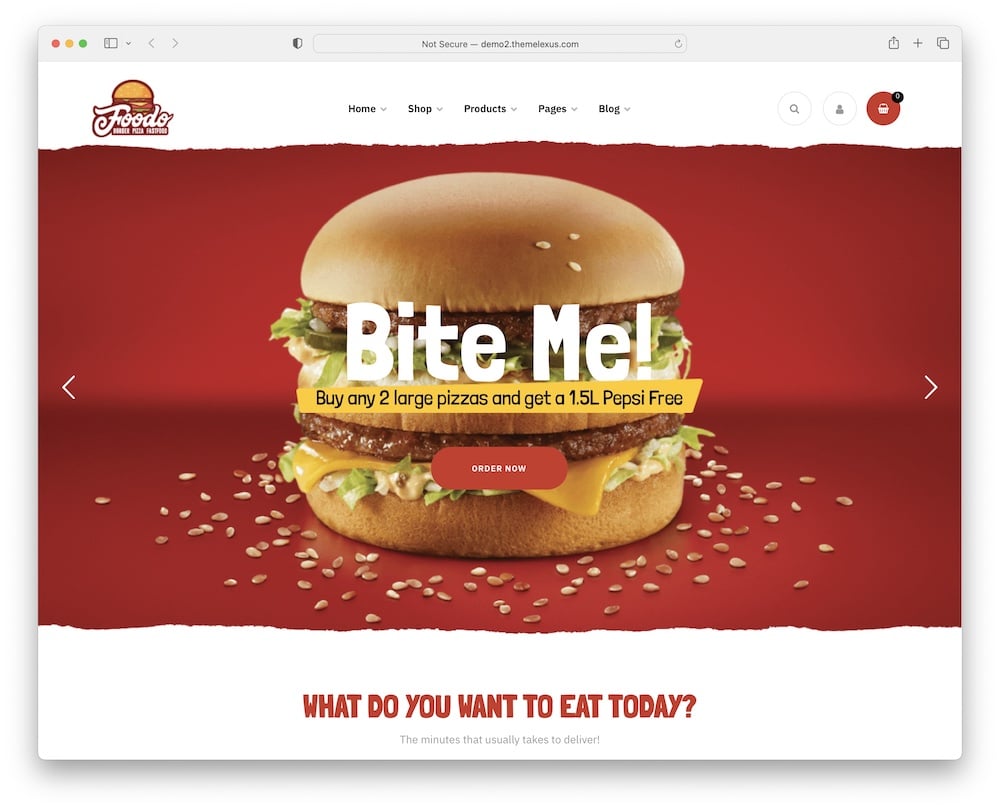 Wanna see some magic? Check out the brilliant Foodo food truck WordPress theme.
It actually doesn't matter if you make pizza, cheeseburgers, Asian food, seafood, or pasta. Foodo will tell your story full course & seasoned well, of course!
Also, Foodo includes four different demos (choose your gem) together with pre-made layouts, inner pages, and blog styles.
Moreover, it's responsive, optimized for fast performance, and cross-browser compatible SO that your visitors will experience quick & easy access.
A slow, ineffective site can be a headache! (Don't miss checking our guide on how to choose a fast WordPress theme.
By the way, amazing parallax effect (a simple trick) can be used on rows and content to make your website look even better.
Foodo features:
580+ sales
4.8+ star ratings
Quick view popup
Regular updates & top-notch support
Price: $55 (may vary)
MORE INFO / DOWNLOAD
DEMO
9. Meals & Wheels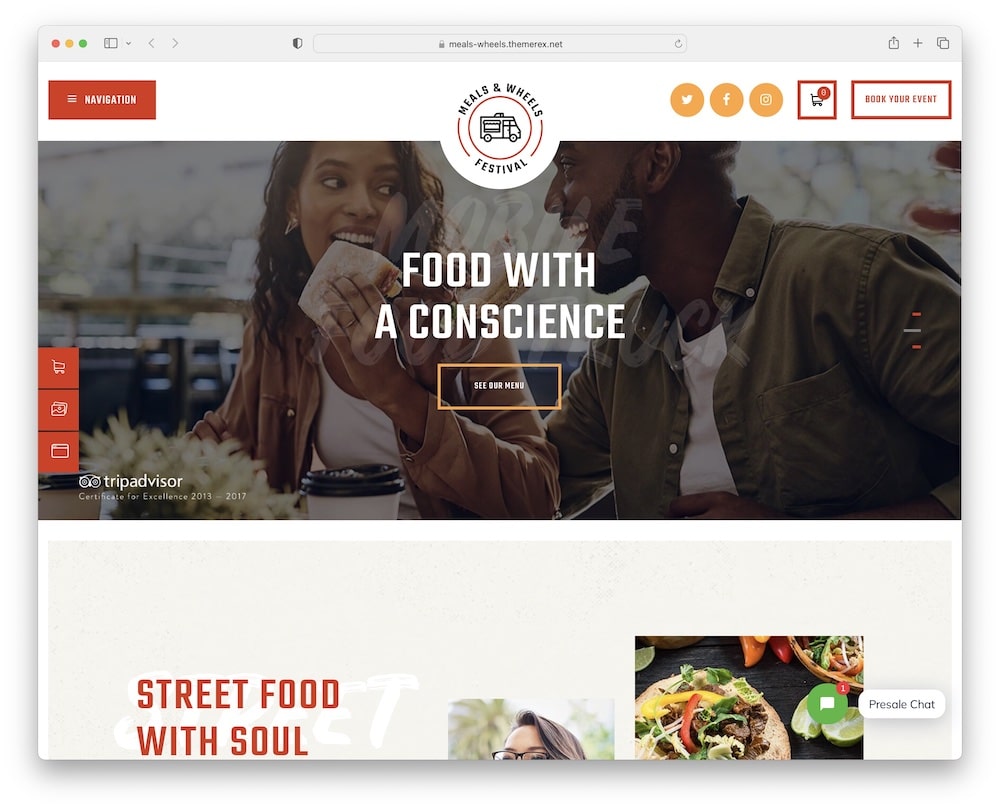 Where there are people, there's the Meals & Wheels food truck WordPress theme.
Make way for good food with beautifully made layouts, outstanding design presentations, and a transparently made online food menu.
Plus, you can easily start a blog and share news from the road, newly discovered ingredients, street food tricks, and much more.
Like your food, your content should be spicy!
OH and Meals & Wheels is bundled with the most popular plugins such as Slider Revolution, Elementor, WooCoomerce, and Contact Form 7. Borrow happiness from them (like me)!
And make your food truck trendy by consistent email marketing via MailChimp (wink-wink).
Quickly. Grab Meals & Wheels!
Meals & Wheels features:
MORE INFO / DOWNLOAD
DEMO
6 Key Features Of A Food Truck Website
It's important that you follow these essential features of a great food truck website.
However, here's a little secret: You don't need to worry about too much stuff if you pick any of the above themes.
They save you so much time and effort!
Food truck site's essentials:
Mobile & speed optimization: Your website must be 100% responsive and optimized for great loading speed. I thoroughly tested each theme for your convenience. Remember, speed also depends on the quality of web hosting you choose.
Food menu: After reviewing other food truck websites, I found that the most successful ones have a food menu clearly visible. Also, use images and add pricing.
Location: Because you might be moving around a lot, ensure you add your location so customers can find you easier. Integrated Google Maps is one of the best solutions.
Contact details: Add a contact form and a clickable phone number so everyone can easily get in touch with you for special requests, bulk orders, "Do you have anything gluten-free?" and more.
Content: Ensure to create a slider, a gallery even a promotional video that features your awesome food truck, your delicious dishes and anything else that'll be of value to the customer.
Blog: One way of entertainment is through a regularly updated blog, which works great for content marketing and contributes to SEO.
Now get your food truck website on its feet and reach a MUCH wider audience.
::
Note: This article was originally published on December 29, 2022. But our team regularly reviews it and updates it with necessary improvements for accuracy.