Our review of the best free WordPress wedding themes is perfect for event planners, couples, bloggers and online stores.
Instead of doing your research and LOSING a lot of time and effort, we did the necessary hunt for you.
You can now create a professional WP wedding website fast without coding and design experience.
This post covers:
We successfully used these themes for multiple wedding announcements, an avenue business, and two wedding planners.
And you can, TOO!
How We Tested Free WordPress Wedding Themes
The first thing on our to-do list was to check each theme for user satisfaction and how regularly it received updates.
Tip: Don't use a theme that doesn't get updated (at LEAST once a year).
The next thing was using Google's mobile-friendly test and Pingdom Tools to analyze responsiveness and fast loading.
But you need to know that loading speed is closely related to your hosting quality. You can read more on that in our how to choose a fast WordPress theme tutorial.
We then examined every theme for its customization and compatibility with 3rd-party plugins.
Hey, a free theme isn't stuffed with A TON of features, so you may need to juggle with plugins to expand its functionality. (Which is very easy to do, BTW!)
What about the RSVP form, story section, countdown timer and Google Maps for location?
We either reviewed the built-in options for these or installed plugins to see how easy it is to add new elements to the theme.
Sharing love (online) has never been this fun 🙂
Best Free WordPress Wedding Themes
1. Catch

With white flowers, elegant drapery, crystal chandeliers, and beautiful details, there's no doubt that Catch free WordPress wedding theme is timeless.
Catch provides rich features such as a flexible header & footer, blog layouts, attractive slider, and useful options for simple booking (from a hotel, restaurant, to transportation, wedding ceremony, and reception).
And frankly, that's a big honor.
Moreover, Catch comes with quality responsive design – ensuring a professional look about you or your clients. BLISS.
Oh, and you can easily create galleries (or use a free WP gallery plugin) full of gorgeous wedding photography with Catch.
That's it, you're now ready to start building your own pretty website (bring it on!).
Catch features:
600+ active installs
4.8/5 ratings
MORE INFO / DOWNLOAD
2. Blossom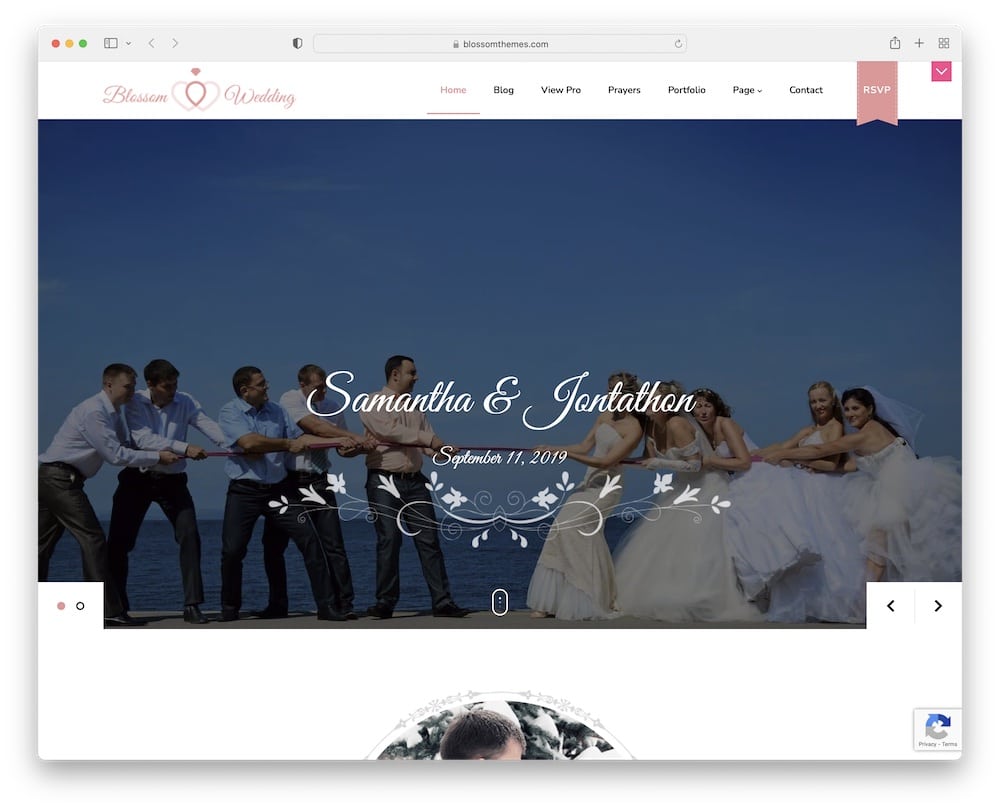 If you're a couple who'd like to make a stylish statement then Blossom free WordPress wedding theme is a perfect fit for you!
You can make a pretty website for sharing all the important information, your love story, invitations, and memories (photo galleries).
And Blossom is great even for people who want to start a career as a wedding planner. (Do you need an exclusive WordPress wedding planner theme?)
BIG. OPPORTUNITY.
Furthermore, Blossom is optimized for fast performance, SEO and is totally responsive. It is worth mentioning that you can also translate Blossom. (Remember, it works with any popular WP translation plugin.)
Pretty COOL.
Keep in mind that Blossom is fully customizable, and does not require any coding knowledge from you. Just follow your dreams and let Blossom inspire you.
Blossom features:
800+ active installs
4.6/5 ratings
Call to action
Pricing table (you can also use a WP pricing table plugin if you need more options)
MORE INFO / DOWNLOAD
3. Happy Wedding Day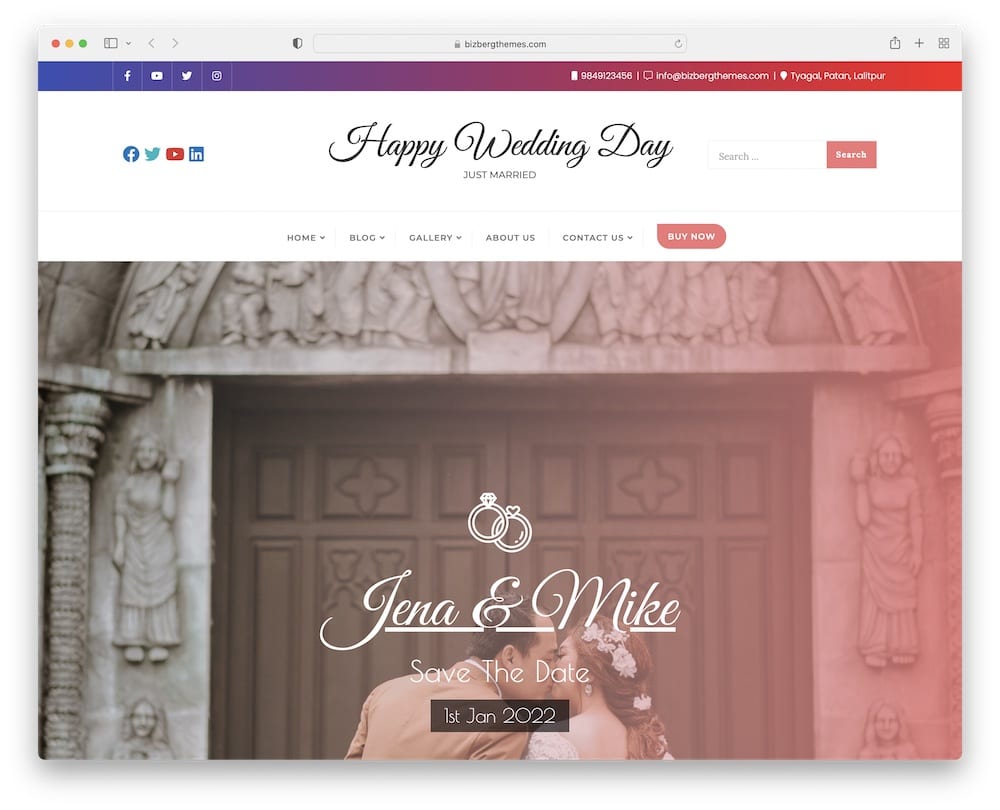 Save the day with the Happy Wedding Day free theme as proof that dreams do come true!
This gorgeous theme has elegant layouts and fully supports the Elementor page builder.
SO keep calm, Happy Wedding Day is super handy and easy to use.
HI5!
You can create the most impressive portfolio to make your journey of love even more memorable for your clients with Happy Wedding Day.
Plus don't forget to showcase all of your strong points of organization, stunning wedding locations, and WOW details for your new clients.
Of course, you can start, run and grow your own blog with useful info, love stories, recommended wedding venues, and much more.
LIMITLESS possibility!
Check out Happy Wedding Day (it's a must!).
Happy Wedding Day features:
500+ active installs
4.7/5 ratings
Blog section
One-click import
Countdown timer
MORE INFO / DOWNLOAD
4. Bosa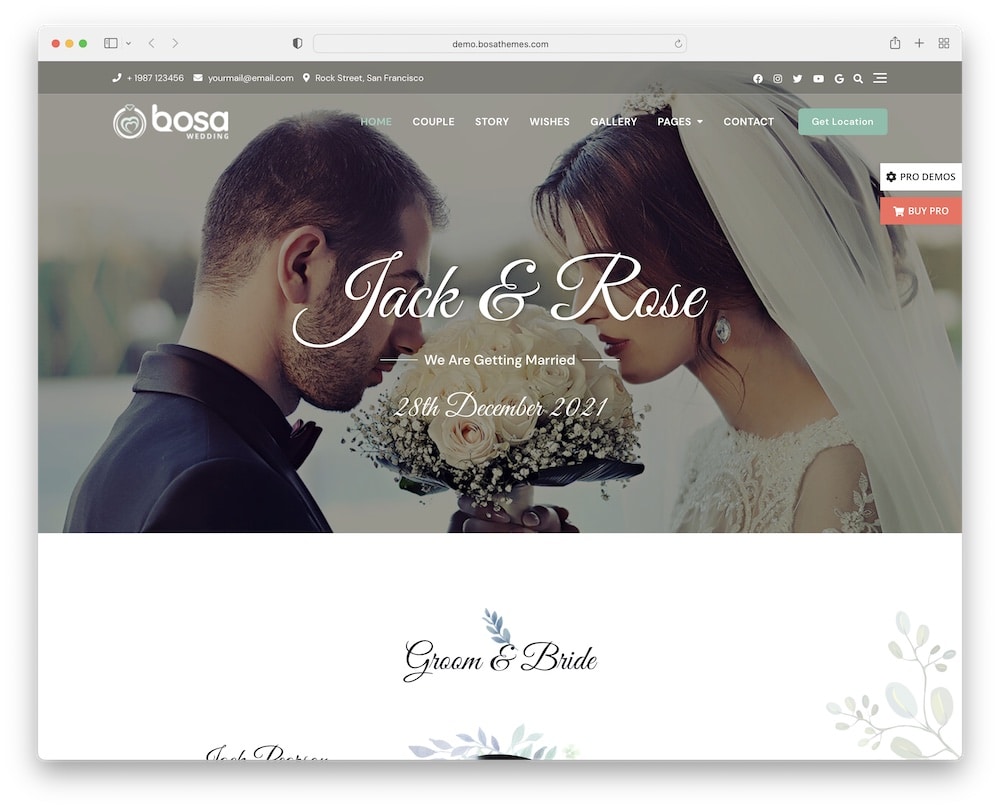 While everything about this Bosa free WordPress wedding theme is beautiful, my favorite part is the organized menu and small unique (SO pretty) details.
You can change this fully customizable theme as you wish and use it for different purposes: wedding planners, vendor presentations, modern invitations, photo galleries, inspiring wedding ideas, and feminine WP blogs.
Plus, Bosa works perfectly with Gutenberg (or Elementor) editor – AHA, prepare yourself for a simple drag-and-drop interface between your ideas and website possibilities.
Jump of joy!
A great head start is guaranteed with multiple layouts, pre-made pages, unlimited colors, and amazing fast-load performance. EXCITING!
Enjoy BIG DAYS with fabulous Bosa.
Bosa features:
500+ active installs
4.4/5 ratings
Great speed & performance
WooCommerce integration
Multiple WP widgets
Grid layout (or make a fully custom one with these WordPress grid layouts)
MORE INFO / DOWNLOAD
5. Scapeshot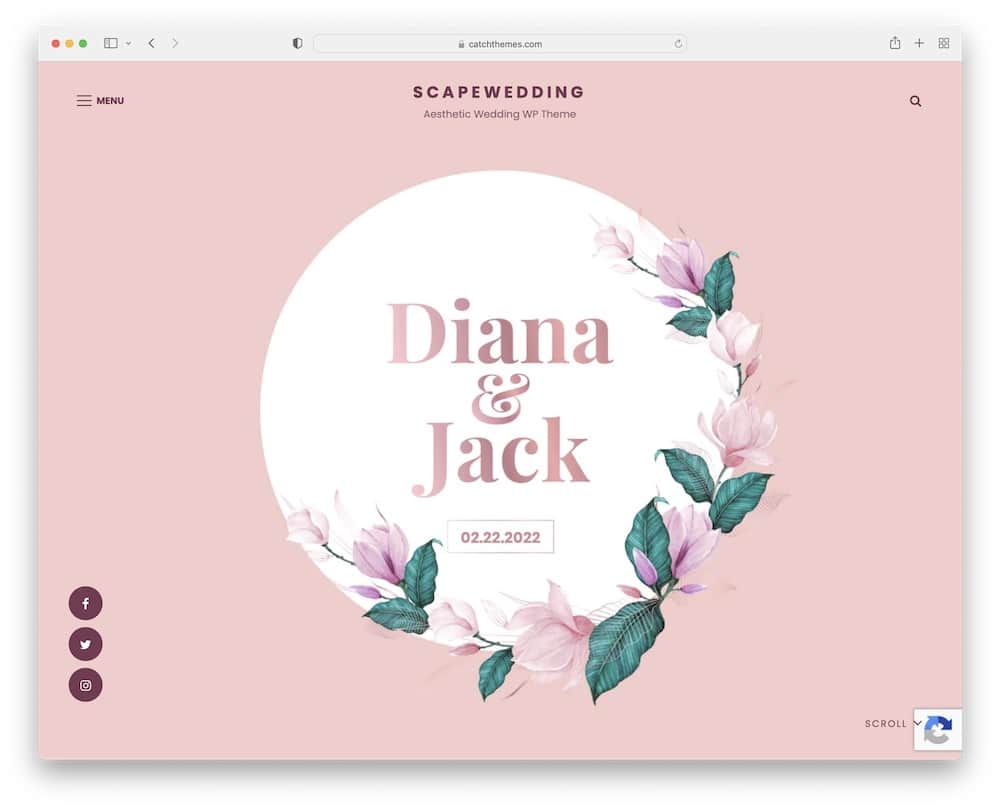 Keep scrolling through Scapeshot free WordPress wedding theme to see an elegant, clean, and pretty design with a free-spirited boho look. I am addicted.
Scapeshot is for professional wedding planners BUT also great for personal wedding sites. You can easily showcase portfolio, gorgeous photography, wedding countdown, testimonials, and wedding planner price list.
What's not to love?
You can use unlimited color options for header, footer, and background sections.
Besides, Scapeshot comes with documentation and instructions. Of course, Scapeshot is happy to guide you if in need of customer support.
Scapeshot features:
300+ active installs
4.5/5 ratings
100% responsive
Portfolio section
Hero content
Easy to use
MORE INFO / DOWNLOAD
6. Signify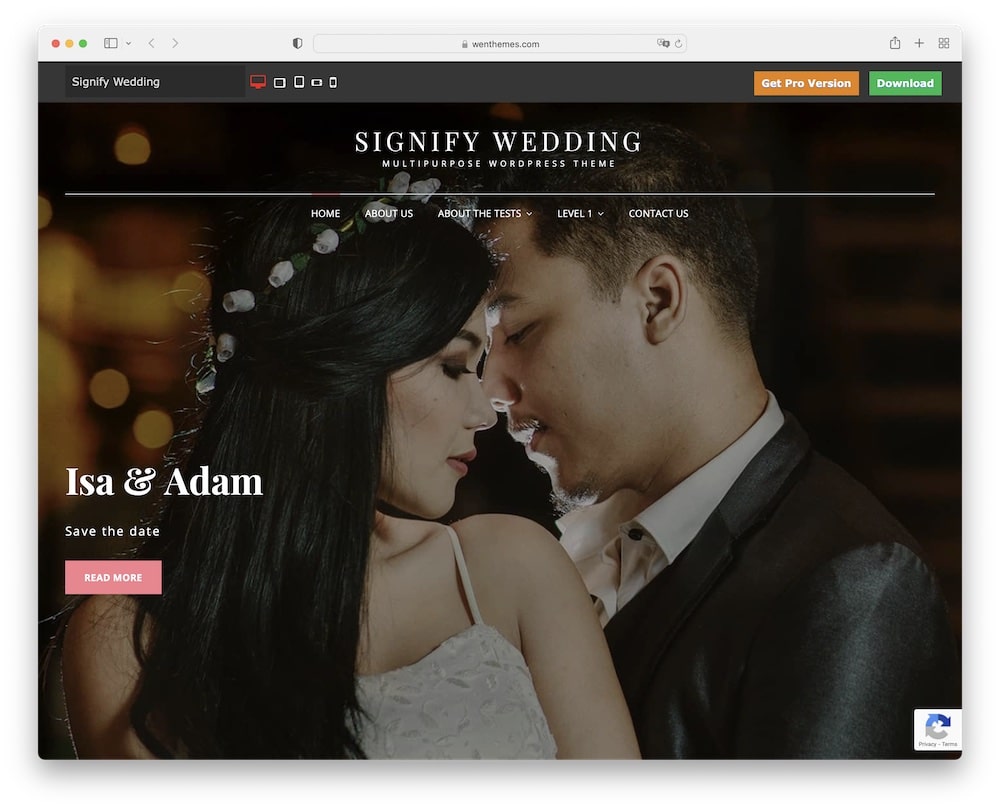 Signify free WordPress wedding theme is the perfect place to celebrate love for weddings.
Signify displays important information engagingly along with the bold, beautiful, and unique design.
You can have a new website live in just a minute (NO coding knowledge required) with Signify. WOWIE.
All the features are customizable, functional, and easy to understand. A responsive design ensures that your site looks great on all screen sizes and devices.
YEAH!
And don't forget to upload some inspirational photo galleries. We all appreciate a good LOVE story.
Best kept secret: Commit to Signify the same as to your partner and success is guaranteed.
Signify features:
300+ active installs
4.4/5 ratings
Regular updates
Timeline page
4 widget areas
MORE INFO / DOWNLOAD
7. Nikah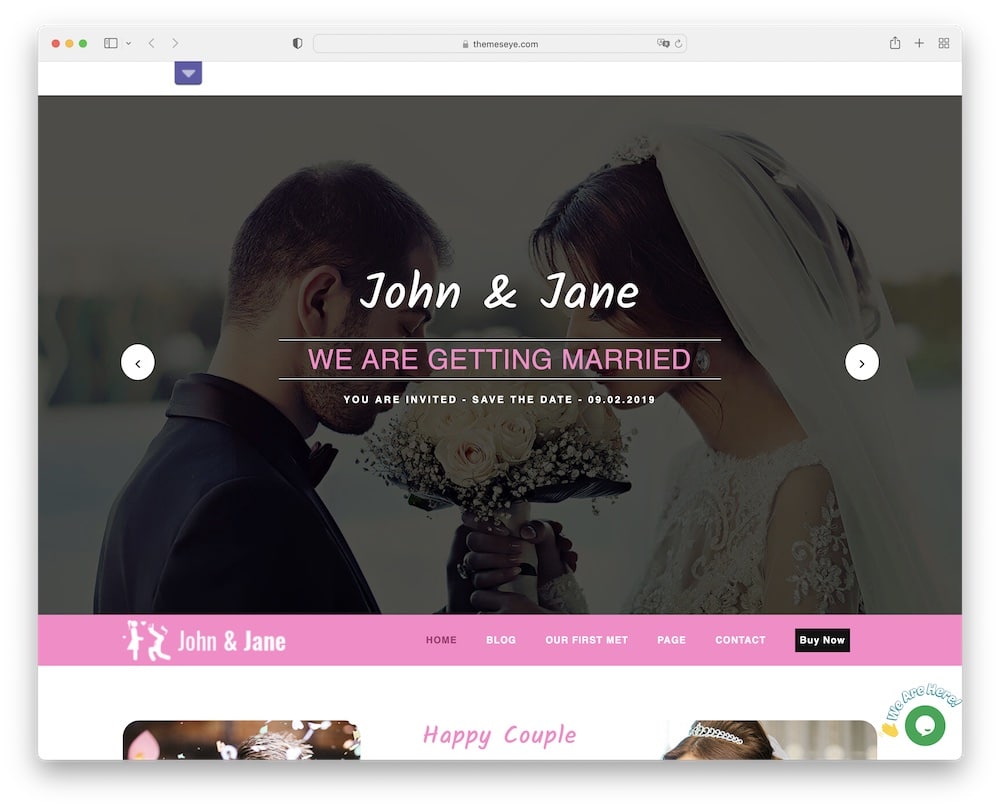 Nikah free wedding theme uses dreamy colors, breathtaking details, and vibrating features to bring a stylish wedding vibe to life. EYE-CATCHING.
Don't just take my word for it, scroll all over Nikah and capture its special girly girl characteristic.
Moreover, you can translate Nikah in any language – it even supports enabling RTL languages in WP. YES, it is very easy to change the displayed language of your website.
I la-la like it!
On top of that, Nikah is cross-browser compatible to WELCOME all users. All different – all equal.
You can also start a blog journey ("online magazine") with tons of valuable wedding inspiration and ideas. #Helpbrides
Nikah features:
90+ active installs
4.3/5 ratings
Takes minutes to set up
Social media integration
Fantastic support
Excellent documentation
MORE INFO / DOWNLOAD
8. Wedding Bells Lite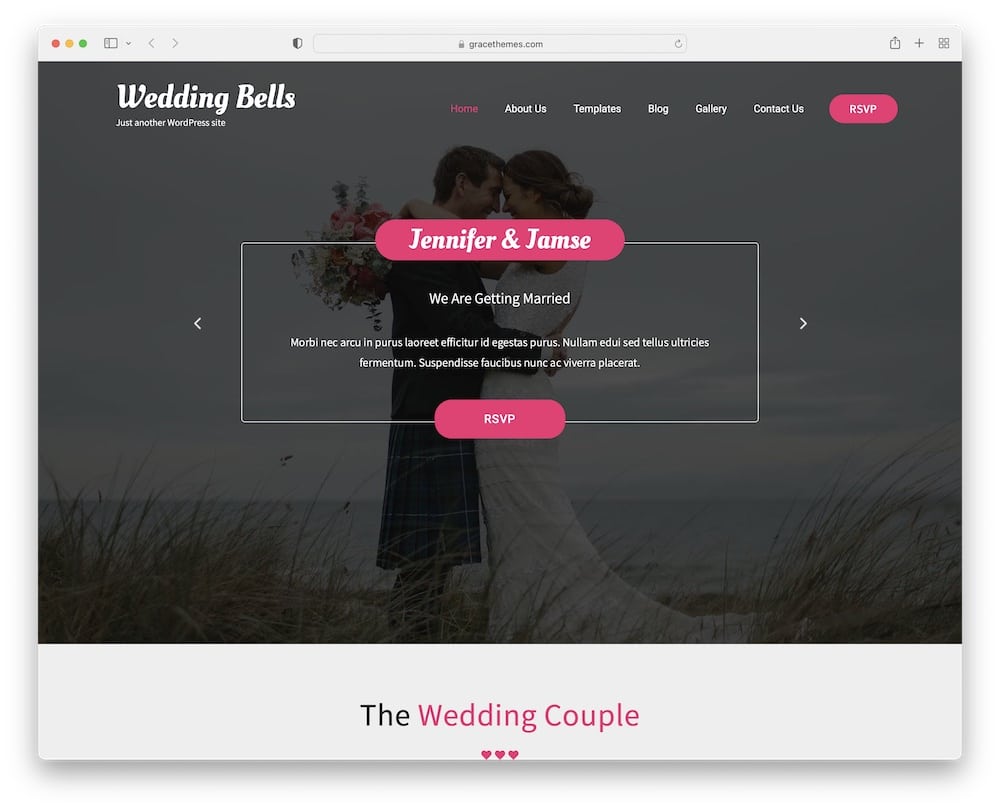 The saying less is more couldn't be more true when it comes to the elegant Wedding Bells Lite free WordPress theme. Get your ideas packed and ready to create your new website!
Wedding Bells is a romantic, charming, and feature-rich theme that unites lovebirds.
You can present couples, life stories, wedding day schedules, family and friends – Possibilities are ENDLESS.
In order to create your circle of an audience, you can smartly use online forms to collect visitors' emails. Pop up in their mailbox useful and valuable content and I am sure they will become your customer or loyal fans.
PERFECT.
Ready to jump in?
Wedding Bells features:
60+ active installs
4.2/5 ratings
Fast loading
Testimonials slider
Full-width design
MORE INFO / DOWNLOAD
9. Wedding Photos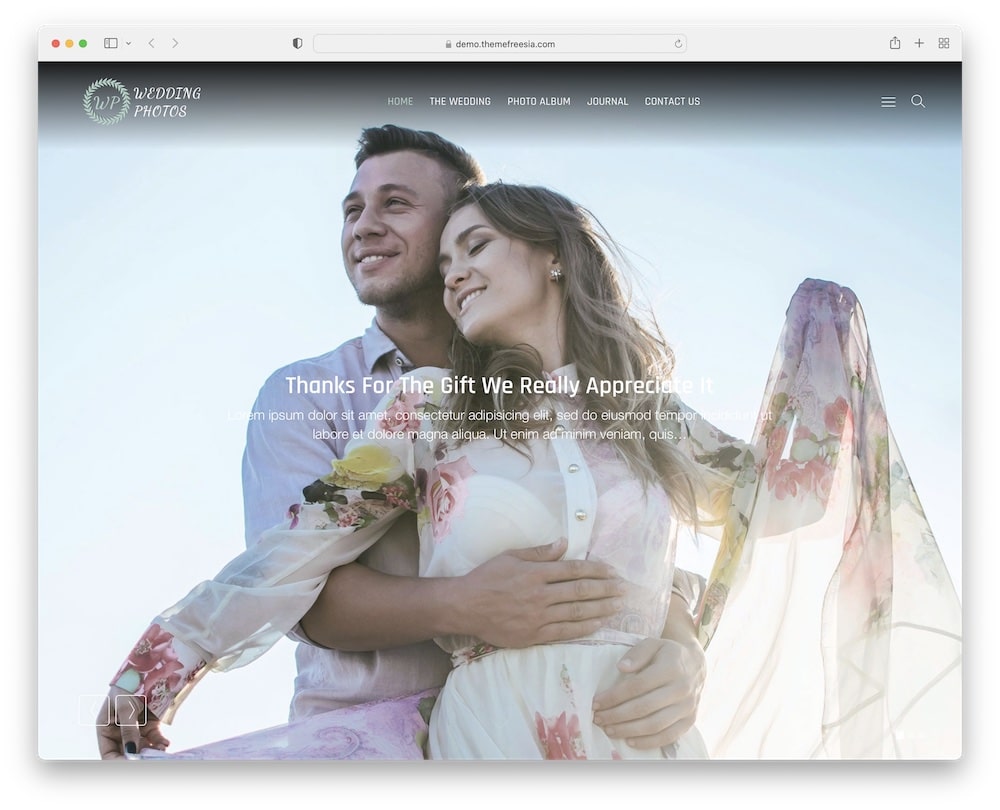 This opulent and dream-forward Wedding Photos theme is just the one for that special day.
"I DO," is a truly magical moment, SO be sure to capture it with a breathtaking website.
Wedding Photos comes with a one-click demo import and FREE lifetime updates! Take a deep breath.
Possibilities are many!
But don't worry if you can't visualize it, just start customizing Wedding Photos like you desire (100% control) and see how flexible and simple it is.
BUT remember (!), you can contact dedicated customer support to help you out in a moment of a dilemma. In short, Wedding Photos has your back.
What are you waiting for? Get Wedding Photos!
Wedding Photos features:
200+ active installs
4.5/5 ratings
SEO optimized
Quick customization
Video support
Beautiful gallery
MORE INFO / DOWNLOAD
10. BB Wedding Bliss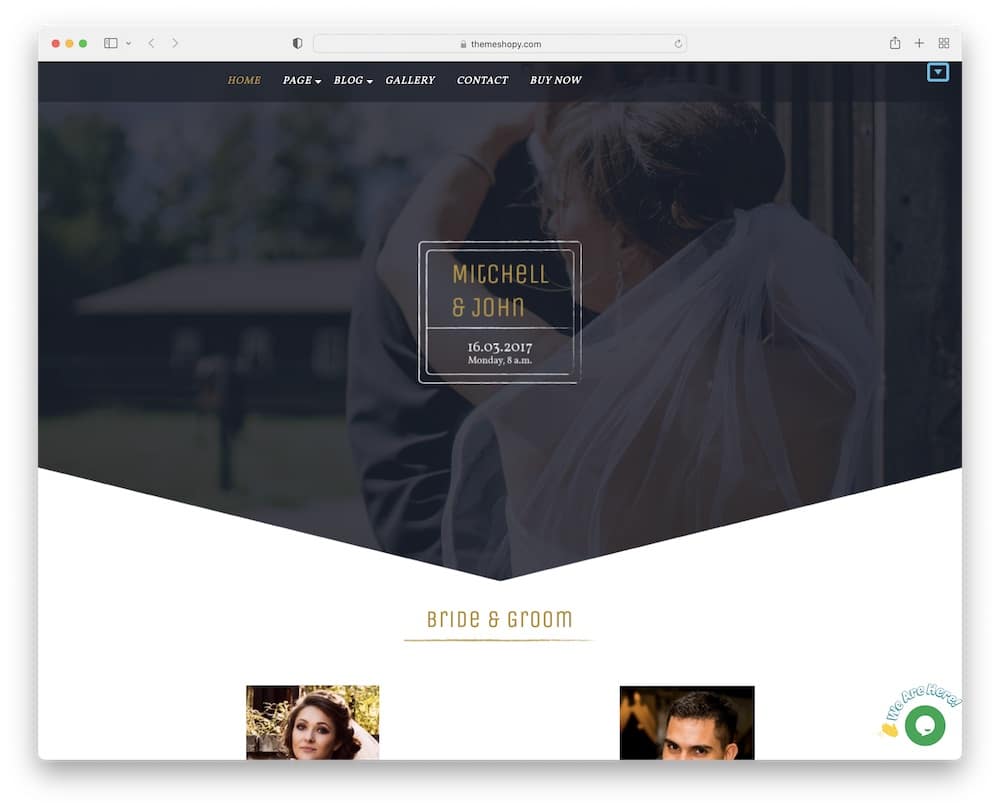 A wedding cake made for royalty, a big celebration, chicky details, beautiful wedding gowns, etc. These are just some of BB Wedding Bliss' awesome elements.
This free wedding theme is mobile-friendly, assuring a great user experience for your visitors while surfing on the site.
Works like a charm!
Moreover, BB Wedding Bliss includes versatile banners, call-to-action buttons, stunning typography, and an unlimited color pallet. It also integrates social media. WIN-WIN.
Now for the good news: It is SEO friendly.
Shout out, loud and proud: HURRRAAAAY! LONG LIVE BB Wedding Bliss!
BB Wedding Bliss features:
100+ active installs
4.6/5 ratings
3rd-party plugins support
Works for one-page sites
Perfect for wedding planners
MORE INFO / DOWNLOAD
11. Wedding Hall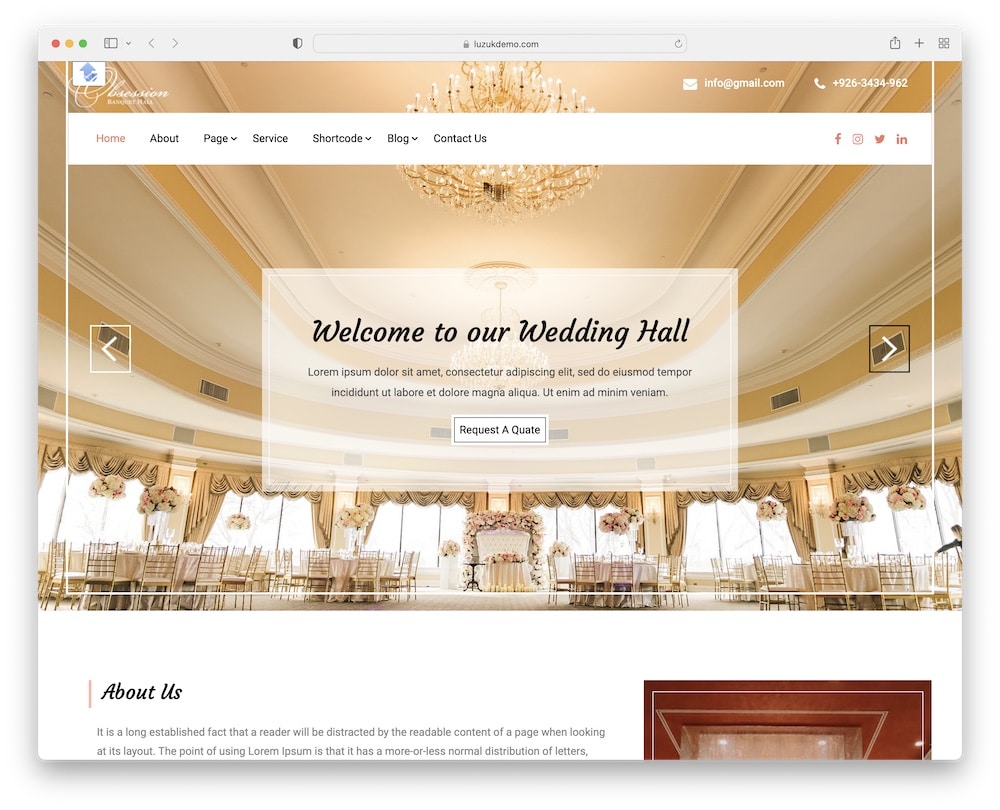 Capture every intimate moment between the newlyweds with the stunning Wedding Hall free WordPress theme. It portrays a professional look, minimal design, fantastic banners, and smart ways to share your content.
You can reach a wider audience due to the integration of social media – simply share your photography, stories, and blog posts. Path to success.
Wedding Hall comes with secure, clean code, guaranteeing smooth functioning of your new site.
A good foundation is KEY.
Moreover, you can rearrange and set up pre-made layouts, flexible-header, numerous widgets, custom background, and sticky posts as you wish. KICKASS!
Tie the knot with a unique Wedding Hall.
Wedding Hall features:
100+ active installs
4.3/5 ratings
Awesome attention to detail
Sparks curiosity
Saves you time
Top-notch performance
MORE INFO / DOWNLOAD
::
Note: This article was originally published on March 18, 2022. But our team regularly reviews it and updates it with necessary improvements for accuracy.