Are you searching for the best construction company WordPress themes to build a strong business website?
We spent a good portion of the past six months testing 30+ themes on client projects to end up with the best fourteen.
These themes offer everything to create a construction company website FAST.
From responsive and fast loading layout to beautiful designs and heaps of features, everything's in one location.
Showcase your notable works through online portfolios, add pricing, include a cost calculator and easy-to-access contact details.
It's ALL possible and doesn't require coding skills to make it happen.
BUILD. NOW.
THE ULTIMATE 5:
Best WordPress Construction Themes
1. BuildPress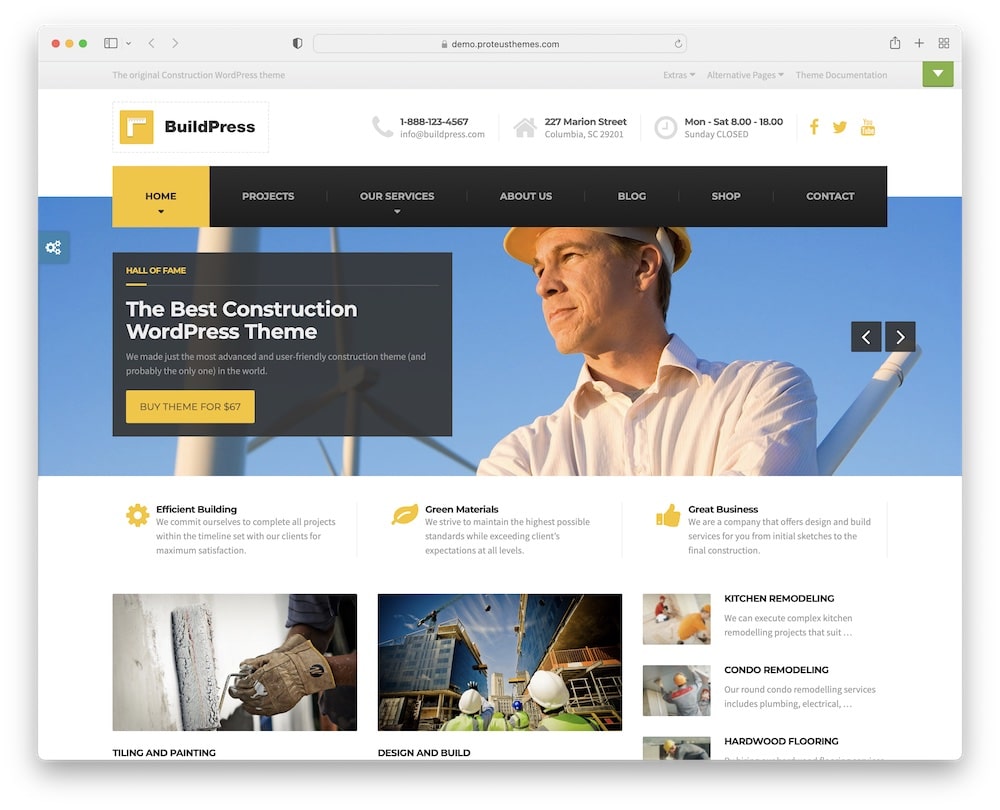 You can stay at the cutting edge of the construction industry with the amazing BuildPress theme.
BuildPress is simple to set up (ready-to-use demos) and you can quickly customize it for your building projects with the AMAZING WPBakery page builder.
You can use templates, elements, blocks, and unique add-ons for your new site without coding.
HASSLE. FREE.
Plus, responsive & retina-ready BuildPress gives you access to numerous widgets and sidebars SO that you can create unique layouts.
Personalization has never been such free(dom)!
Want your online shop?
Build it with BuildPress's integrated WooCommerce and start selling construction items today!
BuildPress features:
7,600+ sales
4.5+ star ratings
1-click installation
Regular updates
Price: $99 (may vary)
MORE INFO / DOWNLOAD
DEMO
2. Constructo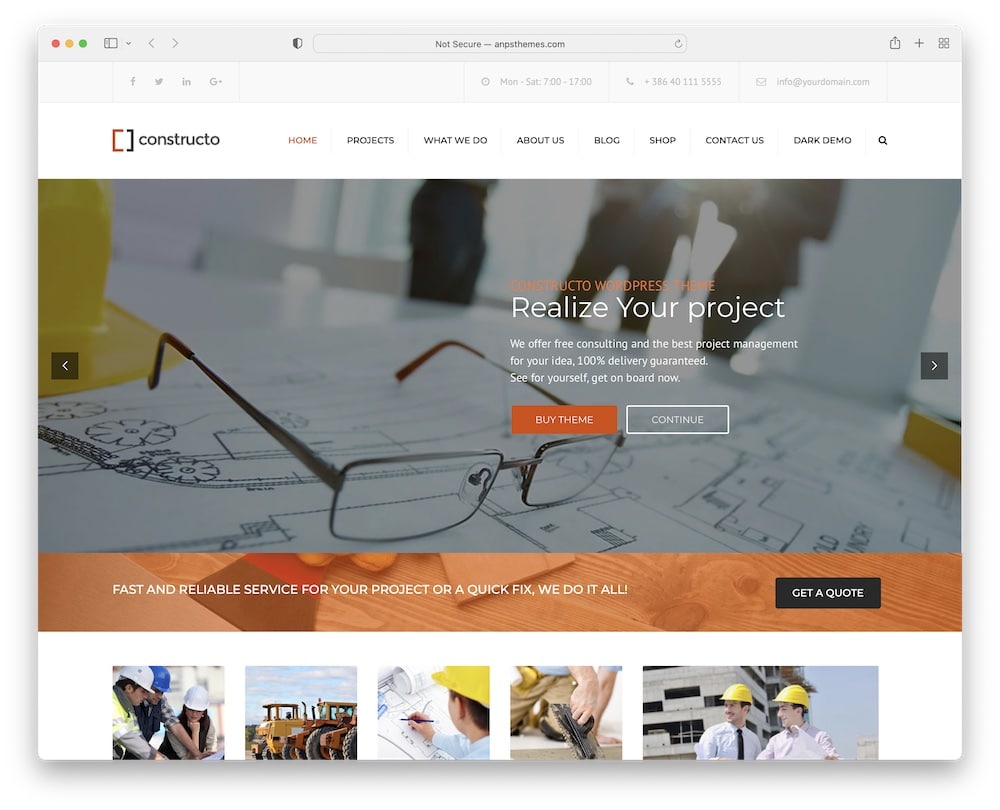 Architects, residential builders, general contractors, construction managers, and renovators will find plenty of inspiration in the gorgeous Constructo construction company WordPress theme.
Constructo has numerous menu types to create a well-organized menu that's important for a quick and easy guide for your visitors.
And there is always a lot happening in construction (!), so turn your skills into an advanced blog!
Share industry news & insights and fully present this fascinating profession to your audience.
The major value is extended documentation (a lifesaver) and one-click regular updates (HURRAY!).
Your vision – Constructo expertise.
Constructo features:
6,400+ sales
4.6+ star ratings
Excellent video tutorials
Supports RTL languages
Price: $59 (may vary)
MORE INFO / DOWNLOAD
DEMO
3. Renovate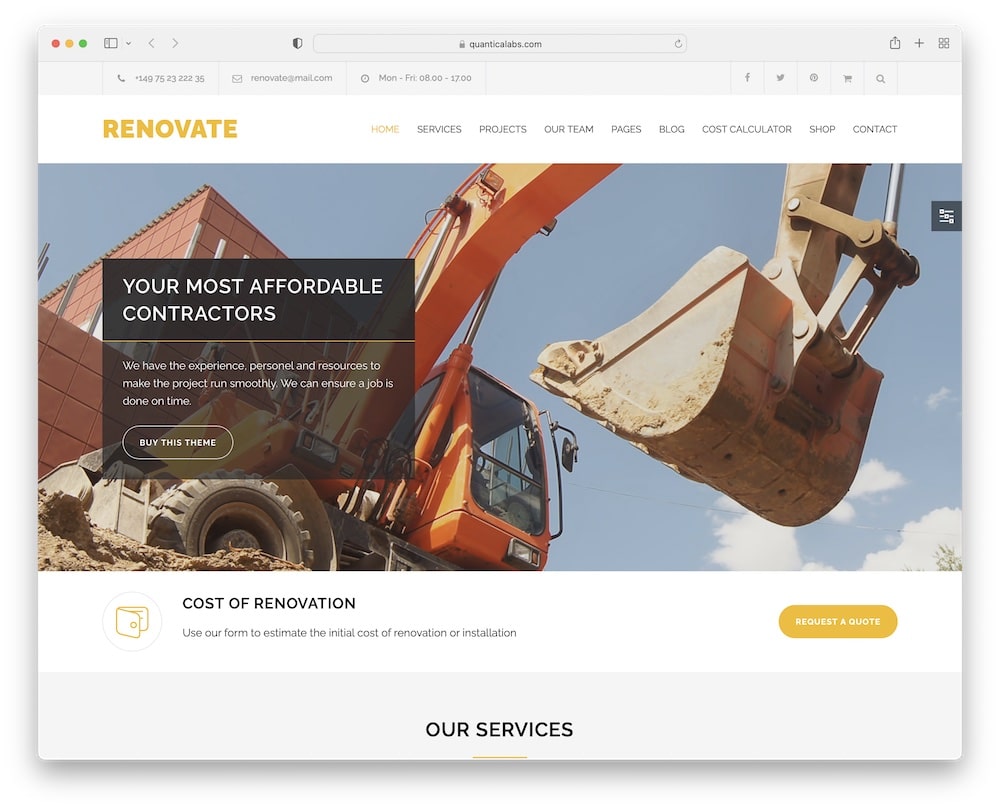 Keep the construction profession appreciated with Renovate WordPress theme.
Renovate fits home-maintenance companies, renovations, architects, and passionate builders best. This one is a TREAT.
It includes a bundle of popular plugins such as WPBakaery page builder, Slider Revolution, and WooCommerce.
And comes with numerous pre-designed templates, tons of Google fonts, and unlimited menus (sticky menu included).
But the show's real star is the parallax background (which immediately captures visitors' attention)!
Succeed with the unstoppable Renovate.
Renovate features:
5,200+ sales
4.6+ star ratings
Integrated cost calculator
50+ components for easy building
Price: $69 (may vary)
MORE INFO / DOWNLOAD
DEMO
4. Structure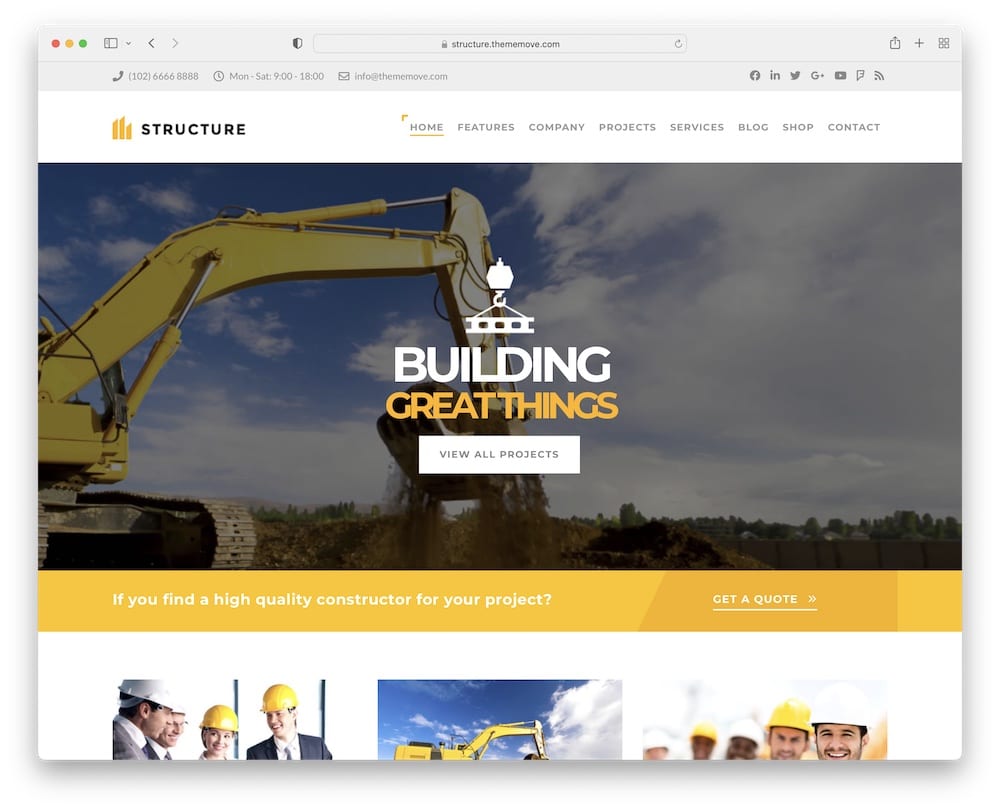 Save time and money with the Structure construction company WordPress theme & maintain your HIGH professional level.
Smooth performance and fast loading speed guaranteed!
Structure offers fifteen pre-designed homepages and sixteen color schemes to choose from (and hard work – 30 seconds to make the decision. SHEESH!).
You will make a strong & lasting first impression with a beautiful header, modern blog layout, and fun CSS3 animations.
FOR. SURE.
Oh, and Structure's sticky footer will stay fixed during scrolling so that all essential details are always available to your audience.
Thanks to comprehensive documentation and lifetime updates (FREE), you can build the most striking website without multiple services or programs (your secret is safe with me)!
All your efforts will be rewarded. BIG TIME.
Structure features:
3,900+ sales
4.6+ star ratings
Optimized for speed
Built-in testimonials tool
Price: $59 (may vary)
MORE INFO / DOWNLOAD
DEMO
5. Renovation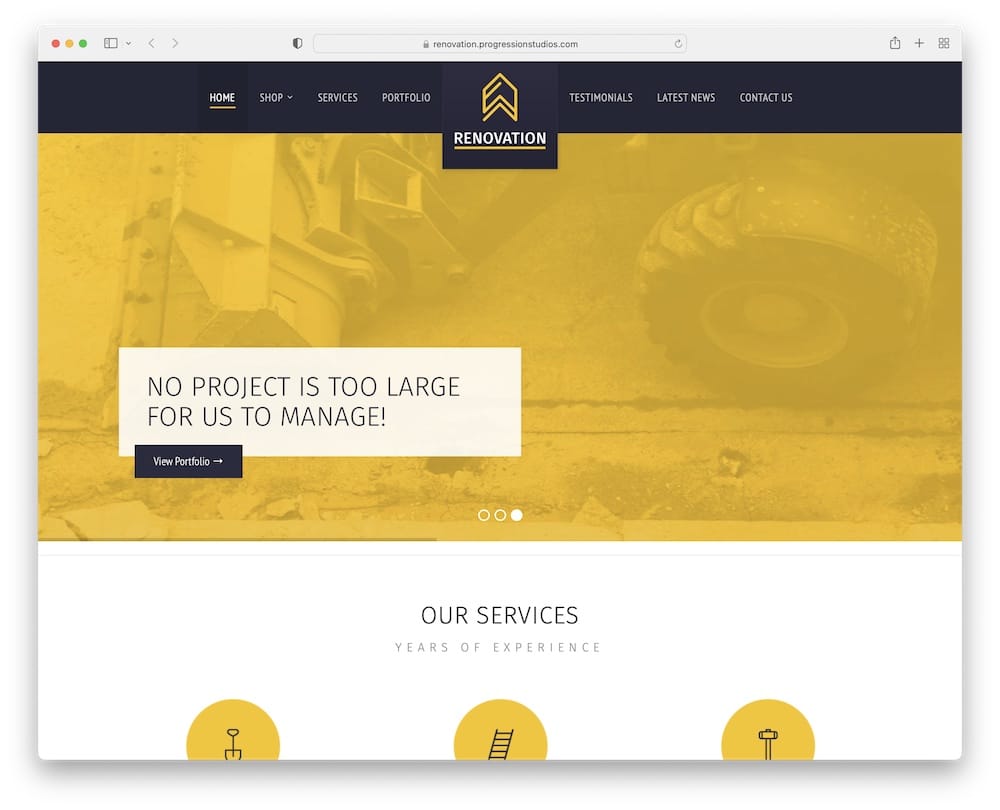 Renovation is a modern construction company WordPress theme that will get you going FAST due to all the included must-haves.
Think: great user experience, the most popular plugins, and responsive design.
Yes, please!
You can fully manage your site with an amazing drag and drop WordPress page builder!
You can set up videos, use colors, add slideshows, and adjust the menu or sticky header even if you are not tech-savvy.
A real-time building is just the BEST (in my opinion).
Moreover, you can translate Renovation into another language and localize or globalize your site to other profitable markets.
Game-changer!
Keep in mind that font size and style can grab attention and provide GOOD readability at the same time. PICK smart!
Renovation features:
2,400+ sales
4.4+ star ratings
Great navigation with mega menu
Easily add a contact form
Price: $59 (may vary)
MORE INFO / DOWNLOAD
DEMO
6.Dustro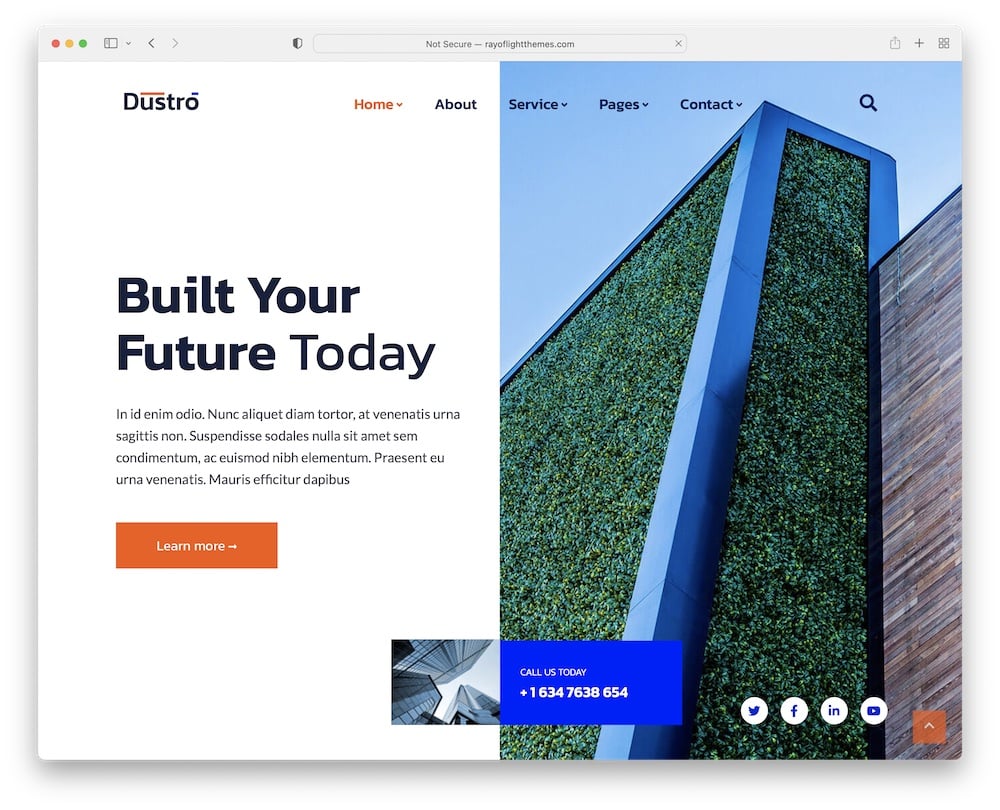 Inspire people with an elegant Dustro construction company WordPress theme and showcase your work with the STUNNING carousel galleries and an impactful portfolio.
Uniquely crafted layouts are the best way to organize your content and images.
I like how Dustro spaces blocks so that the content remains transparent and nicely at hand throughout the page.
Once you select a pre-made layout, replace the content with your valuable info (about your business, services, contact, pricing table widget, and company address map).
And voilà, as if by magic, you have a site!
Dustro is also cross-browser optimized to work the same way on all browsers. AWSOME user experience on the internet is HUGE.
Dustro features:
100+ sales
4.5+ star ratings
Unique front & internal page designs
Price: $44 (may vary)
MORE INFO / DOWNLOAD
DEMO
7. ProRange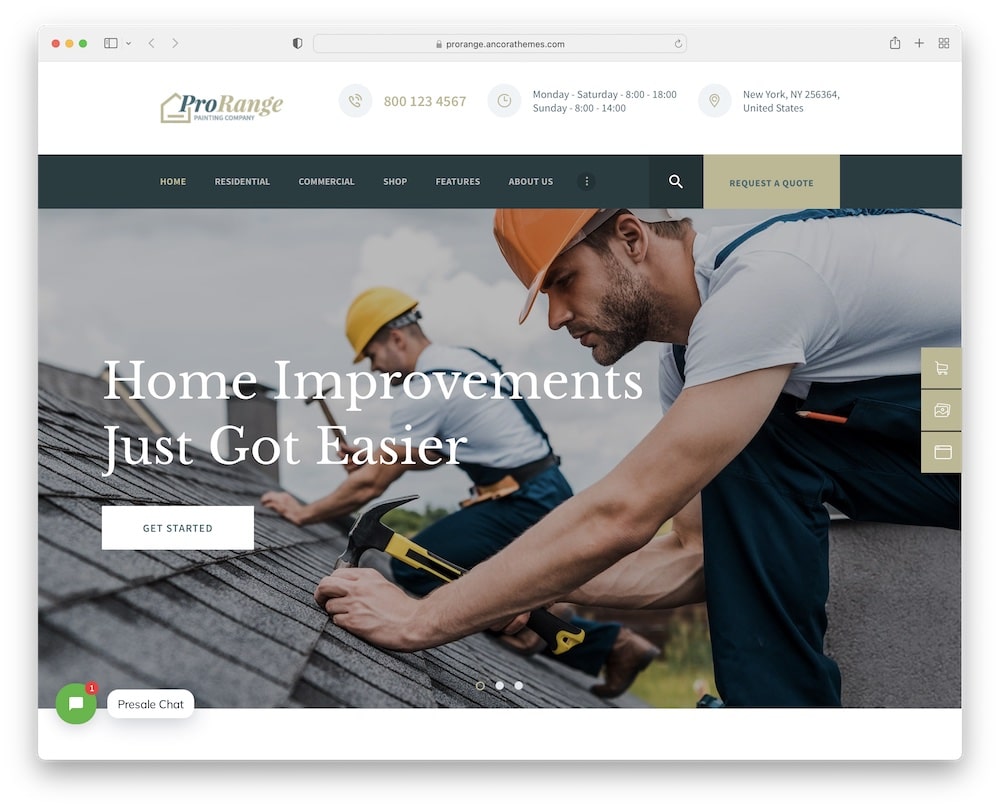 Attention: Website under construction!
ProRange construction company WordPress theme is ideal for a simple and professional-looking site.
Everything is crafted with a powerful admin interface, excellent tools, and flexible design.
ProRange has you covered with parallax effect backgrounds, lots of shortcodes, Fontello icons, and custom widgets.
You can always add value to your site with unlimited colors and typography options.
Furthermore, MailChimp is the best all-in-one marketing platform I have ever owned! LUV.
Plus, you should share your knowledge on a blog as an expert in your niche. THE BEST way to build trust and connect with your audience!
ProRange features:
820+ sales
4.8+ star ratings
Extensive documentation & superb support
Price: $69 (may vary)
MORE INFO / DOWNLOAD
DEMO
8. Borvel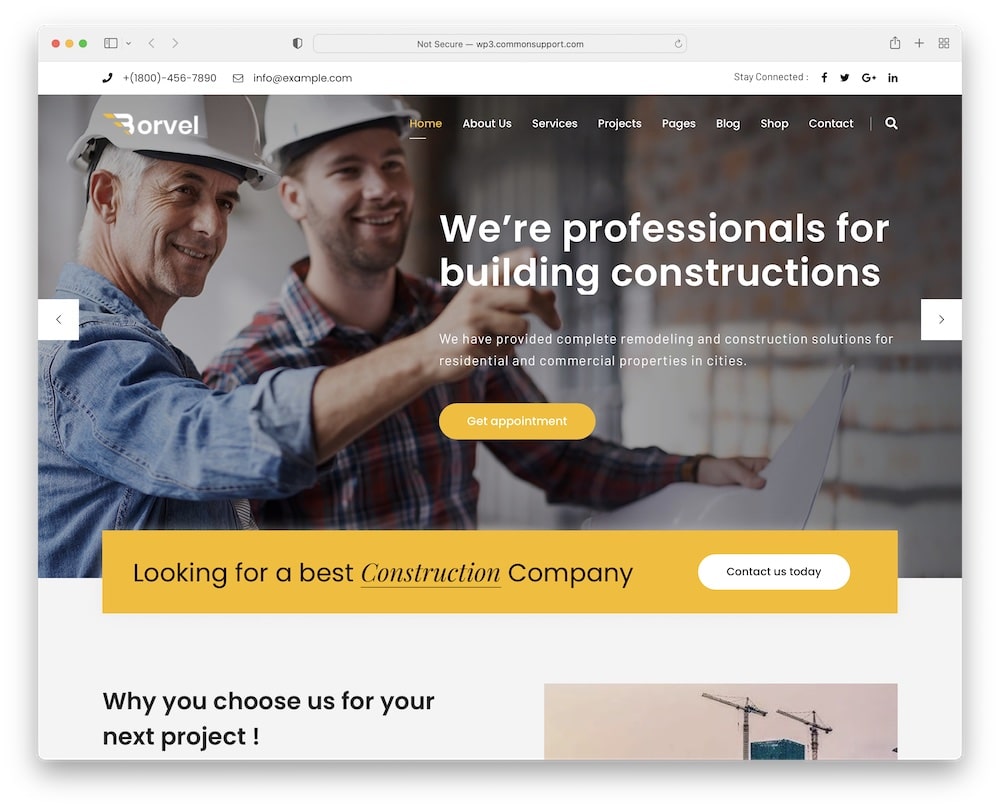 A successful construction project begins with a good design – Borvel construction company WordPress theme is your next BIG thing.
Borvel can be installed with a single click (pre-made homepages) and customized with drag-n-drop page builder.
Look at you; you at-home PRO!
Upload your gallery, set up testimonials, offer an appointment page, present your service and sell products.
Moreover, easily create your forms and let visitors drop messages directly to your email address via Contact Form 7. I'm calling this "Extra Good"!
Borvel is also social media friendly and lets you display social links & icons in your page's different positions.
Doesn't it sound like a dream?!
Borvel features:
MORE INFO / DOWNLOAD
DEMO
9. RinBuild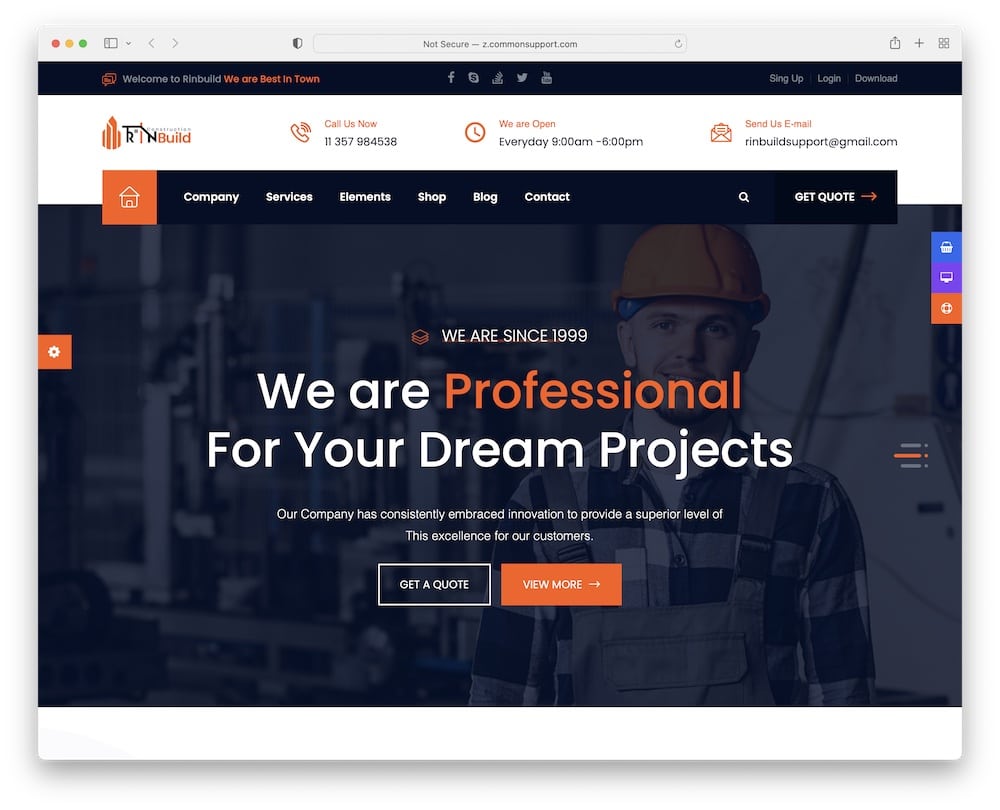 Showcase your modern construction projects via beautiful full-screen images or video galleries, thanks to the RinBuild theme.
You deserve it!
RinBuild works seamlessly with the No.1 Elementor page builder and other amazing plugins. You can mix and match pre-made layouts, sidebars, colors & elements to build the perfect site.
Of course, you should display all the important information such as services, pricing, team members, testimonials and portfolio.
Moreover, RinBuild is also SEO friendly to help you rank high on search engine results. BIG thumbs up!
The better question is – are you ready?
RinBuild features:
390+ sales
4.7+ star ratings
7 home & 130+ blocks
Compatible with translation plugins
Price: $39 (may vary)
MORE INFO / DOWNLOAD
DEMO
10. Housico

Create a stylish space for your services (construction, building, architecture, renovation, and much more) with the flexible Housico construction company WordPress theme.
Let's talk about how your site only takes one minute to be up and running. Or not? No. Let's not.
I'll just say it: IT ONLY TAKES ONE MINUTE TO BE UP AND RUNNING!
You can use Housico' pretty homepages as is OR you can easily establish your version by re-arranging pre-made elements, changing colors & typography, and adding plugins.
Did I mention that it includes Slider Revolution?
OH man, shape stunning sliders & carousels using any media you want!
Housico is your secret weapon for the WOWIE effect.
Housico features:
320+ sales
5 star rating
Price: $59 (may vary)
MORE INFO / DOWNLOAD
DEMO
11. HomeRoofer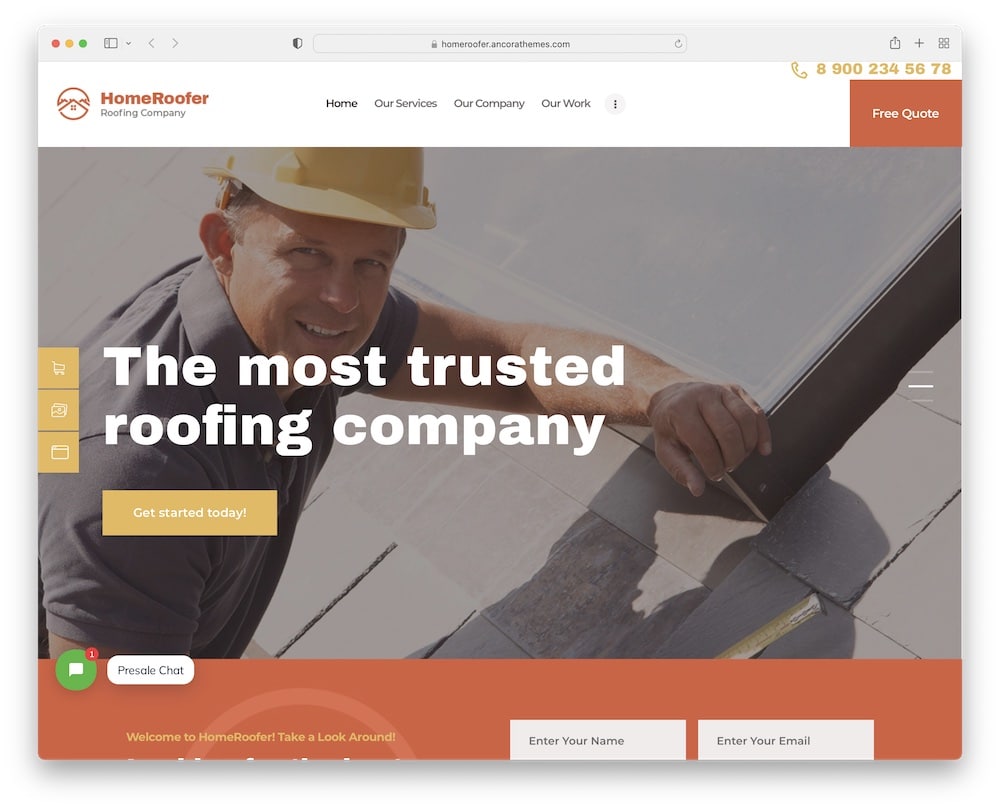 If you think you have tools just to build real houses (think again!), check out HomeRoofer construction company WordPress theme.
It comes with a complete tool kit to create a GORGEOUS website!
HomeRoofer is 100% responsive and retina ready. MOTIVE: To look fantastic on various devices and different screen sizes.
In fact, with HomeRoofer you get complete control over the header, footer, menu, icons, and shortcodes. Simply change the look and feel of your website (0 coding knowledge required).
Besides, everyone has a soft spot in their hearts for social media. Including myself.
Join your audience via HomeRoofer through available social share buttons and links. Yay!
And – the rest is kind of up to you.
HomeRoofer features:
250+ sales
5-star rating
Works with grid plugins
Price: $69 (may vary)
MORE INFO / DOWNLOAD
DEMO
12. Buildbench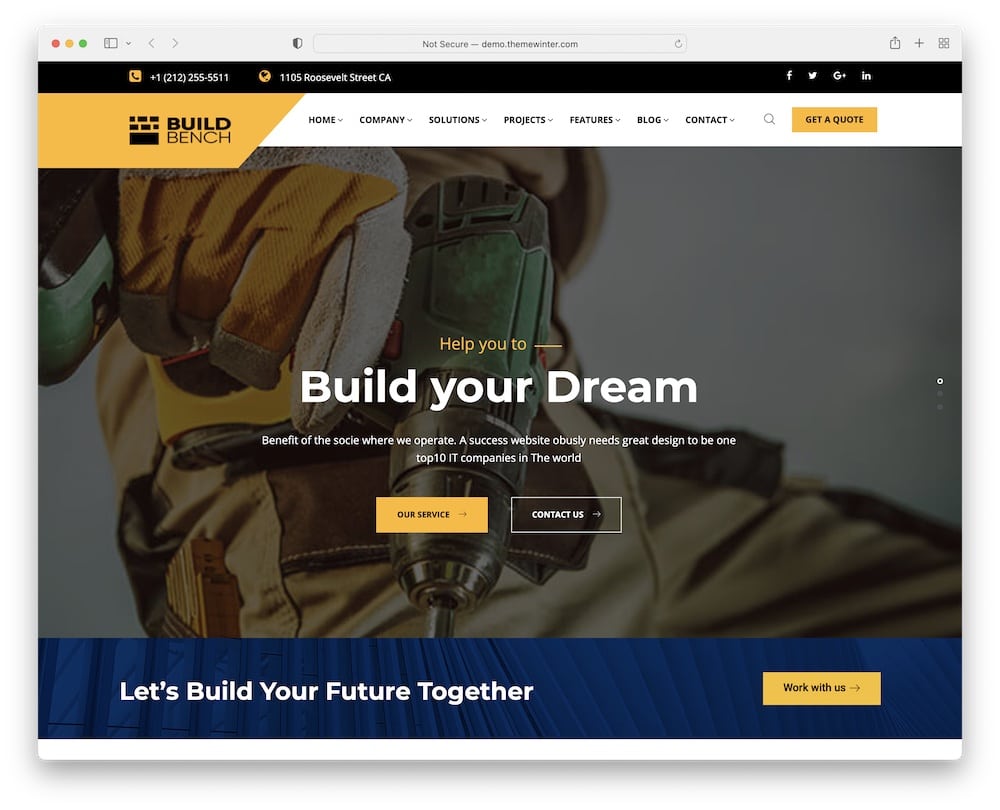 Strengthen your brand image with a stunning Buildbench WordPress construction theme.
First of all, can you ever go wrong with pre-made pages, specifically made layouts, and AMAZING plugins?
Hint: NO!
Moreover, Buildbench includes Elementor page builder and is also Gutenberg-ready (block editor). Both have similar structures and drag & drop functionality. 🏆🏆🏆
Additionally, you can keep in touch with potential customers via a regular blog.
Modern ready-to-use blog pages are something I jump all over it. It's like free work (Yup, I love blogging).
Best of all, Buildbench comes with video documentation and 5-STAR customer support! And all I have to say is big, big like for it.
Buildbench features:
610+ sales
4.7+ star ratings
20+ internal layouts for quick work
Build a WordPress business blog
Price: $49 (may vary)
MORE INFO / DOWNLOAD
DEMO
13. Konstructo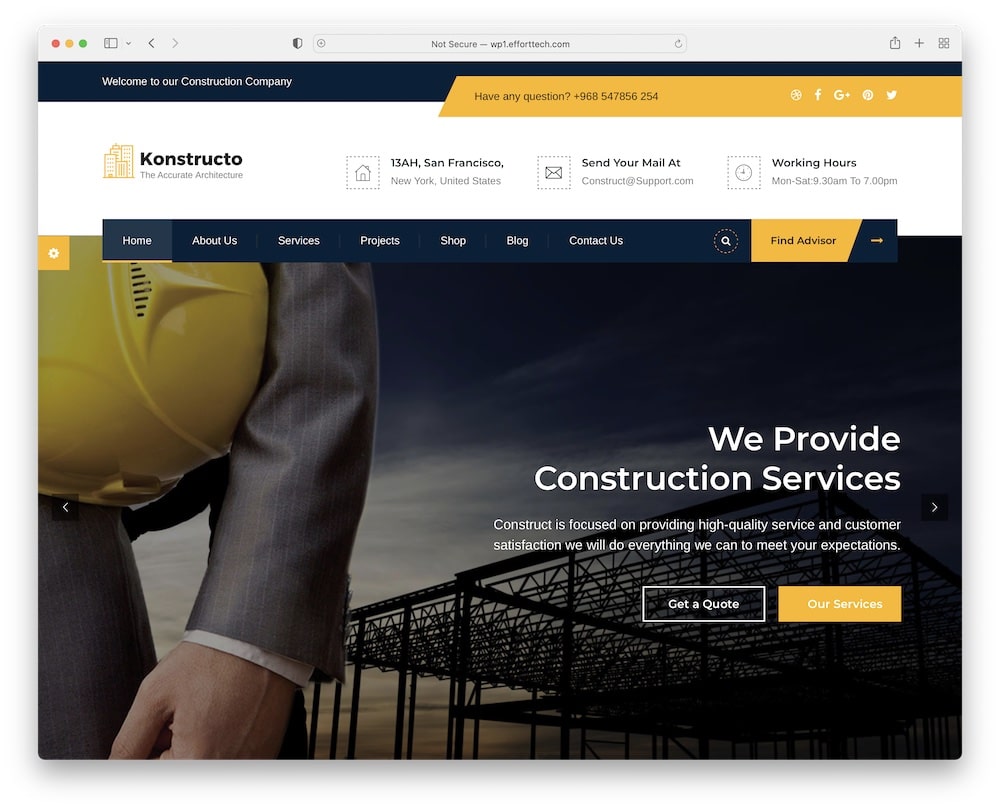 Set the stage for SUCCESS with a versatile and clean Konstructo construction company WordPress theme.
Your goal is to navigate your visitors via the menu to read about your project, services, team, and check out your contact pages.
Transparent navigation plays a huge part in the decision of your visitor to pick up the phone and call you to do business.
Furthermore, you can create breath-taking slides of your work, new products & finished projects with included Slider Revolution. Plus, I love to add unexpected animations, buttons, or videos to my slides.
Additionally, you can translate Konstructo into any language you wish with WPML.
Konstructo4life, friends!
Konstructo features:
400+ sales
4.5+ star ratings
Mobile, speed & SEO optimized
Build with King Composer
Price: $29 (may vary)
MORE INFO / DOWNLOAD
DEMO
14. Renovar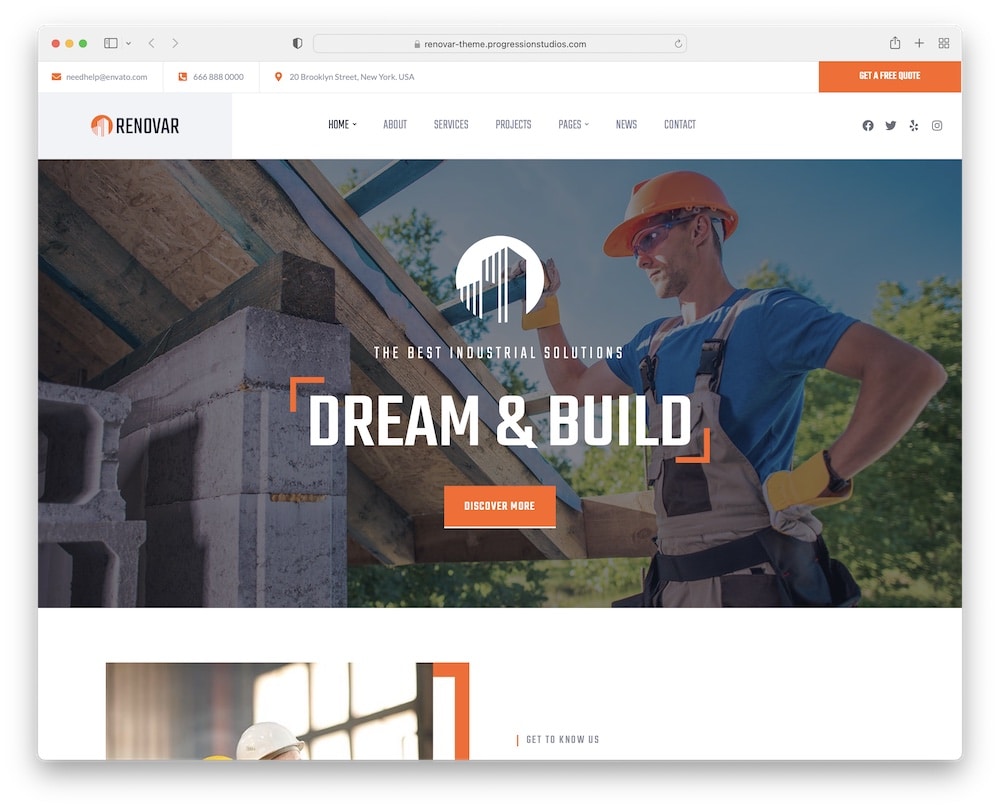 Highlight your company's specialties with the effective Renovar construction company WordPress theme.
First, you can start fast with a ready-to-use demo combined with drag and drop builder (it's fantastically, wonderfully simple to use).
YES, you have the power (!) to customize the look of your site with a smart mega menu, and a sticky header. Plus, you can build on extra functionality with THE BEST plugins.
Oh, and bring new life to the footer area by adding links, social media icons, widgets, images, legal disclaimers, and other important text.
In fact, you can also use it as an easy WooCommerce theme to create your own online store. Wins for everyone!
Make Renovar a high-performance solution today.
Renovar features:
30+ sales
4.6+ star ratings
Free updates & improvements
Practical drop-down menu
Price: $59 (may vary)
MORE INFO / DOWNLOAD
DEMO