Since I like (special) effects, you know how excited I was about the idea of reviewing the best animated WordPress themes.
And actually testing them on actual (live) projects!
Note: There are tons available on the market, but so many are poor quality and unreliable.
But this collection is full of fantastic WordPress themes – even such with 3D animation – that will save you a ton of time.
I also wanted to ensure I include themes to fit every user.
Bloggers, business owners, fashionistas, creatives – here's a theme for EVERYONE.
This post covers:
If you're as excited as I am, let's dive right into it.
Your ideas can come true – NOW!
Quick-Pick: My Favorite WordPress Themes With Animation
Best Animated WordPress Themes
Note: You may also be interested in reading our guide on installing a WordPress theme (if it's your first time).
1. Sway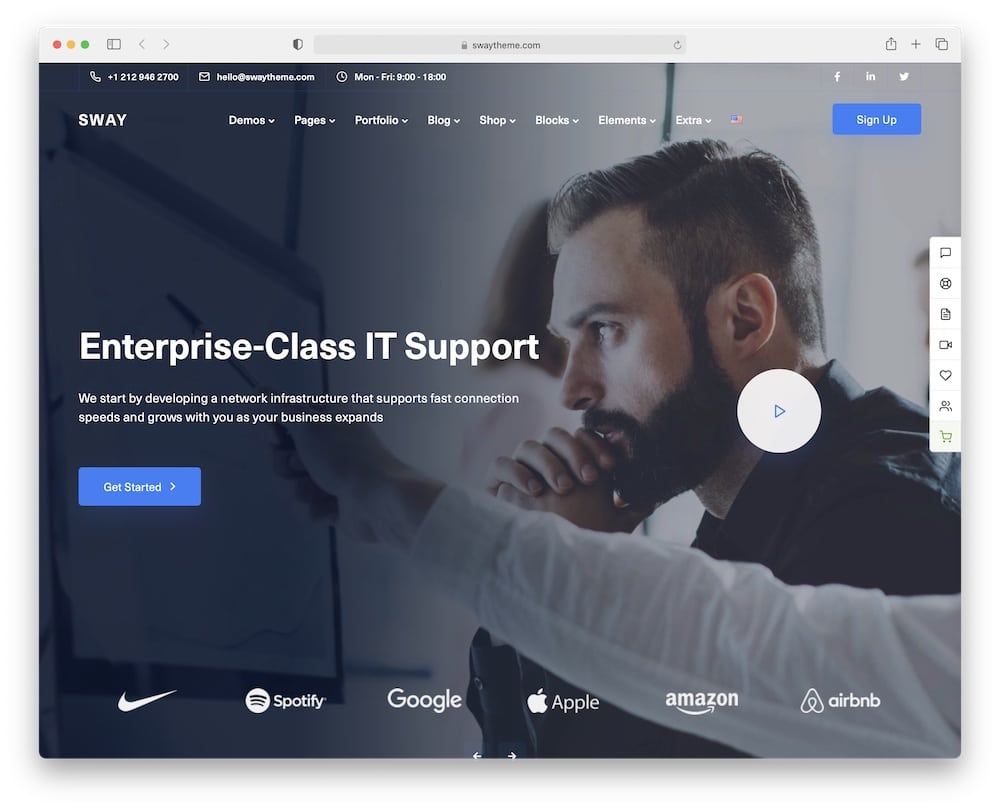 Imagine having everything you need for a successful website in one place? Well, with Sway (best-selling) animated theme you have! Designed with passion, and attention to detail.
No faff, no-nonsense.
You get 65+ pre-made homepages, tons of ready blocks, unlimited colors, the best plugins, numerous icons, and various portfolio styles.
HOT.
Besides, Sway offers high-speed performance (optimized code) and is fully responsive (looks fantastic on all devices). Yup, Sway is made the right way.
Oh man, and irresistible animations, parallax effects, brilliant pop-ups, and much more … is waiting for you.
Start building today and WIN with Sway!
Sway features:
MORE INFO / DOWNLOAD
DEMO
2. Betheme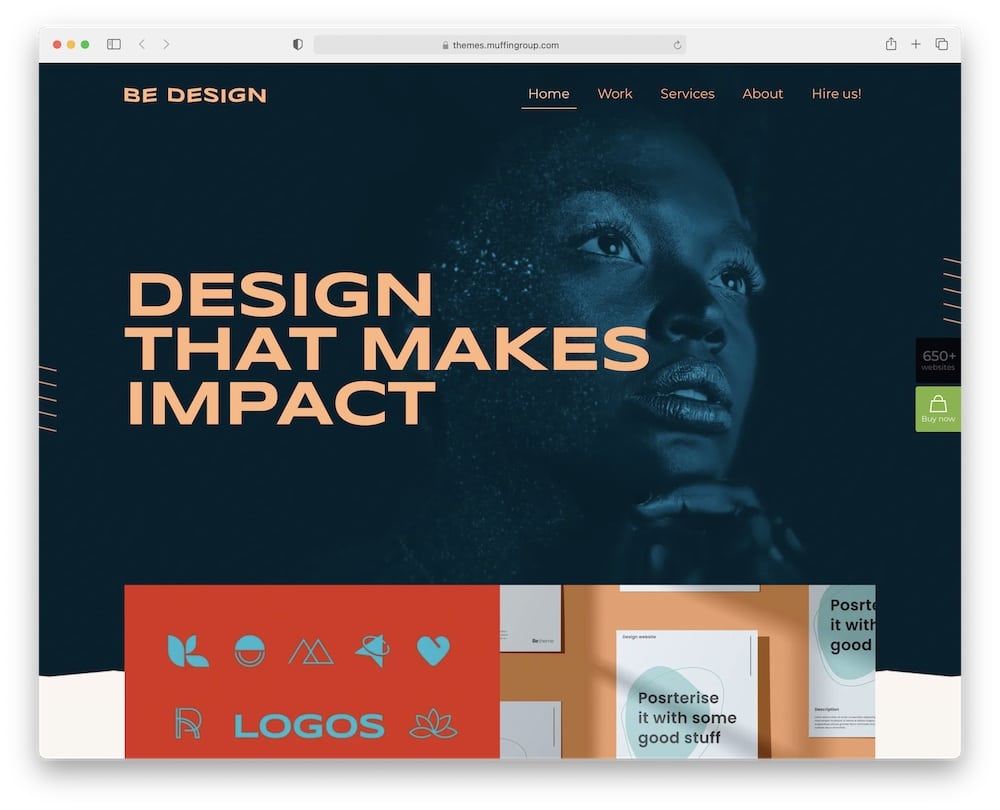 You can build a beautiful website in any industry and niche with Betheme animated WordPress theme.
It makes your life so much easier.
Betheme offers a ton of pre-built demos ("all for one, and one for all").
That's right – it equips you with your personal playground! KILLER. OFFER.
Besides, Betheme's customer support offers a really, really GOOD service. World-class.
And above all, if you are an entrepreneur who needs a high-quality online store that actually works – Betheme provides a #1 solution via WooCoomerce.
Make a point with Betheme!
Betheme features:
275,000+ sales
4.8/5 star rating
Add maps easily
Price: $60 (may vary)
MORE INFO / DOWNLOAD
DEMO
3. WebOn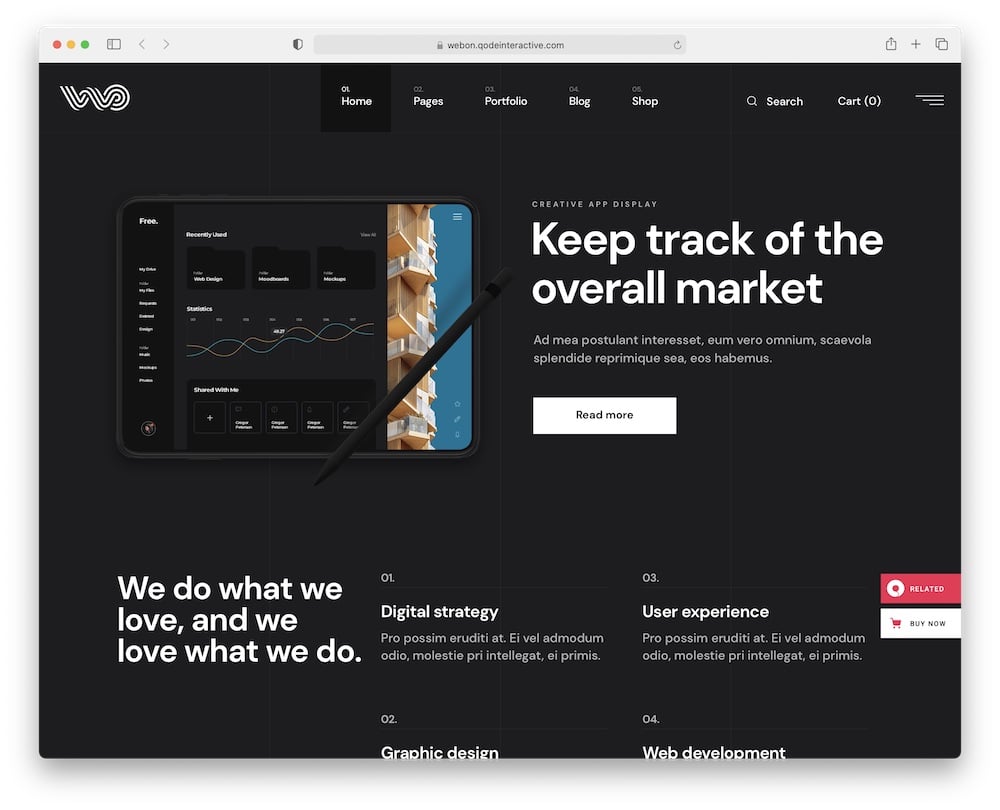 Anything is possible and everything serves to amplify the senses of your visitors behind the powerful admin interface of WebOn theme.
WebOn has stunning homepages, different layouts, multiple WP shortcodes, and useful WP widgets.
MAGNETIC.
It also includes one of the most popular tools available, such as Slider Revolution, WooCommerce, Elementor page builder, and a working contact form.
That's key to your success, right? YUP!
Oh, and it takes only one click demo import to start building your dream site – I know – instantly. Plus WebOn is SEO optimized and translation ready (use any WordPress translation plugin you want).
WAOUH.
Be your boss with WebOn.
WebOn features:
MORE INFO / DOWNLOAD
DEMO
4. Enfold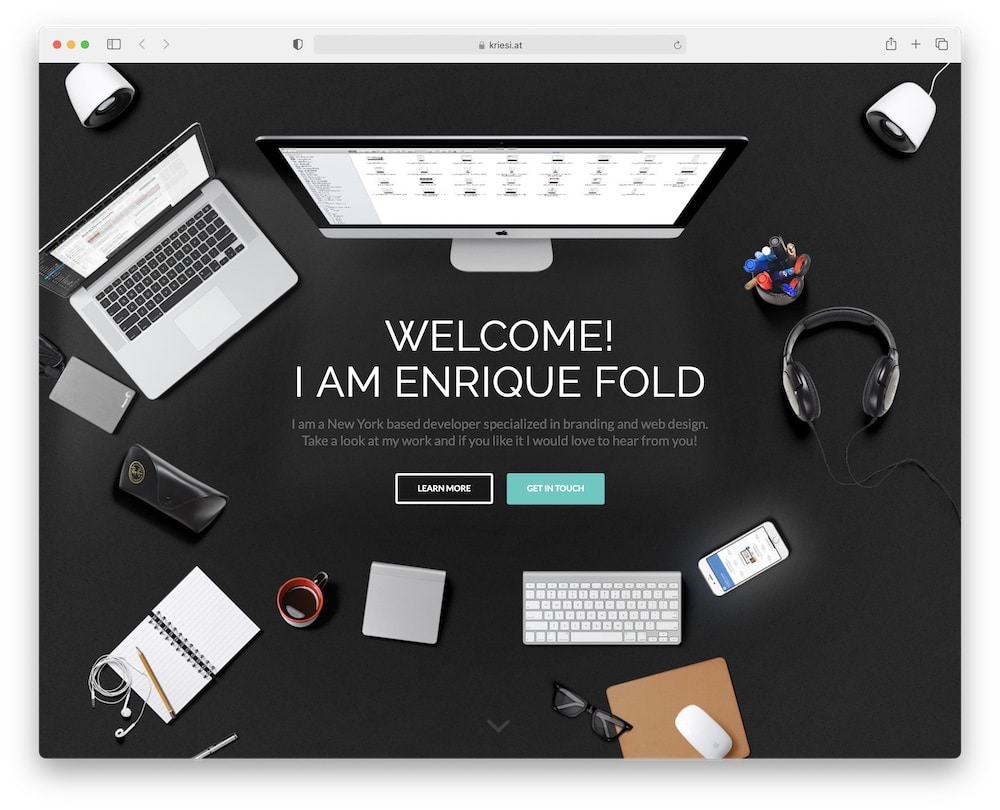 Highlight your business with a gorgeous and modern Enfold animated WordPress theme. The motto of
Enfold is to have fun by building your website due to its 100% customization, various features, flexible design, best-selling plugins, and fantastic customer support.
YEW!
Enfold's user-friendly layout will quickly seduce you into the online world. Let me emphasize it again – it's a pure pleasure to work with this theme.
Also, Enfold supports video material from all the major video hosting services. HI5!
Of course, Enfold is retina-ready and looks beautiful on all screens (computer, tablet, smartphone).
Plus, Google loves Enfold due to its excellent SEO optimization. EPIC.
With great site comes great productivity – KEEP it going with Enfold.
Enfold features:
MORE INFO / DOWNLOAD
DEMO
5. Qwery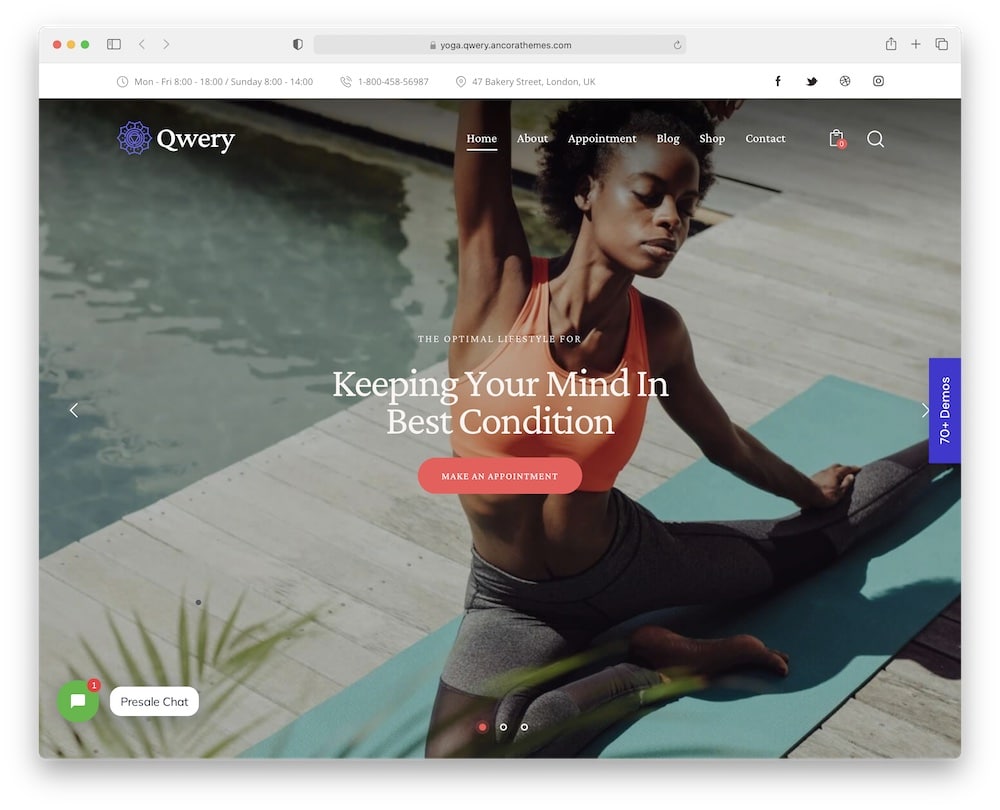 Let's start with the obvious.
Any person out there knows that modern and smooth working design (website) can result in a top-rated, likable site.
Note: It takes about 50 milliseconds for users to form an opinion about your website.
SO influence your visitors with a stunning Qwery animated WordPress theme.
This innovative, multi-purpose theme comes with a set of pre-made templates, amazing elements, two booking options, useful layouts, advanced blog settings, and capable plugins (solution for every wish).
As one of my readers, I don't want you to use any extra money – all the above is included in Qwery for FREE.
Be dominant in your performance with powerful Qwery!
Qwery features:
MORE INFO / DOWNLOAD
DEMO
6. Chérie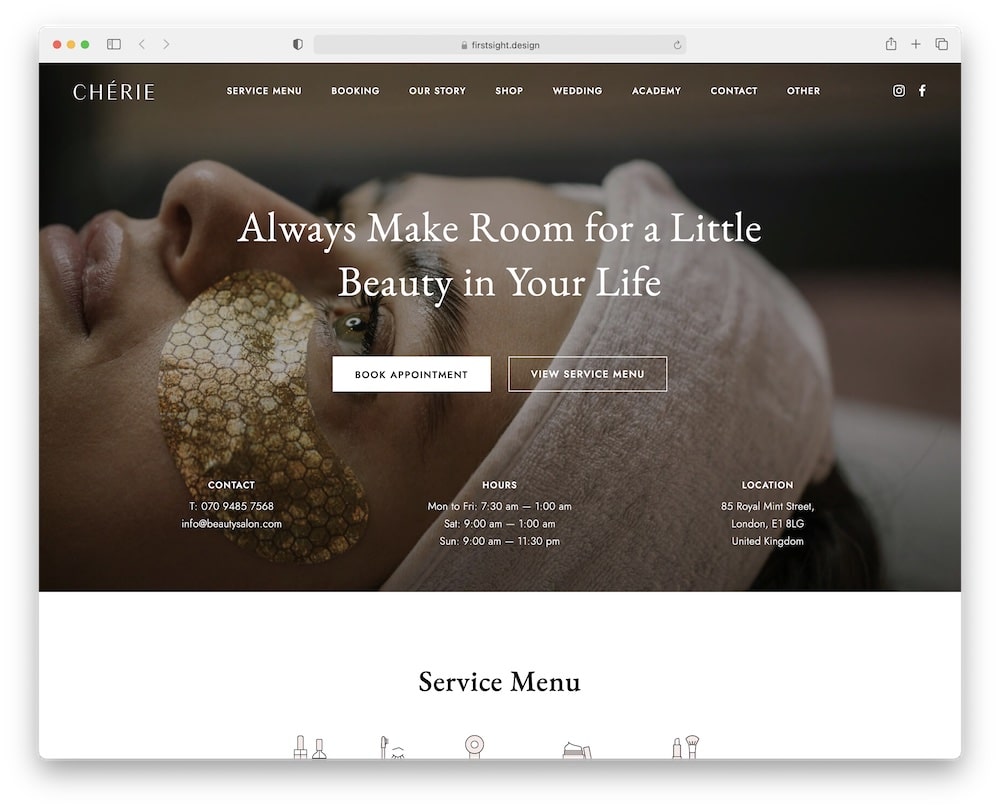 Ok, so here's where responsive and gorgeous Chérie animated WordPress theme comes into play: hair, nail, spa salons, cosmetic shops, or beauty schools.
WOWIE!
All tools, pre-made designs, online booking forms, and visual effects are included in Chérie! Tell your story, sell products and present your team with this elegant beauty salon theme.
Level up your business website game like a CHAMP.
Remember, it is easy to edit, offers tons of creative options, and has amazing customer support that will go above and beyond to assist you. Damn!
Here's just a tiny fraction of what you will get, SO click preview and fall in love with Chérie.
Chérie features:
MORE INFO / DOWNLOAD
DEMO
7. Bridge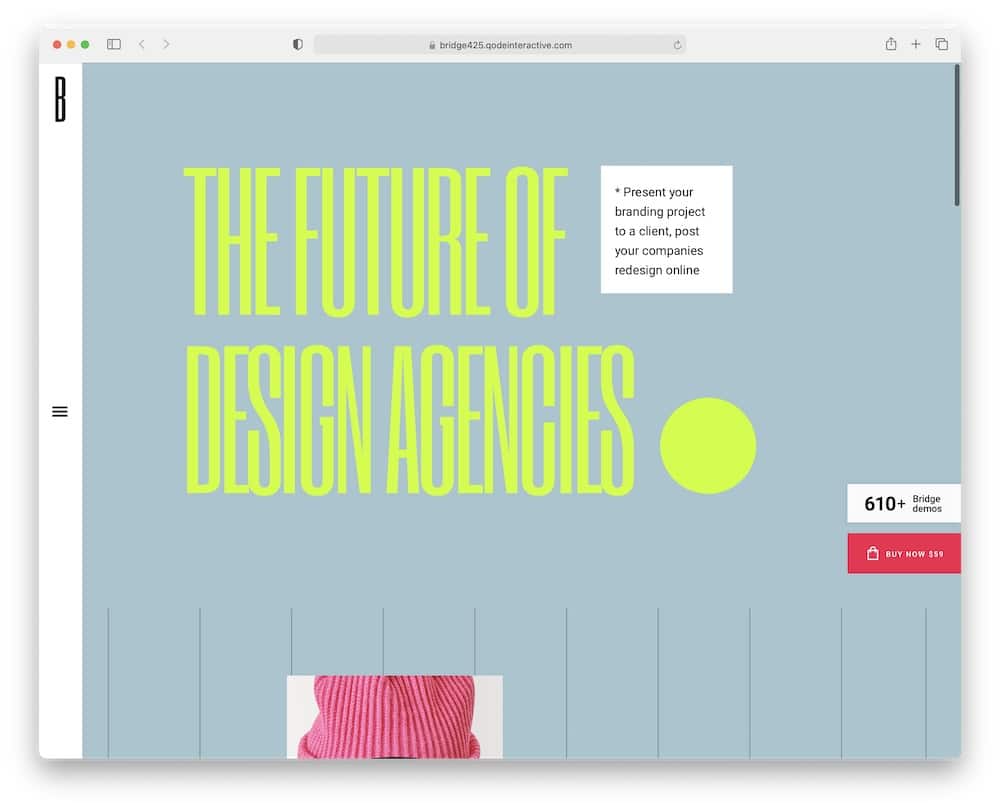 Explore your creative process with the fresh animated WordPress theme, Bridge. You can have a perfect website live for your business quickly.
Bridge offers 610 beautiful and complete websites (one-click import demos). I know VA-VA-VOOM.
And what makes it even better: NO two sites made with Brigde look the same.
BRILLIANT.
Bridge comes with step-by-step video tutorials to help you start with a PUNCH. NO confusion or misunderstanding. Be a nerd and check it all!
Oh and options?
Well, they are unlimited (!), working for magazine, music, listing, travel, education, and more.
Functionalities and features are available for every topic. Not bad, right?
Make some noise with Bridge!
Bridge features:
197,000+ sales
4.7/5 star rating
Regular updates
Price: $69 (may vary)
MORE INFO / DOWNLOAD
DEMO
8. Salient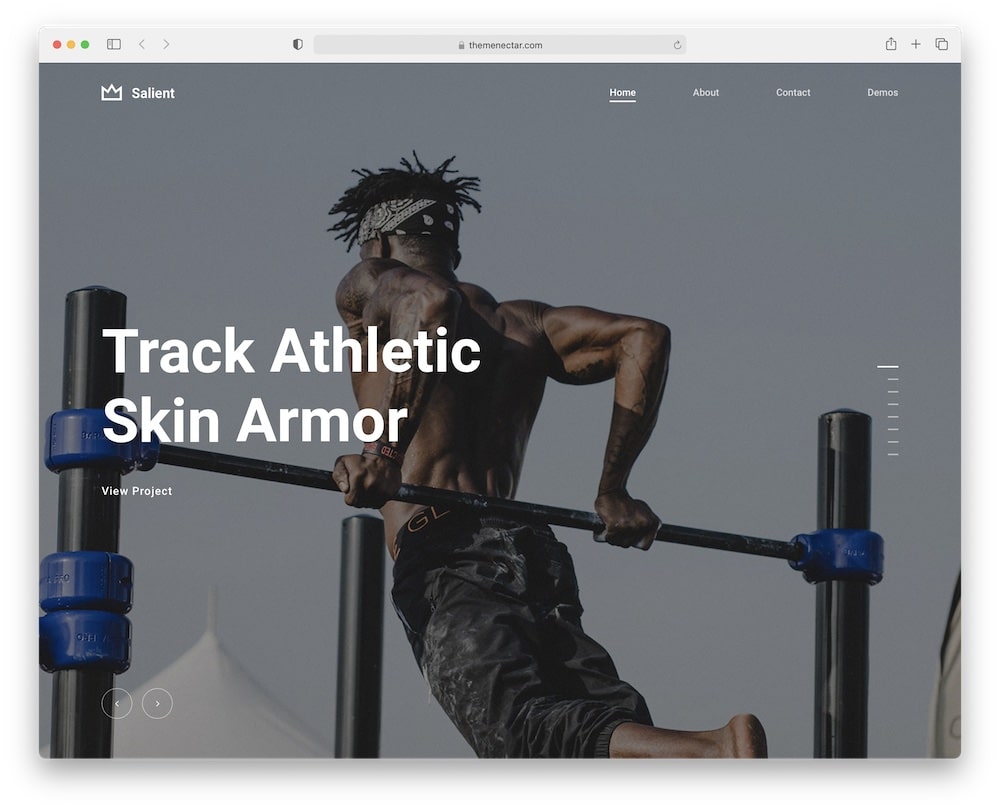 Try something new (ANYTHING) with Salient animated WordPress theme and make an impact on your visitors. You deserve success!
Color can stimulate emotions, attract attention and create a visual relationship with your brand, that's why Salient comes with unlimited options of colors. Use as many colors as you like!
(I recently worked with a client and we used 10 different colors!)
You can simply mix and match pre-made designs, elements, shortcodes, plugins, layouts, and icons. Plus, smooth animations and parallax effects are a BIG DEAL.
Make your new website expertly crafted.
You can also show off your work with an amazing portfolio or blogging – share your ideas, knowledge, and passion with the world.
WELCOME to the Salient family.
Salient features:
140,000+ sales
4.8/5 star rating
Endless theme options
Stunning WP galleries
Price: $60 (may vary)
MORE INFO / DOWNLOAD
DEMO
9. Sixten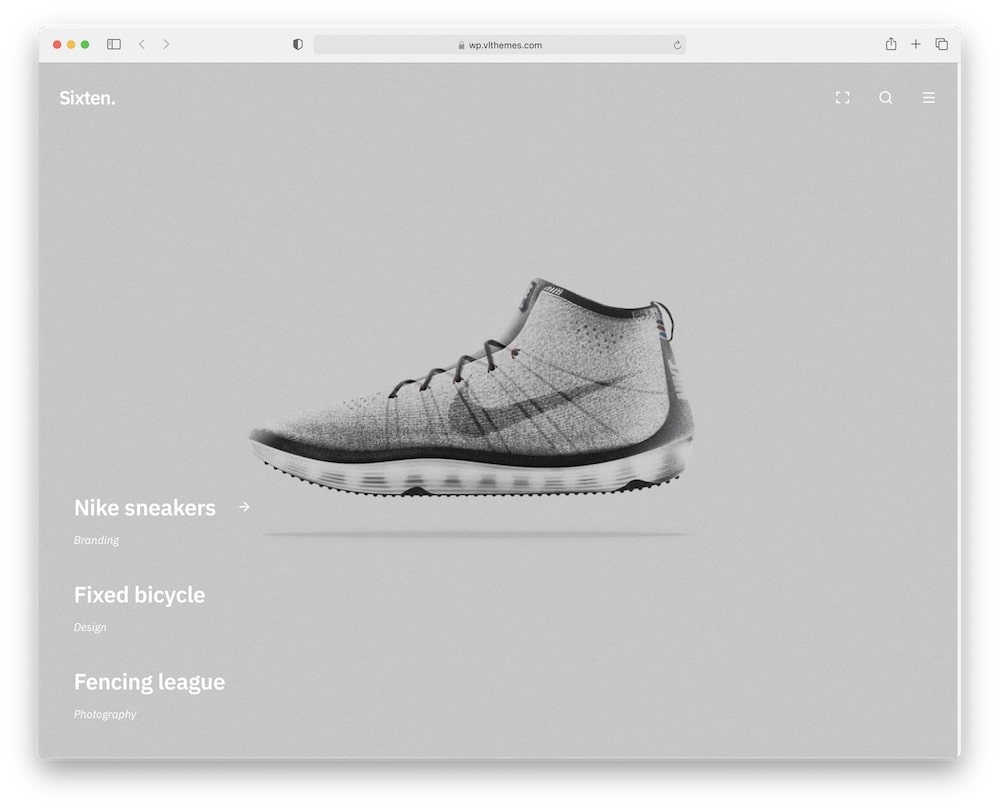 Check Sixten WordPress theme with animation effects and minimalistic design and it'll blow you away.
If you are a designer, artist, or owner of a creative agency, this is the right place for you to be!
Sixten is packed with the most popular tools such as WooCommerce, Slider Revolution, Mailchimp, Contact Form 7, and Elementor page builder.
HAPPY. ZONE.
Moreover, it is fully responsive and retina-ready, so it looks perfect on all screens (important: mobile devices LUV Sixten).
Oh, and its high-speed performance makes me OOOH and AAAH every time!
Clean, smart, and easy-to-use Sixten should be your business's sweet online home.
Sixten features:
1,000+ sales
5/5 star rating
Bold dark & light looks
Quick setup wizard
Price: $59 (may vary)
MORE INFO / DOWNLOAD
DEMO
10. Brisk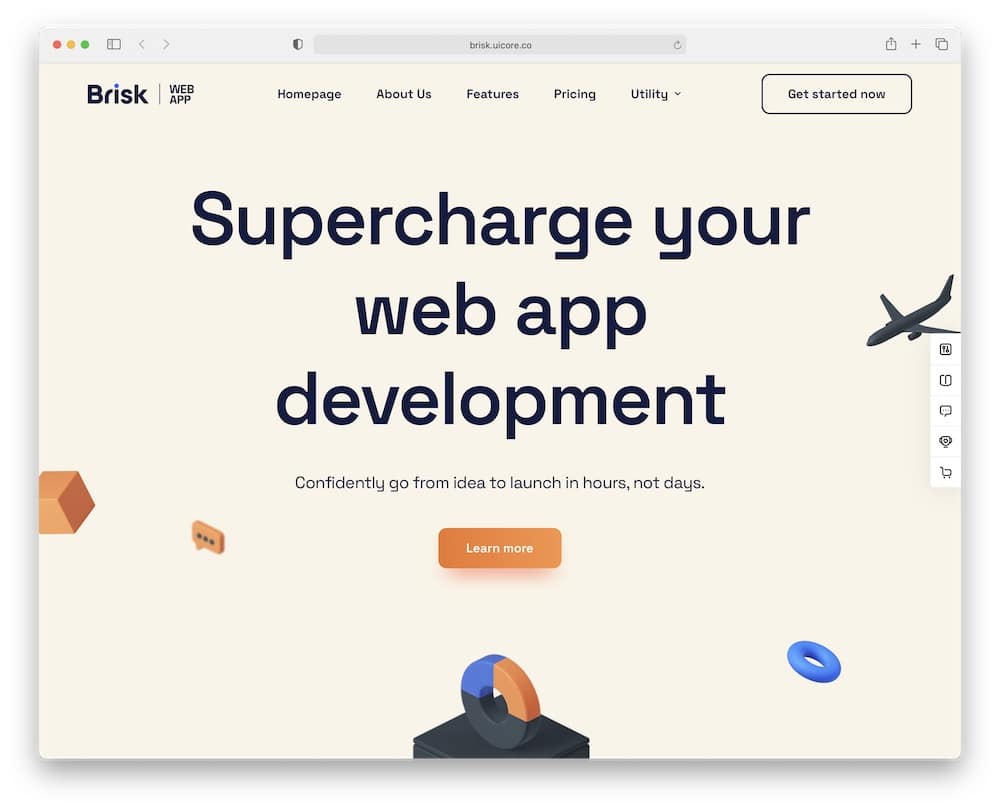 I welcome you to click through Brisk animated WordPress theme and discover some things you didn't know you were interested in.
Brisk can be your play space!
You can use every element of Brisk to your advantage. Swap, rotate, and mix included features due to the FULL control (HI, BOSS!) you gain with this brilliant theme.
Go big with floating animations, complex online forms, interactive design tools, maps, and marketing banners. Feel like a PRO from day one.
Of course, NOT wanted stuff can happen, but don't worry – Brisk has your back! Its customer support is just what the doctor would recommend.
You can handle this easily!
Brisk features:
1,600+ sales
5/5 star rating
The best user experience
200+ elements
Price: $59 (may vary)
MORE INFO / DOWNLOAD
DEMO
11. Webify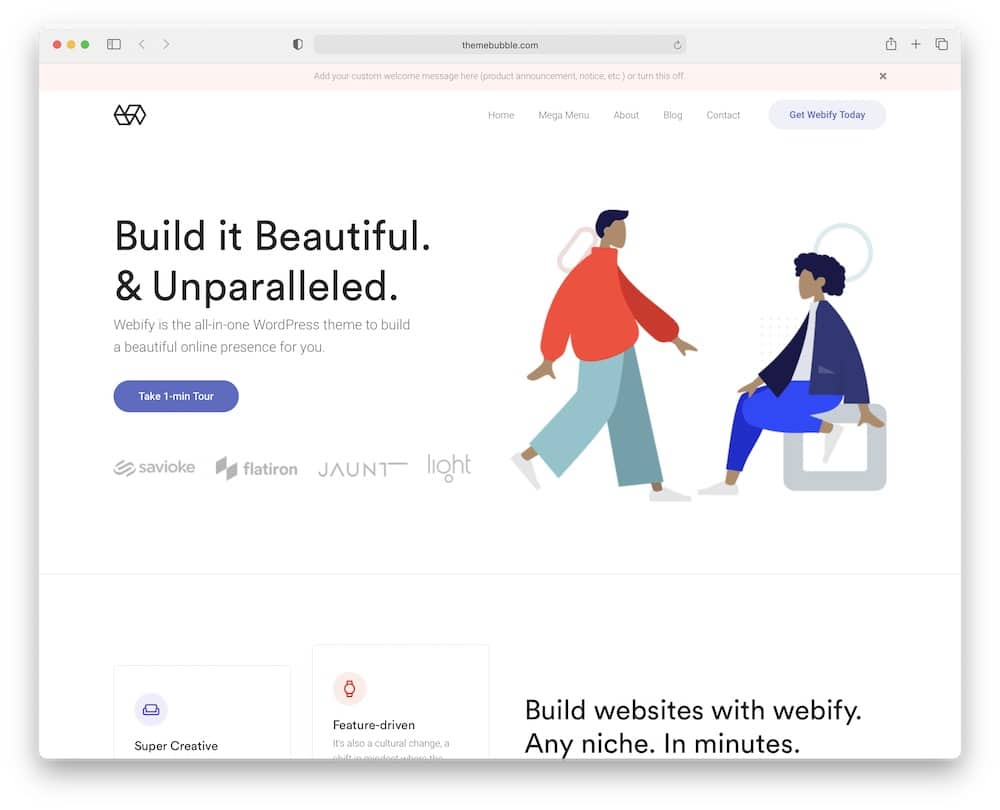 Ready to feel inspired?
Explore with me (HI) the powerful Webify WordPress theme and features that I am highlighting below. Two thumbs up!
You are in for a treat due to every month new and gorgeous demos upload (OMG) with Webify. Endless options! ALL YOURS.
Pre-made samples are super quick and easy to import and 100% customizable. Flexible layouts, custom styles, animations, tons of blocks, elegant inner pages, and much more.
And is it Gutenberg optimized? YUP – Webify has it all.
NO coding skills or design knowledge is required to work with Webify. Just add your content and GAME ON.
The drop of the century!
Webify features:
2,800+ sales
4.8/5 star rating
Various grid styles (you can also use a WordPress grid plugin with more functions)
One- & multi-page support
Price: $59 (may vary)
MORE INFO / DOWNLOAD
DEMO
12. Uncode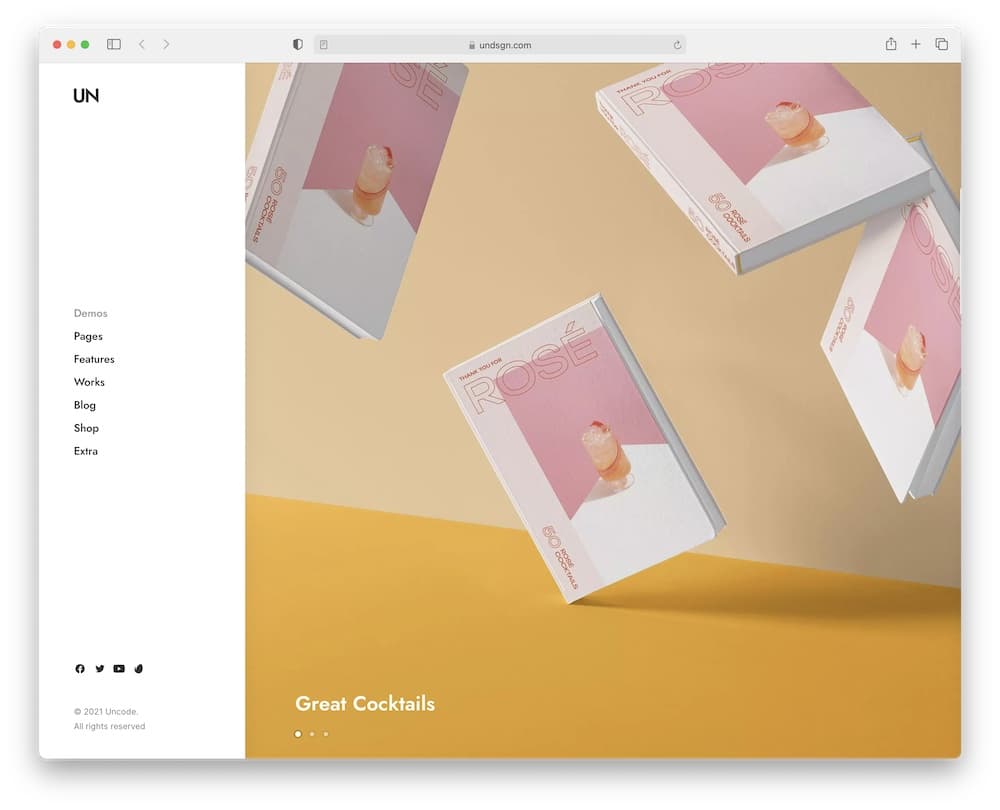 If you want to (quite literally!) make new moves this year, Uncode animated WordPress theme has you covered. You can create a pleasant website in a fast, straightforward way.
This rock-solid theme is great for websites, portfolios, blogs, or online shops – YES you can create anything with it (without coding). I love my job!
Repeat after me: I can choose from 70+ ready-to-use homepages and create my own. It's okay, you can brag about it.
And no wonder Uncode is SO fast (continuous improvement!) – amazing speed and performance are guaranteed. (But feel free to check how Ales chooses a fast WordPress theme by reading his in-depth guide.)
Take full control of your business with stylish and top-selling Uncode! (Numbers don't lie!)
Uncode features:
MORE INFO / DOWNLOAD
DEMO
13. TheGem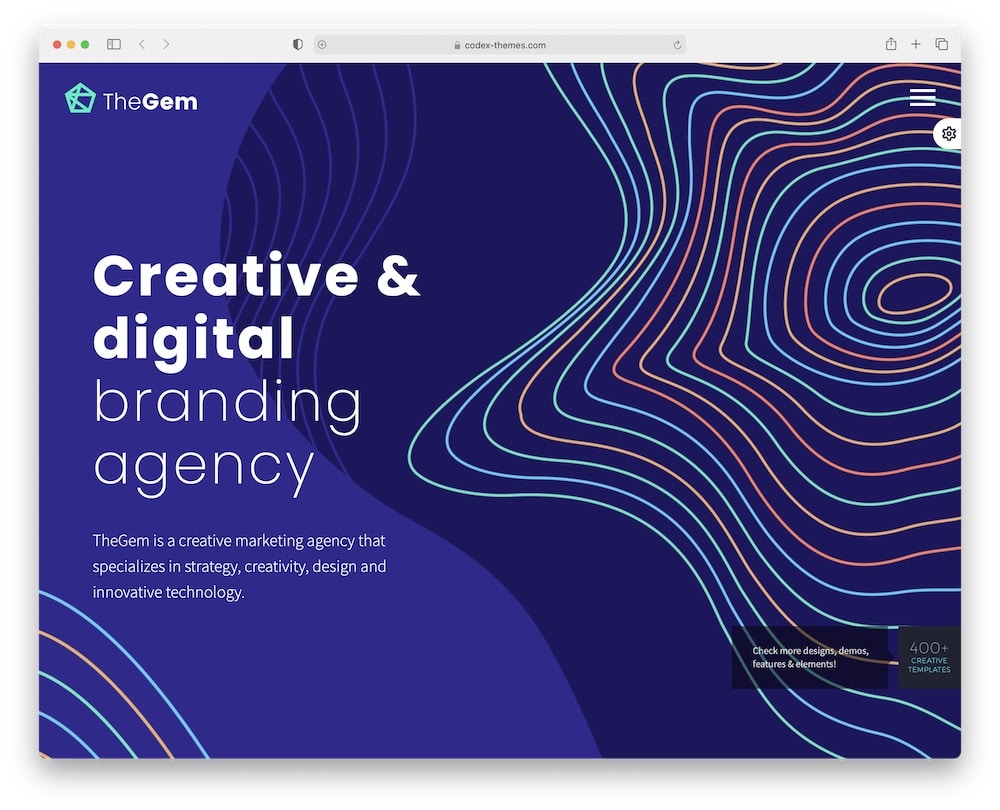 Ready to introduce your brand with a bang?!
Activate TheGem animated WordPress theme today! It includes the amazing Elementor page builder (oh man!) – prepare for unique but straightforward building, using advanced animations, widgets, unlimited colors and typography.
TheGem is a multi-purpose theme that works for various creative ventures (finance, photography, cryptocurrencies, gyms, real estate, and much more).
BRILLIANT.
Start your journey with pre-designed demos, elements, skins, and layouts – of course, made for high-performance. Damn, the developers did a good job.
And best-rated customer support? Well, they even speak different languages! HEROS.
Next. Level. Stuff.
TheGem features:
71,000+ sales
4.8/5 star rating
You can use it as avideo background
Insane performance
Price: $59 (may vary)
MORE INFO / DOWNLOAD
DEMO
14. Kallyas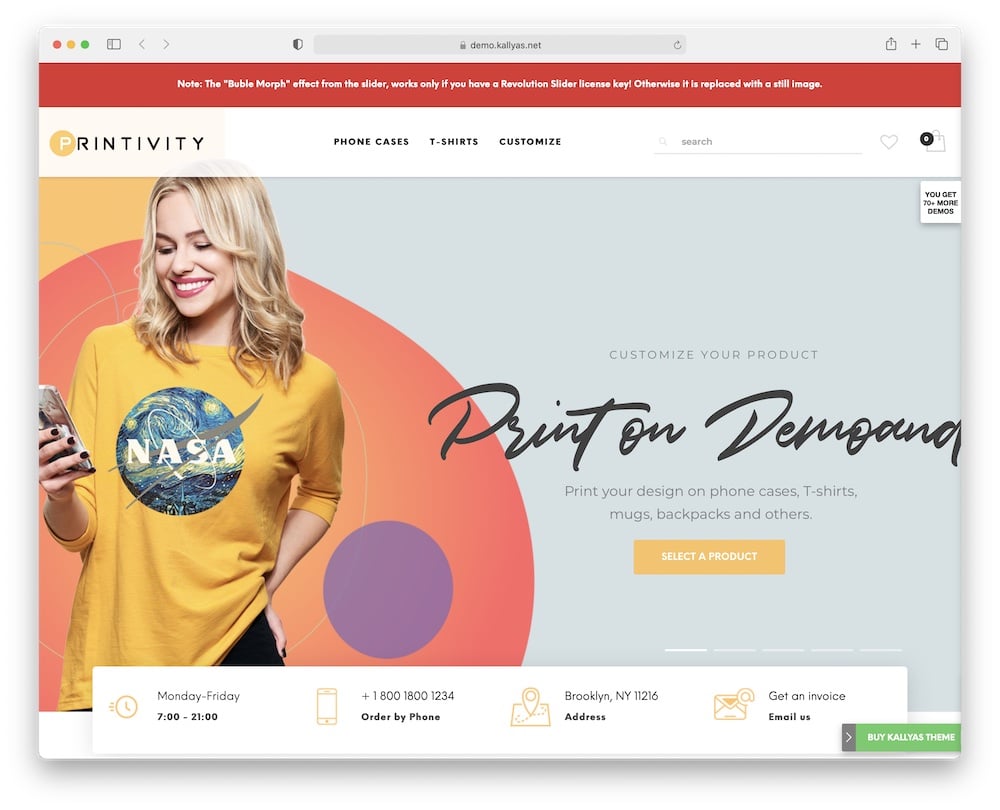 A bestseller in the niche for six years? YUP, you heard it right!
Kallyas animated WordPress theme is feature-rich, optimized for speed, SEO ready, responsive, and fully translatable. And one more thing – NO coding knowledge is required.
HURRAY.
Moment of greatness: It comes with FREE lifetime updates!
Design is beautifully crafted, simple to customize, and will affect your business with freshness.
Plus take full advantage of the mega menu (complex drop-down) and make sizable content wonderfully transparent.
And, as a Kallyas customer, you get an amazing video documentation database for even easier building (detailed descriptions for all elements are included).
GOLD.
Search no further; you found Kallyas!
Kallyas features:
50,000+ sales
4.7/5 star rating
70+ demos
Fully editable EVERYTHING
Price: $69 (may vary)
MORE INFO / DOWNLOAD
DEMO
15. Stockholm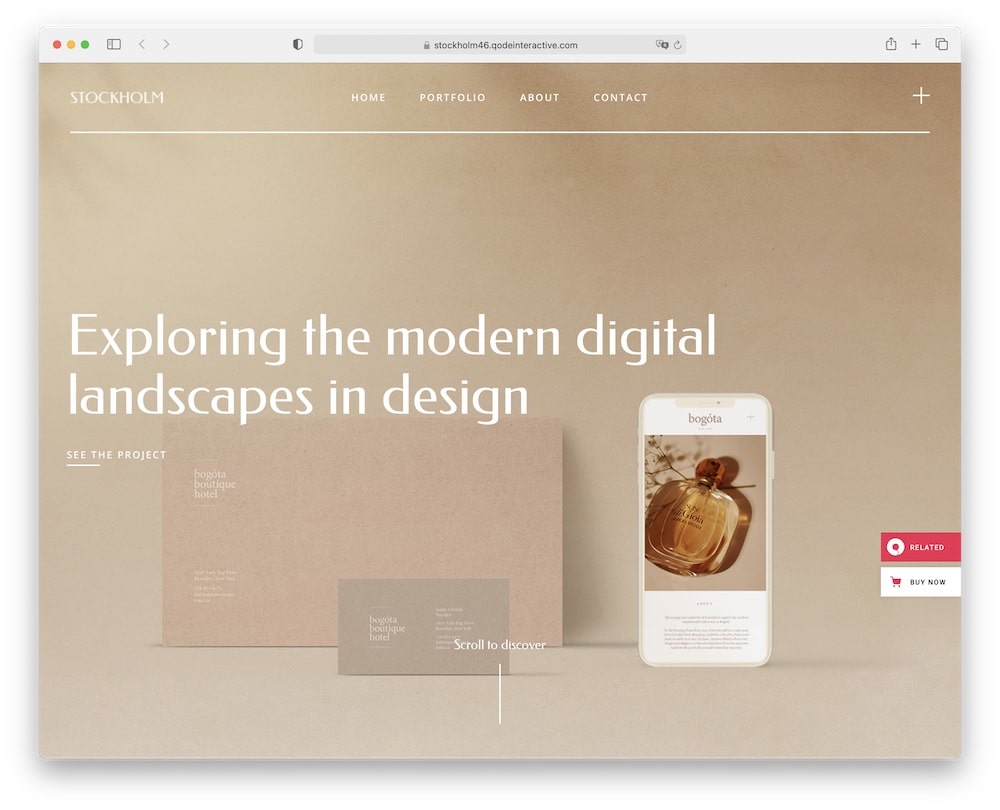 It is a moment to take a stand with a stunning Stockholm animated WordPress theme.
This modern theme comes with unique templates (fully equipped) in which you can easily find inspiration and take the next step in your business journey.
Use colors, mix elements, match typography, have fun with animations and grab an amazing selection of portfolio styles for all your projects.
You can even launch your new online store in no time!
Besides, Stockholm made blogging a smooth and blissful experience (everything you need is here). Just relax and start writing your valuable content.
SUCCESS.
Stockholm also includes Ajax technology, slider, WooCommerce, WPBakery page builder, and parallax effect.
Huzzah!
Stockholm features:
32,000+ sales
4.7/5 star rating
Handy video tutorials
Price: $69 (may vary)
MORE INFO / DOWNLOAD
DEMO
16. Litho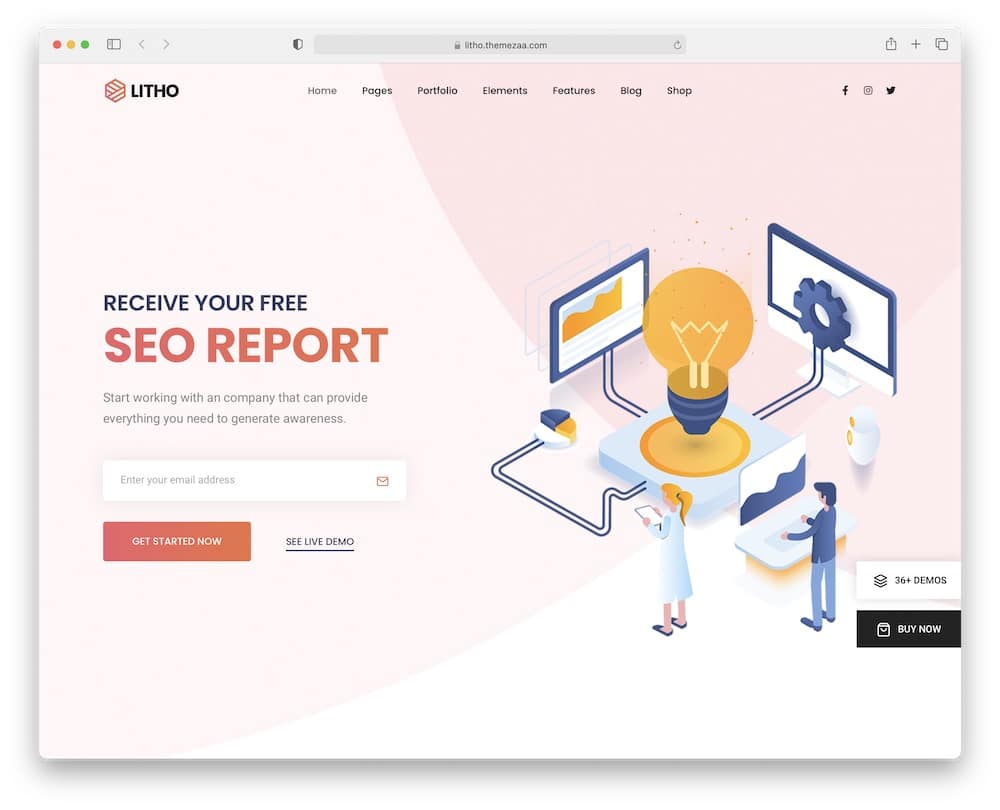 As creatives, we follow our passion and make what we love, and Litho WordPress theme with animation effects is here to grow and cultivate our success.
Be your own hero!
You can use this versatile, responsive, and clean theme for multiple businesses and ideas.
From yoga, architecture, fashion, restaurants, to personal portfolios and blogs – everything is possible.
Moreover, with Litho, you get different mobile menus (super useful), SO just choose a pre-made style instead of building it yourself.
BIG. YES.
Important: Remember, you can create anything you desire. Litho is 100% customizable and scalable + tons of powerful features will knock your socks off!
Work of art.
Litho features:
3,000+ sales
4.9/5 star rating
300+ templates
Stable & secure
Price: $59 (may vary)
MORE INFO / DOWNLOAD
DEMO
5 Key Features Of A Great Animated WordPress Theme
I looked for these five key features in every theme when creating this ultimate collection.
I am sharing them with you in case you're wondering what's a must for an animated theme if you plan to do further research.
But you won't have to because the above themes tick all the boxes and then some!
Responsiveness: A modern theme must be 100% responsive and optimized for the ultimate user experience. I used Google's Mobile-Friendly Test to analyze every theme, so you don't have to.
Fast loading: Also, speed and mobile go so well hand in hand I absolutely made sure that every theme is lightweight. I used the widely popular Pingdom Tools to test each theme for its size and loading speed. Note: The website's loading speed also depends on the quality of your web hosting.
Animations & effects: We're talking about animated themes, so each theme needs to have some fancy stuff; otherwise, I wouldn't include it on the list. Parallax effects, scrolling animations, special transitions, you name it, it all counts!
Customization: Of course, every theme also needs to offer excellent customization capabilities so that you can tailor it to your project's needs with ease. What's best? No theme requires coding knowledge!
Updates & support: Also, great support and regular updates are a must for you to succeed at creating the best website that will run smoothly for years to come.
You may also be interested in knowing how to choose a WordPress theme – any theme!
FAQs About Animated WordPress Themes
How do I add animation to a WordPress theme?
The best way to add any animation or effect to your WordPress theme/website is with a plugin. But I recommend using a theme with built-in animations and effects because it makes the life of building and running such a website much simpler.
How do I add animations to a WordPress menu?
You can add animations to a WordPress menu with a plugin, but you can also code them manually (which I don't really recommend, especially if you're a beginner).
::
Note: This article was originally published on December 6, 2021. But our team regularly reviews it and updates it with necessary improvements for accuracy.