Are you searching for the best spiritual WordPress themes?
As a spiritual-minded person myself, I'm excited to share with you my top picks after EXTENSIVE testing.
These WordPress themes are great for anything spirit-related, including churches, astrology, esoterics, horoscope, mysticism, and more.
They are all also very easy to use and customize, so you can effortlessly tailor them to your needs.
Yup, without coding!
This post covers:
Create a spiritual website that looks and feels good both on the inside and the outside.
It's so SIMPLE to make it happen!
Quick-Pick: My Favorite Spiritual WordPress Themes
Best Spiritual WordPress Themes
1. Spiritual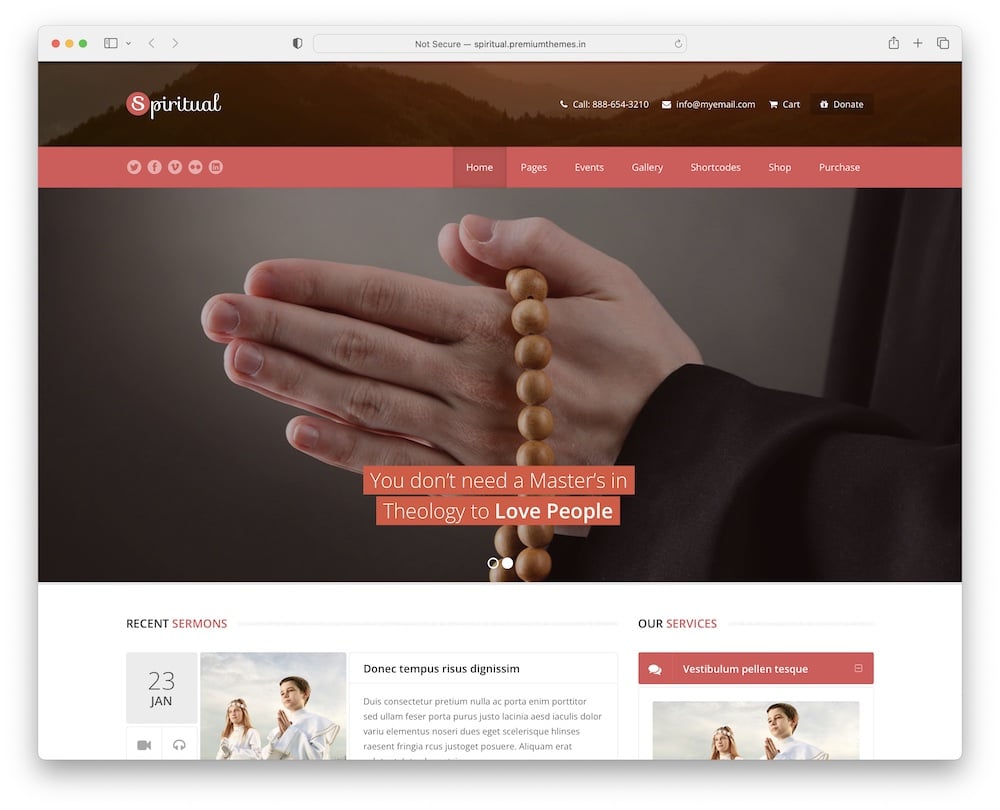 Explore the big questions of life in a company with the Spiritual theme.
This responsive & retina-ready theme comes with a unique design, the best plugins, and advanced blog layouts.
Pretty neat, huh?
Just import the pre-made demo and set up its menu, WP sidebars, widgets, and fonts. Plus, you get tons of icons to choose from.
Moreover, you can create important events, manage attendees and accept online bookings with included The Events Calendar plugin.
Whaaat? Yes.
Spiritual is also multilingual-ready and compatible with any WordPress translation plugin to unlock multiple choices (at once) on your site. HI5!
Treat yourself with Spiritual.
Spiritual features:
MORE INFO / DOWNLOAD
DEMO
2. Kriya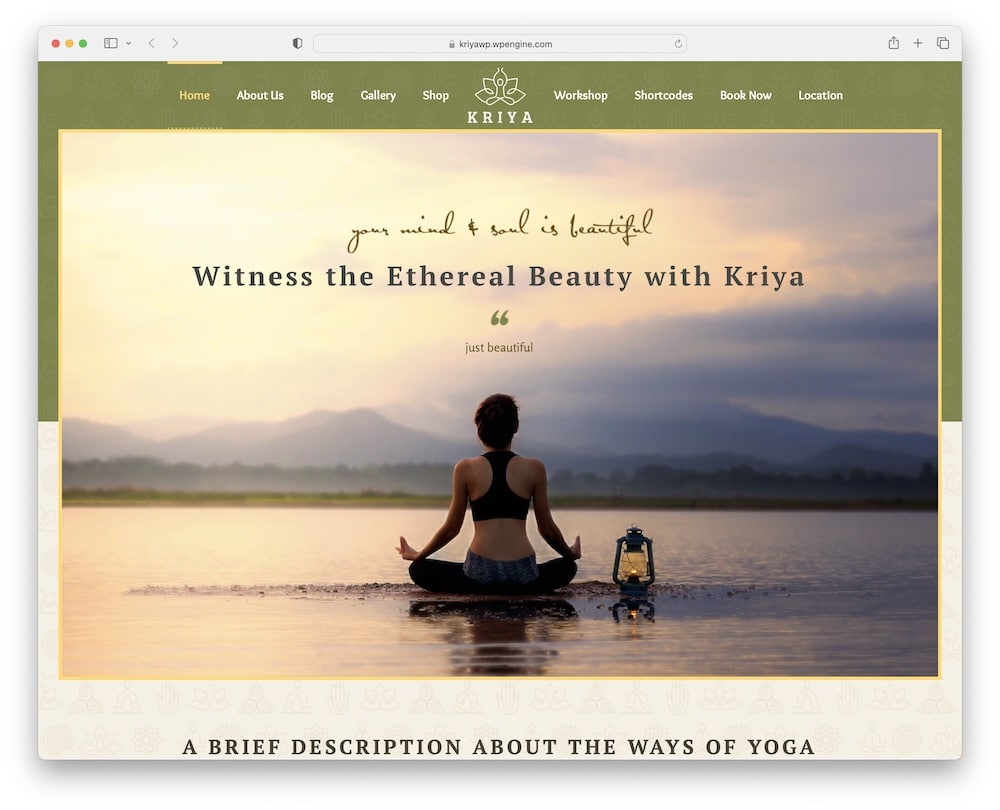 Create something amazing with the beautiful Kriya spiritual WordPress theme.
Tune into the ready-to-use homepage (functional out of the box) or customize its look in a way that will make you happy.
And you don't have to wait! You can START right now!
Included mega menu is one of my favorite elements mainly because of its user-friendly editing. You can simply organize your content (even add icons, maps, or images) to offer quick control over site navigation.
Furthermore, Kriya can showcase your courses with timetables, prices, and ratings directly online. Also, make a professional portfolio with your awesome skills.
Why put off feeling good?
Kriya features:
1,700+ sales
4.9+ star ratings
Integrated courses
Also a great WordPress yoga theme
Price: $69 (may vary)
MORE INFO / DOWNLOAD
DEMO
3. Mystik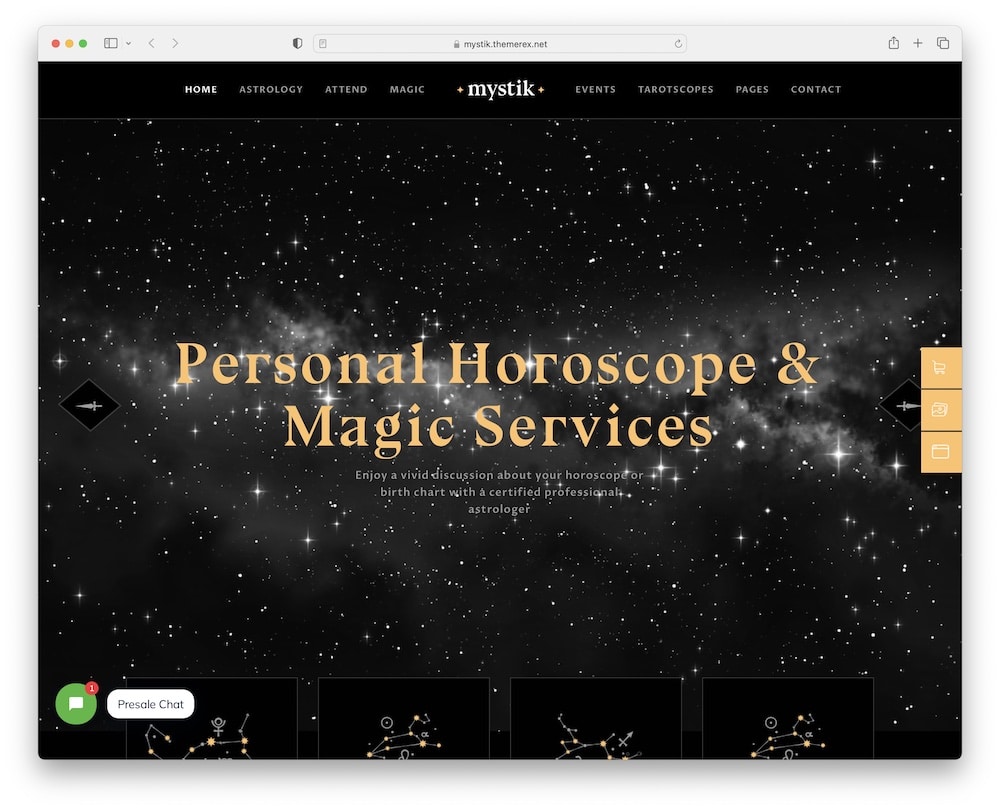 If you have a lot of wisdom to share, check out the modern Mystik spiritual WordPress theme!
Mystik was made with astrology, esoteric, numerology, meditation, fortune telling, and much more in mind.
Offer you a gorgeous display of your classes, lessons, seminars, workshops, and you can even create an attractive online store.
Due to the user-friendly WordPress page builder (Ciao, Elementor!), you can shape, mix and match design styles, elements and layouts as you wish.
Keep in mind you get FREE lifetime updates, detailed documentation, and professional customer support with Mystik.
Match made in heaven, I'd say.
Not to mention, social media integration is essential nowadays!
Mystik features:
MORE INFO / DOWNLOAD
DEMO
4. Prophet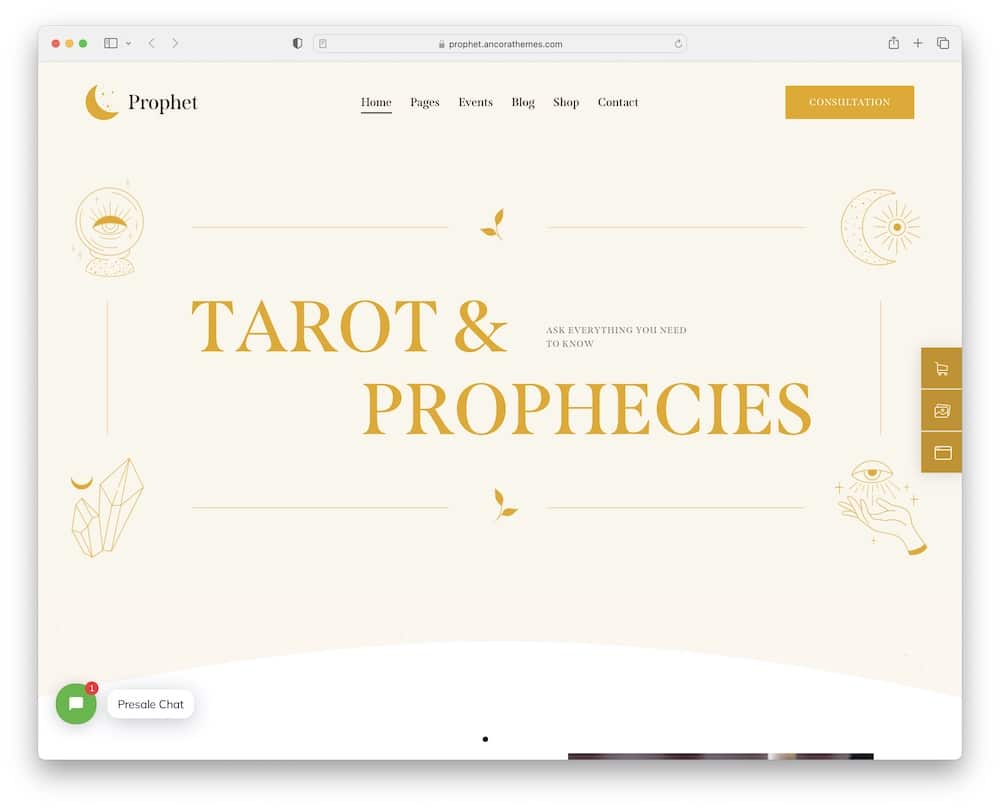 Produce a meaningful website with the charming Prophet WordPress theme.
By choosing your favorite layout (five ready-to-use demos), you get a powerful design and stunning features all in one.
Yup, this spell works instantly!
Also, you've got free gold (aka amazing plugins) on your hands with Prophet. It's bundled with Slider Revolution, Contact Form 7, WooCommerce, and The Event Calendar.
Moreover, Prophet provides GOOD-LOOKING newsletter popups and an extremely successful email-marketing tool, MailChimp.
Killer combination!
I as well LUV playful color and typography options.
In addition, you can start a blog by sharing "food for thoughts," self-care tips, spirituality, and positivity.
Give it a shot with Prophet!
Prophet features:
MORE INFO / DOWNLOAD
DEMO
5. Shakti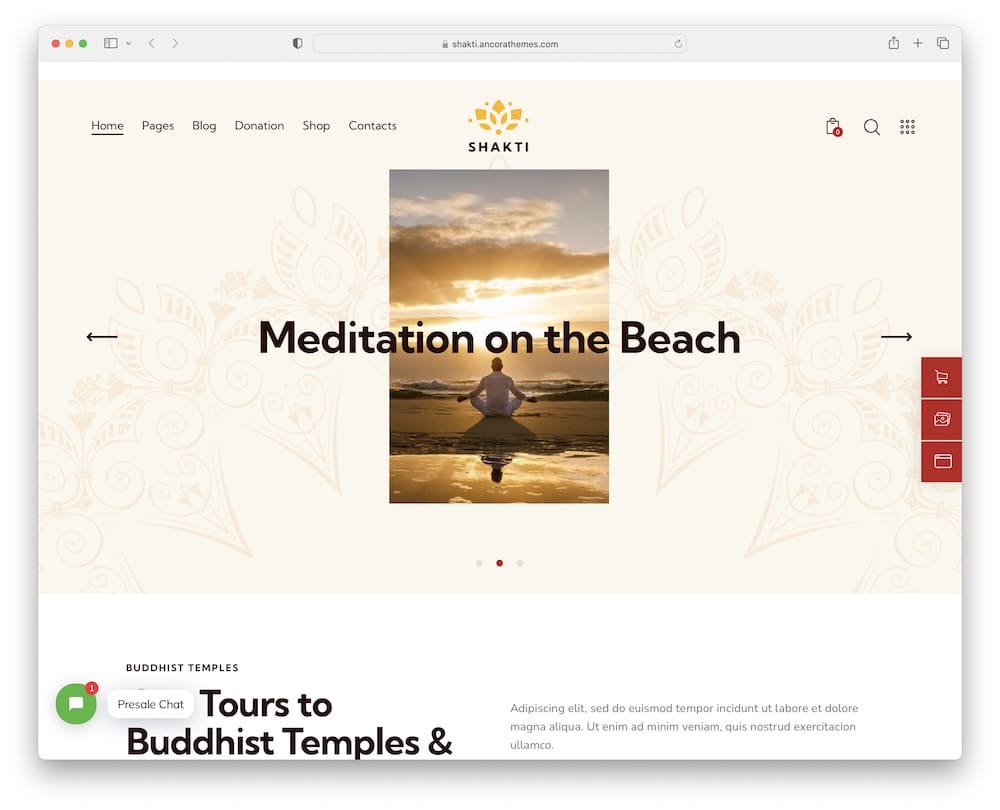 Pursue joy through the creative Shakti Hinduism WordPress theme.
This user-friendly theme comes with three unique home pages that you can install with a single mouse click. (But you may also be interested in checking a compete guide on installing a WordPress theme.)
Its customization doesn't require any coding knowledge (!), meaning you save $$$ on developers and designers.
Pretty COOL, right?
WARNING: It really is so simple when you can use the drag-n-drop editor!
Plus, your online store looks professional from the start due to the flexible WooCommerce. Yup, you will sell like a pro.
And with Shakti, you can even accept payments with cryptocurrencies.
Moreover, Shakti also includes Give plugin for uncomplicated ways of accepting donations or arranging crowdfunding campaigns.
Let's get going!
Shakti features:
30+ sales
4.5+ star ratings
Integrated live Ajax search
Price: $69 (may vary)
MORE INFO / DOWNLOAD
DEMO
6. Great Lotus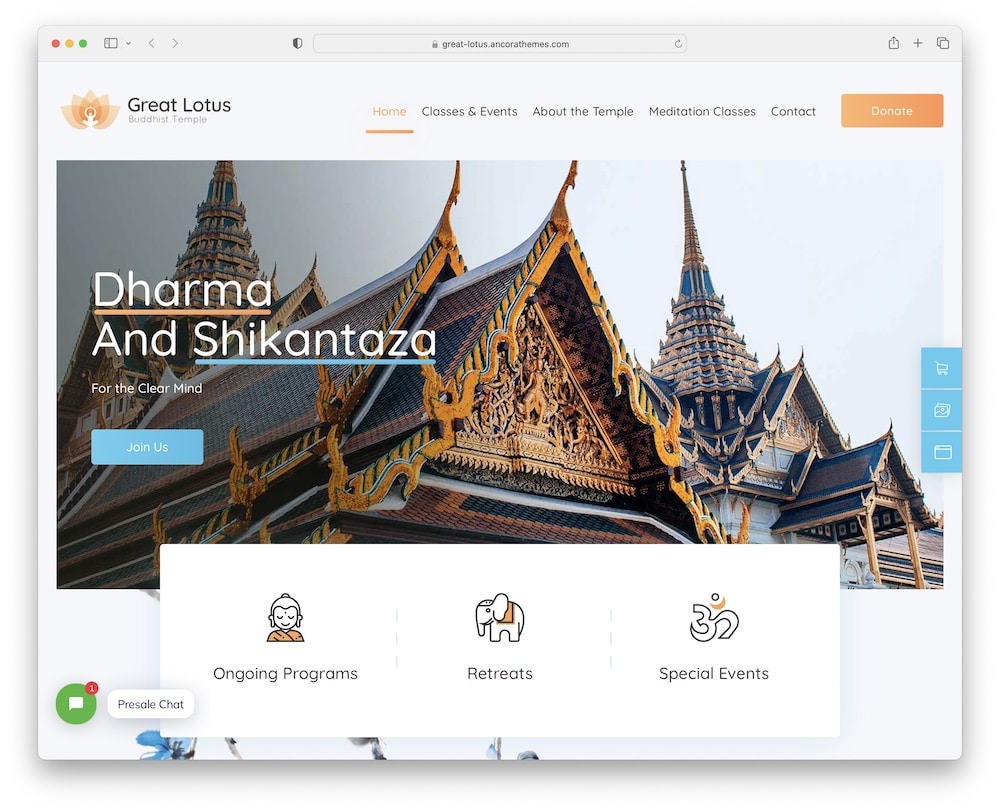 Provide meaningful tools and soulful guidance with the Great Lotus spiritual WordPress theme.
Great Lotus focuses on functional (pre-made) pages, flexible layouts, and advanced blog options.
Of course, it's responsive and mobile-approved to offer the best user experience!
Plus, the faster your site loads, the better! Great Lotus is also cross-browser compatible. Happy zone for ALL your visitors. (You can also read Ales' tutorial on how to choose a fast WordPress theme.)
And for the record, you can easily organize events, classes, or meetups with brilliant The Event Calendar.
Makes it super handy for your visitors to join or share important event details.
WIN. WIN.
I know you have the power to inspire us!
Great Lotus features:
640+ sales
4.8+ star ratings
Custom WP widgets & shortcodes
Price: $69 (may vary)
MORE INFO / DOWNLOAD
DEMO
7. Vihara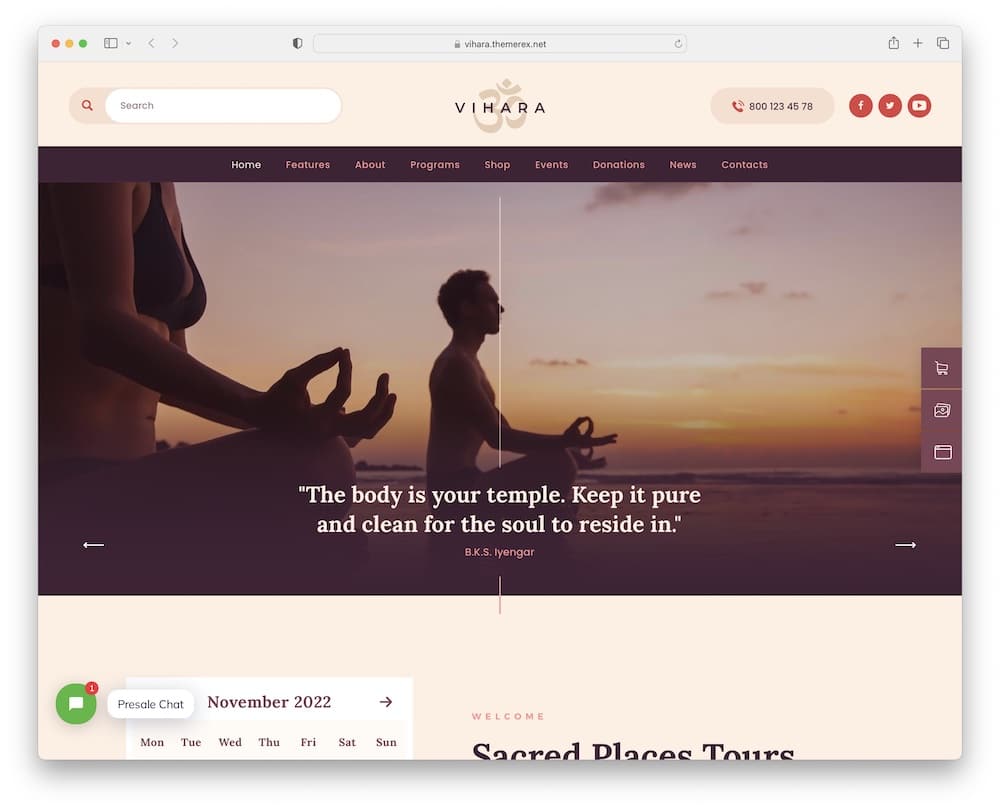 Vihara oriental WordPress theme is incredibly well designed and will leave you stunned.
Go ahead and check it out!
You can use the included pages for various purposes; plus, Vihara is super simple to customize due to its BIG collection of elements, pre-made layouts, and flexible settings.
Moreover, Vihara is SEO optimized (thumbs up), ensuring you will bond well with Google and other search engines.
Oh, and you also get tons of shortcodes for quick add-ons of extra functionality for your site. Save time on creating your elements & learning to code (NO need!).
Affordable, practical, and user-friendly. Couldn't love it more!
Vihara features:
860+ sales
4.7+ star rating
Fast loading (Pingdom Tools: 1.15s)
Online booking system
Price: $69 (may vary)
MORE INFO / DOWNLOAD
DEMO
8. Grace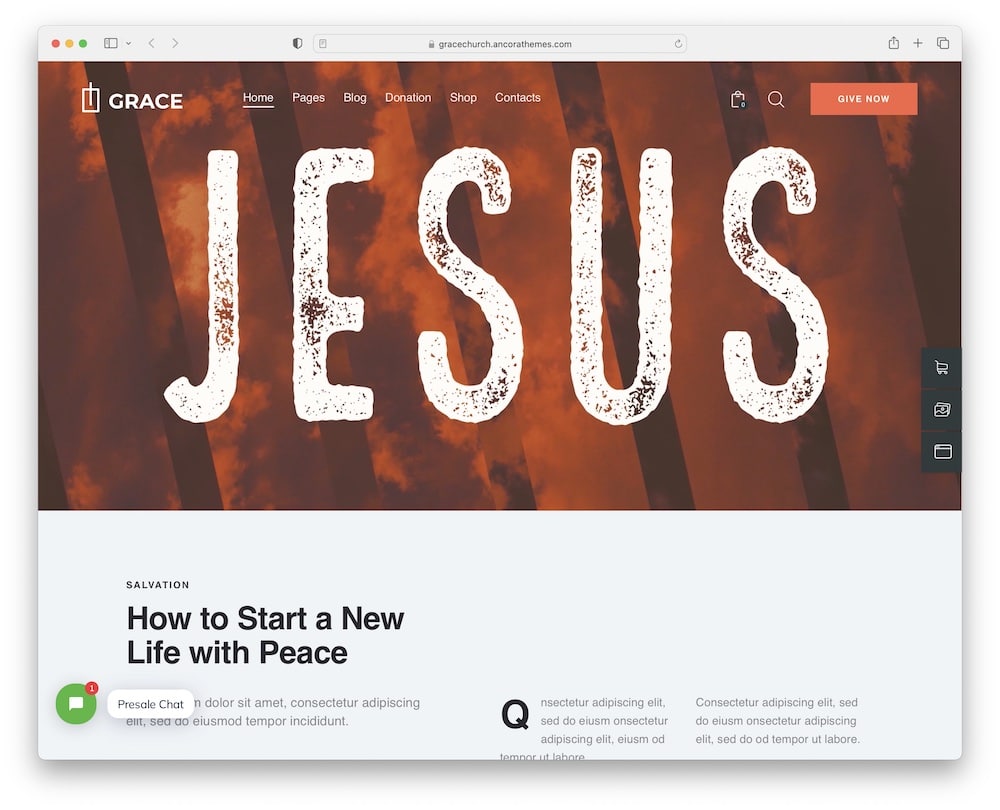 Commit to Grace church WordPress theme to share Christian practices, love of Jesus, thoughtful ideas, and daily wisdom. But Grace works for any religion easily.
An online sanctuary for inspiration.
Keep in mind, 1,000+ people trust in Grace – and I'm definitely one of them!
You can fully control Grace through Elementor page builder and turn it into the most popular website out here. Plus, it's compatible with the powerful WooCommerce.
I'm also a HUGE fan of flexible color options and unlimited typography alternatives.
Moreover, Grace is social media integrated for a simple connection with your audience.
Be public. Be easy to follow.
From my point of view, that's perfect.
Lift people's souls!
Grace features:
MORE INFO / DOWNLOAD
DEMO
9. Zegen

Open your mind (and heart) to the Zegen church WordPress theme.
Zegen was specially made for the church and its activities, so you can easily share your upcoming events, sermons, charity programs, theology, volunteering experiences, etc.
Get site in minutes – Hooray!
INSTALL. Drag and drop elements.
Change Zegen's appearance (from bottom to top) to your spiritual liking.
Import your images and create a vibrant gallery of your community, plus you can even introduce staff members and their life stories about making this world a better place.
Oh, and Zegen is also translation ready if you want to be relevant for people all across the globe.
Be blessed with Zegen!
Zegen features:
900+ sales
4.9+ star ratings
One- & multi-page website support
Free updates for life
Price: $69 (may vary)
MORE INFO / DOWNLOAD
DEMO
10. Augury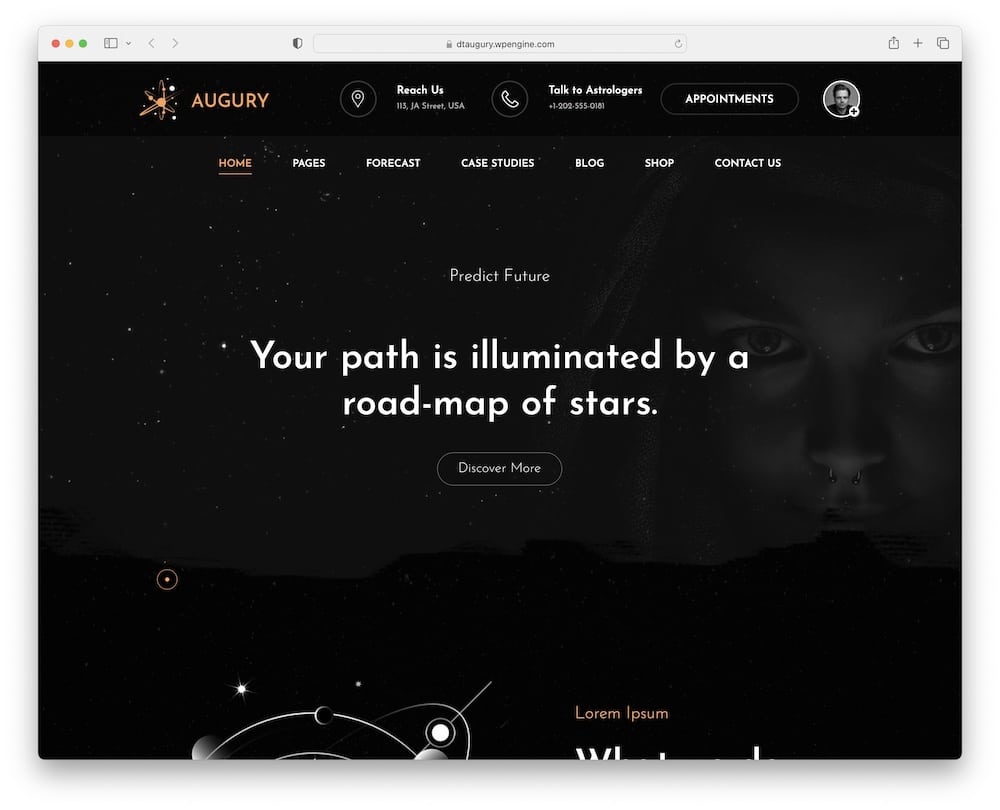 Uplift and empower people with the magical Augury spiritual WordPress theme.
Augury is a beautifully designed dark WP theme for astrology, tarot, zodiac, daily horoscopes, or psychic readings.
Let planets and stars show spiritual paths!
The best part about Augury is the smart appointment form available 24/7 (at any time, every day) and can be fully adjusted to your wishes (insert questions you need for your smooth work).
Plus, you can easily create stunning case study pages and a popular online store.
Moreover, I'm a BIG fan of the Slider Revolution plugin!
A tool that is just bursting with opportunities for creative expression. I swear you will immediately catch visitors' attention.
Take the chance with Augury!
Augury features:
280+ sales
4.4+ star ratings
3 appointment forms
Elementor page builder
Price: $69 (may vary)
MORE INFO / DOWNLOAD
DEMO
11. Samadhi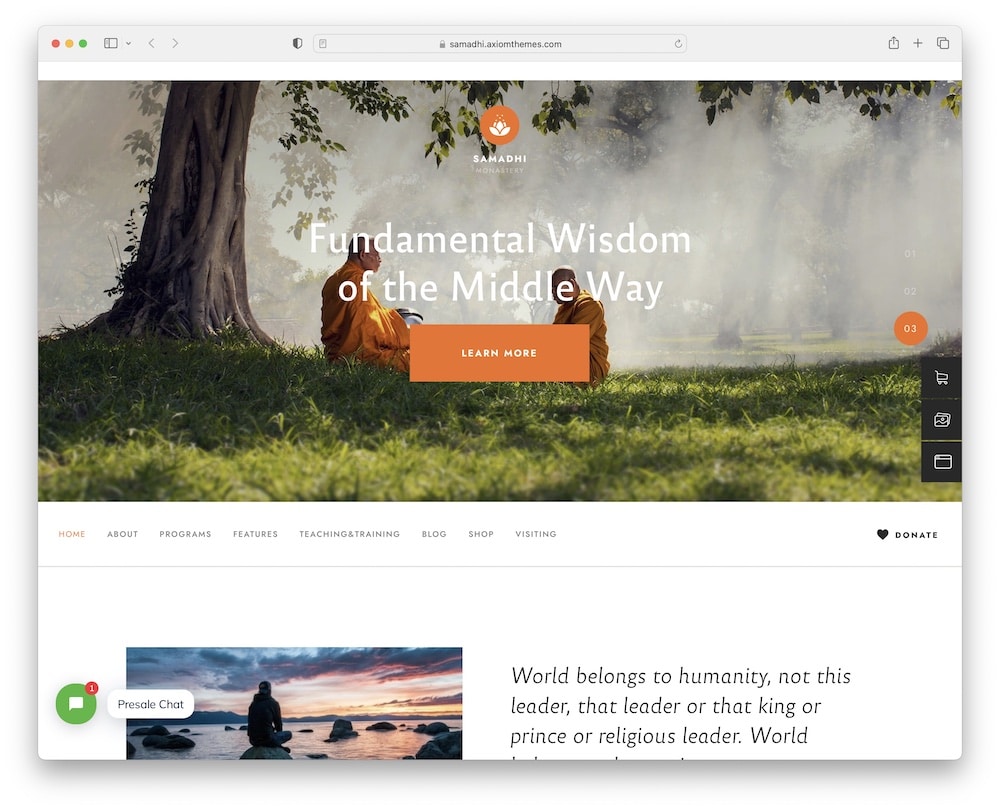 Have no fear the Samadhi Hinduism WordPress theme is here!
If you want to BRIGHTEN up someone's day, start building your website ASAP. In fact, you won't have to waste any time due to its ready-to-use homepages with Samadhi.
Modify, mix and set up header and footer, colors, fonts (check our tutorial on changing fonts in WP), and icons. Also, upload your video, audio, or image content to level up!
OH, and I'm really impressed by pre-made blog layouts (sooo beautifully designed).
Furthermore, Samadhi supports the most popular plugins, such as Elementor, Slider Revolution, Contact Form 7, and MailChimp.
You're kidding?! Nope!
You can do almost anything (I see them as my superpowers when I'm creating a website) with plugins, so take advantage.
Make your ideas happen!
Samadhi features:
280+ sales
5-star rating
Instant installation for a quick start
Social media integration
Price: $69 (may vary)
MORE INFO / DOWNLOAD
DEMO
8 Tips For Setting Up A Great Spiritual Website
Do you want to make a truly epic spiritual website?
Of COURSE, you do!
That's why I went one step further and listed the eight tips to achieve real success with your website.
But what's best is that you get these tips/features in the WordPress themes above.
You'll save so much time and energy (using a theme), which you can instead spend on your spiritual activities and promoting your services.
So. Cool.
How I Chose The Best Spiritual WordPress Themes:
Responsive & fast loading layout: Your website must be 100% responsive and fast loading. You can expect a lot of visitors from mobile devices, so you need to guarantee the ultimate performance for everyone.
Clean & minimal design: Although it's straightforward to bloat the website with all these cool features and effect – DON'T. From my experience, keeping your spiritual website clean and minimalist is much better. Make it simple with a focus on your services, cases, story, etc.
Donations: Adding donations to your website can help you earn extra funds that you can reinvest into your business, making it even bigger and better.
About page: Don't forget about creating a compelling about you/us page. Share your story. How do you come in contact with spirituality? What makes you a good practitioner? Yup, this is a place for you to shine.
Success cases/testimonials: Do you want to build trust in your visitors? That's when successful case studies come into play and positive testimonials. Create separate pages for the former (or share them in blog posts) and add the latter to your home page.
Services & pricing: Services and pricing should be clear and transparent with call to actions, so everyone can start working with you ASAP.
Contact & online booking: Many will have additional questions, so make sure you allow them to get in touch via a contact form (or clickable phone number). But add an online booking form for everyone who wants to book your services straight from your website.
Social media: Social media integration can also play a big role in adding more content to your website, as well as content distribution. Your visitors can share your stuff on their profiles and help you grow.
These are the eight must-haves that will make your spiritual website TOP-NOTCH.
Luckily, you don't really need to do much work other than turn on your creativity because a spiritual WP theme has done most of it already.
For more info how to pick the right one, Ales prepared this insightful guide on how to choose a WP theme.
::
Note: This article was originally published on November 2, 2022. But our team regularly reviews it and updates it with necessary improvements for accuracy.