After working in the wedding industry for a few years, I knew what to look for in WordPress wedding planner themes when conducting this review.
I ended up studying 30+ themes but found many poor performers.
Luckily, these 13 are the only ones you need. That's it, goodbye!
Joke aside, you get everything to build your dream website – QUICKLY. (Stand out from the crowd – yes, you will!)
Every detail matters in your dreams, and that's what these themes focus on.
Portfolio, pricing, call to action buttons, social media, effects, etc. – it's all ready-made for you.
Build a dream event, starting with a website.
THE ULTIMATE 6:
Best WordPress Wedding Planner Themes
1. Moments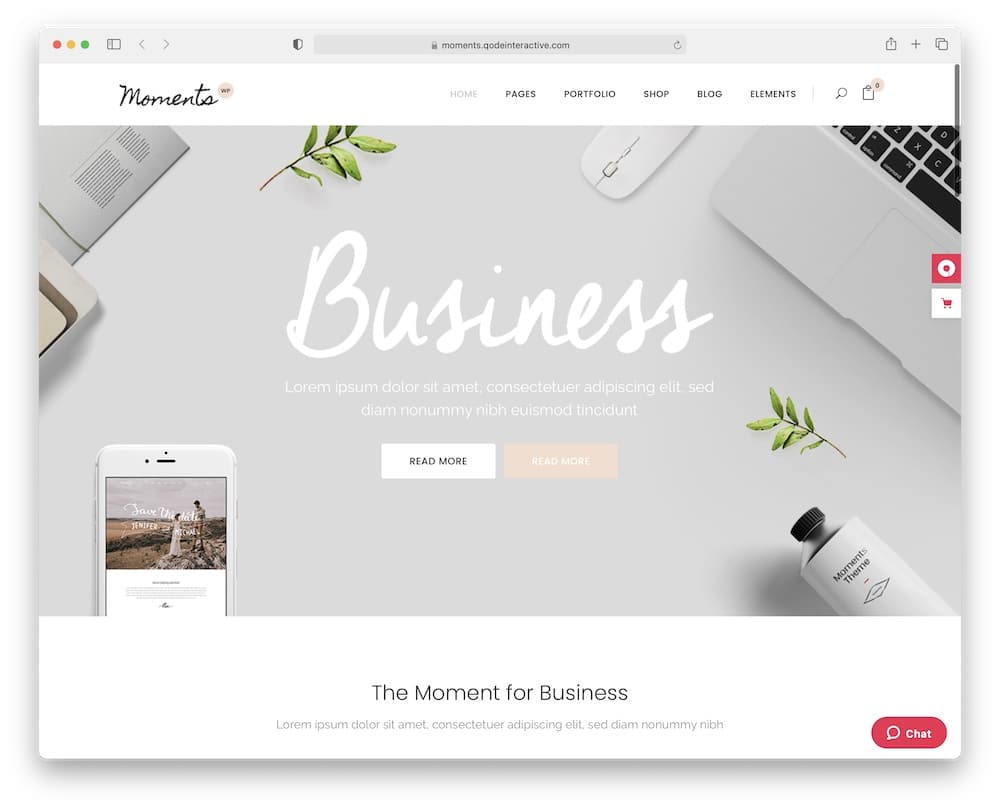 A charming (flower-filled) Moments wedding and event theme is created with care and elegance. It includes everything (!) you need for an incredible wedding website.
HELLO GORGEOUS!
In fact, Moments is the perfect place to choose for your photo gallery, portfolio, announcement page, or modern wedding online shop.
Share your dreams with others.
The best thing about Moments are 18 unique homepages (SOOO many options), which are easy to operate, support one-click import, and are compatible with excellent tools.
Amazing, isn't it?
And let's not forget about the collection of OMG-like layouts, shortcodes, widgets, and icons.
Love'em all.
Bonus: smooth page transition, parallax effect, and responsive design – I know, a bunch of GOOD news!
Enjoy this sweet line-up of popular features.
Moments features:
2,400+ sales
4.4+ star rating
Price: $69 (may vary)
MORE INFO / DOWNLOAD
DEMO
2. The Aisle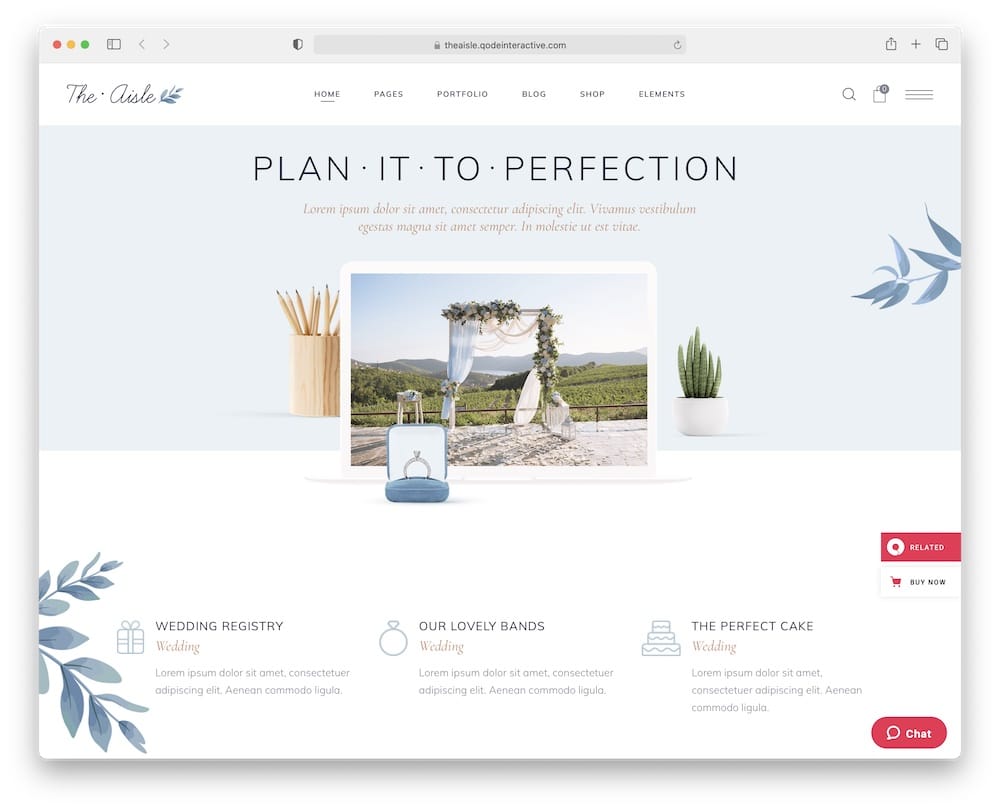 Got your mind on a beautiful wedding website with dreamy features, charming design, and cozy look? Then you are on the right track with The Aisle WordPress wedding planner theme.
I am talking serious eye candy here, folks!
In short: The Aisle is fresh and functional.
It includes ready-to-use homepages, different inner pages, and essential elements. Choose an index page you like and import it on your computer (one click).
YES, it is that simple to start.
You can fully modify The Aisle. Mix and match colors, typography, shortcodes, and layouts (NO coding knowledge is required).
Page builder lets you edit your site with a drag-and-drop interface, meaning you can see how a change will look before publishing it.
MAGIC.
Additionally: You can easily create a portfolio (What's your superpower?), top-level blog, or your online shop.
A happy marriage is so much more with The Aisle.
The Aisle features:
1,800+ sales
4.6+ star rating
Handy mega menu
Price: $69 (may vary)
MORE INFO / DOWNLOAD
DEMO
3. Alis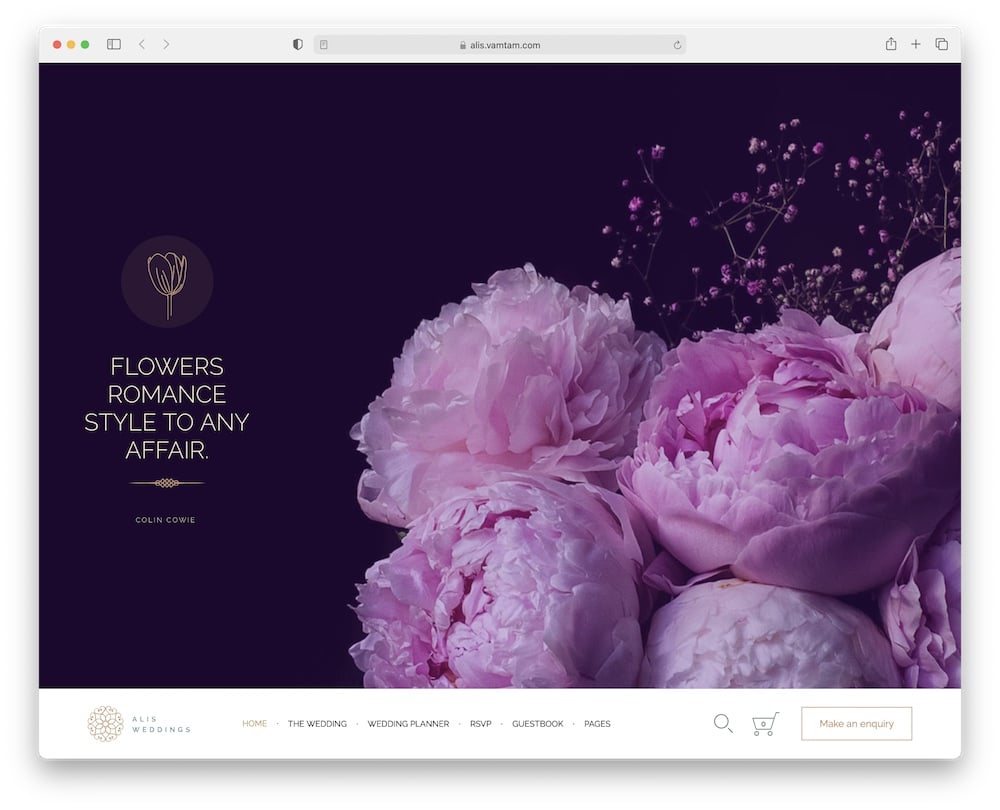 Finally, an answer to the one who wants a lovely, fairy, and fully functional website. Alis wedding planner theme is designed for marriage planning, couple photography, wedding invitations, guestbook, and much more.
YES, you can set up your new site exactly as you wish (!) without programming skills or advanced knowledge.
Rearrange elements, add content, and set up powerful plugins (EXTRA user-friendly).
Find ways to mix things up and have fun with Alis!
Besides, Alis is responsive and looks great even on mobile (I am thrilled!).
The COOL part? Translation-ready option – a slick piece of software that allows you to provide your content in the native language of your customer.
With Alis – the world is yours.
Alis features:
460+ sales
5-star rating
Stock images included (free)
Price: $79 (may vary)
MORE INFO / DOWNLOAD
DEMO
4. Fleur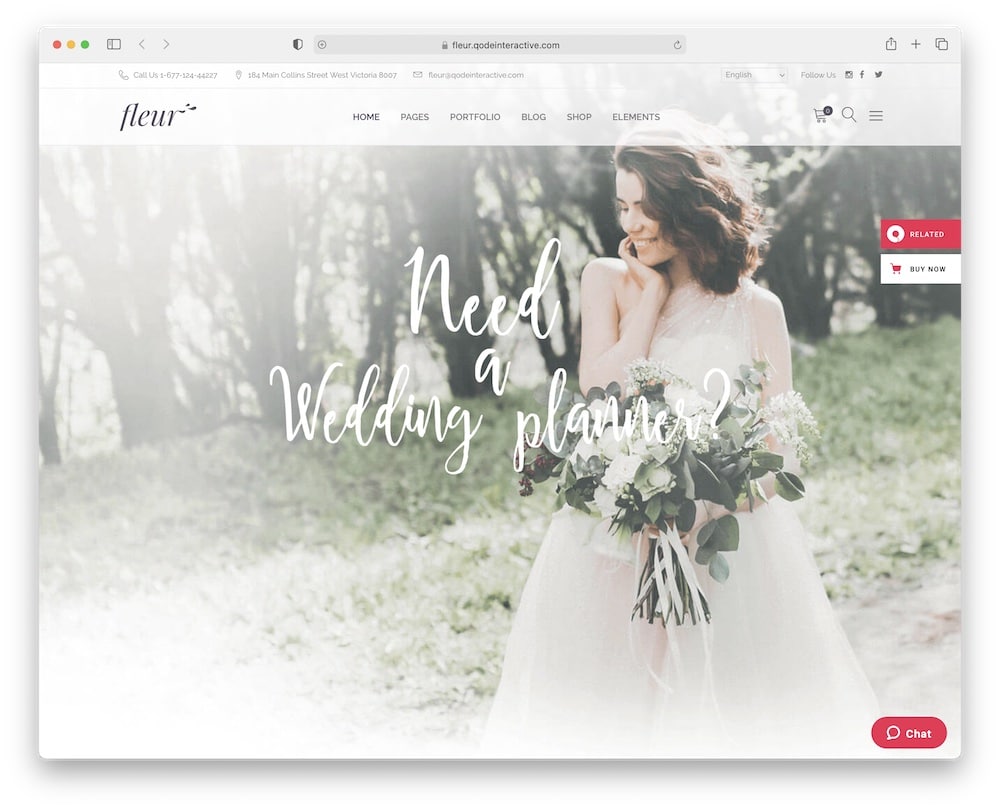 A dash of sparkle, overflow of gentle colors, a great design angle, on-point typography, etc. Let's honor and toast to this dynamic and well-structured design.
Packed with thirteen ready-to-use homepage layouts – BE SURE – Fleur WordPress wedding planner theme is your optimal choice for a big and bold website.
Fleur is responsive, functional, and easy to handle (even if you are new to building sites).
Look forward to a high-performance standard, meaning your customer will enjoy smooth scroll, gorgeous layouts, useful tools, and interesting video backgrounds.
Besides, you can choose between unique icons, multiple header types, Google Fonts, and tons of shortcodes.
You are lucky!
Oh yes, it's true, Fleur is a secret behind every stunning planning. Create moments to last a lifetime.
 Fleur features:
1,500+ sales
4.7+ star rating
Google Maps
Price: $69 (may vary)
MORE INFO / DOWNLOAD
DEMO
5. Wedding Planner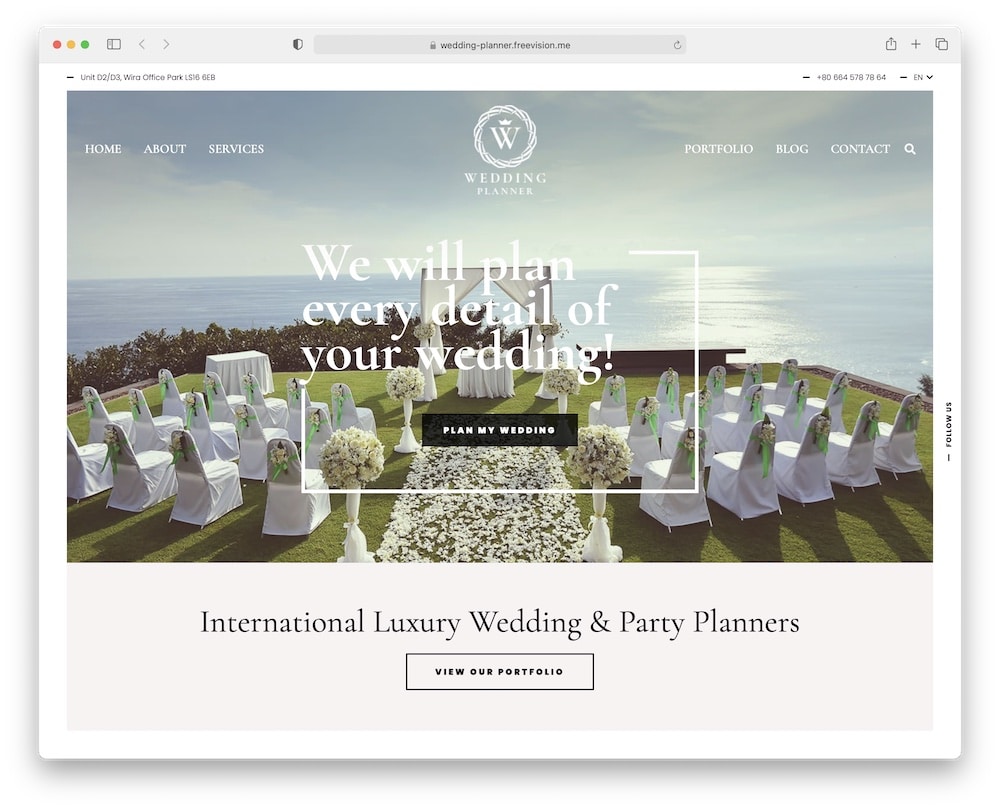 There's something romantic, whimsical, passionate, and mystical about the Wedding Planner WordPress theme.
Carefully crafted templates, modern design, different blog styles, and beautiful inner pages will help you create the most popular site. (Without a doubt!)
After all, you are searching for the best theme out there, right?
You don't need any programming knowledge to work with Wedding Planner. Amazing WPBakery page builder (the best tool ever) allows you to use just your mouse (or trackpad) and drag and drop elements in real-time (handy!).
AHA, that's it!
Just rearrange columns, add rows, and choose from numerous pre-made elements.
The editor remembers your color choice, SO you can consistently use the same color palette throughout all designs.
Capture the most important moments with Wedding Planner.
 Wedding Planner features:
1,300+ sales
4.8+ star rating
Amazing performance
Price: $51 (may vary)
MORE INFO / DOWNLOAD
DEMO
6. Wedding Industry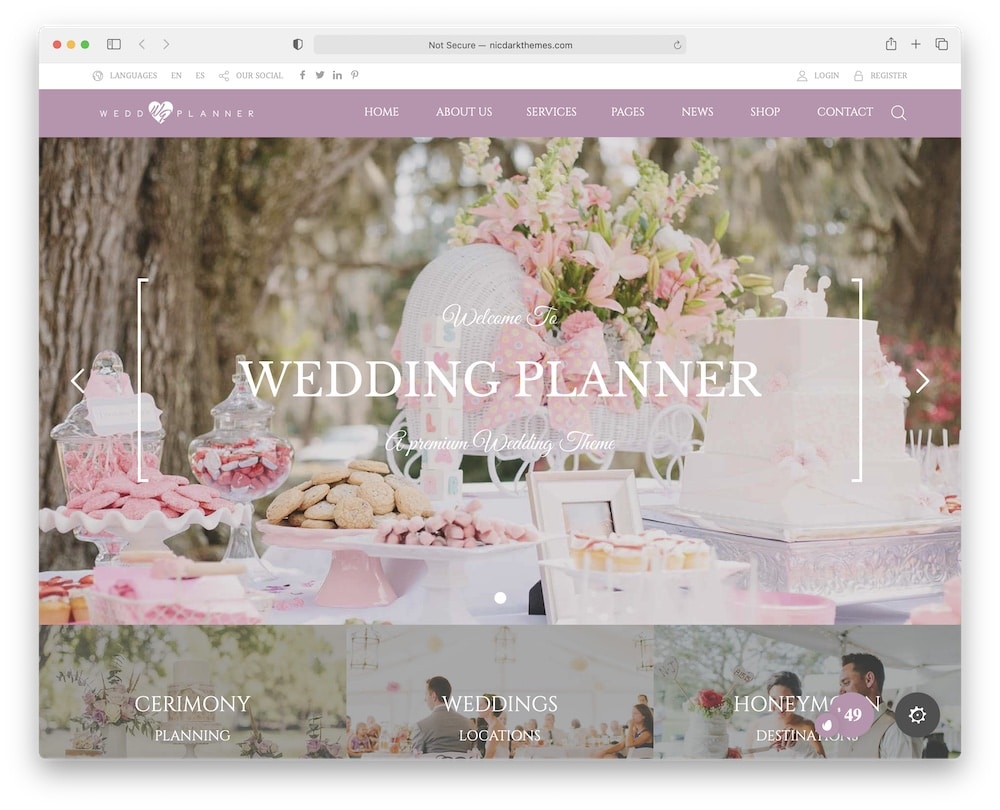 For extra chicness, choose sophisticated Wedding Industry wedding planner theme.
Once you start working with Wedding Industry your business will evolve and your planning will switch on to the work of ART.
And MUCH, MUCH, MORE!
The Wedding Industry includes tools for almost everything (over 100+ possibilities). You also get stunning Slider Revolution, parallax effect, RSVP form, locations management, and WPBakery builder in the package.
Heck YES!
Moreover, Wedding Industry is SEO-ready, ensures maximum site loading speed, and is RTL compatible (you can translate your site in more than one language).
OVER. THE. TOP.
Oh, how I love Wedding Industry.
For your information, you can even sell products on your new site ("spice up" your offer).
LISTEN to me: You really can't go wrong with Wedding Industry!
Wedding Industry features:
2,300+ sales
4.5+ star rating
Saves a ton of time
Build custom forms
Price: $49 (may vary)
MORE INFO / DOWNLOAD
DEMO
7. Ekko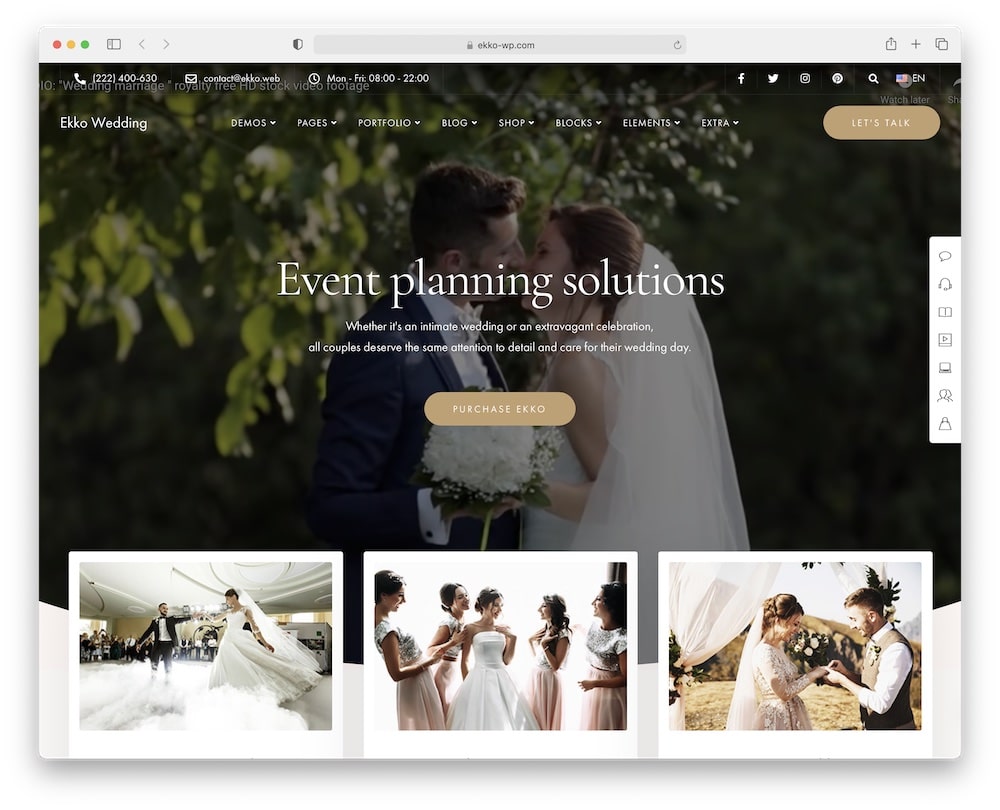 Awaken warm and fuzzy feelings with the stylish WordPress wedding planner theme, Ekko.
This theme looks stunning (from bottom to the top), but to make it EXTRA special, you must personalize it.
You can adjust Ekko to the style you are going for with your business.
Here's how COOL it is: To help you get started, Ekko comes with complete pre-made websites, home-landing- and sales page templates, and numerous small (unique) details.
The options to build a spectacular site are truly endless.
You get WPBakery page builder, Slider Revolution, WooCommerce, and Contact Form 7 for FREE (NO joke).
WIN-WIN-WIN.
And let's not forget, Ekko is a HIGH-STAR rated theme by its clients. Clapping hands – very, very nice work, guys!
Ekko features:
5,300+ sales
4.8+ star rating
Regular updates
Easy import
Price: $59 (may vary)
MORE INFO / DOWNLOAD
DEMO
8. Dreama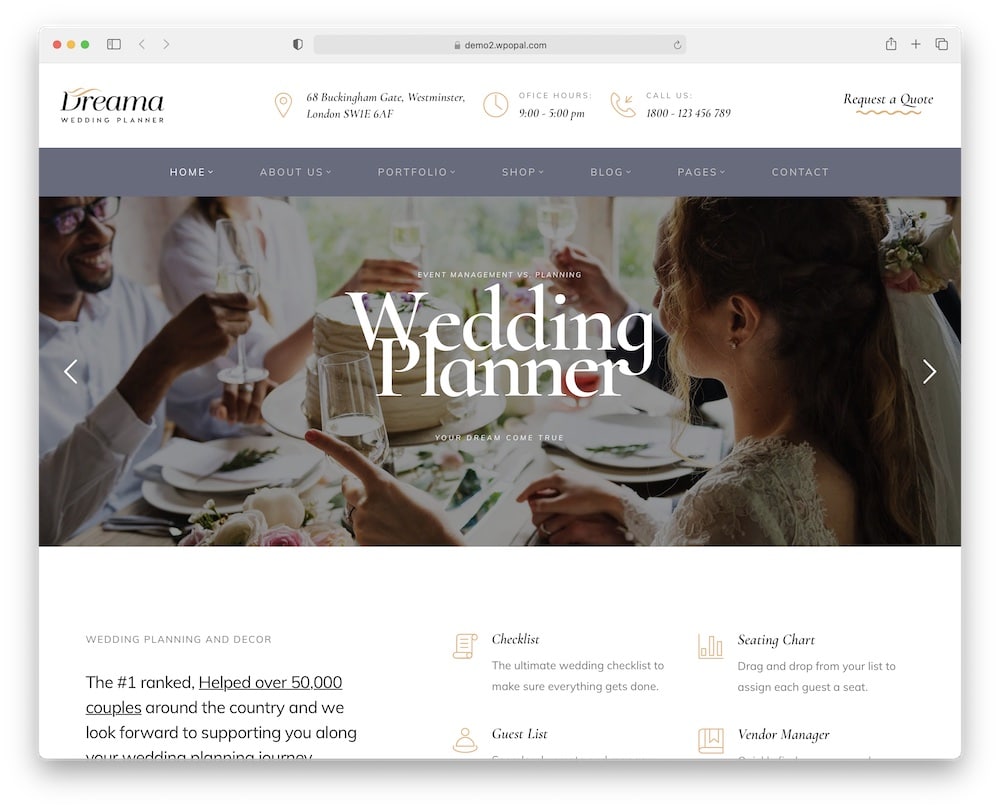 There's nothing better than a sweet, graceful, soft, and romantic story of a love journey.
Dreama WordPress wedding planner theme is ideal for your favorite memories, wedding events, and party planning.
Wedding agencies will have a blast using it.
Remember, all the work that went into ready-to-use homepage demos is eye-catching and flawless. Plus, you can swap pages, mix colors, match headers, and choose different fonts.
LOVE. YOUR. LOOK.
If you are looking for fabulous gallery layouts – they are included! Besides, you can create inspirational and special photo albums on Dreama (which requires little work and time).
Like that would not be enough, UM, YES, you can share them on social media (online sweet home).
Dreama is compatible with every language, SO make sure to engage with the world due to translation-ready options.
Are you down?
Dreama features:
230+ sales
4.5+ star rating
20+ home demos
Quick slider creation
Price: $59 (may vary)
MORE INFO / DOWNLOAD
DEMO
9. Ceremony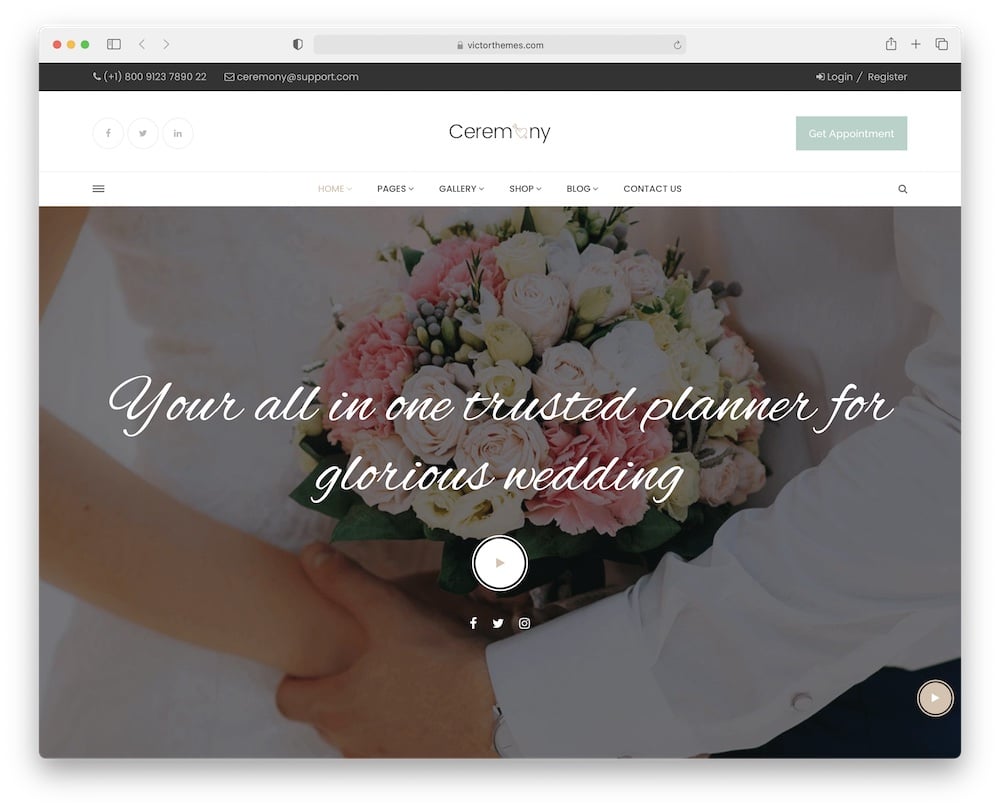 Think outside the box with a creative and breathtaking Ceremony WordPress wedding planner theme. Try (it's worth it!) one of the demos and start creating your luxurious website.
When you start building with Ceremony all "best-kept secrets!" will be revealed to you (extended documentation comes along).
YES, I am ready for a glass of Champagne!
Awesome (fresh stuff, guys!) features are included in the Ceremony, such as RSVP registration form, countdown, map with location, and for the finishing touch: you can make stylish invitations for your guests.
Ceremony ensures that your visitors will have the same EXCELLENT experience with fast and secure surfing from any browser they use.
Finally: You get lifetime updates! That's right, Ceremony has your back!
 Ceremony features:
55+ sales
4.7+ star rating
Build with Elementor
Map with exact location
Price: $49 (may vary)
MORE INFO / DOWNLOAD
DEMO
10. OneLove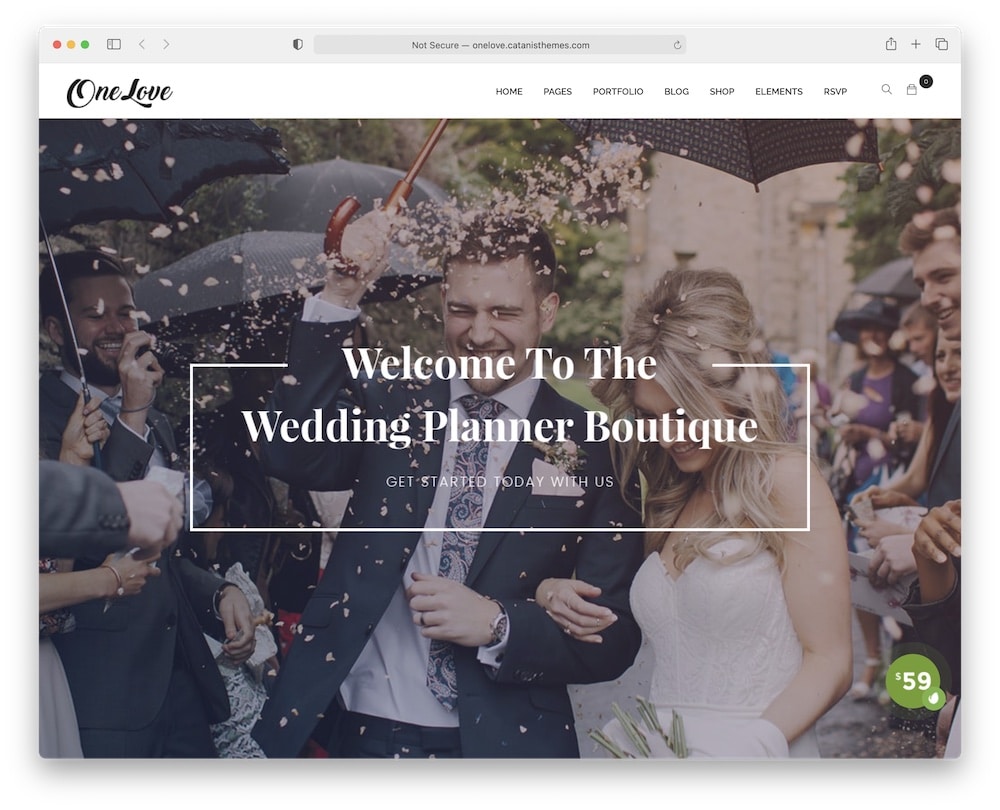 Create heaven on earth and WOW your clients with a multi-purpose OneLove WordPress wedding theme. SO elegant, fluid, and responsive – NO wonder you will fall in love with it.
You guys know I love many choices (YEY) and OneLove comes with twenty-two homepages (!). You can make an epic wedding event planner website (bring all your biggest ideas to life) speedily.
Next up: Do you want to sell, offer or present something? You can easily pull it off with a brilliant WooCommerce plugin, integrated product styles, Ajax technology, and pre-made shop layouts.
WOWING!
The good news is there are numerous valuable elements, plugins, widgets, and shortcodes that you can use in your design. Even the child theme is included.
Fast, friendly, reliable – OneLove's tech support is here for you. Today is your day!
OneLove features:
1,500+ sales
4.8+ star rating
Pricing table
Lovely audio player
Price: $59 (may vary)
MORE INFO / DOWNLOAD
DEMO
11. PWE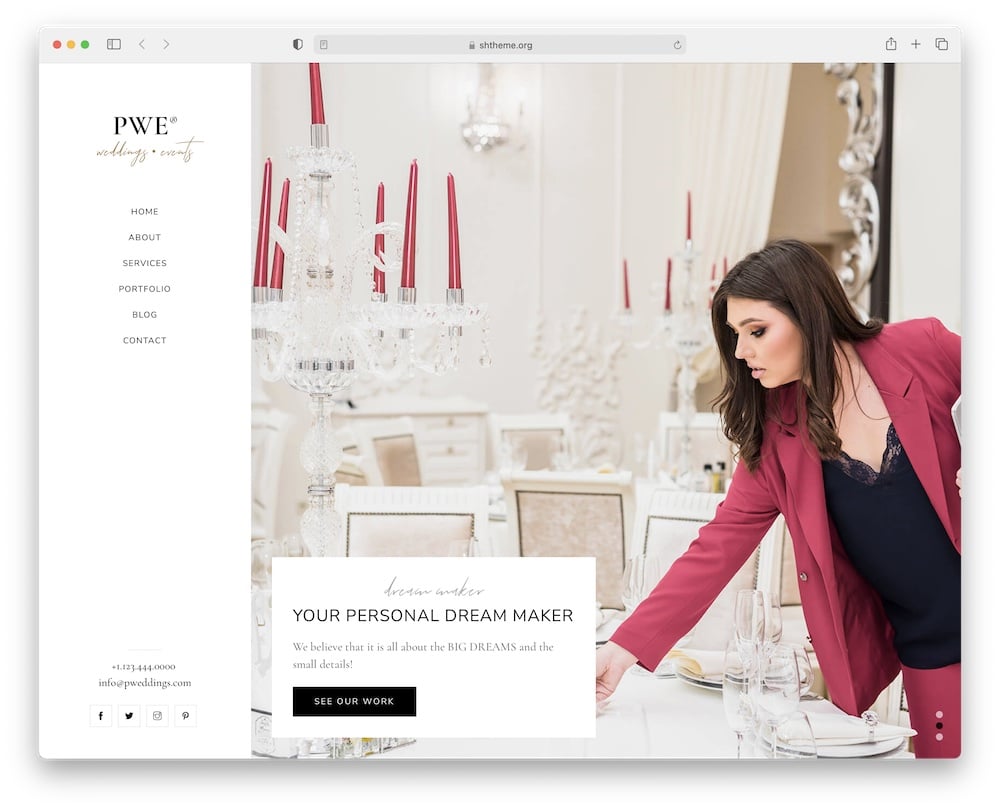 You've already won the jackpot by finding PWE WordPress wedding planner theme so keep the good luck rolling through your creative building.
PWE offers a good foundation, media-rich pages, gorgeous designs and is driven by a desire to help you create an attractive portfolio, an efficient wedding organizer, or event planner.
Choose between ready-to-use demos, layouts, elements, tools – and you are off to a great future!
Besides, Elementor page builder should provide you with a smooth and convenient experience of creating and working on your site design. Lucky beginners!
With the power of blogging, you can simply share the latest news, useful tips, and helpful content with your clients.
Connect with visitors, boost your reach, and turn them into your loyal fans!
UNBEATABLE. VALUE.
Keep smiling and improve your business with PWE.
PWE features:
45+ sales
5-star rating
One- & multi-page layouts
Social media integration
Price: $99 (may vary)
MORE INFO / DOWNLOAD
DEMO
12. Bethany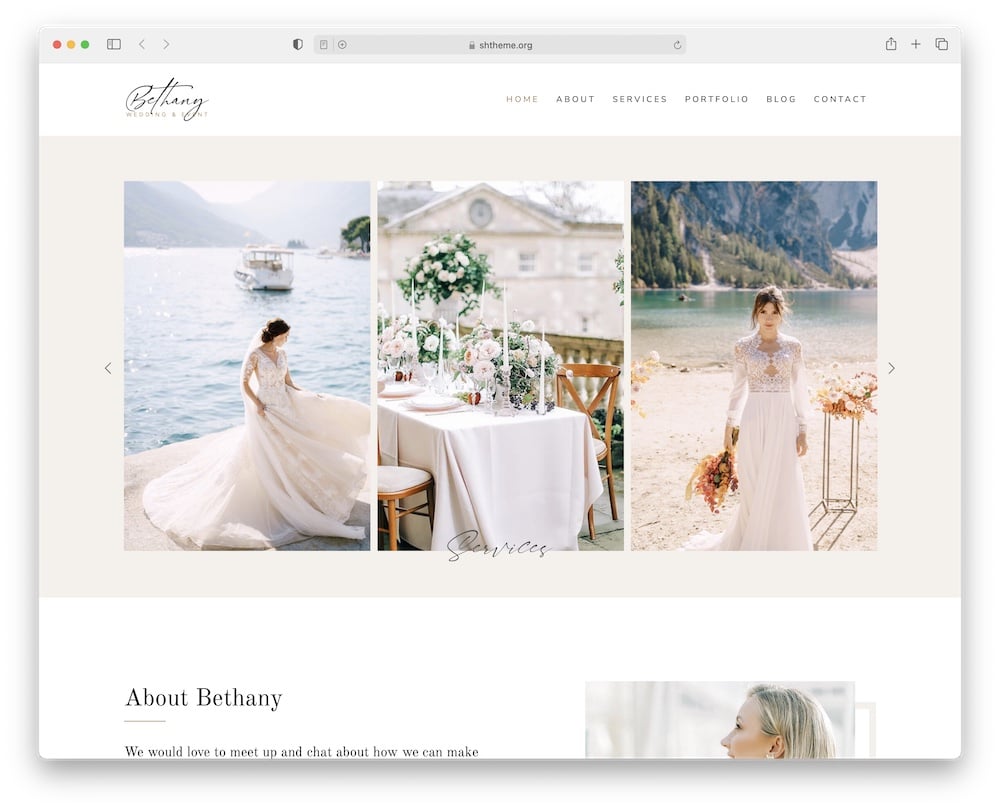 Keep it easy, light, and breezy with Bethany WordPress wedding and event planner theme.
It's the perfect stress-free tool to work with (100% customizable), totally responsive, and just a great place to share your portfolio, past projects, and clients' testimonials.
Surprise your visitors with unexpected color (unlimited options), animated elements, and practical tools.
Included Contact Form 7 (high-level tool) gives you a number of options to customize your contact and marketing forms (newsletter). The best part: Saves your time and is FREE!
Of course, you can simply manage your typography – with the theme options panel, you can change the fonts for menu, header, body, or heading (600+ Google fonts available).
INSTANT. SWAP.
Set out a red carpet and invite your customers to the stunning online world of Bethany.
Bethany features:
20+ sales
4.7+ star rating
Great mobile experience
Price: $99 (may vary)
MORE INFO / DOWNLOAD
DEMO
13. Heartbeat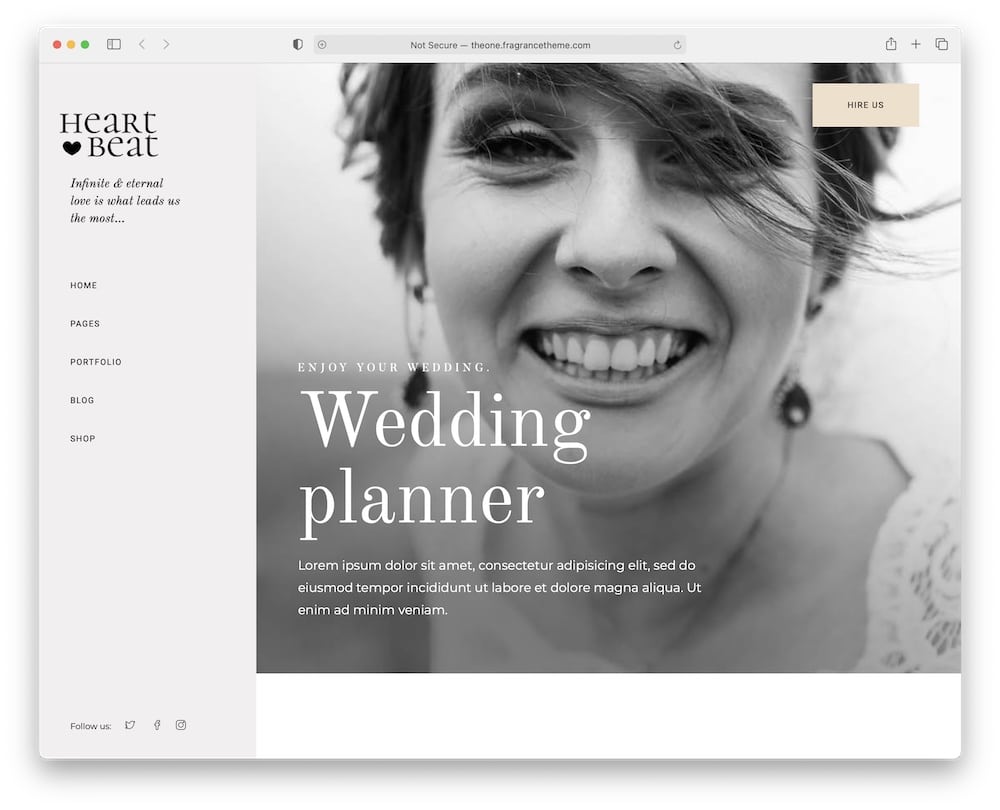 If you love soft colors, daydreaming, and opulence, consider using the elegant Heartbeat WordPress wedding and event theme.
Stunning details, pretty demos, wonderful widgets, modern inner pages, professional shop layouts, different header types, and much more is waiting for you!
You have 100% control.
Moreover, you can (and should) display your past work with gorgeous pre-made portfolio layouts. Let your strongest projects tell your business abilities and win you new clients.
To tie it all together, add a blog about your favorite love stories, inspirational quotes, ideas, decor, or last-minute wedding touches on your new site.
GOLD.
Take your work to the next level, help your customers to plan the best party, and celebrate the big day with them. It's all about love.
Invest like the best and take advantage of everything Heartbeat offers to you.
Heartbet features:
120+ sales
4.8+ star rating
Video background support
6-months free support
Price: $69 (may vary)
MORE INFO / DOWNLOAD
DEMO