Create a platform like Fiverr, Upwork, or Freelancer like a pro with our tested collection of the best freelance marketplace WordPress themes.
It took us many months to complete our selection because we wanted to make the ultimate.
It's now ready for you to START building. (Without coding & design skills!)
You're in complete control to create a niche or a general marketplace, global or local.
This post covers:
Endless options and possibilities guarantee the launch of an outcome that's precise to your liking.
A marketplace doesn't just happen. You create it like a pro with a theme.
SO. EASY. SO. FAST.
THE ULTIMATE 2:
Best Overall Freelance Marketplace Theme: Workreap
Best Freelance Marketplace & Directory Theme: Exertio
Best Freelance Marketplace WordPress Themes
1. Workreap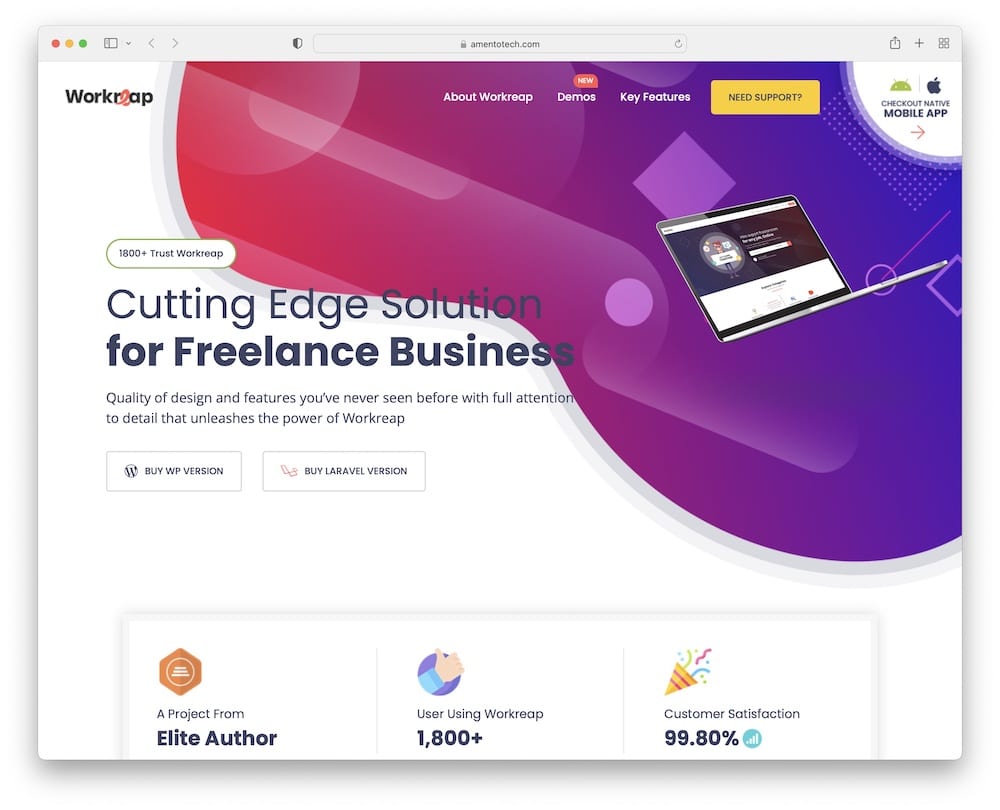 Take advantage of the online marketplace model and position your business idea into an amazing future with Workreap.
Right here. Right now.
Modern Workreap comes with pre-made demos, flexible headers, amazing plugins, various shortcodes, and unlimited colors.
Drag & drop heaven!
Furthermore, Workreap includes FUNCTIONAL extensions, such as job notifications, real-time chat, employer & freelancer dashboard, wallet system, withdraw funds, reviews, upload resume, etc.!
Hiya!
OH, and Workreap customer support can crack the code of any question. Don't be shy, ask whatever you want!
Workreap features:
MORE INFO / DOWNLOAD
DEMO
2. Exertio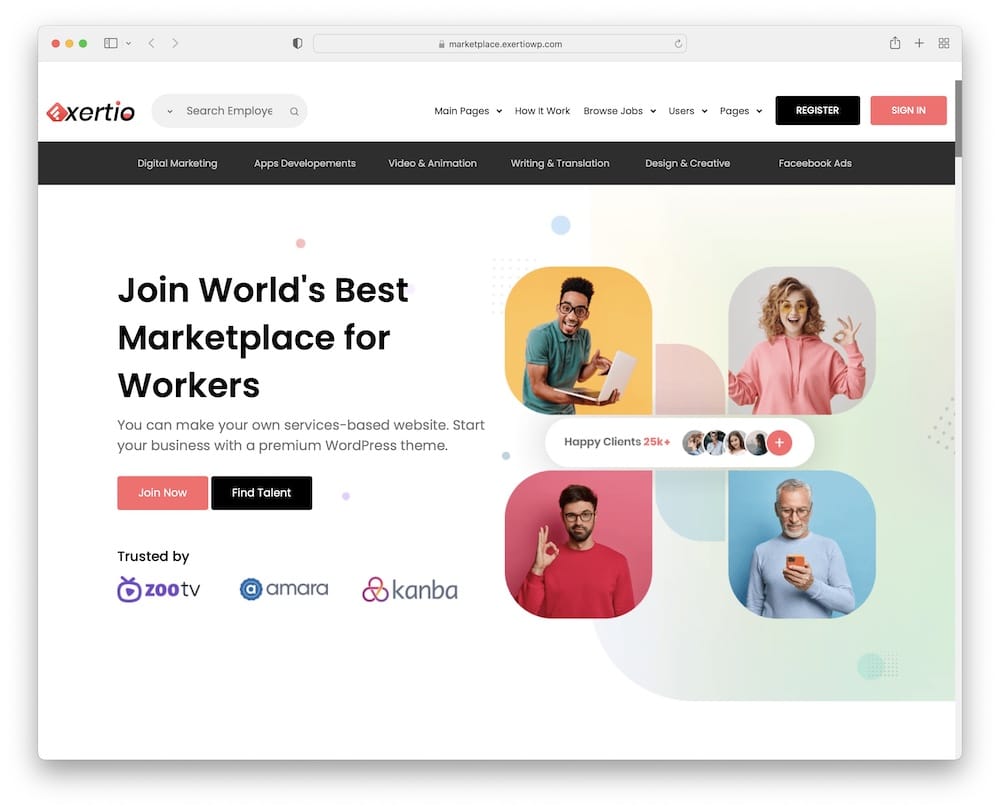 Effortlessly create a popular platform like Upwork or Freelancer using the professional Exertio freelance marketplace WordPress theme.
Hurry up!
Exertio is fully compatible with the Elementor page builder, so building pages will be fast and newbie-friendly. (Plus, it comes with 20+ special widgets.)
And let's not forget: It only takes one click to import the demo!
I'm IN!
Moreover, you can earn like never before with a built-in monetization system!
It includes a commission system, wallet, micro earning, banner (AdSense) ads, and freelancer packages.
GOD. SENT.
Make sure to check out stunning Exertio! I. Like.
Exertio features:
1,100+ sales
4.6+ star ratings
Identity verification
Price: $79 (may vary)
MORE INFO / DOWNLOAD
DEMO
3. Prolancer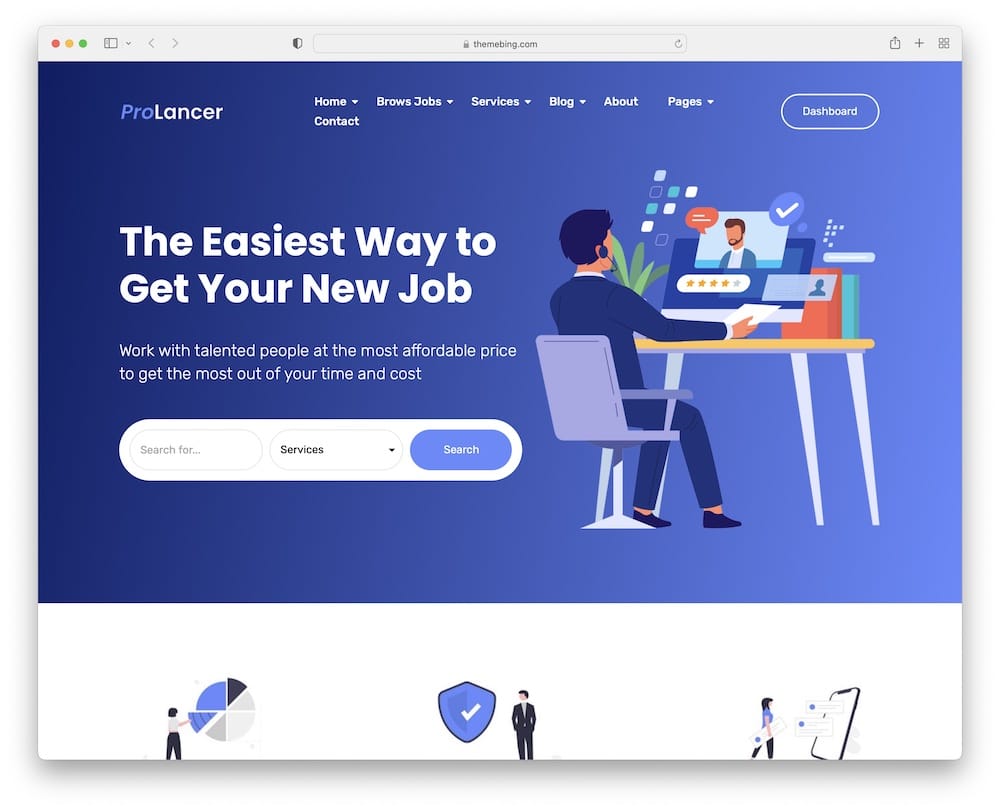 Prolancer freelance marketplace WordPress theme allows you to create a platform for various skills from proven experts.
Connect freelancers with new amazing clients on a niche or general basis.
Your audience can enjoy smooth site scrolling from any screen size & device via its responsive layout.
What's cool, you can easily add user badges, a sidebar package tab for quick orders, notifications, a one-to-one messaging system, real-time Ajax search, gig creation, and so on.
And keep in mind, Prolancer guarantees you lifetime updates (NO extra cost) plus six months of friendly customer support.
I know, like "the world is your oyster" feeling!
Prolancer features:
760+ sales
4.3+ star ratings
Activity notifications
Price: $59 (may vary)
MORE INFO / DOWNLOAD
DEMO
4. FindAll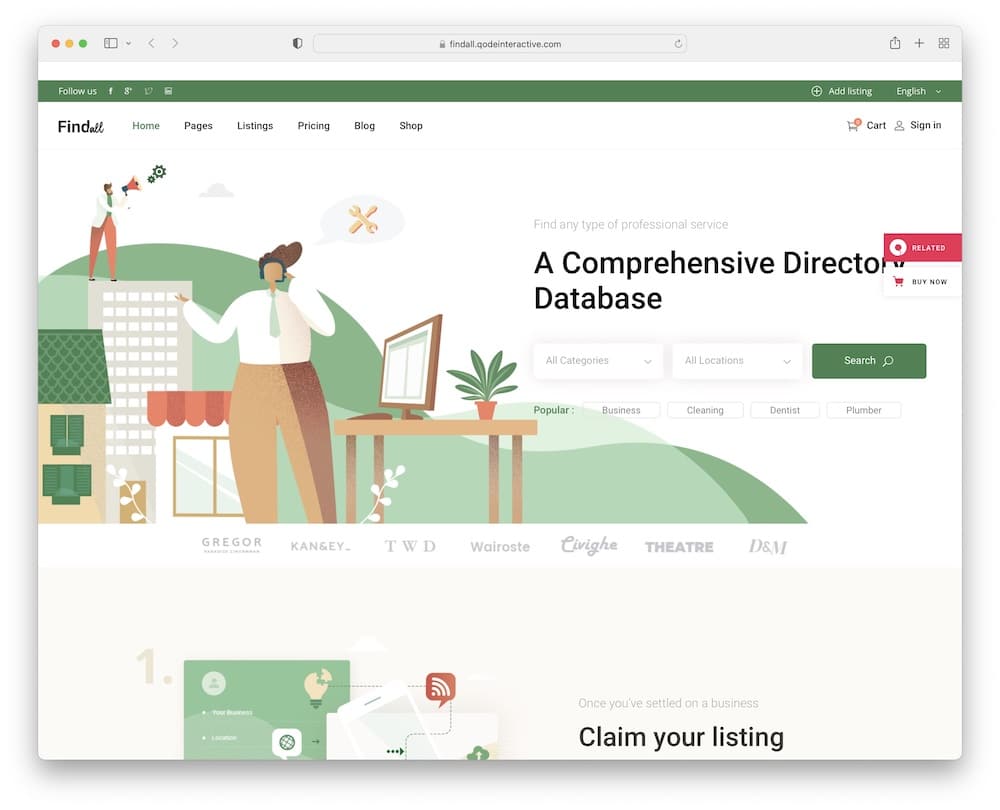 Discover & offer a great talent with the modern FindAll freelance marketplace WordPress theme.
Ideal for all types of business and service listings.
Numerous options to display listing elements come with a map layout (simply pin locations on the map), social links, contact info, advertising amenities, and advanced search (powerful filter).
Also, a COOL blog template includes everything you need for meaningful blogging.
My advice: Start writing tips, updates, and recipes for success – TODAY!
Aye, WPBakery page builder is a performance wizard for drag-n-drop magic – you know what to do!
Remember, you are the BOSS of FindAll so stir, shake and mix offered features up.
FindAll features:
420+ sales
4+ star ratings
Price: $85 (may vary)
MORE INFO / DOWNLOAD
DEMO
5. MyListing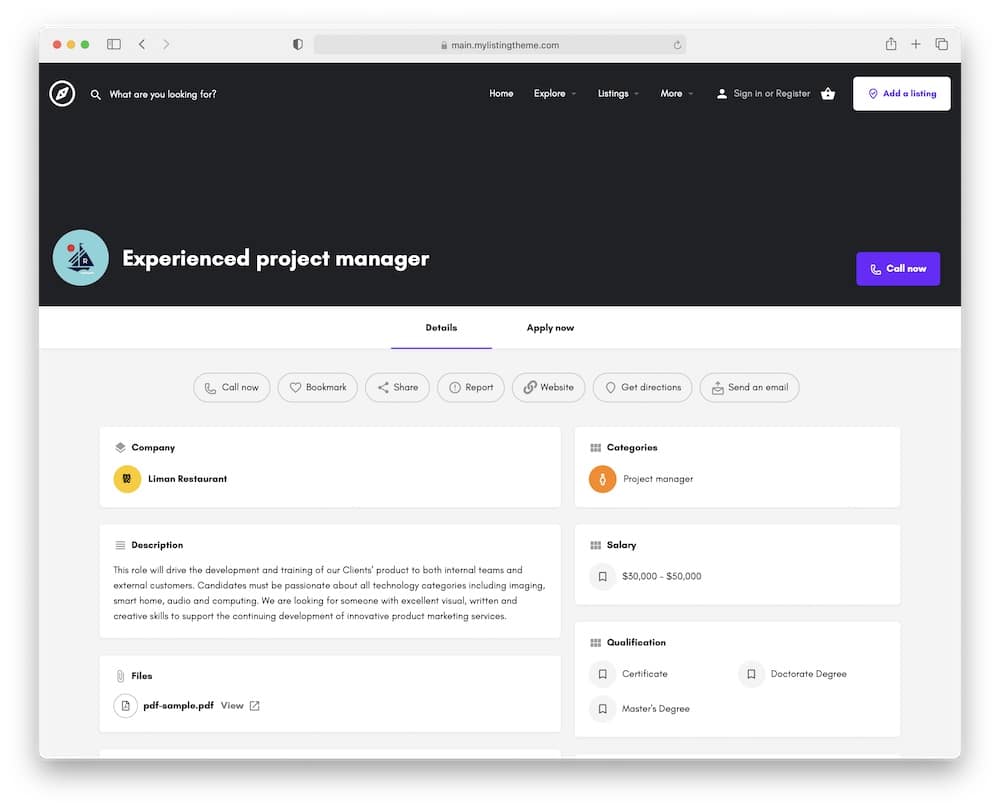 Turn MyListing freelance marketplace WordPress theme into a popular site for independent people and purpose-driven companies.
All-in-one solution!
MyListing is fully integrated with stunning tools such as Elementor, Contact Form 7, WooComerce, and Ajax technology.
An effortless way for you to add extra functionality if needed.
And let me guess, you adore video and animation?
Well, you can set up beautiful video background for an exclusive eye peel user experience (mix fun with professionalism).
I also enjoyed testing user reviews, dashboard, paid & promoting listings, direct messages, and social login.
Play to WIN!
MyListing features:
17,700+ sales
4.8+ star ratings
Quick listing view
Price: $59 (may vary)
MORE INFO / DOWNLOAD
DEMO
6. TaskHive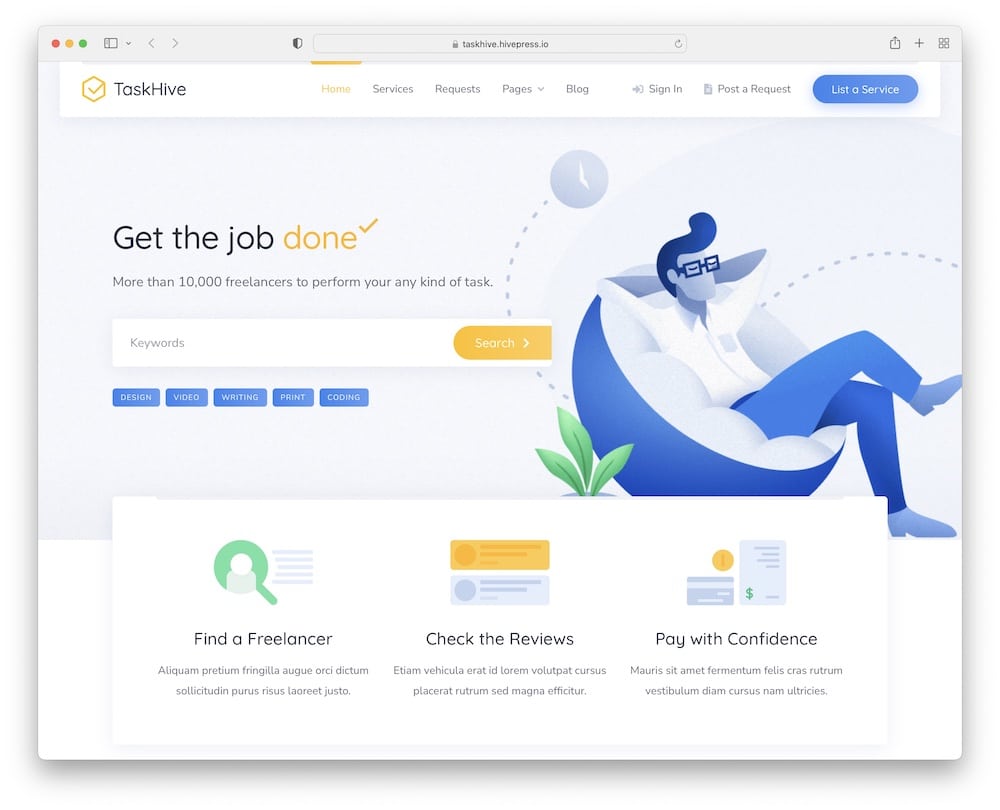 Get your website up and running with TaskHive freelance marketplace WordPress theme in no time. 0 coding skills are required (Gutenberg integration)!
You are in the driving seat with TaskHive – add custom fields, create search filters, change colors, fonts, backgrounds, and more.
Ready, set, customize!
Furthermore, all the essential features (for freelancer & client) and dashboard allow your users to register, list a service, set pricing, and more.
In addition, clients can post requests, accept the best offer, and pay.
By the way, TaskHive is translation ready – YES, your home can be anywhere you want. Feel free to check our list of the best WordPress translation plugins.
I think you have to be crazy not to purchase TaskHive!
TaskHive features:
Quick & easy installation (but we also have a full guide on installing a WP theme)
Deep editing
Unlimited updates
30-day money-back guarantee
Price: $99 (may vary)
MORE INFO / DOWNLOAD
7. HireBee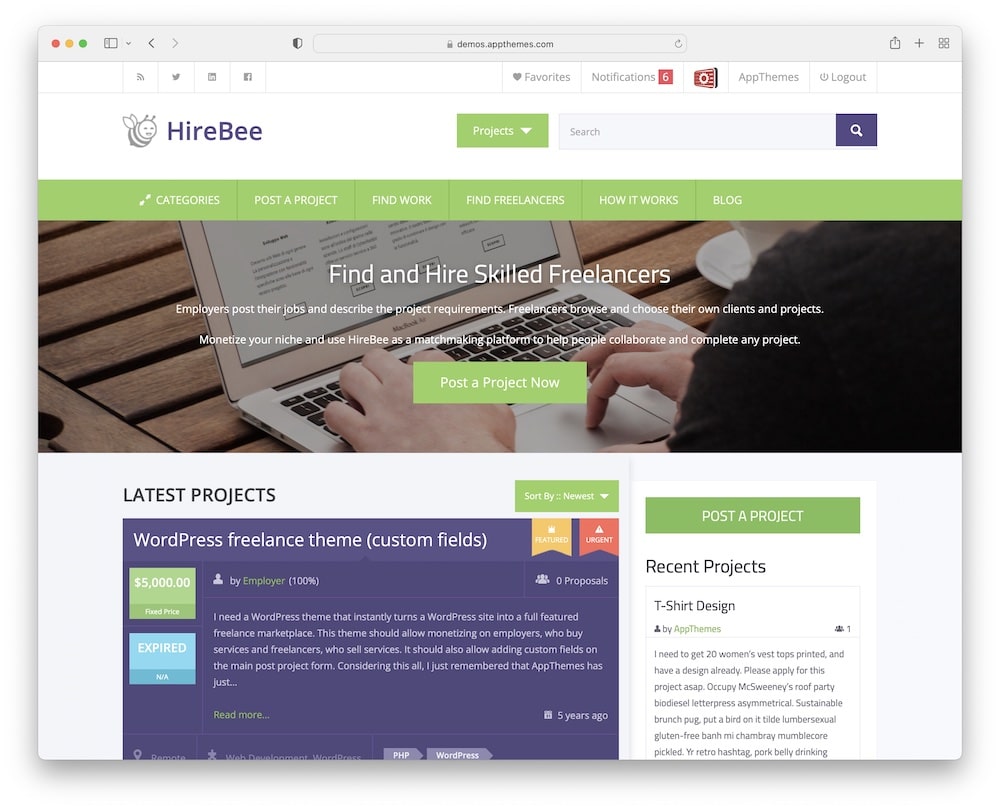 Flexible HireBee freelance marketplace WordPress theme can help ideas like yours grow and succeed (in NO time).
It offers multiple monetization choices, a built-in credit system, a user dashboard, and various options for projects.
Plus, you can offer free credits for each newly registered user.
Amazing isn't it?
Moreover, your should become obsessed with running a blog and keep the marketing beat going by writing valuable content.
Who doesn't appreciate FREE tips, tricks, and reusable knowledge? I am a fan of it!
Oh, and HireBee is built with SEO in mind to help you rank HIGH in search engines.
On target!
HireBee features:
Fantastic monetization tools ($$$)
Credit plans
Project matching
WP child theme ready
Price: $69 (may vary)
MORE INFO / DOWNLOAD
8. Freelancer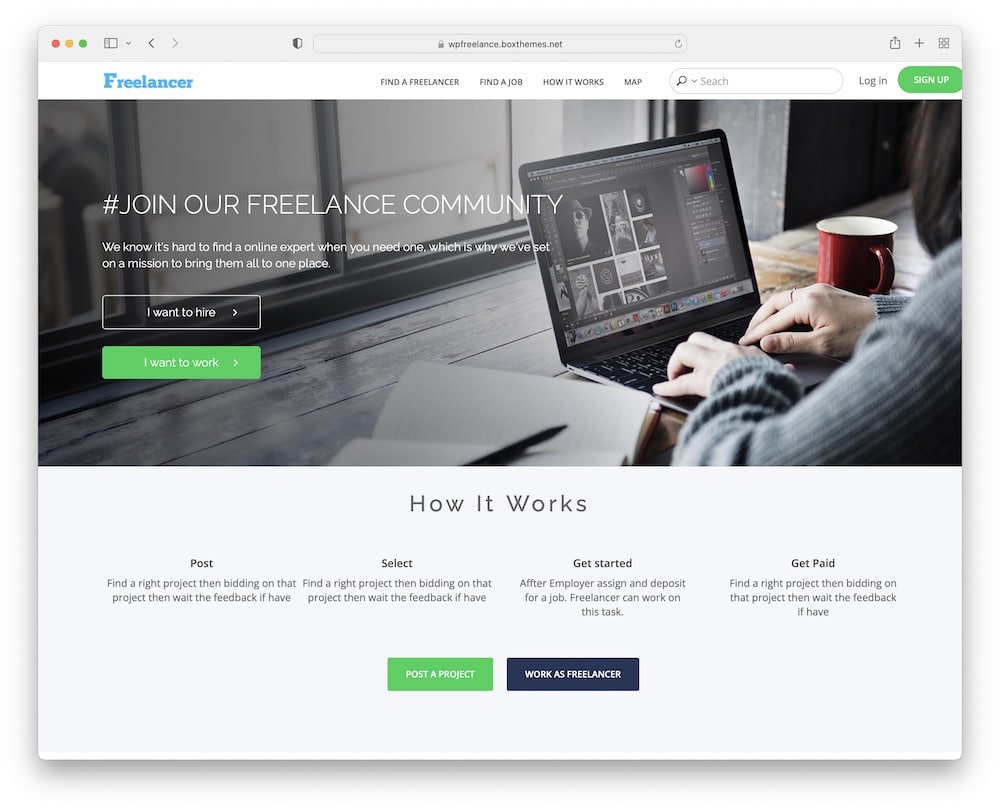 Create economic opportunities and connect different people around the world in a commonly driven mission with the powerful Freelancer marketplace WordPress theme.
Incredible skills shouldn't be limited to one country.
Freelancer's modern & responsive design is simple to customize via Elementor. SO adjust, change and set up your site as you desire.
The best part: Users can post a project, place a bid, communicate in a private chat box, and use popular payment gateways.
Plus, you can create different membership plans.
Moreover, Freelancer offers fast and easy (just a few simple clicks) social login for signing up and start bidding on projects.
JOB. DONE.
Freelancer features:
Minimal design
Multi project bids
Unlimited domain use
1 year free support & updates
Price: $79 (may vary)
MORE INFO / DOWNLOAD
9. FreelanceEngine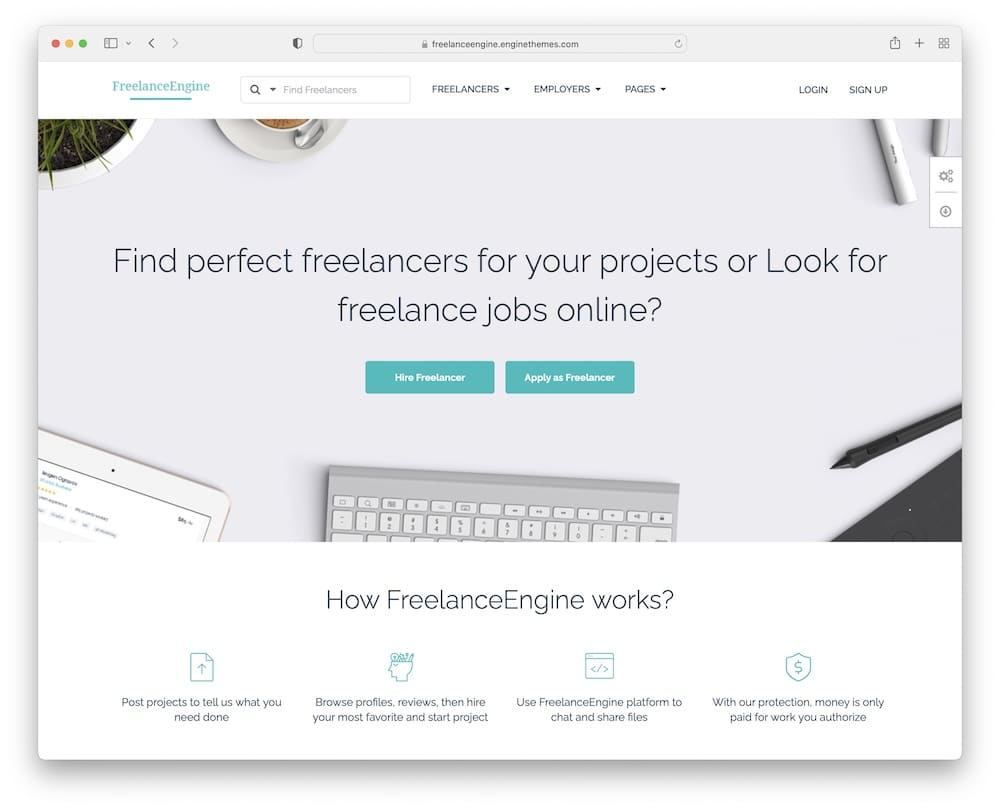 Join FreelanceEngine community and accompany people to their success.
FreelanceEngine comes with a gorgeous ready-to-use homepage, flexible sidebars, a transparent menu, slider, and customizable widgets.
I also adore the fast and adaptable design that is mobile-friendly!
What I want you to keep in mind is that FreelanceEngine is packed with amazing features such as a user dashboard, notifications, find-post project options, reviews, chat & share files box, monthly subscriptions, and safe transactions.
(You can even take commission fees from each project.)
Finally: FreelanceEngine provides you with 12 months of free updates and professional customer support.
BLISS.
Now it's time to commit and take action!
FreelanceEngine features:
Escrow system
Multiple payments options (PayPal, Stripe, etc.)
Safe transactions
Downside: Paid extensions
Price: $89 (may vary)
MORE INFO / DOWNLOAD
7 Key Features Of A Great Freelancer Marketplace
To build a successful freelancer marketplace platform, keep these seven must-haves in mind if you want to achieve real success.
The cool thing is that the above themes do most of the work for you. Plus, you don't need to be a coder to perform customizations or add new functionalities to your website.
Still, if you decide to do a more niche marketplace, you may not need as many features as a larger, more generic one.
Key Features Of A Great Freelancer Marketplace:
Performance optimization: It's important that you deliver the absolute best performance with a fast-loading platform across all devices. This is especially important when it comes to:
Great mobile experience: In today's world, we tend to search the web more often than not using our mobile devices, and the same goes for job seekers. On the contrary, vendors may prefer to submit a job offer via desktop.
Quick & easy signup process: Signup and login processes need to be as simple as possible. While you may use traditional email signups, one of the best ways is to let users signup/register using their favorite social platform.
Freelancer & vendor dashboards/profiles: Keep everything clean and easy to skim through. Moreover, allow freelancers and vendors to customize their profiles, add a bio, an image, contact details, social links, etc.
Ratings & reviews: Integrating ratings and reviews mean a boost in your freelance marketplace's user experience. This could be adding ratings and reviews to both freelancers and vendors for social proof.
Handy navigation & search: Make searching for freelancers and jobs extra convenient with an (advanced) search form. Also, ensure it's easily reachable (either by adding it to the header or the hero section).
Payment options: You need to offer multiple payment gateways, so you don't lose users. Online payments (PayPal, Stripe, etc.) are best, but you may even offer wire transfers and local payments depending on your platforms.
It's time to build your freelancer marketplace – the exact same you want to!
It's so easy to do with these key features in mind and any of the WP themes above.
YOU MAY ALSO LIKE:
::
Note: This article was originally published on May 22, 2022. But our team regularly reviews it and updates it with necessary improvements for accuracy.