Are you looking for the best Ayurveda WordPress themes to build a professional website quickly and easily?
After working on two client sites in the past two months, these are the best options I could find.
I thoroughly tested all WP themes and could say only good things about each.
They are all full of predefined page layouts and handy features you can mix and match with your creative touches.
Of course, WITHOUT coding! (Drag and drop page builder for the win.)
This post covers:
You're now ready to start working on your business website and raise your potential.
THE ULTIMATE:
You may also be interested in the nine tips on successfully choosing a WordPress theme.
Best Ayurveda & Ayurvedic Medicine WordPress Themes
1. Yoku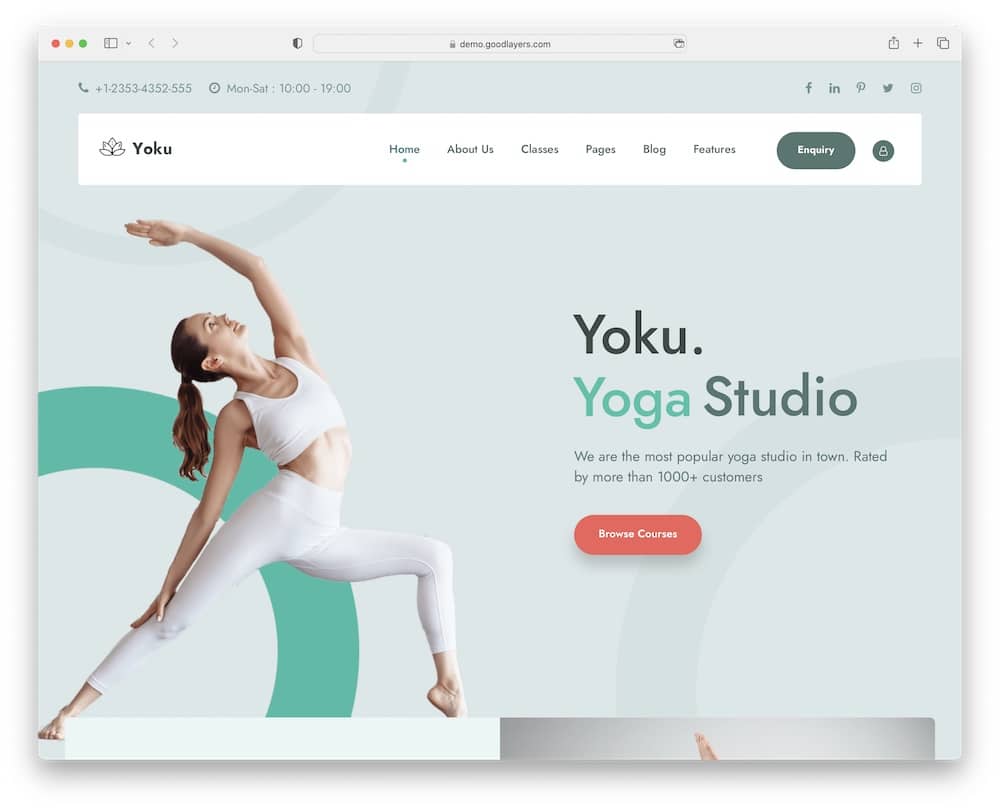 A beautifully designed Ayurveda WordPress theme in connection with your valuable knowledge can greatly impact people.
Yoku comes with ready-to-use demos and an amazing WP page builder. Yup, you can build a functional website in the comfort of your home!
Simply switch colors, set up the mega menu, put your FAV video as a background, pick the best header, and change fonts.
Of course, you also get pre-made portfolio, blog, and gallery layouts.
BIG. DEAL.
Moreover, it is easy to create an online store for selected spices, nutritional supplements, herbal soaps, and Ayurvedic books with Yoku. All your visitors need.
Feel your best with Yoku!
Yoku features:
920+ sales
4.9+ star ratings
Regular updates
Works for one- & multi-page sites
Price: $64 (may vary)
MORE INFO / DOWNLOAD
DEMO
2. Avicenna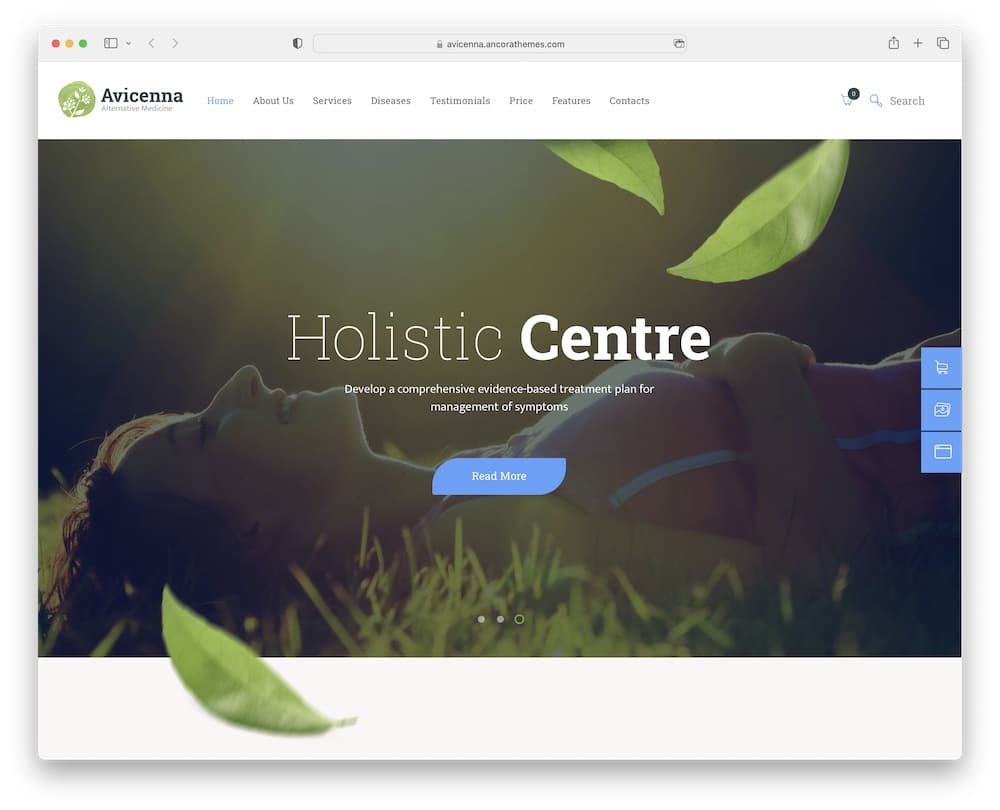 Open the door into Ayurveda's vast world of wisdom through ther alternative Avicenna theme.
Avicenna is a modern tool compatible with the brilliant Gutenberg editor (user-friendly!) for a quick and effortless start. No design skills are required.
And the one-click demo importer is truly a lifesaver.
Plus, the beautiful Slider Revolution plugin will ensure visitors get a visually attractive experience.
SO professional!
Oh my gosh, Avicenna even offers FREE lifetime updates and trustworthy customer support (outburst of applause).
And I must also mention Avicenna's mobile-friendly design and cross-browser compatibility (yup, users of all kinds of screens and browsers are welcome). HI5!
Avicenna features:
MORE INFO / DOWNLOAD
DEMO
3. Dream Spa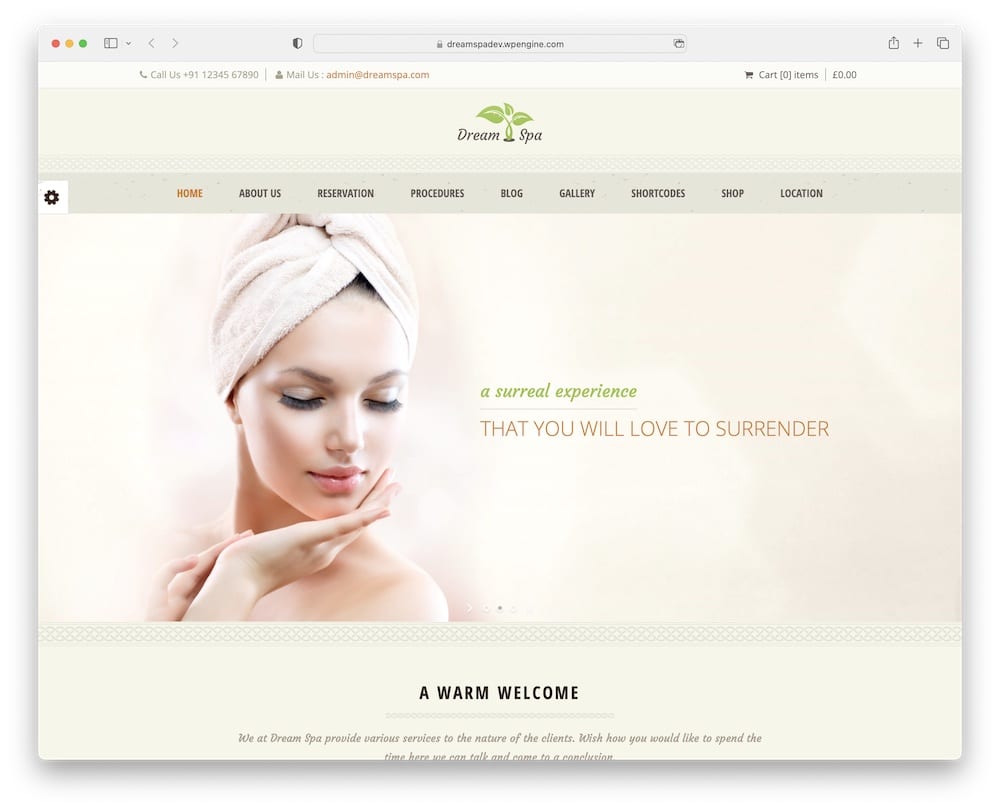 Teach about vata, pitta, kapha, dhatu and much more via Dream Spa Ayurveda WordPress theme.
You can effortlessly change this versatile beauty salon WordPress theme (immediate results) into your dream website! I especially LOVE flexible colors & unlimited typography options.
Here's all the goodness that's ahead:
Pre-made headers, animated galleries, unique blog layouts, custom WP sidebars, and essential WordPress widgets.
Moreover, Dream Spa offers social media integration for easy account access from your site or redirecting your fans to your site (it goes both ways).
P.S. What was life before Instagram? I don't even remember.
Dream Spa is (obviously) coded with SEO in mind – yup, I want Google to be my bestie, too!
Dream Spa features:
MORE INFO / DOWNLOAD
DEMO
4. Kriya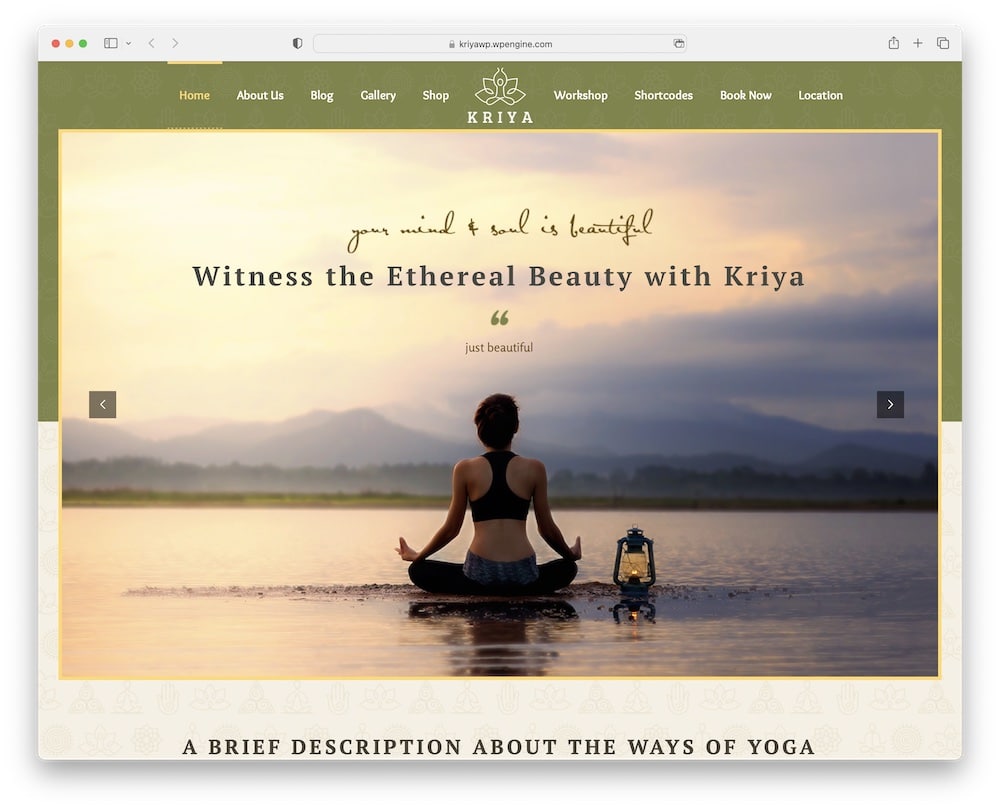 Who doesn't like a fresh start?! Check out the gorgeously designed Kriya Ayurveda WordPress theme (it blooms just like a flower!).
You can transform Kriya into an attractive Ayurveda center with an online store for organic, fairly traded herbs and products based on true Ayurvedic principles.
Plus, you can easily promote massage therapy, beauty workshops, online courses, and herbology programs.
Furthermore, Kriya includes numerous pre-made inner pages and layouts to share all your thoughts & life knowledge.
Support people in a way that is healthy and helpful!
Of course, a subscription newsletter is always a SMART form to have. You got this!
Kriya features:
1,700+ sales
4.9+ star ratings
Custom workshop page
Price: $69 (may vary)
MORE INFO / DOWNLOAD
DEMO
5. Accu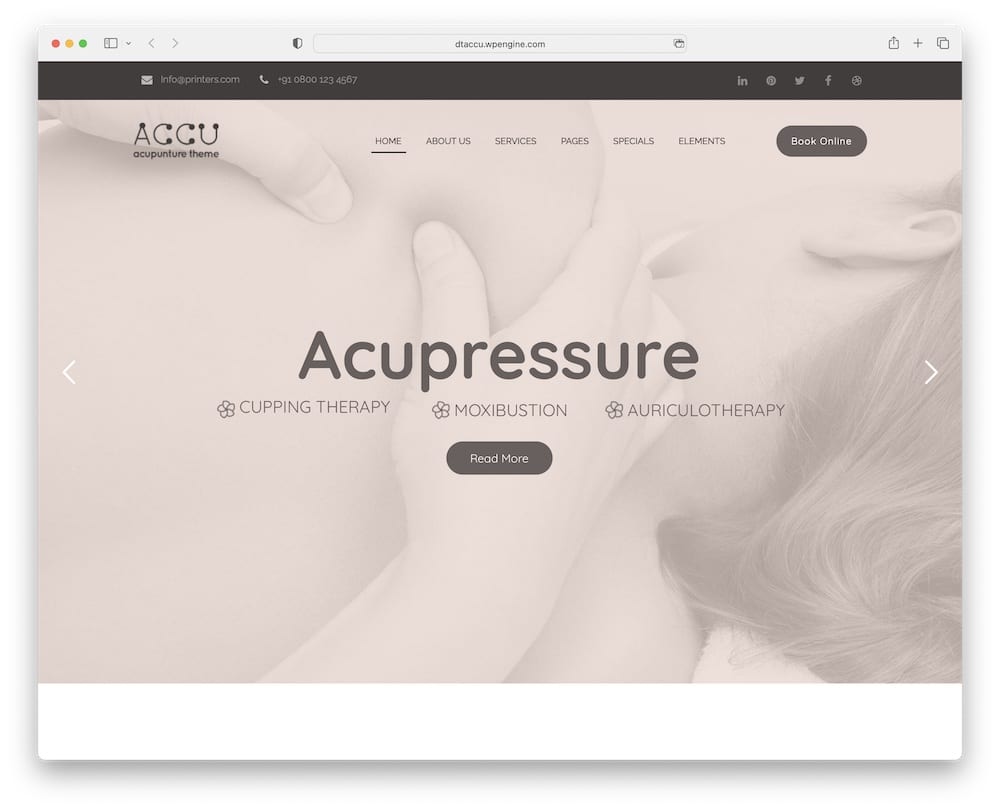 Help people balance their life with this online gem – Accu Ayurveda and healthcare WordPress theme.
Accu was designed for health and spiritual centers offering two ready-to-use homepages, unique inner pages, and various blog types.
Start with the single-click installation and enjoy the smooth page-building process. (You can also check how to install a WordPress theme, a guide Ales prepared for every beginner.)
Moreover, you can showcase your best work, achievements, skills, and life experiences with pre-made portfolio styles.
Remember, this is the quickest way to demonstrate your competencies and gain trust.
BTW: Accu is packed with sleek plugins such as Slider Revolution, WPBakery page builder, WooCommerce, Contact Form 7, and Events Calendar.
Say GOODBYE to ineffective sites!
And take advantage of social media integration to share your knowledge with the world. (You may also want to learn how to add social share buttons in WordPress.)
Accu features:
MORE INFO / DOWNLOAD
DEMO
6. Hibiscus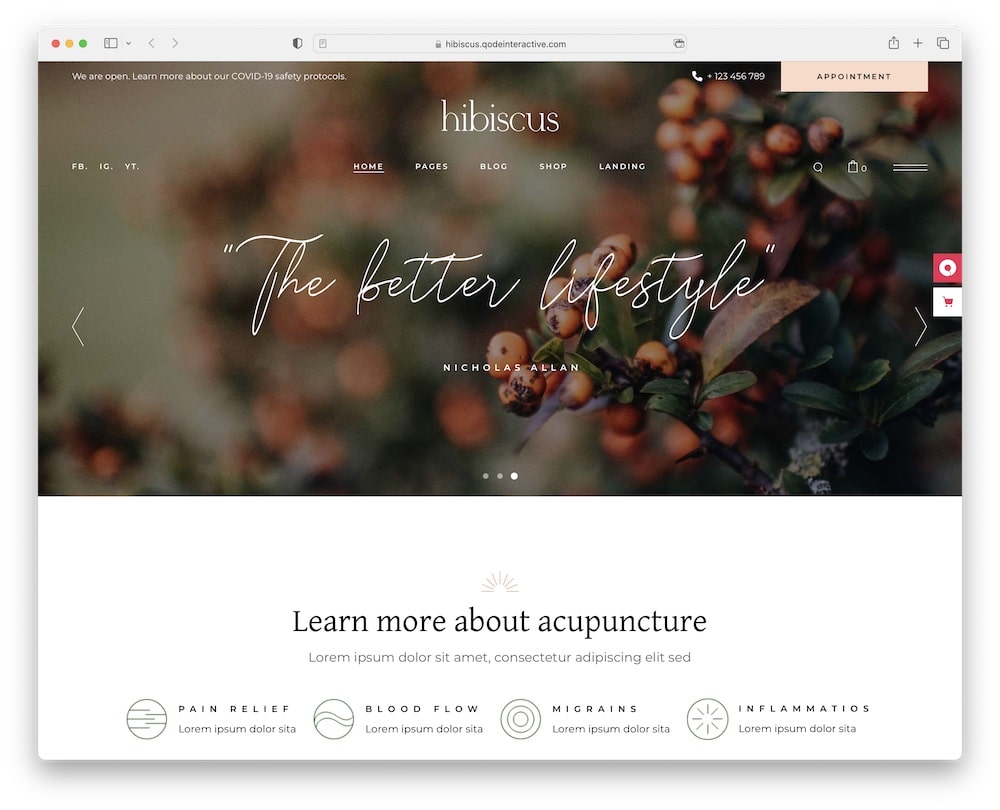 Explore the history of ancient practices and deepen your customer's healing journey by offering a valuable website. Above all, encourage more self-care with the Hibiscus Ayurvedic medicine WordPress theme.
A beautiful selection of versatile design options is waiting for your content!
Remember, you don't need any professional knowledge to customize Hibiscus with the Elementor page builder (drag-n-drop motion).
Simply change, mix or add elements to your site. HURRAY!
Moreover, you can add extra functionality (according to your needs) to the existing demo with included collection of shortcodes and widgets.
Hibiscus is also translation ready – must have (!) if you have a localization or internationalization of your brand in mind.
Life. Knowledge. Hibiscus.
Hibiscus features:
MORE INFO / DOWNLOAD
DEMO
7. Holistic Center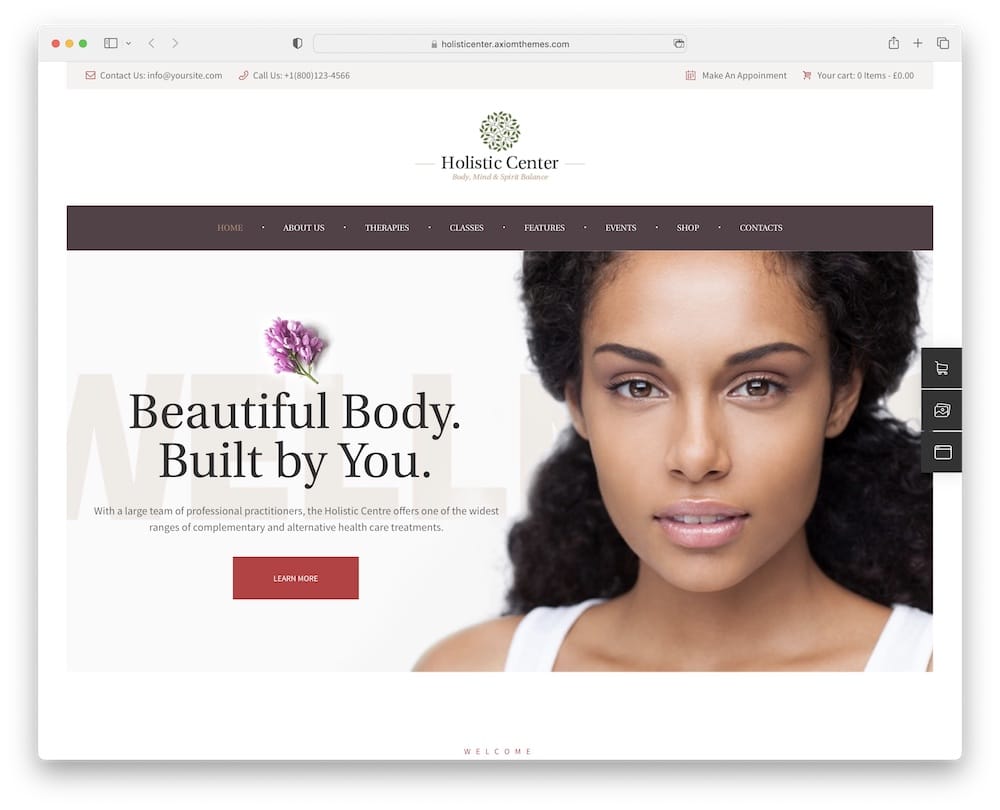 Lead the people towards a natural healing system with the minimalistic Holistic Center Ayurveda WordPress theme.
Looks great, don't you think?
Holistic Center is compatible with WPBakery page builder – an amazing tool with all the bases covered.
YES, I agree; it has never been so simple to build a website in real-time without any coding skills.
Personally, I LOVE that Holistic Center offers FREE lifetime updates and professional customer support. Check out users' reviews; they are bubbling with excitement about the help they got!
Besides, Holistic Center is optimized for GREAT performance (responsive design, SEO, cross-browser compatibility, and quality code).
You're so going to adore it!
Holistic Center features:
MORE INFO / DOWNLOAD
DEMO
8. Aarogya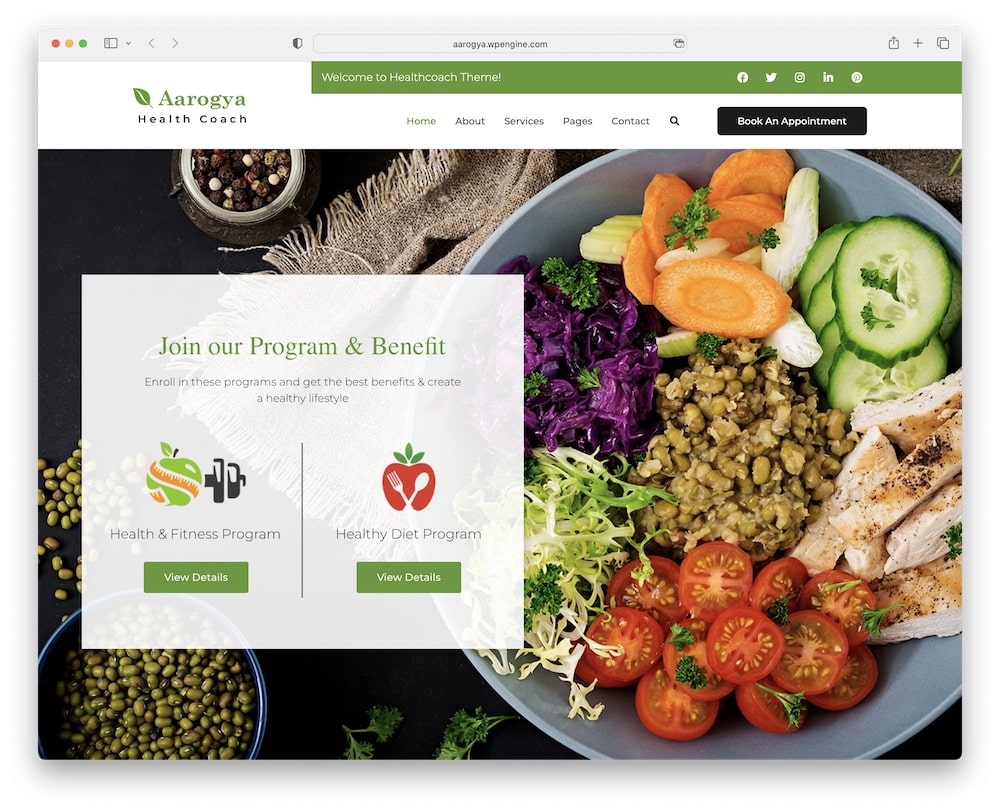 Boost the idea of beneficial whole foods, herbal products, oils, spices, fragrances, and overall health with the Aarogya WordPress theme.
And no, Aarogya is not just for the dietitian!
It turned out that it is PERFECT for a wonderful website of the Ayurvedic world. I fancy its soothing look.
Aarogya includes pre-made homepages that you can use as-is (out of the box) or customize to your desires.
Furthermore, you can choose from two user-friendly appointment forms (quick and smart solution).
And you get to display upcoming events, pricing plans, testimonials, and your location (Google maps) on Aarogya.
My advice: Start a valuable blog and make everyone talk about it!
Aarogya features:
320+ sales
5-star rating
Coaching programs & services
Fantastic customer support
Price: $69 (may vary)
MORE INFO / DOWNLOAD
DEMO
6 Key Features Of A Great Ayurveda Website
Here are a few must-haves that I highly recommend you adopt for the success of your website.
These are easily achievable regardless of the theme you pick from the above collection.
Why?
Because I kept all these six features at the back of my mind when reviewing and testing them.
How I chose the best ayurvedic WordPress themes:
Mobile & speed optimization: I used Google's Mobile-Friendly Test and Pingdom Tools to test each theme for responsiveness and fast loading. These two are ABSOLUTELY mandatory to ensure the best performance and user experience. You may also want to check our guide on how to choose a fast WordPress theme.
Soothing design: Another important element of a great Ayurveda website is a soothing design. But generally, the cleaner and more minimalist it is, the better. (Just don't stuff it with too many moving elements.)
Services & pricing: Don't forget to include your amazing services with pricing, so that the potential client knows what to expect from you. You can even use a WordPress pricing table plugin for a more detailed presentation.
Contact details: Not everyone will want to do business with you right away. Some might have additional questions and want to gain some extra information. For this reason, ensure your contact details are clearly visible. Create a contact page and include business information in the footer section.
Testimonials: Testimonials (and even case studies) are the best for building trust and social proof. You can also use a WordPress testimonials plugin to unlock more functionality.
Blog: You can also add another layer of professionalism and show that you're the best in the field with an educational Ayurvedic blog. It can also bring you a lot of traffic through SEO.
You're now closer than ever to creating the best Ayurveda website and raising your potential to the NEXT-LEVEL.
Luckily, each theme also comes with extensive documentation and great support to make your journey even more comfortable.
Spread the goodness of Ayurvedic Medicine – starting with a terrific website.
::
Note: This article was originally published on December 8, 2022. But our team regularly reviews it and updates it with necessary improvements for accuracy.