It wasn't long ago when an idea for the Houzez theme review came about.
Thanks to my good friend, Stephan, I was in the process of completing another real estate website project for which, of course, I used Houzez.
I knew the time is right to create this review because I had already gone through its settings multiple times.
In short: This is a NEXT LEVEL theme for any real estate agent or company.
Local OR global.
This post covers:
So flexible and versatile that I had a blast using and altering it to my clients' needs.
And you will, too!
Plus, the cost of $69 is a real bargain! (Actually, you'll save money.)
ENDLESS. FEATURES. AWAIT.
MORE INFO/GET HOUZEZ
HOUZEZ'S DEMOS
Most Popular Real Estate WP Theme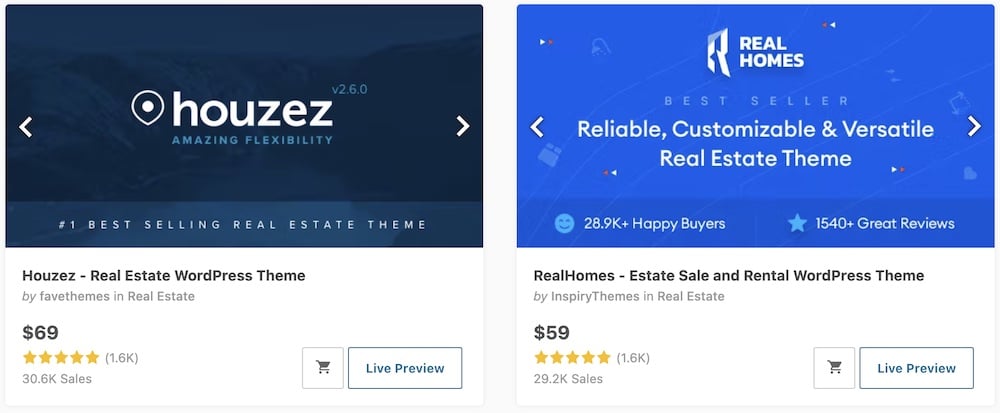 Houzez is the number one real estate theme for WordPress at the time of writing this.
At a whopping 30k+ sales, the WP theme continuously receives 100+ weekly sales.
Yup, Houzez is doing something extremely right.
And I'm proof that this theme works, whether you're building a small agent website or a large real estate platform with front-end listing submissions.
Its flexibility knows no bounds (which is my favorite part of the theme).
But I know you're looking for SOME EXTRA information about Houzez before you finally make the purchase.
Since I like to approach reviews as a beginner, I'm doing the same thing with Houzez.
It puts me in the shoes of an everyday user, like you.
But if you're an expert, that's perfectly fine, too!
HEY, Houzez is for everyone after all.
MORE INFO/GET HOUZEZ
HOUZEZ'S DEMOS
Houzez WordPress Theme Review
1. Customization & (Easy!) Page Building
Whether you're into coding or not, it doesn't really matter when working with Houzez.
Why?
Elementor page builder!
This gives you complete creative freedom over each ready-to-use layout and feature.
You have the capability of turning things upside down without writing code.
Visual editing FTW!
BUT.
There's still an option to save even more time and energy if sticking to the demo as-is, stuffing it with your necessary real estate and information and going live.
There's a good chance you'll find the right sample, thanks to the 20+ available ones.
An epic real estate website is just around the corner whichever path you take.
I really enjoy using the drag and drop page builder, Elementor, so that's a BIG PLUS for me.
But what's even more beneficial are:
2. Houzez Theme Demos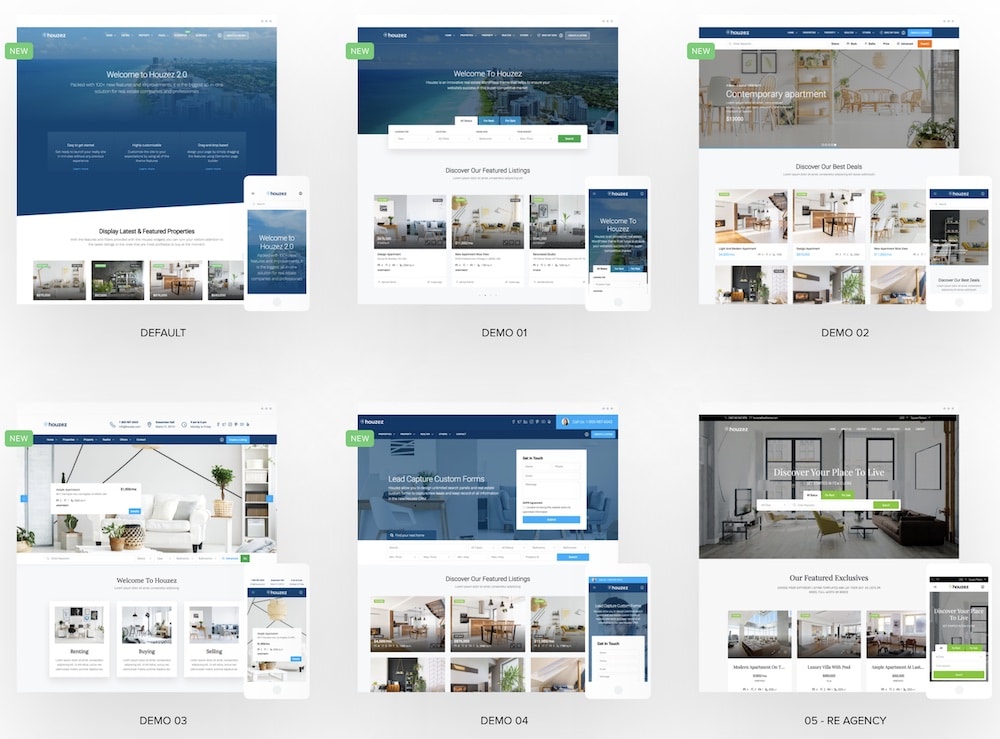 You get 20+ predefined home pages, which work out-of-the-box, but welcome your creative tweaks, even allowing you to create entirely custom-made pages.
You can choose between demos for:
Single agent,
Single property,
Local agency,
Luxury real estate,
Lead generation,
Etc.
Houzez offers something for everyone, regardless of your picky taste.
All it takes is a SINGLE CLICK to install the demo once you pick it and off you go to a successful start. (If it's your first time using a theme, you may also want to check our guide on how to install a WP theme.)
Remember: You can always reach out to the amazing support team if you need support with demo import or other simple tweaks. (Yup, they can do it for you! Legends.)
But the real fun start when you apply:
3. Plugins & Widgets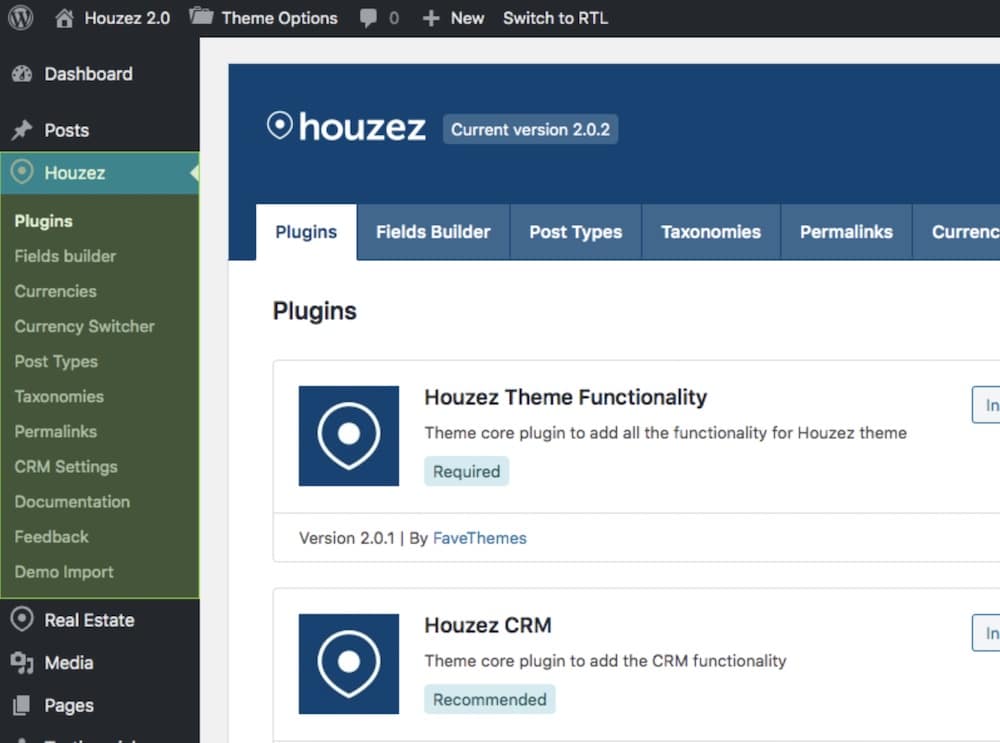 I'll start with the second just because I enjoyed using all the 30+ Elementor widgets exclusively for real estate so much.
There's EVERYTHING you need to apply, remove, reuse, whatever.
Houzez makes sure you avoid seeking elsewhere for 3rd-party tools to make it work to your total advantage. (Another great way of saving time.)
A few of the WP widgets include a contact form, a grid builder, multiple icons, property cards, an agent grid, and testimonials.
Yup, you apply all the elements you need with a few clicks –  edit and improve them however you want.
While it's important to know that Houzez works with all the popular real estate plugins for easy integration, it's specially customized to work with IDX plugin.
(Which I will get to in a second.)
4. Advanced Search System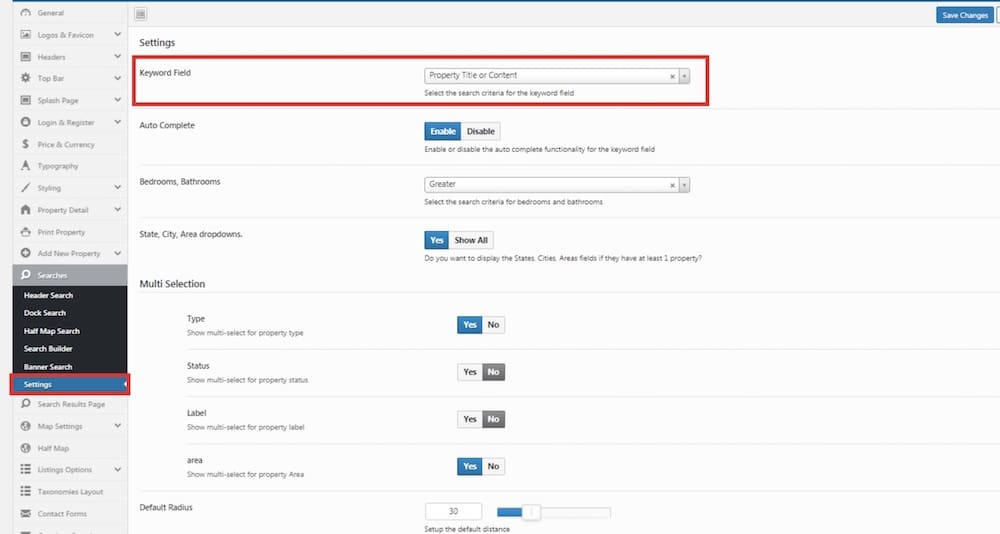 Every real estate website needs a great and user-friendly search for quick finds.
Houzez treats you to a powerful search system that other similar themes I reviewed in the past didn't have.
First, you can build your website's search functionality with the simple drag and drop method.
You can then further customize it with custom colors, positioning, search criteria, price slider, etc.
The BUILT-IN geolocation and radius search are also two of my favorite features for finding properties.
Houzez also includes a live search, which helps complete search queries faster.
Awesome search + Quick results = Happy customers.
EPIC.
5. SEO, Speed & Mobile Optimization


It's necessary to bring out SEO, speed and mobile optimization because so many users asked.
Even though Houzez doesn't share any details about how well the theme performs, I will do it for them.
Your website will be fast and that's a guarantee.
Also, your website will become a good pal with Google.
And when it comes to mobile performance – it just rocks!
I really don't have anything else to say.
6. Front-End Property Management System & CRM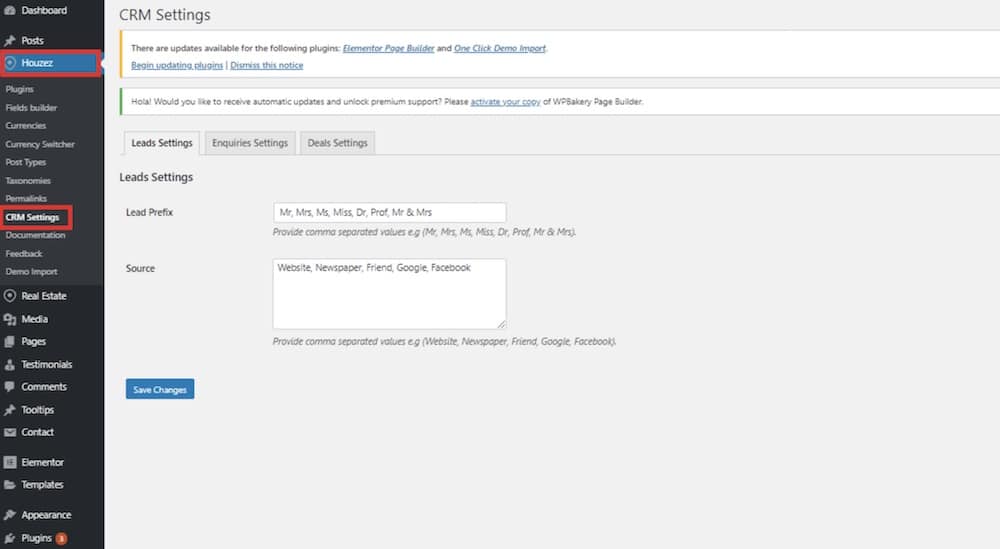 Not everyone is accessing your website to find properties to buy or rent.
Many will come to see if they can add theirs. And they'll be pleased by the simple property management system that you offer.
THANKS, Houzez!
It takes care of all your real estate business' aspects.
Webmasters = Sorted.
Agents & agencies = Sorted.
Everything's built-in for your convenience from a complete tracking system and property data insights to front-end submissions, live massaging and email alerts!
I also really like favorite and featured properties functions.
It simplified my client's real estate firms tenfold.
Houzez helps automate a lot of tasks, so you really focus on the main things – promotion and making business.
With all that in mind, yes, building a real estate business is A LOT easier with Houzez.
Real Estate Agents & Agency Profiles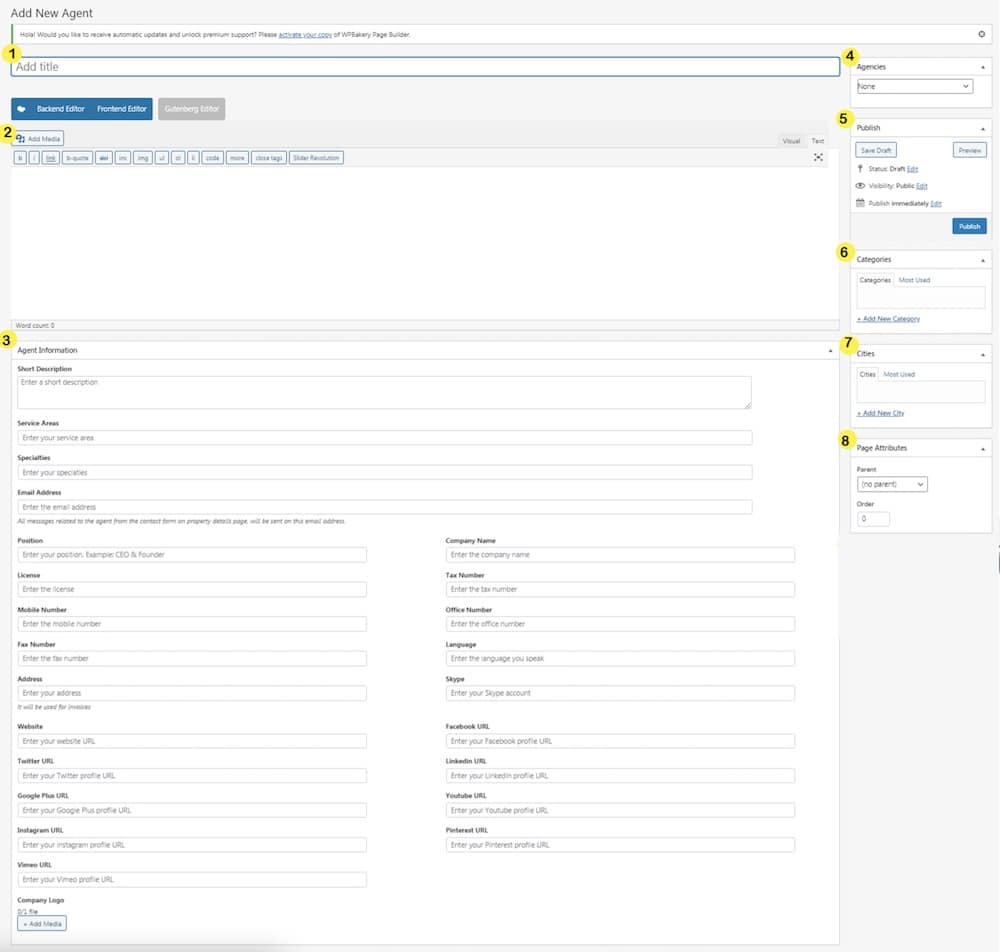 This is another one of the necessities when I IMMEDIATELY checked when creating this Houzez theme review.
If you plan to host real estate agents and agencies on your website then complete profiles are necessary.
But you don't have to build anything yourself.
There're the pages, capture forms, listings, ratings and reviews (especially IMPORTANT!), you know, all the good stuff.
Plus, every page and every element is 100% customizable to your needs and creativity.
Moreover, the profile chart data (which I particularly find beneficial) also comes in very handy for a BETTER overview of your agents and agencies' progress.
Houzez does the hard work for you, so you only do the checking and optimizing.
Isn't that the best?
7. IDX Integration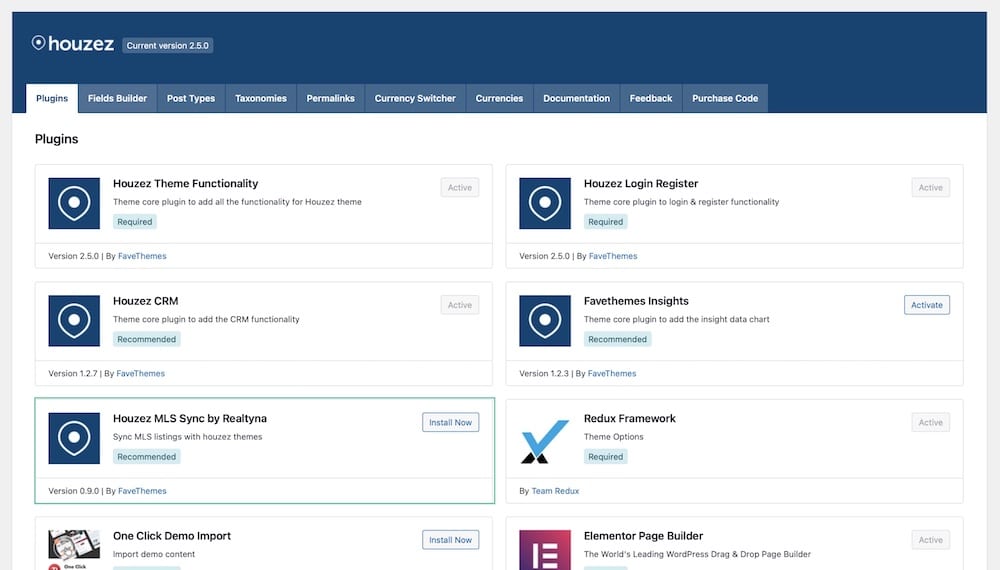 Houzez is compatible with total IDX and MLS integration, guaranteeing the best user experience. (They partnered with Realtyna.)
But if this is something you're dealing with the first time I need to mention that the feature isn't free.
MLS Sync goes for $59 per month with $950 activation fee. But from here on, everything will run smoothly so that you can take your website to the NEXT LEVEL.
The published content the system creates is SEO-friendly and indexable – GREAT advantage!
8. Multilingual & Translatable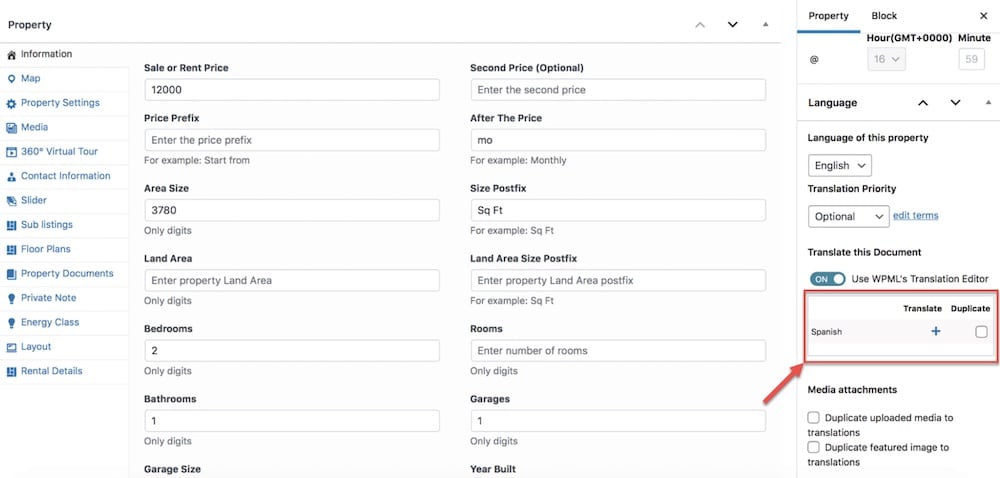 Yes, you can LOCALIZE or GLOBALIZE your Houzez website, easily translating it (with WPML) to your language(s) of choice.
And before you ask, yup, it's also RTL ready.
And if you're interested in making it multilingual, you can also offer multi-currencies (automatic conversions!).
Everything necessary to make your user happy using their language and their currency.
Recommendation: If you're a first-time user, start with one language first and expand it later.
9. Updates
You can expect regular theme updates that will keep your website running flawlessly for years to come once you get Houzez.
The team doesn't necessarily drop a new update every month, but they keep things under control for your confidence.
You can ALSO expect theme improvements and new features with updates, but these don't happen every time.
Updates = Sorted!
Note: Don't forget to update the theme. Some features may stop working if you don't. (Even the plugins you're using.)
10. Help & Support
From my personal experience of working with Houzez, all I can say is how great their support is.
I chatted with them a few times about some custom work for three clients and they quickly assisted me.
I also reviewed some of the comments and they seem to keep responding to everyone.
Note: Don't ask for support in the ThemeForest's comment section but open a ticket because they prioritize those. (You'll get a quicker & more detailed answer/support!)
Quick Houzez Theme Review Recap
I highly recommend opting for Houzez if you're in the process of creating a real estate website with WordPress.
You'll do it QUICKLY and EFFORTLESSLY.
Plenty of main demos, internal layouts, features, widgets and endless customizations – it takes care of everything.
The support also keeps you confident to successfully launch a website, even if you're building your first one!
And if you plan on working with multiple clients, again, Houzez sorts you out with ease.
(No client will tell you used the same theme 🙂 )
Go above and beyond with Houzez.
Because you deserve it!
Houzez features:
34,800+ sales
4.8+ star ratings
Great for local & global real estate businesses
Effective tracking, analytics & insights (for long-term success!)
Price: $69 (may vary)
MORE INFO/GET HOUZEZ
HOUZEZ'S DEMOS