The time has come to reveal my go-to chauffeur WordPress themes that I used for multiple client sites.
Note: These are also great for limousine service and other private & VIP transportation.
I've eliminated 20 WordPress themes during my testing phase, sticking to these eight killer ones.
They bring you everything you need to start IMMEDIATELY and launch a chauffeur website QUICKLY.
That's what you deserve.
This post covers:
Start pushing your service online, accepting bookings, and taking your business to the next level.
Take everyone on a safe journey, starting with a trustworthy site.
Best Chauffeur Booking WordPress Themes
1. Chauffeur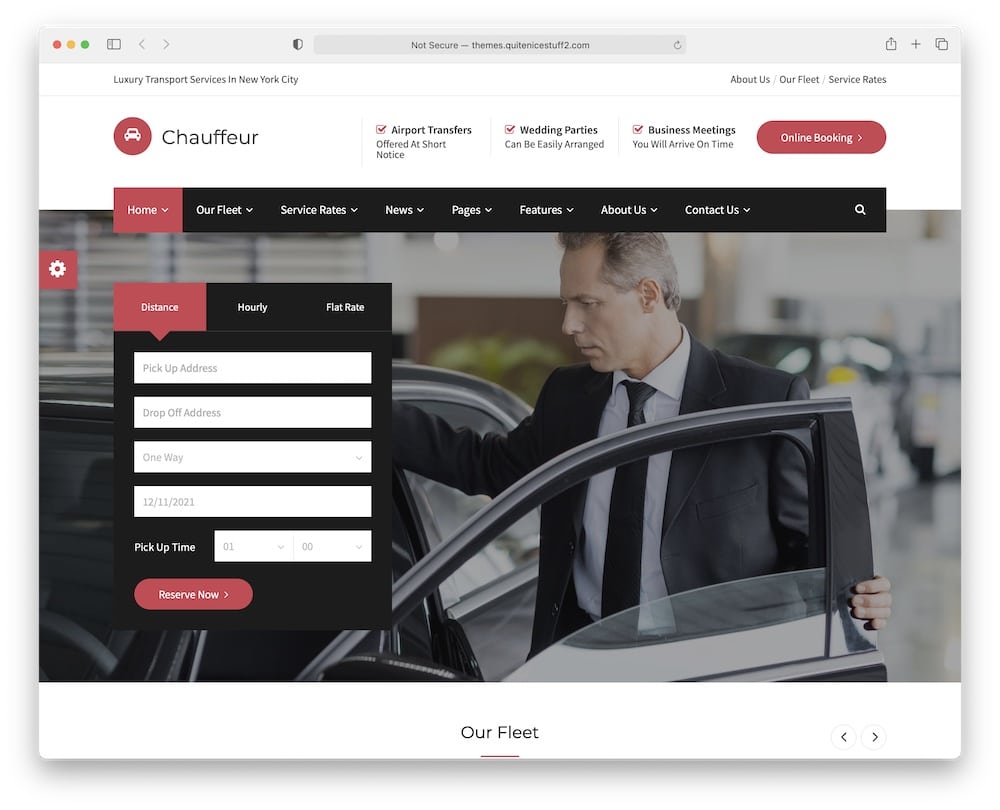 Now, let's have a look at the best in the game – Chauffeur. I found much in this theme that raised my eyebrows! In other words:
I am guessing everyone in the car hire, chauffeur and car rental business has an advantage by owning tools like online booking, payments processed directly on your website, time calculation, and WP Google maps integration?
SO this part of the solution is already included in the package of Chauffeur.
Besides, you can easily set your favorite colors, choose columns, make changes to design, add icons or mix and match Google fonts.
With Chauffeur, you have FULL design control.
Additionally, extensive documentation is included – remember, NERDS have more fun (read: I).
Chauffeur features:
MORE INFO / DOWNLOAD
DEMO
2. AutoRide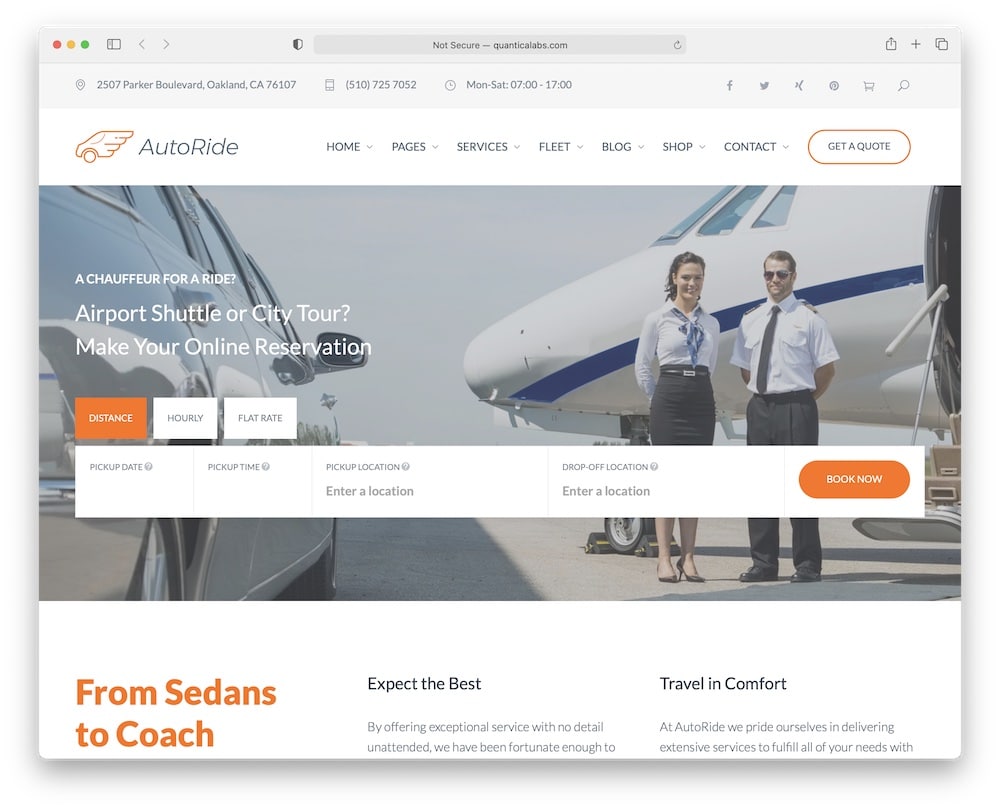 Let me introduce you to an amazingly affordable, simple yet not limiting AutoRide chauffeur WordPress theme. OFF to an excellent start!
AutoRide was designed for private and shuttle transports, car hire, or smart transportation businesses.
Best of all?
AutoRide comes with ready-to-use demos, numerous WP widgets, unique elements, different posts, and the most popular tools.
Oh, and you can fully translate AutoRide into any language (GO global!). Feel free to use any of the popular WordPress translation plugins.
Revolutionary features such as driving zone, extensive pricing rules, booking extras, and multiple payment methods are GOOD to impress your clients.
These SMART gems will make you smile.
Flex your fingers and start building your new site with AutoRide.
AutoRide features:
1,400+ sales
4.7+ star rating
100% customizable
Price: $79 (may vary)
MORE INFO / DOWNLOAD
DEMO
3. Limo King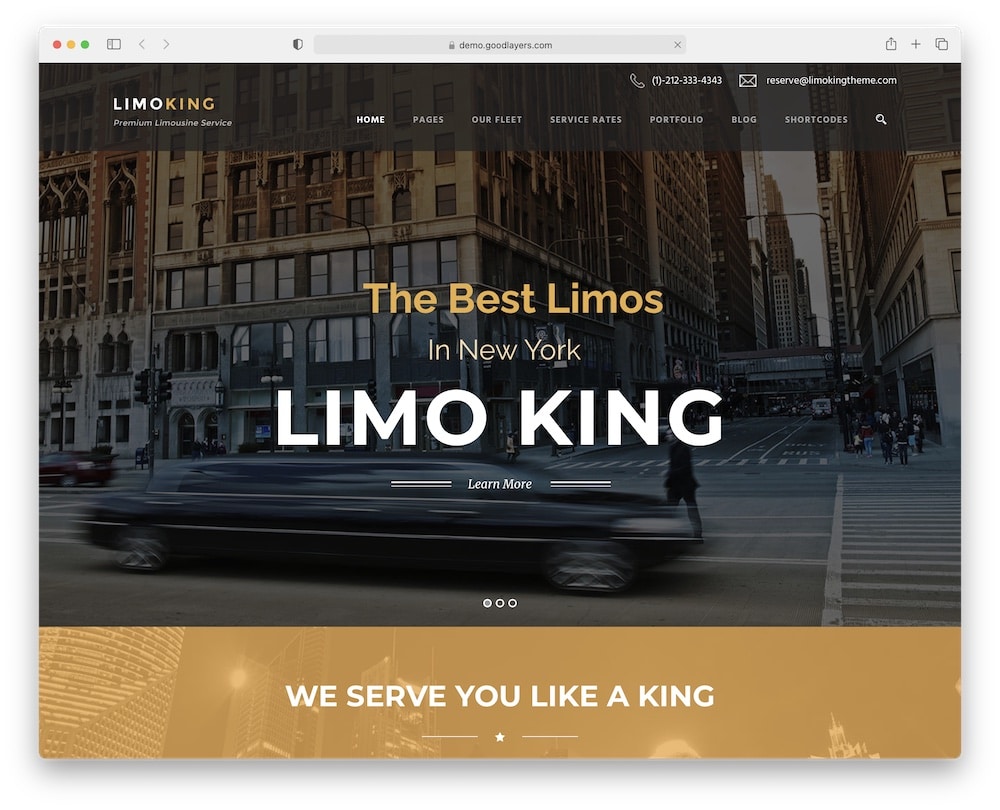 If you wonder how to do a site that people will actually want to use (?!), you have come to the right place!
Limo King is a stylish and flexible chauffeur WordPress theme that allows you to change its design, elements and add awesome features.
Limo King is also fully responsive and retina-ready: meaning it works great on smartphones, tablets, and computers. BLESS.
Besides useful features (included for FREE) for an effortless car hire service, you can even offer a valuable blog on your new site.
Blog = bonus for your clients to inform them about tricks, ideas, and tips about car hire businesses.
I KNOW not everyone is a code ninja, so contact the best (and fast) customer support for questions or issues. Limo King guys ROCK.
But you don't need to code anyway!
Limo King features:
2,700+ sales
4.4+ star rating
Regular updates
Practical shortcodes
Price: $59 (may vary)
MORE INFO / DOWNLOAD
DEMO
4. Limo Rent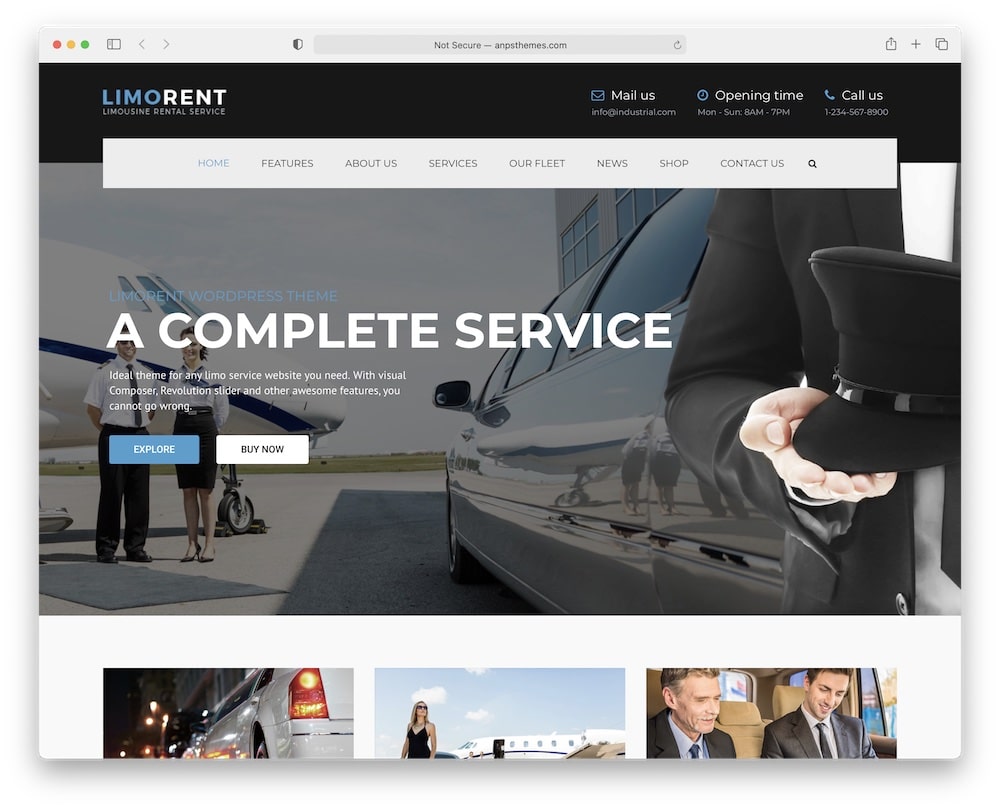 Believe it or not, this classic-looking Limo Rent WordPress theme is my favorite among them (hint, hint).
Unlimited colors, advanced layouts, useful WP sidebars, and endless fonts are such a joy to mix and match!
I just LOVE the feeling of COMPLETE CONTROL over website design.
And of course, Limo Rent comes with plenty of plugins, such as Slider Revolution, WooCommerce, WPBakery WordPress page builder, and Contact Form 7.
AW YEAH, let the FUN begin!
Plus, take advantage of WPML compatibility and translate your site quickly. Best and easiest solution – it works like a charm.
Refresh your rental or car hire service with Limo Rent and raise your business. Exaaactly!
Limo Rent features:
MORE INFO / DOWNLOAD
DEMO
5. Valencia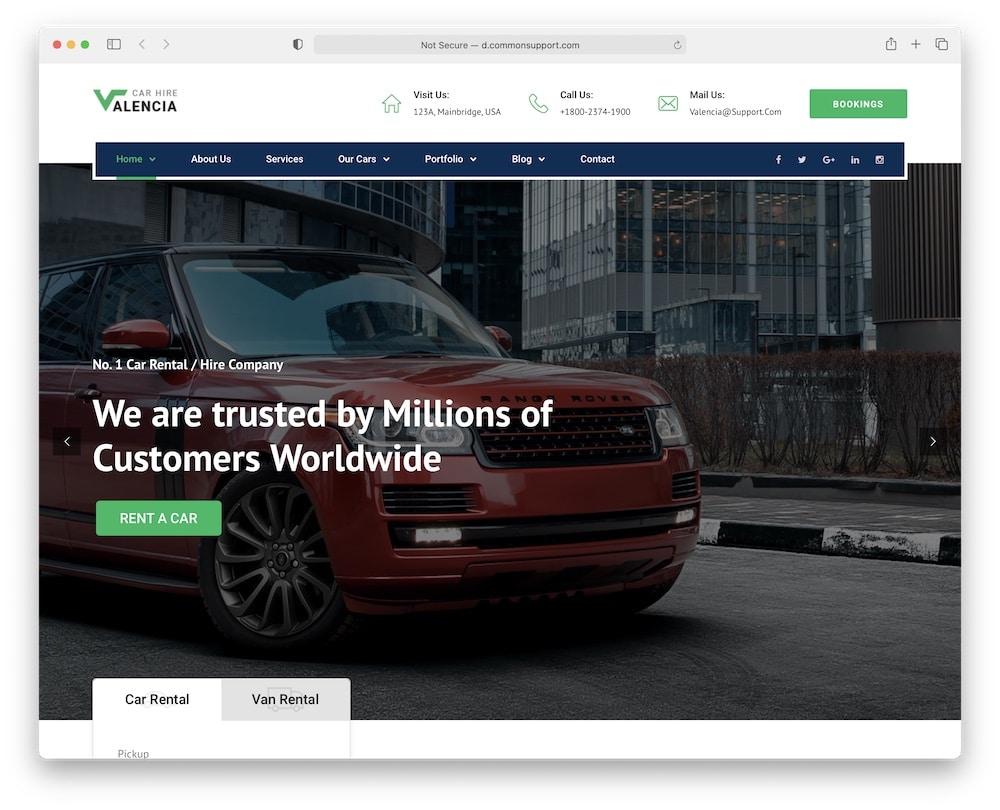 A website is your compass, map and GPS rolled into one. It will help you stay on the market and make new customers (read on!).
With the easy-on-the-eyes Valencia chauffeur WordPress theme, you get clean code and a very well-organized template for a simple start.
Keep in mind: NO coding knowledge is required to create with Valencia.
I swear: It all starts with a dream.
AH YES, just one-click install, and you can start with customization of your new site. Add content, change elements, create forms, add social links, and more. You name it!
But if you need support, check how to install a WP theme before you proceed.
Think SEO is dead? Think again.
Feature-rich Valencia is also SEO friendly making it convenient for your site to rank higher in search engines (like Google).
HIGH. POTENTIAL.
Valencia features:
150+ sales
4.3+ star rating
Supports WP child theme
Friendly support
Price: $49 (may vary)
MORE INFO / DOWNLOAD
DEMO
6. Limme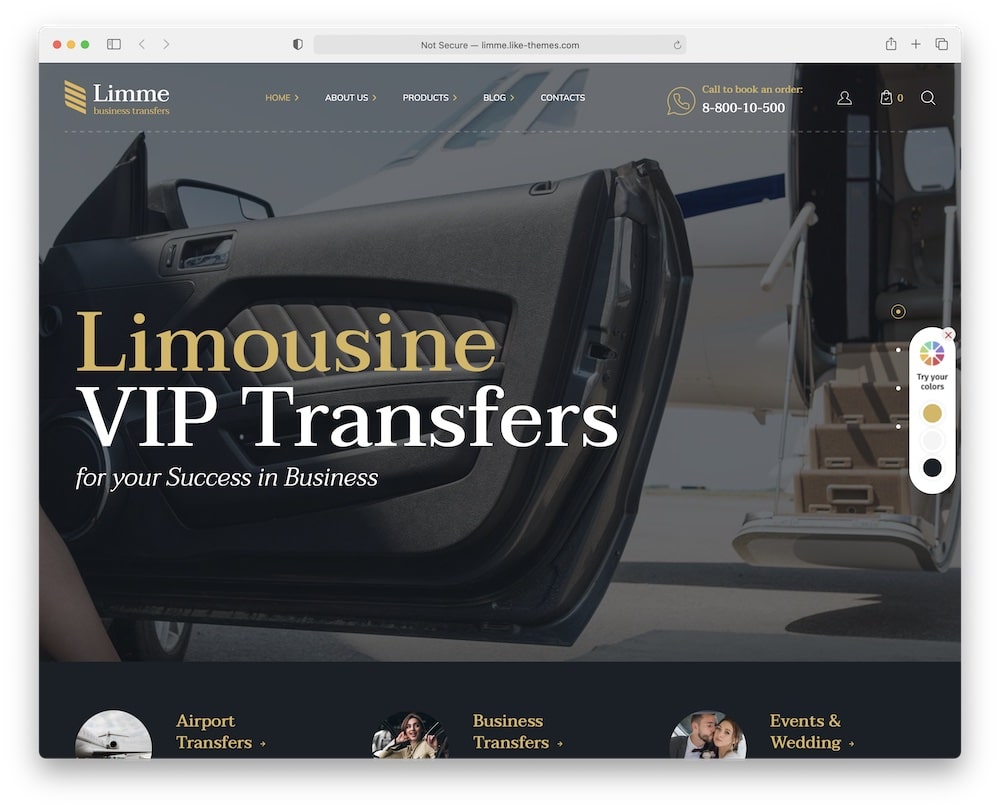 If you're looking to increase your brand awareness, and drive more sales to your business = check out the luxury Limme chauffeur limousine service theme.
The COOL thing is that this theme includes ready-to-use homepages, animations, functional plugins, tons of WP shortcodes, and much more.
In fact, your competition won't have an amazing parallax effect to impress their customers!
Just imagine what a great virtual experience you can create with luxury cars and an incredible lifestyle.
Powerful scrolling!
Besides, Limme is cross-browser compatible (Safari, Chrome, Edge, Firefox) YAY! Result: never again worry about missing out on all those visitors and traffic from various platforms.
Yes, Limme is worth the money (this one is so obvious!).
Limme features:
640+ sales
4.6+ star rating
Based on Bootstrap
Price: $69 (may vary)
MORE INFO / DOWNLOAD
DEMO
7. City Cruise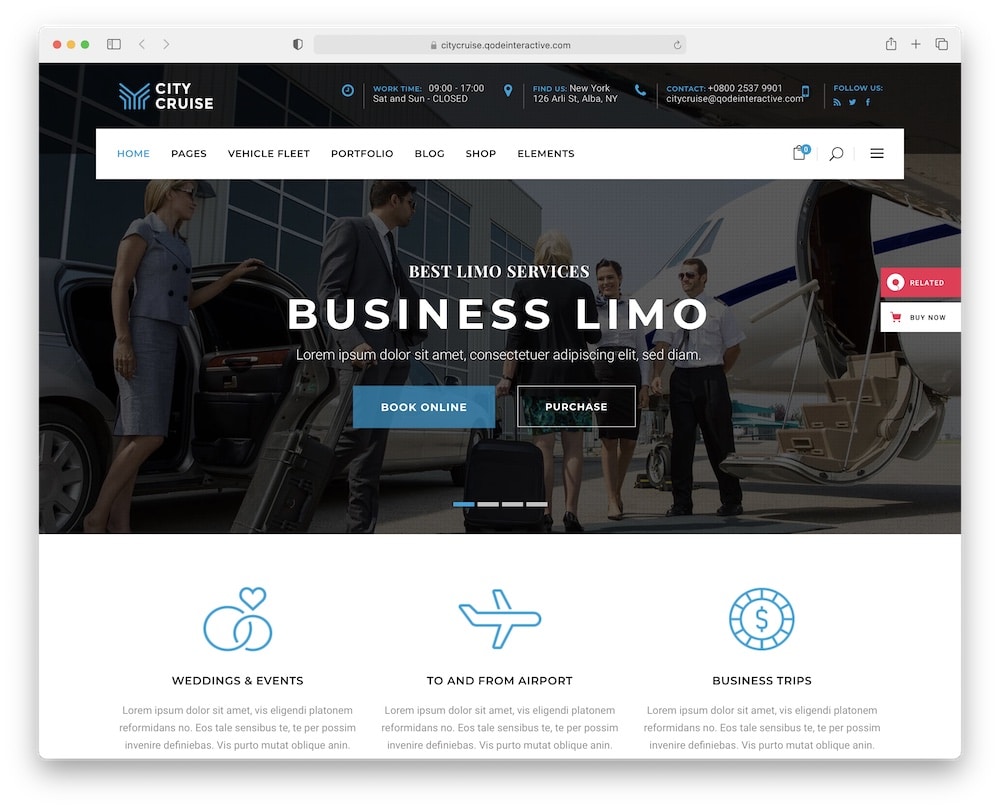 Imagine how much better your day would be if you could sit and enjoy yourself in your chauffeur-driven car?
MHM, no worries about navigating roadworks or queues, just safe drive to your destination.
City Cruise chauffeur WordPress theme is for car rental services, travel solutions, or taxi companies. You can tailor it to all your needs – 100% customizable.
Everything starts with the simple import of the homepage demo (0 codings, 0 effort, 0 limitations).
You can create anything you can imagine with sleek plugins, unique shortcodes, and pre-made layouts.
City Cruise gives you many possibilities at your fingertips – NO more boring websites!
And if you need guidance, 1-on-1 customer support (24/7) ensures you have a smooth ride.
City Cruise features:
410+ sales
4.4+ star rating
Price: $79 (may vary)
MORE INFO / DOWNLOAD
DEMO
8. Conexi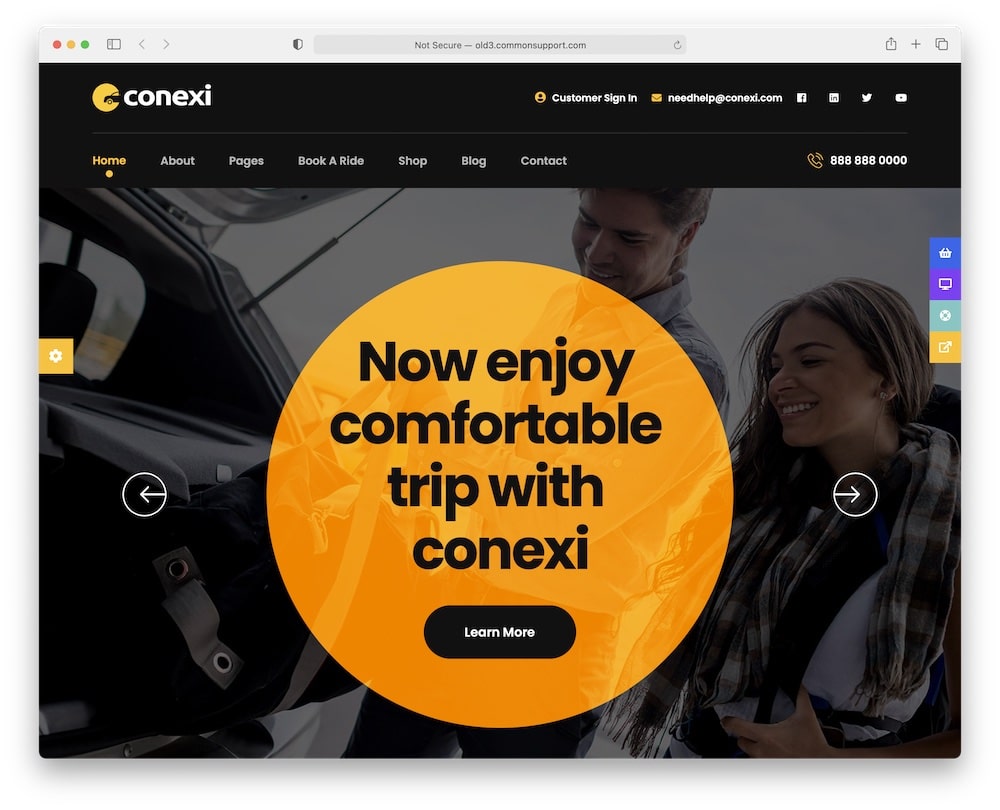 Right from the start, Conexi chauffeur WordPress theme is here to help you build the best website out there – without touching a single line of code (stress-FREE).
Try pre-made layouts, different effects, clean design options, and unique widgets to impress visitors with beautiful and functional styling.
I'm in!
Not to mention, responsive Conexi is full of amazing features! BIG. YES.
Ever found yourself waiting ten seconds for a site to load? Me neither. Therefore Conexi is optimized for fast loading speed. (But you may also be interested in reading how to choose a fast WP theme the right way.)
Keep in mind, good websites leave you feeling wonderful, inspired, and ready to take on the world with a rental car. Build it with Conexi!
Conexi features:
190+ sales
5-star rating
Amazing documentation
Free support (6 months)
Price: $34 (may vary)
MORE INFO / DOWNLOAD
DEMO
7 Features Of A Great Limousine Driver & Chauffeur Website
Are you ready to take your private driver service to the next level?
Then pay close attention to these seven must-haves, which I experienced every great limousine driver and chauffeur website needs.
How I picked the best limo & chauffeur WordPress themes
These are also the features that I carefully studied when testing each theme for this collection:
Responsive layout: Your website needs to be optimized for an excellent mobile experience because that's where you'll probably get the most traffic from.
Testimonials/reviews: While word of mouth works really well in the private driver business, the second thing people look for are online testimonials and reviews. Make sure you display them on your site, preferably on your home page, but you can also add them to your services and even fleet pages. You can even use any from our list of the best free WordPress testimonial plugins.
Online booking: Include online bookings if you truly want to take your limo and chauffeur business to the next level. Instead of paying a fee to a 3rd-party provider, integrate the system into your page. It's easy to make it happen with a free WordPress booking plugin.
Your fleet: We're talking about special occasions and folks with specific tastes, so it's a must that you display your vehicles on your website. This allows the user to find the perfect fit much easier.
Pricing: Don't forget about pricing! Give people an idea of how much your services cost, even if they need to call you to get the final offer. But complete pricing without any hidden fees would be ideal.
Geolocation: I know you'll probably pick your clients at their locations but displaying yours won't hurt anyone. It's easy to add Google Maps in WordPress with your custom marker.
Contact information: Ensure you add all the necessary contact information to your website, including a contact form and a clickable phone number, so everyone can easily get in touch with you.
If you need more on the topic of, Ales made an extensive guide on how to choose a WordPress theme.
::
Note: This article was originally published on November 12, 2021. But our team regularly reviews it and updates it with necessary improvements for accuracy.