Welcome to my ultimate, beginner-friendly guide that will teach you how to start a WordPress fashion blog.
Have you ever found yourself scrolling through fashion blogs, mesmerized by the stunning outfits, and thought, "HEY, I could totally do this too!"?
Well, you're in the right place!
Fashion blogging has taken the world by storm (some time ago), offering a creative outlet for fashionistas and a chance to connect with like-minded individuals.
Plus, let's not forget the EXCITING opportunities and the potential to turn your passion into a profitable venture.
Now, I know what you might think – "Where do I even start?".
That's where WordPress comes to the rescue.
WordPress is like the best friend you didn't know you needed; it's user-friendly, incredibly versatile, and trusted by bloggers worldwide.
This post covers:
So, what's this article all about? Consider this your ULTIMATE guide, your fashion blogging 101.
I'm here to walk you through every step of the journey – from brainstorming ideas to hitting publish on your very first post.
Let's get started on turning your fashion dreams into reality.
Setting Goals & Vision For Your Fashion Blog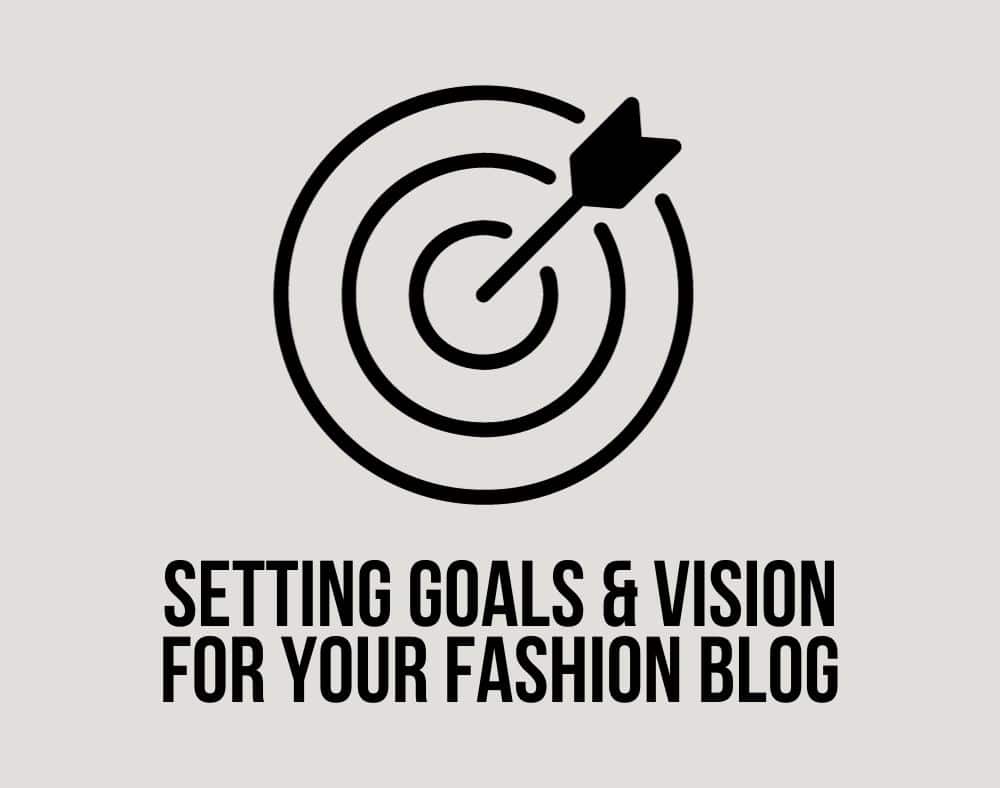 Before you dive into the sea of style, it's crucial to pause and ponder:
What's my vision?
What goals am I aiming to achieve?
Importance Of Having A Clear Vision & Goals
Having a clear vision is like setting a GPS for your blogging adventure.
It directs you and keeps you on the right path, ensuring you don't get lost in the vast fashion universe.
Your goals, on the other hand, are your stepping stones.
They're the milestones that will guide you, motivate you, and help you measure your success.
Pro tip: Don't set unrealistic goals. Trust me, it hurt me more than once. Setting realistic, smaller goals is way more beneficial.
And if your main goal with your fashion blog is to make money – WELL – drop the idea immediately. That's not what you're here.
Tips On Finding Your Niche
The fashion world is dazzlingly diverse, and finding your unique space is key.
Are you all about sustainable fashion?
Or perhaps vintage finds make your heart flutter?
Whatever it is, make sure it resonates with you.
Your niche is your blog's heartbeat; it will make you stand out and attract a community of like-minded fashion aficionados.
Pro tip: Choose what you're passionate about and it will not feel like work.
Define Your Target Audience
But who are you writing for? Who is your fashion story meant to inspire?
Enter: Your target audience.
Defining your audience is like crafting a love letter to your future readers. It helps you tailor your content, ensuring it speaks directly to their hearts.
Consider their age, interests, and what fashion dilemmas they might be facing.
Pro tip: A personal touch goes a long way!
Choosing The Right Domain Name & Hosting Provider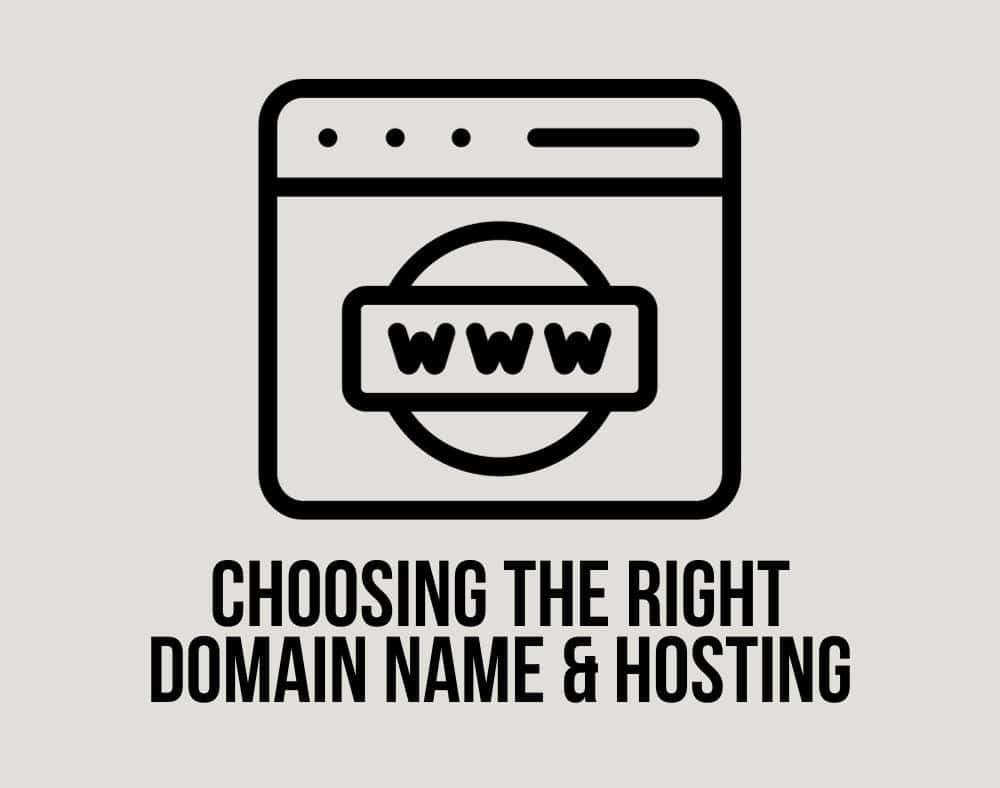 Two of the more crucial steps in your fashion blogging journey are:
Picking out the perfect domain name
Finding a trustworthy hosting provider
Your Domain Name Matters
First things first, what's a domain name?
Think of it as your blog's personal address on the internet – it's how people will find you in the vast world of the web.
It's not just a URL; it's a first impression, a part of your brand.
Pretty IMPORTANT, right?
When choosing a domain name for your fashion blog, you want it to be as chic and memorable as a classic little black dress.
Here are a few tips to help you brainstorm:
Keep it short & sweet: You want your domain name to roll off the tongue and stick in people's minds.
Make it relevant: Ensure it reflects your niche and the fabulous content you'll be sharing.
Avoid complicated terms: You wouldn't want potential visitors to get lost trying to spell your blog's name, would you?
Be creative: Don't be afraid to let your personality shine through! This is your fashion playground, after all.
Hosting Provider Matters, Too!
If your domain name is your blog's address, think of WordPress hosting as the land it sits on.
A reliable host ensures your blog is accessible, secure, and running smoothly.
You wouldn't build a house on shaky ground, and the same goes for your blog.
When it comes to WordPress, there are plenty of stellar hosting options out there.
A few crowd favorites include Bluehost (an excellent choice for beginners), SiteGround, and Kinsta (we use Kinsta).
These providers are known for their reliability, top-notch customer service, and WordPress-friendly setups.
In fashion blogging, your domain name and hosting are your foundation, your runway if you will.
Choosing them wisely sets the stage for all the fabulous content and connections to come.
Installing WordPress & Setting Up Your Blog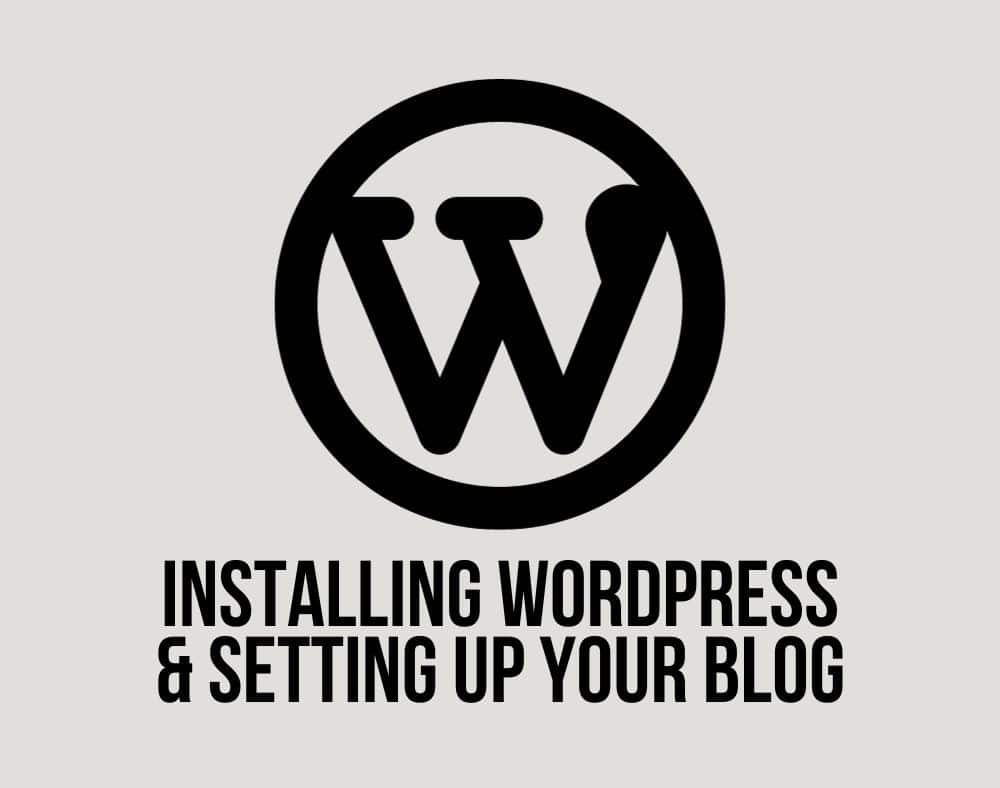 Yay, we've made it to the EXCITING part – setting up your blog.
I promise, even if you've never done anything like this before, you'll be just fine.
WordPress is like a friendly neighbor; it's here to help and make everything easy.
Step 1: Install WordPress
Choose a hosting provider: If you haven't already, pick a hosting provider that offers easy (one click!) WordPress installation (like Bluehost, SiteGround, or Kinsta).
Log in to your hosting account: Find the "Install WordPress" option. It's usually front and center, ready and waiting.
Select your domain: Choose the domain you've registered for your fabulous fashion blog.
Fill in the details: Create a username and a strong password for your WordPress admin account. Make sure to save these in a safe place; you'll need them to log in to your blog's dashboard.
And voila! Just like that, WordPress is installed.
Step 2: Welcome to Your WordPress Dashboard
This is where the magic happens. Your WordPress dashboard is the control center of your blog.
Take a tour: Familiarize yourself with the different sections. Check out "Posts," where your articles will live, "Appearance," where you'll make your blog look gorgeous, and "Settings," where you can fine-tune everything to your liking.
Feel at home: Spend some time clicking around and getting to know your new digital space.
Step 3: Plugins, Plugins, Plugins!
WordPress plugins are like the accessories of your blog; they add functionality and flair (without coding).
For a fashion blog, here are some must-haves:
Take it one step at a time, and before you know it, your blog will be up and running, ready to showcase your unique fashion sense to the world.
Selecting The Perfect Theme For Your Fashion Blog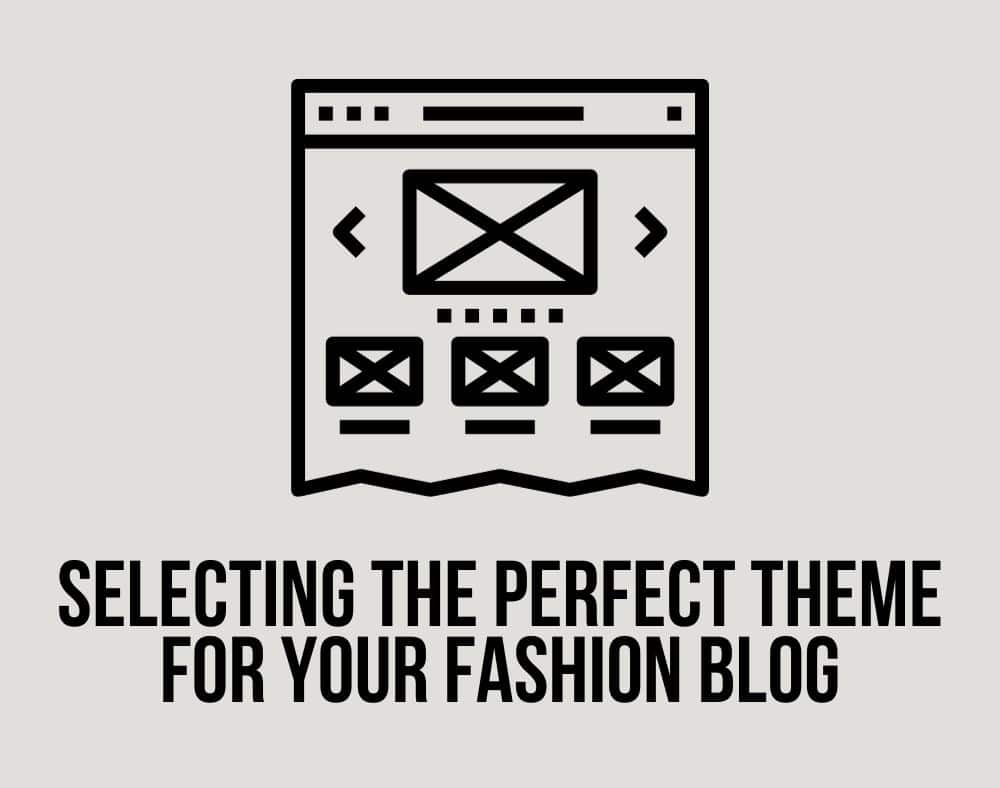 Just like in fashion, the first impression is everything. That's where picking the perfect WordPress theme comes in.
Why A Good Theme Matters
Think of your theme as your blog's outfit – it must be stylish, functional, and leave a lasting impression.
But it's not just about looks; your theme also needs to be responsive and offer epic performance.
This means it'll look fabulous no matter whether someone's checking you out on their phone, tablet, or computer.
We want everyone to have the VIP experience when they visit your blog, right?
Finding Your Style In A Theme
WordPress has a runway's worth of themes to choose from, and I've got a few suggestions that are perfect for fashion blogs:
Kayleen: Offers a sleek, contemporary design perfect for fashion bloggers, with its minimalist aesthetic, customizable color schemes, and various layout options to showcase your style content elegantly.
LaFeminite: Boasts a sophisticated and feminine design tailored for fashion and lifestyle bloggers, featuring elegant typography, a variety of post formats, and customizable settings to help you create a stylish and engaging online presence.
Sayville: Provides a modern, clean, and responsive design with a strong visual focus, ideal for fashion and lifestyle bloggers who wish to create a stunning and user-friendly online platform to share their style stories and inspirations.
But remember, the most important thing is to choose a theme that speaks to YOU. Your blog is a reflection of your personal brand, after all.
For more alternatives, check out our extensive collection of fantastic WordPress fashion blog themes.
Making It Yours
Once you've picked your theme, it's time to add a touch of your own style:
Customize colors & fonts: Play around with the customizer to find the perfect palette and fonts representing your fashion sense.
Add your logo: If you've got a logo, make sure to upload it! If not, no worries – many themes offer stylish typography options. (But it's easy to make a logo without Photoshop.)
Set up your menu: Create a navigation menu that makes it easy for your visitors to find what they're looking for. Categories like "Latest Trends," "Outfit Ideas," and "Style Advice" could be great starts.
You'll also find plenty of good stuff in our tutorial on how to customize your WordPress theme.
Creating Must-Have Pages & Categories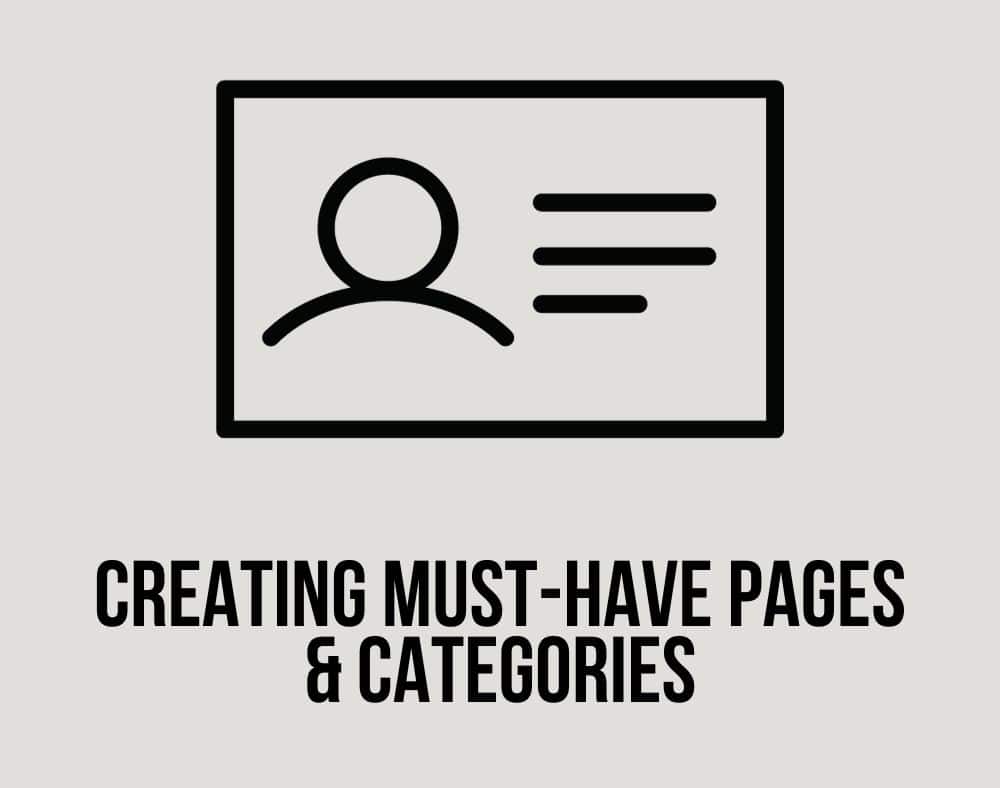 Now that your blog is dressed to impress, it's time to add some essential WordPress pages and categories.
Essential Pages For Your Fashion Blog
About Me: This is your moment to shine. Share your story, your passion for fashion, and what readers can expect from your blog. Don't forget to add a few personal touches – maybe your favorite fashion quote or a fun fact about yourself.
Contact: Make it easy peasy for readers and potential collaborators to get in touch with you. A simple contact form and links to your social media profiles should do the trick.
Privacy Policy: Super important! Make sure your blog is following all the legalities by including a privacy policy page. There are plenty of templates online to help you get started.
Creating these pages adds credibility and personality to your blog, helping you connect with your readers on a deeper level.
Organize Your Content With Categories
Your fashion blog will be filled with dazzling content, and WordPress categories are here to help you keep everything organized.
Think of them as the different sections in a fashion magazine – "Trend Alerts," "Outfit Inspirations," "Fashion Tips," and so on.
To set up categories, just head to "Posts" and then "Categories" on your WordPress dashboard.
But you can also check our guide on how to add categories and subcategories in WordPress.
Craft A Well-Structured Navigation Menu
A well-thought-out WordPress menu is like a roadmap for your readers, guiding them through your fashion wonderland.
Head over to "Appearance" and then "Menus" in your WordPress dashboard. Here, you can create a new menu and add your pages, categories, and even custom links to it.
Make sure to organize everything in a way that's intuitive and user-friendly. You want your readers to find exactly what they're looking for without any hassle.
Pro tip: Don't forget to include a search bar in a visible and easy-to-access location.
With these essential pages, categories, and a shiny navigation menu, your fashion blog is now more than just a pretty face.
It's a well-oiled, stylish machine ready to take distribute your super content.
Crafting Your First Blog Posts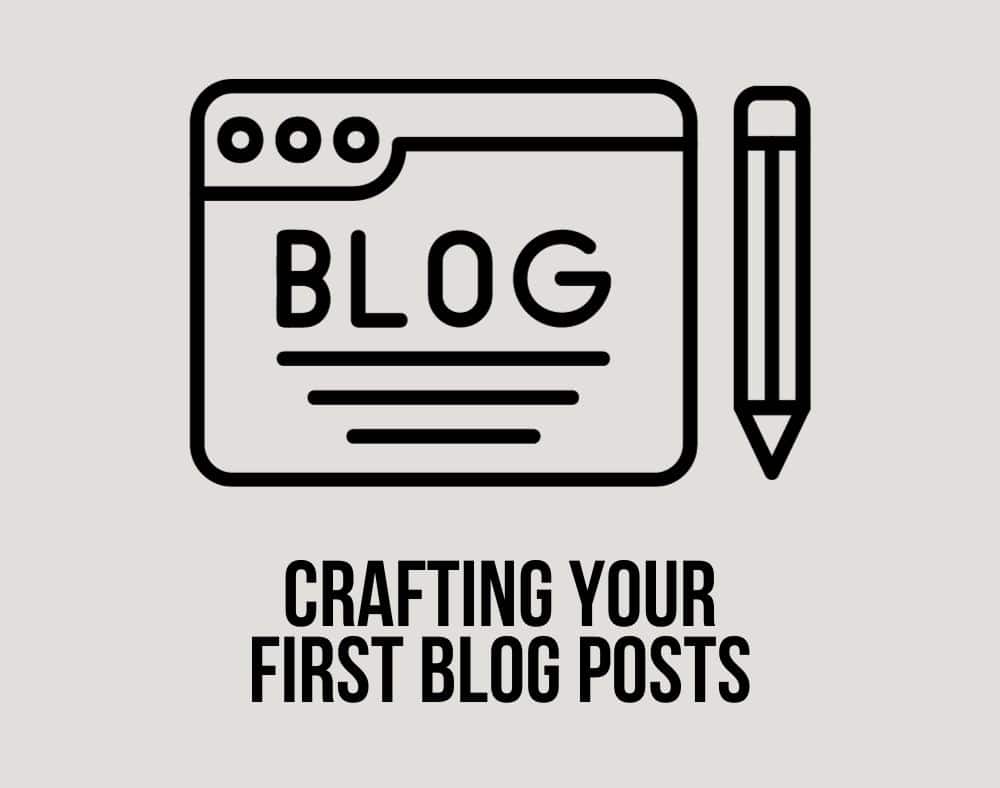 I can feel the excitement in the air – it's time to start creating your first dazzling WordPress blog posts.
Don't worry, I'm here to guide you through every step, and together, we're going to make your words shine just as brightly as the latest fashion trends.
Generating Content Ideas That Speak To Your Audience
Know your readers: Think about what your fabulous readers are interested in. Are they seeking the latest trends, budget-friendly fashion hacks, or luxury style inspiration? Dive into their world and find out.
Stay inspired: Follow other fashion blogs, subscribe to fashion magazines, and stay updated with runway shows. Inspiration is everywhere.
Create a content calendar: Jot down holidays, fashion events, and seasonal trends. This will help you plan posts that are timely and relevant.
Remember, your blog is a conversation between you and your readers. Create content that speaks directly to them and answers their fashion prayers.
Writing Engaging & Visually Stunning Posts
Start strong: Grab your readers' attention from the get-go with a catchy headline and an irresistible introduction.
Tell a story: Share personal anecdotes, fashion adventures, or style transformations. Let your personality shine through your words.
Break it down: Use headings, short paragraphs, and bullet points to make your post easy to read. You're creating a visual experience with words.
Add a splash of color: Integrate images, graphics, or videos to complement your text and add that extra pizzazz.
The Role Of High-Quality Images In Fashion Blogging
A picture is worth a 1,000 words: In fashion blogging, your images are just as important as your words. They bring your style stories to life.
Invest in good photography: Whether it's a DSLR, a smartphone with a great camera, or a professional photographer, make sure your images are top-notch.
Building Your Audience & Promoting Your Blog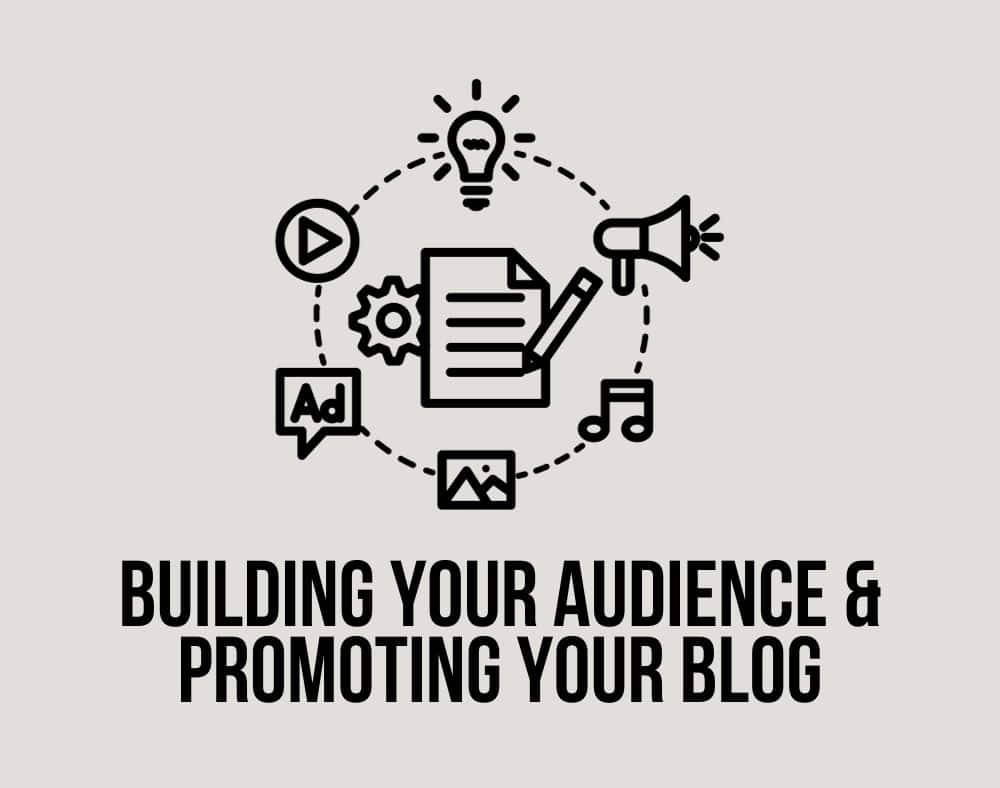 It's now time to talk about how to get even more eyes on your stylish content.
Growing your audience is like expanding your circle of fashion-loving friends, and I'm here to share some tried-and-true strategies to help you do just that!
Strategies For Growing Your Blog Audience
Consistency is key: Keep your blog fresh and exciting with regular posts. Whether once a week or twice a month, find a schedule that works for you and stick to it. Your readers will appreciate knowing when they can expect new fashion inspo from you.
SEO is your BFF: Learn SEO basics (Search Engine Optimization) to make your blog more visible on search engines. Use relevant keywords, optimize your images, and don't forget to add alt text describing the fashion fabulousness in your photos.
Social Media & Beyond: Promoting Your Fashion Blog
Instagram is a fashion blogger's runway: Share snippets of your posts, behind-the-scenes looks, and daily outfits. Don't forget to use fashion-forward hashtags.
Pinterest is your style mood board: Create boards for different fashion categories and pin your blog posts along with other inspirational content.
Collaborate with fellow fashionistas: Reach out to other fashion bloggers for guest posts, collaborations, or even just to share each other's content.
Consider paid advertising: If your budget allows, Facebook and Instagram ads can help boost your blog's visibility to a targeted audience.
Engaging With Your Readers & Building A Community
Encourage comments: At the end of your blog posts, ask your readers for their opinions and thoughts. Reply to every comment to show that you value their input.
Create a newsletter: Start a mailing list and send out regular newsletters with updates, exclusive content, or early access to your blog posts.
Host giveaways or contests: Everyone loves free stuff, and giveaways are a great way to engage your audience and attract new readers.
Be authentic & approachable: Show your personality, share your fashion journey, and be relatable. Your readers are here for YOU and your unique style.
Monetizing Your Fashion Blog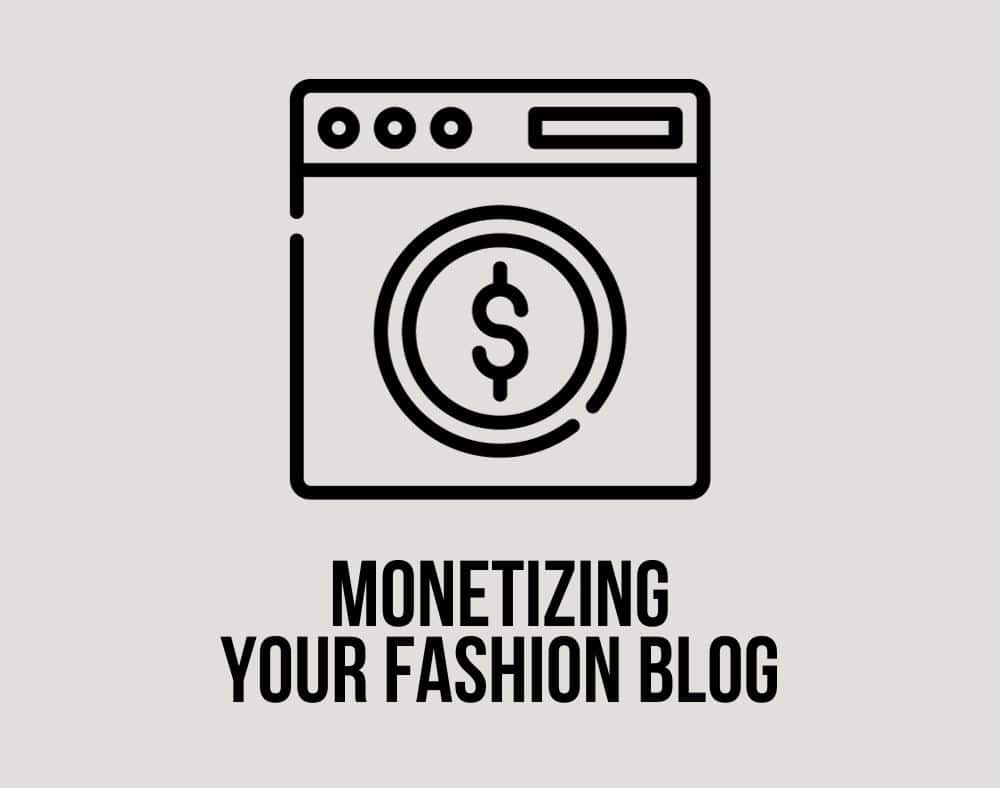 Monetizing your fashion blog can seem a bit daunting at first, but you can easily start with these tips.
Pro tip: Don't start your fashion blogging journey with money in mind. (Yup, I said it again!)
Different Monetization Strategies
Affiliate marketing: This is like being a matchmaker between your readers and their next favorite fashion find. You promote products, and when your readers purchase through your unique link, you earn a commission. Websites like RewardStyle or ShopStyle Collective are great places to start.
Sponsored posts: Brands pay you to write a post about their product or service. It's a win-win – you create content and get compensated for it.
Selling your own products: Have a knack for designing? Why not create and sell your own line of accessories, clothing, or even digital products like style guides?
Working With Brands & Rocking Sponsorships
Create a media kit: This is like your blog's resume. Include your blog stats, audience demographics, and examples of previous collaborations. Show off what makes your blog unique.
Reach out to brands: Don't be shy! Send a friendly and professional email expressing your interest in collaborating. Be sure to personalize each email and explain why the partnership would be a great fit.
Build relationships: Networking is key in the blogging world. Attend fashion events, join blogging communities, and connect with other bloggers and brands on social media.
Bonus: Keeping It Real & Legal
Disclose your partnerships: Transparency is crucial. Always disclose when a post is sponsored or if you're using affiliate links. It builds trust with your audience.
Stay true to your style: Only collaborate with brands that align with your blog's aesthetic and values. Your readers come to you for your authentic style, so stay true to that.
Understand the legalities: Familiarize yourself with the FTC guidelines for online advertising to ensure you're on the right side of the law.
With these tips, you're well on your way to turning your style haven into a profitable venture.
Remember, it's all about authenticity, passion, and a good dash of business savvy.
Analyzing & Optimizing Your Blog's Performance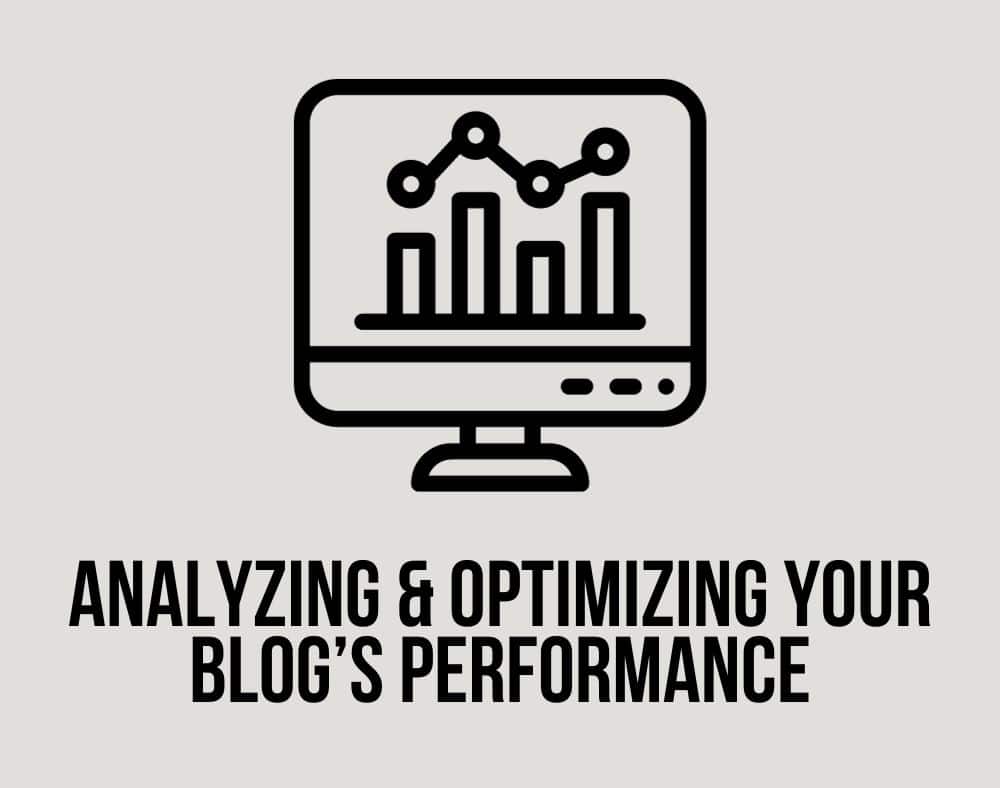 Are you ready to take your fashion blog to the next level? Perfect!
Because we're diving into the world of analytics and optimization.
Fortunately, it's not as intimidating as it sounds.
Embracing The Power Of Analytics Tools
Google Analytics: This tool is like a magical crystal ball that helps you understand your readers' behavior. It shows you which posts are the most popular, how people are finding your blog, and so much more.
Setting up is a breeze: Just sign up, add a small piece of code to your blog, and you're ready to dive into the data.
Tracking & Tweaking
Monitor your traffic: Monitor which posts are getting the most love and try to understand why. Is it the topic, the images, or how you've written it?
Identify areas for improvement: Look for patterns. Maybe certain posts are doing better than others, or perhaps there's a particular day of the week when your blog gets the most visitors. Use these insights to refine your content and posting schedule.
SEO: Your Secret Weapon For Blog Growth
Keywords are key: Use tools like Google Keyword Planner to find the words and phrases your potential readers are searching for. Then, gracefully sprinkle them throughout your posts, titles, and headings.
Don't forget about images: Optimize your images by compressing them (for faster loading times) and using descriptive alt text.
Quality over quantity: Focus on creating high-quality, engaging content. Google loves content that keeps readers hooked and coming back for more.
Remember, lovely, analyzing and optimizing your blog isn't about getting bogged down by numbers and algorithms.
It's about understanding your audience, refining your content, and creating a space that's both fabulous and functional.
Conclusion: Master Your Fashion Blog!
Wow, what a journey we've had, fashionista friend!
We've sashayed through every chic step of starting your WordPress fashion blog, and you've been nothing short of terrific.
Quick Glance at Our Stylish Adventure
We set ambitious goals, found your fashion niche, and pinpointed your audience, ensuring your blog shines bright.
We chose a fabulous domain, secured a reliable hosting provider, and set up WordPress, making your blog robust and runway-ready.
We picked out the perfect theme, crafted essential pages and categories, and started creating eye-catching blog posts that truly capture your fashion hunger.
Stay True and Shine On
Remember, consistency and authenticity are key. Continue sharing your unique style, and your audience is sure to grow.
Use analytics to your advantage, optimize your content, and keep reaching for the stars.
You've got this!
The fashion blogging world is ready for your brilliance.