You are not the only one wondering what is a WordPress category.
WordPress has numerous terms and features that a beginner needs to understand before they can optimize their blogs and websites.
A category is one of WordPress's sorting terms. (It's a default taxonomy.)
And being a control freak myself, I LOVE WordPress categories!
Do you want you and your visitors to navigate through your blog efficiently? Then adding categories for your content is just what you need.
This post covers: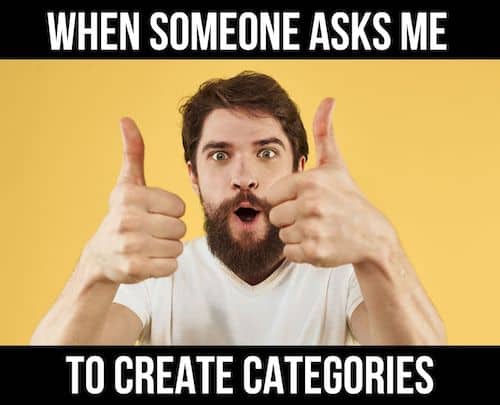 Categories also help with SEO.
Fascinating, right?
How to Use WordPress Categories
Let's start with some basics.
Say you have just created a travel blog. You can not wait to write about your adventures. And who can blame you?
You'll want to sort your blog posts by country if you have visited numerous countries. And that's where WordPress categories come in.
WordPress lets you ORGANIZE your posts with just a few clicks.
For example, you can create a new category for each country you have visited. Or maybe for the type of adventure you had (hiking, biking, etc.).
Not only will this help you categorize your posts, but it will also help your visitors quickly find the content they are looking for.
After you create a category, you can add it to menus, widgets, posts, sidebars, etc.
Categories are a WIN-WIN situation!
And the best part is that the process of creating them is straightforward.
How to Edit & Optimize a WordPress Category
Every little tweak you apply to your categories happens in the WordPress backend. This goes for adding, editing and optimizing your categories.
Let's explore each process individually.
How to Add a New Category
I know that this goes without saying, but the first thing you have to do is create your categories.
Although there isn't a rule regarding the number of categories a blog should have, I always encourage people to have at least 5.
But not TOO many.
The first thing you need to do to create a new category is to log in to your WordPress admin panel.
Once you're there, have a look at the dashboard menu on the left side of your screen.
You will find the "Categories" section inside the Posts tab.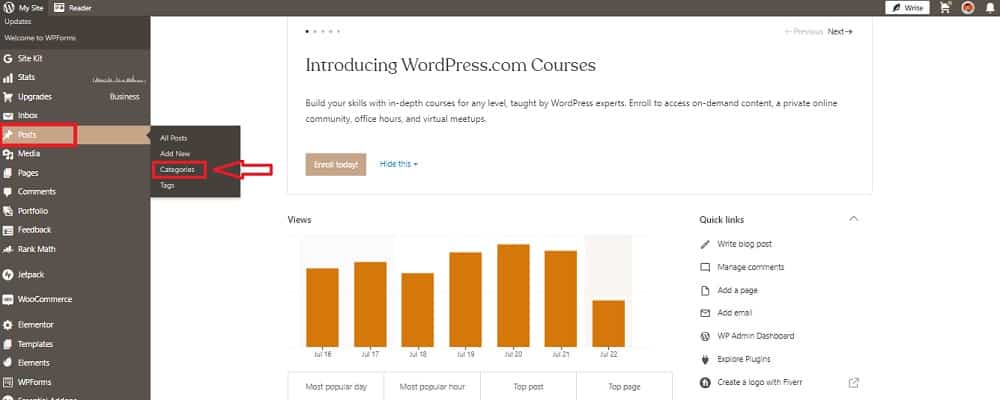 Click the Categories button, and it'll redirect you to the menu where the magic happens!
On the top right, click on "Add New Category." (But the form can already be on the left part of the split screen.)
Input your new category name and a short description (around 50 words) that explains what this category is all about. You can also customize the slug if necessary.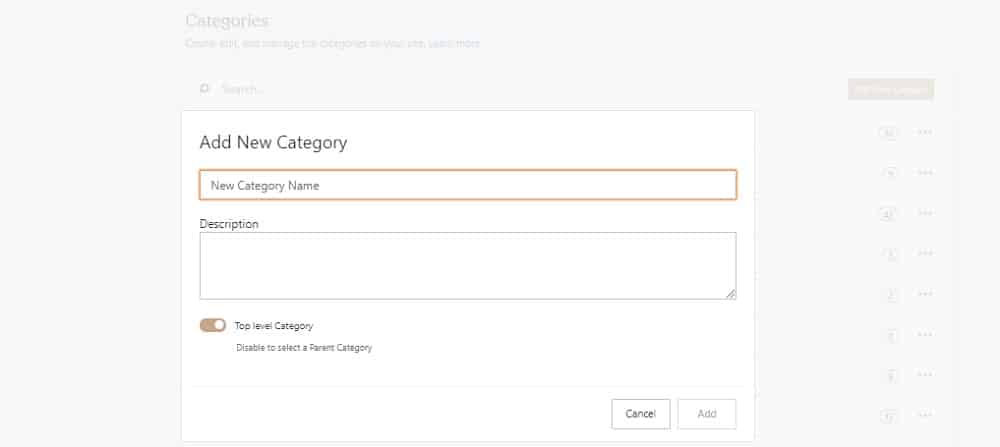 Click on Add, and you're all set!
How to Edit a Category
But, what happens if you have already created some categories and want to edit them?
Well, there's nothing to worry about. Editing a category will feel like a piece of cake.
From the categories menu, choose the category you want to edit and click on the 3 dots icon > Edit. (Or hover over it and click Edit if you're using the old editor.)

A pop-up menu will appear.
All you need to do is CLICK on edit, and you can change the name and description of the category.
How to Show WordPress Categories
So, you've created your top-notch categories; now what?
Unfortunately, categories DON'T appear by default on the frontend of your site once you create them.
Let's see how you can show your WordPress categories to the world!
When it comes to your posts, the process is super-easy. All you need to do is go to Posts.
From there, you can either create a new post or edit an existing one. No matter what you choose to do, the process is the same.
After accessing the post page, your post menu should automatically appear.
If not, click on the gear icon (top-right of your screen). Go to Posts > Categories. You can now select one of the categories you've added or even create a new one.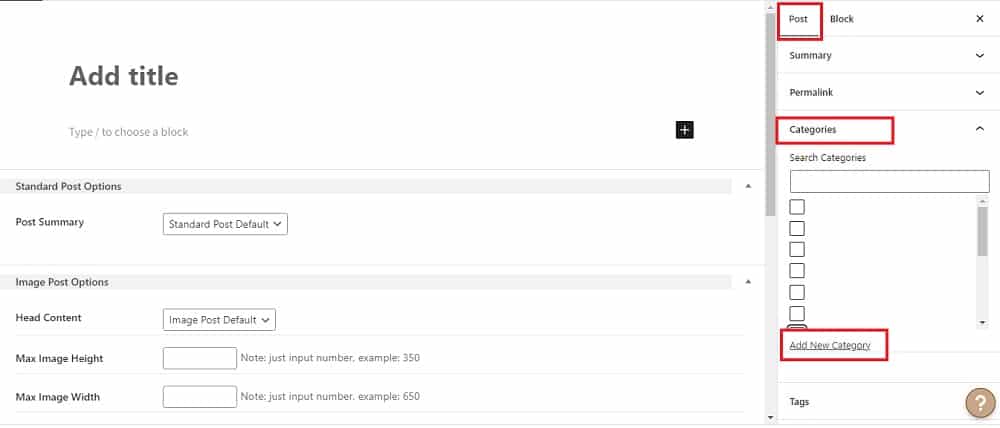 On the flip side, you need to go to Appearance > Menus if you want to add a category to your site's menu.
Choose and drag one of your categories into your main menu. You can also create sub-categories at this stage. (Just drag it beneath the parent category.)

It's that SIMPLE.
Your visitors can now find your categorized posts in no time!
Good job.
How to Optimize WordPress Categories for SEO
But, categories aren't only a practical sorting tool for your website.
WordPress categories also help you improve your SEO.
A well-crafted series of WordPress categories will allow Google and other search engines to identify what your site is all about.
In other words, categories are one of the MULTIPLE ranking factors search engines use for SERPs (Search Engine Results Pages).
So, if you want your pages and posts to rank even higher, you should add categories.
All you need to do is choose self-explanatory, short names and add a brief description to each to optimize your categories for SEO.
You can also include your category in the permalink of your posts.
To do that, go to Settings > Permalinks > Custom Structure and add the /%category% command for your posts.

What is the Difference Between Tags & Categories?
In a few words, a category is nothing more than a sorting element that helps you group different blog posts.
For example, by adding, let's say, all your product reviews in a category called Reviews, you automatically create a broad group of posts that share relevant content.
On the other hand, WordPress tags are more detailed keywords that help you sort each blog post individually.
Here's an example: Say you've just created a guide about a sewing machine. I know, not the best example, but it'll do the trick!
This blog post will be included in one or two categories (e.g., sewing machines and reviews), but will probably include multiple tags (2022, sewing machine, best, Singer, and so on).
FAQs About WordPress Category
What is a WordPress category?
A WordPress category is a way to group related posts together. It's a basic tool for organizing the content on your WordPress site, making it easier for readers to find related topics.
How do I create a new category in WordPress?
To create a new category, go to your WordPress dashboard, navigate to "Posts" > "Categories," and fill in the required fields like name, slug, and description. Then, click "Add New Category."
Can a post have multiple categories in WordPress?
Yes, a post can be assigned to multiple categories. This allows you to classify content under various topics, but it's recommended to limit the number of categories per post for better organization.
How are categories different from tags in WordPress?
Categories are used for broad grouping of post topics, whereas tags are used for more specific, detailed labeling. Categories are hierarchical, meaning you can have subcategories, but tags are not.
Is it mandatory to use categories in WordPress?
While not mandatory, using categories is highly recommended for organizing content and better user experience. If a post is not assigned to a category, WordPress automatically files it under the default category, often named "Uncategorized."
How can I display categories on my WordPress site?
You can display categories using widgets or menus. Add a "Categories" widget to your sidebar or footer, or include categories in your site's navigation menu.
What happens if I delete a category in WordPress?
If you delete a category, the posts in that category won't be deleted. They will be automatically moved to the default category set in your WordPress settings.
How do I change the default category in WordPress?
To change the default category, go to "Settings" > "Writing" in your WordPress dashboard. Here, you can select a different category as the default from the drop-down menu.