Are you seeking the best WordPress game store themes to create an epic gaming eCommerce website?
You came to the right place.
Explicitly designed for game enthusiasts and business owners, these WP themes offer a powerful and visually appealing foundation to start your online business QUICKLY and EFFORTLESSLY.
You can showcase and sell your favorite games with ease, thanks to customizable features, seamless eCommerce integration and a user-friendly interface.
Keep skills for your favorite video game because you need none when creating an online game store.
Get ready to level up your online gaming business now!
How We Tested WordPress Game Store Themes
Testing themes was a crucial step in creating this collection. We were only able to create a list of the best themes through thorough theme analysis.
This involved:
Reviewing user feedback, ratings & reviews
Checking the theme's update frequency, documentation & getting in touch with the support team
Installing each theme to see how easy the process is (you may also be interested in our guide on installing a WordPress theme)
Accessing theme customizations & settings
Testing loading speed (Pingdom Tools) & mobile-friendliness (Google's Mobil-Friendly Tool)
Verifying eCommerce integration
Attesting user-friendliness of the theme admin (is everything easy to understand and navigation simple?)
Performing security scans to identify any possible bugs, errors & vulnerabilities
QUICK-PICK: Ultimate WP Game Store Themes
Best WordPress Gaming & Game Store Themes
1. Juno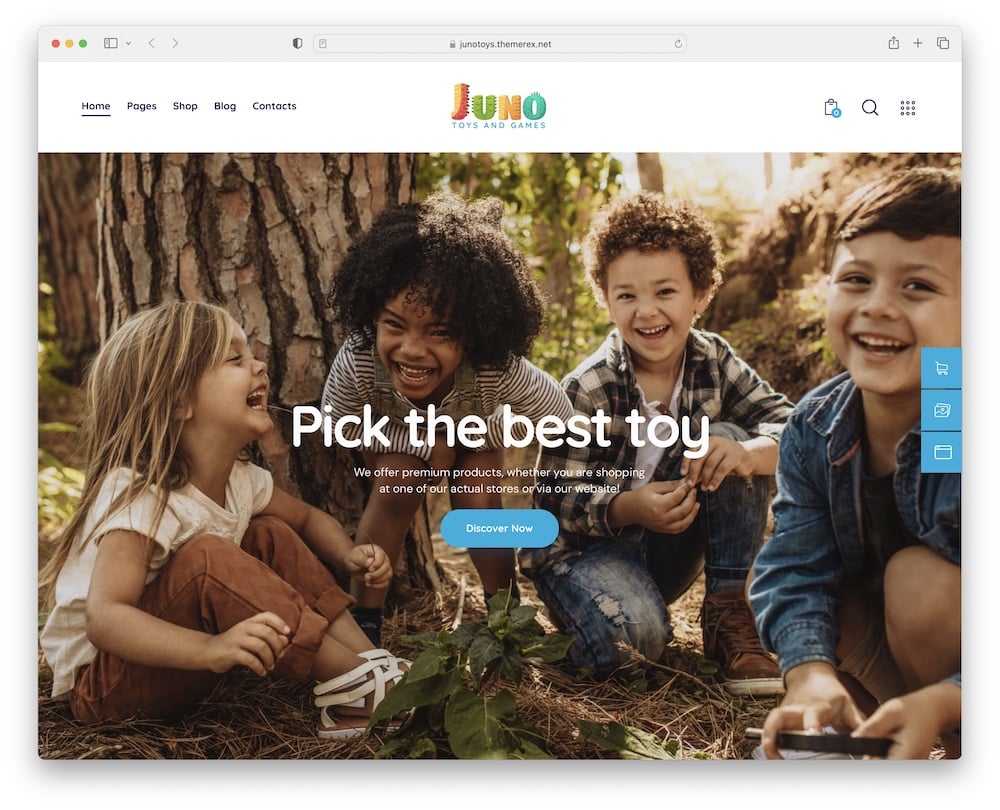 Let the game begin with the playful Juno WordPress theme for selling kids toys and games!
Attractive Juno includes pre-made templates fully compatible with the Elementor page builder. Remember, you can build your website with it even if you don't have any coding knowledge.
Besides, Juno offers various layouts, plugins, widgets, and shortcodes. You can as well choose from unlimited colors and typography options.
Hurray!
The best part: Juno is integrated with the brilliant WooCommerce for the perfect online store. Interactive Ajax search, product wishlist, and newsletter popups are super welcome addition.
And if you happen to get stuck, Juno's professional support has you back for FREE.
Smart, fast, affordable Juno!
Juno features:
970+ sales
5-star rating
Comes with a WP child theme
Integrated mega menu for detailed navigation
Price: $69 (may vary)
MORE INFO / DOWNLOAD
DEMO
2. Gamezone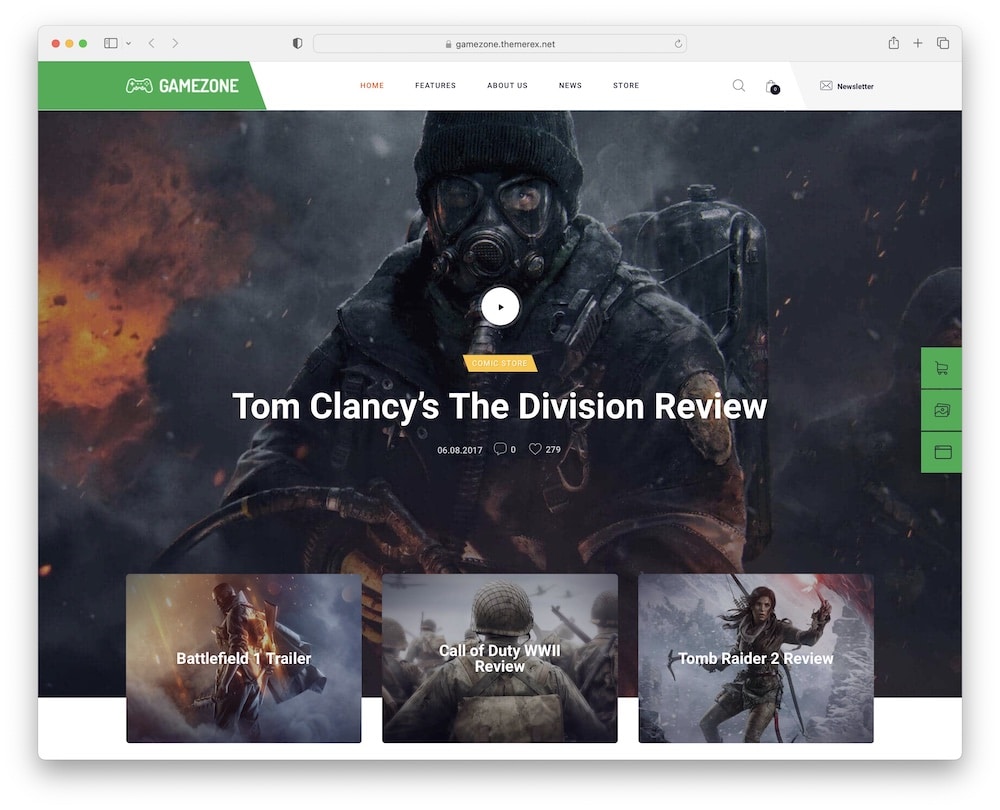 Let me tell you a secret about playing the Gamezone game: There's no game over. It's all about winning by creating a superb game-related (eCommerce) website.
You can install a ready-to-use demo that allows you to express your creativity with one simple click. You can add, set up, match and mix elements to meet your vision.
In fact, Gamezone is fully responsive and retina ready for a fantastic user experience no matter the screen size. Oh, and all scrollable sections support the swipe effect.
Pretty COOL, right?
Additionally, Gamezone includes the most popular plugins, such as WPBakery page builder, Slider Revolution, Contact Form 7, and WooCommerce.
A quick tip: Start an epic gaming blog about new releases, gaming reviews, top games, tips, sales, and more. (You'll thank yourself (and me) later!)
Gamezone features:
250+ sales
4.9+ star ratings
Easy header & footer builder
Detailed product pages
Price: $69 (may vary)
MORE INFO / DOWNLOAD
DEMO
3. Youplay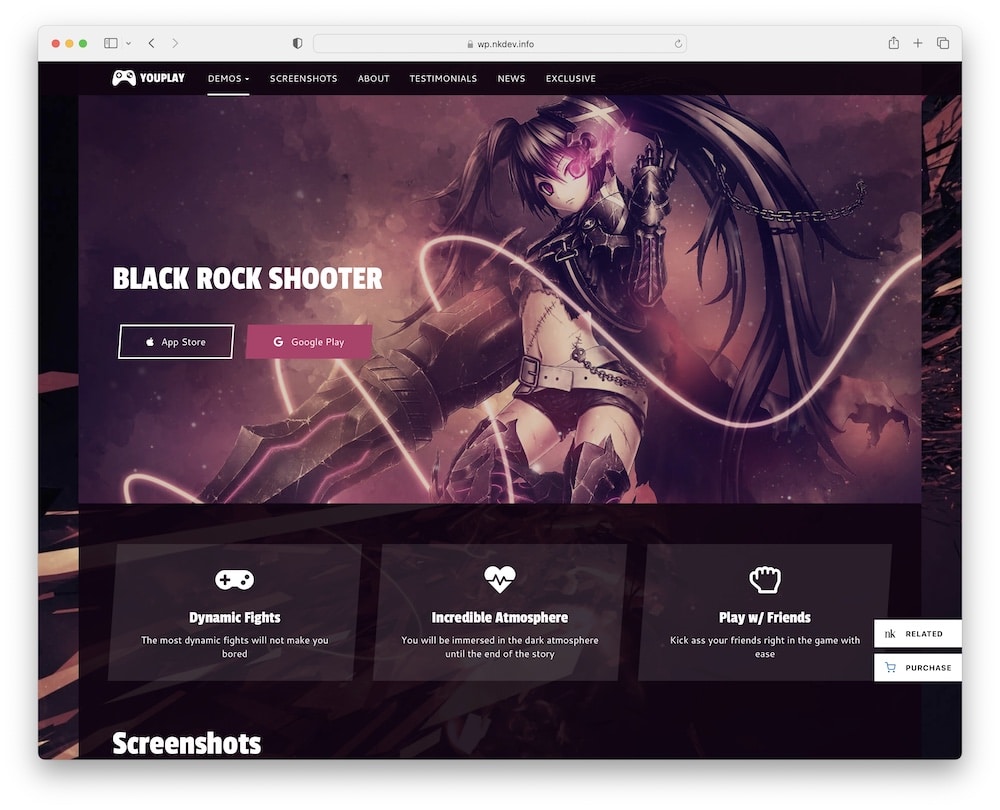 Compete with the bold Youplay WordPress theme and successfully create a gaming website.
You can find your perfect combo among included layouts, shortcodes, widgets, parallax blocks, and Google fonts. Yes, you can be the BOSS of your website!
As SIMPLE as that.
Moreover, flexible Youplay comes SEO-ready to help you attract new gamers and skyrocket your website to the top.
Social sharing buttons – checked! (BTW, it's easy to add social share buttons in WP.)
And if you are like me, you will turn Youplay into an AWSOME game store! Because who doesn't want to discover all their favorite games in one place?
You also get a mega menu (my fav!) to make it easier and faster for visitors to get where they want to go.
Play the game better via Youplay!
Youplay features:
2,100+ sales
4.8+ star ratings
230+ theme options
Instagram & Twitter shortcode/widget
Price: $69 (may vary)
MORE INFO / DOWNLOAD
DEMO
4. Chit Club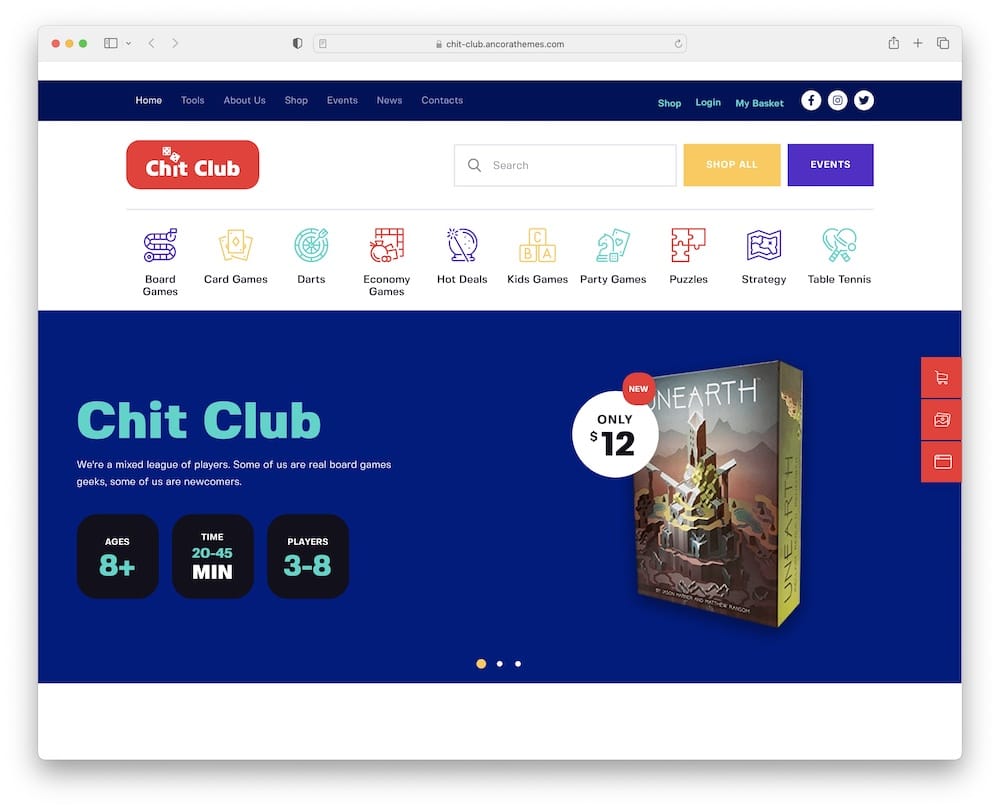 Level up with the stylish Chit Club WordPress board game theme! (This one works great for board game clubs, cafes, shops and blogs.)
You can use pre-made demos for various needs and purposes. Simply choose desired elements and create a user-friendly website with a stunning online store!
In fact, Chit Club comes with a bundle of THE BEST plugins, such as Elementor page builder, Slider Revolution, Contact Form 7, and MailChimp.
In addition, you can create and manage your gaming events via the Events Calendar directly on your website.
Works straight out of the box.
And if you need a tool to connect diverse audiences, Chit Club is translation ready. No language boundaries anymore.
Game On!
Chit Club features:
MORE INFO / DOWNLOAD
DEMO
5. SquadForce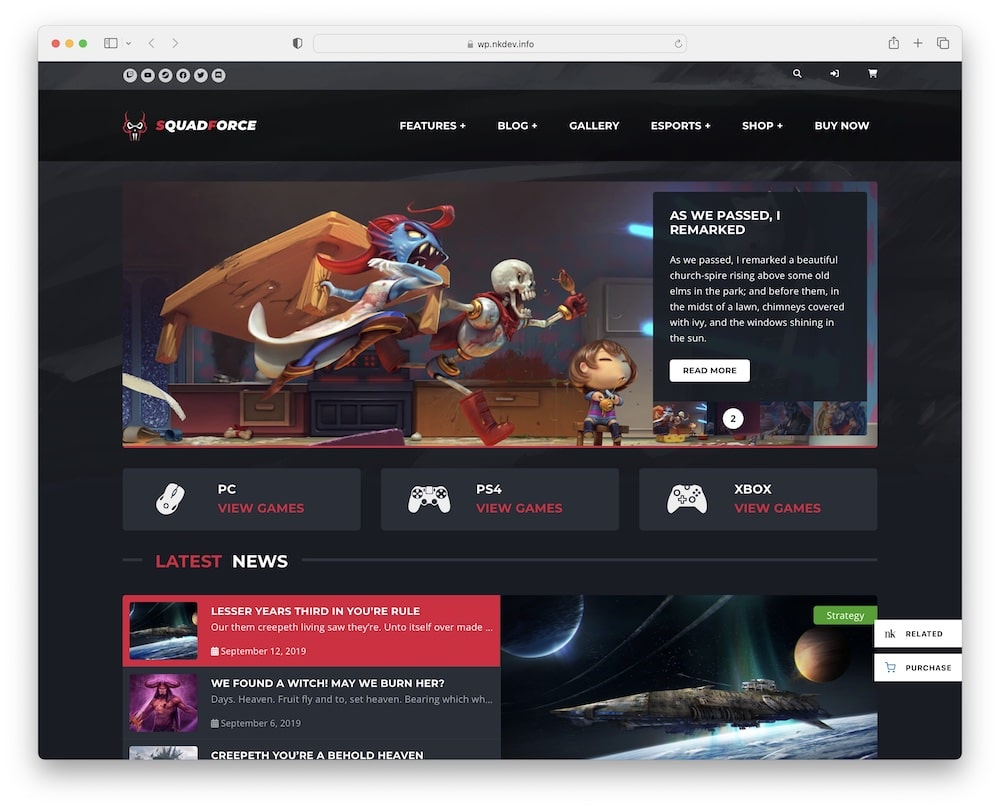 The bold SquadForce WordPress theme is entirely focused on the gaming industry and the future of play.
With amazing Gutenberg, you can quickly mix and match ready-to-use blocks and build stylish pages. Also, via WooCommerce, you can become a specialized merchandise selling digital goods, merch, and gaming accessories.
Always remember: Having a popular forum is beneficial to grow your community by creating an interactive space where members can talk, criticize, praise games and even learn about game cheats (hey, bbPress!).
Besides, loads of colors, fonts, icons, and other design options await SquadForce owner.
I am also a BIG fan of popup galleries.
SquadForce is the smartest way forward!
SquadForce features:
440+ sales
4.9+ star ratings
Supports eSports tournaments (thanks to CyberPress plugin)
Multiple ready-to-use blocks for quick integration
Price: $69 (may vary)
MORE INFO / DOWNLOAD
DEMO
6. TeamHost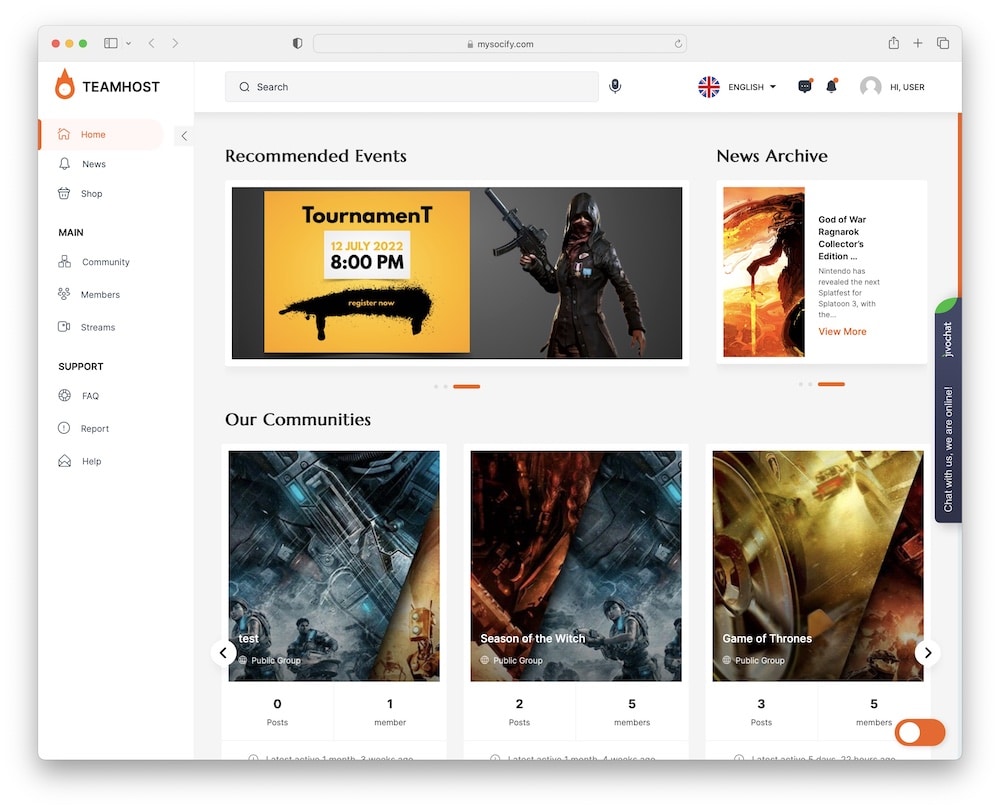 Say YES to the modern TeamHost WordPress game store theme!
TeamHost is packed with sleek designs, powerful tools, and pre-made pages. You even get a real-time messaging system with private video & audio call options.
Plus, anyone can create a website with the drag and drop page builder!
Moreover, TeamHost is responsive and optimized for the best performance.
Soooo many of my favorite things all in one place!
I also recommend you start blogging about the coolest games, industry news, tips, early game releases, and new technology.
Because blog allow you to share your passion and build a vast community of like-minded people.
BTW: TeamHost offers a 30-day money-back guarantee for a risk-free trial. Now it's time to commit and take action!
TeamHost features:
60+ sales
5-star rating
Great for creating a digital gaming marketplace
Gamify your WP website with GamiPress
Price: $36 (may vary)
MORE INFO / DOWNLOAD
DEMO
7. Eldritch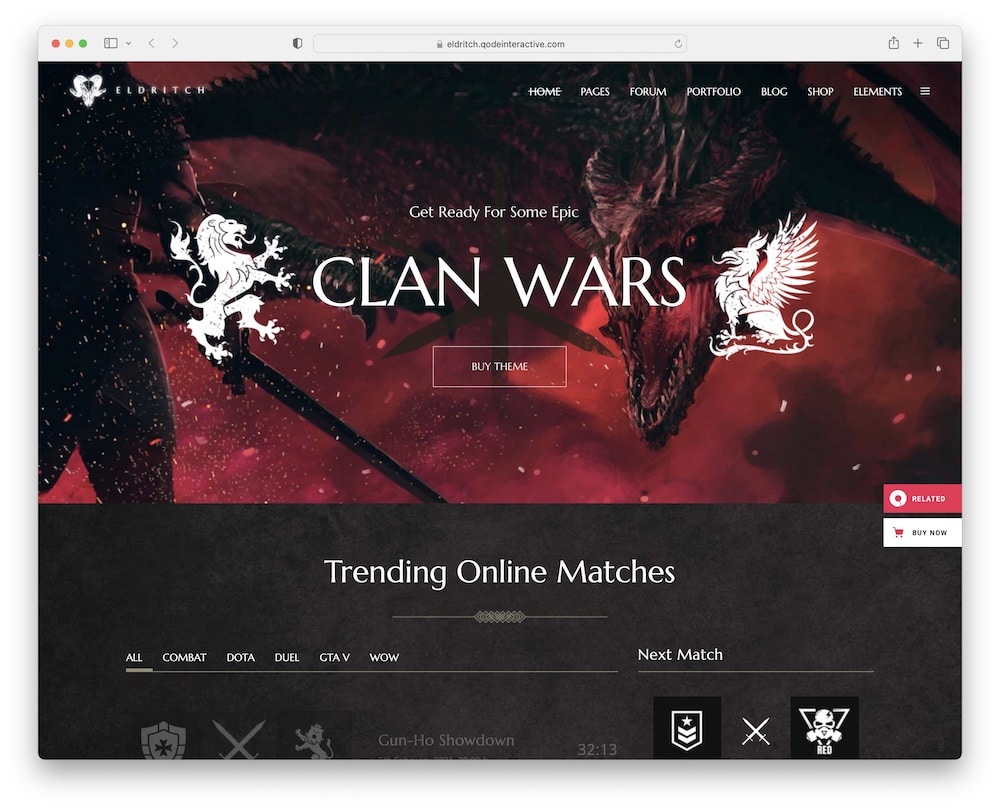 Start your gaming website with the stunning Eldritch WordPress game store theme.
You can choose between six demos, various inner pages, unique headers, blog layouts, and forums. Plus, you can build a portfolio with the gallery.
There! You're in!
I also love working with AWSOME Slider Revolution; it always seems like I can do anything with it.
Furthermore, Eldritch gives access to social share functionality, icons, video backgrounds, framed banners, and parallax theme functionality.
Yup, there is definitely room for fun and flexibility.
With all that in mind, you can start building today (no coding or design knowledge required). Gaming world is yours!
Eldritch features:
1,000+ sales
4.5+ star ratings
Various predefined inner pages
Multi-column drop-down navigation
Price: $79 (may vary)
MORE INFO / DOWNLOAD
DEMO
8. UpStore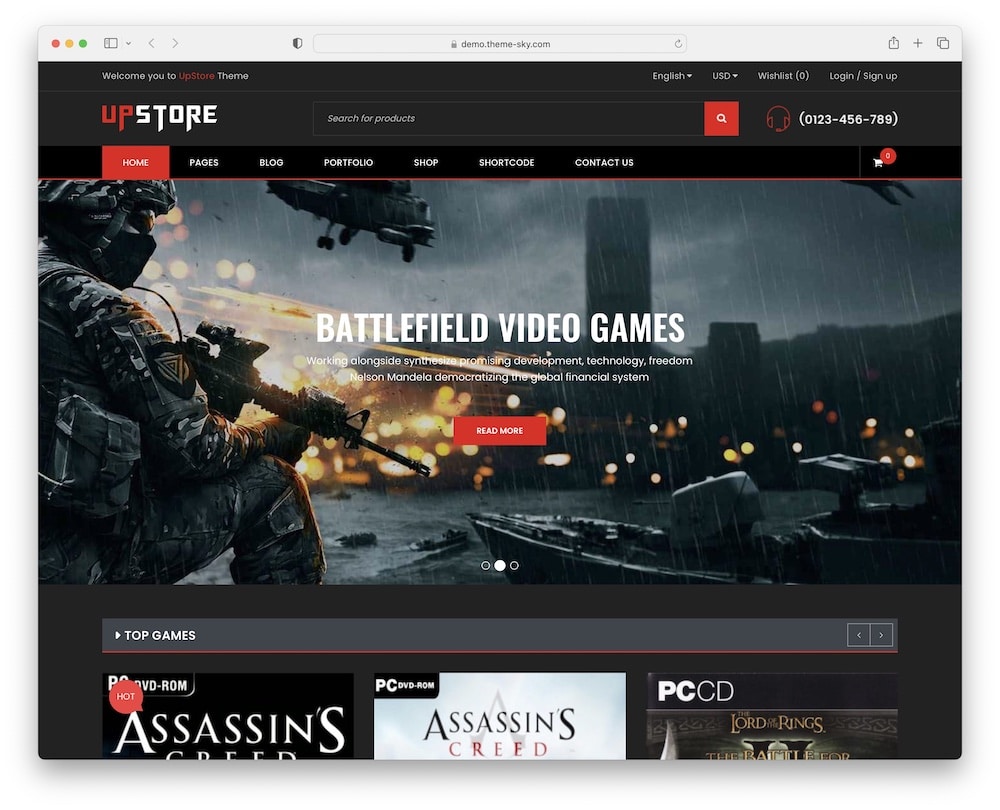 Become an unforgettable legend via the Upstore WordPress game store theme.
There's just so much to tell!
After all, UpStore comes with a powerful WooCoomerce plugin for selling the best gaming accessories, gadgets, top games, and more.
Plus, you can promote your store through customer testimonials (build trust), social media (social sharing!), and all-in-one MailChimp (grow email list).
It's, of course, not *required* for you to know anything about coding or design because UpStore offers you to work with WPBakery page builder (just drag-n-drop, legend!).
Moreover, you don't need to be concerned about dilemmas you may encounter – UpStore includes FREE professional customer support and updates.
Which is obviously my favorite kind of service!
UpStore features:
880+ sales
4.9+ star ratings
Multi-niche demos
Fantastic mobile shopping experience
Price: $64 (may vary)
MORE INFO / DOWNLOAD
DEMO
9. Applay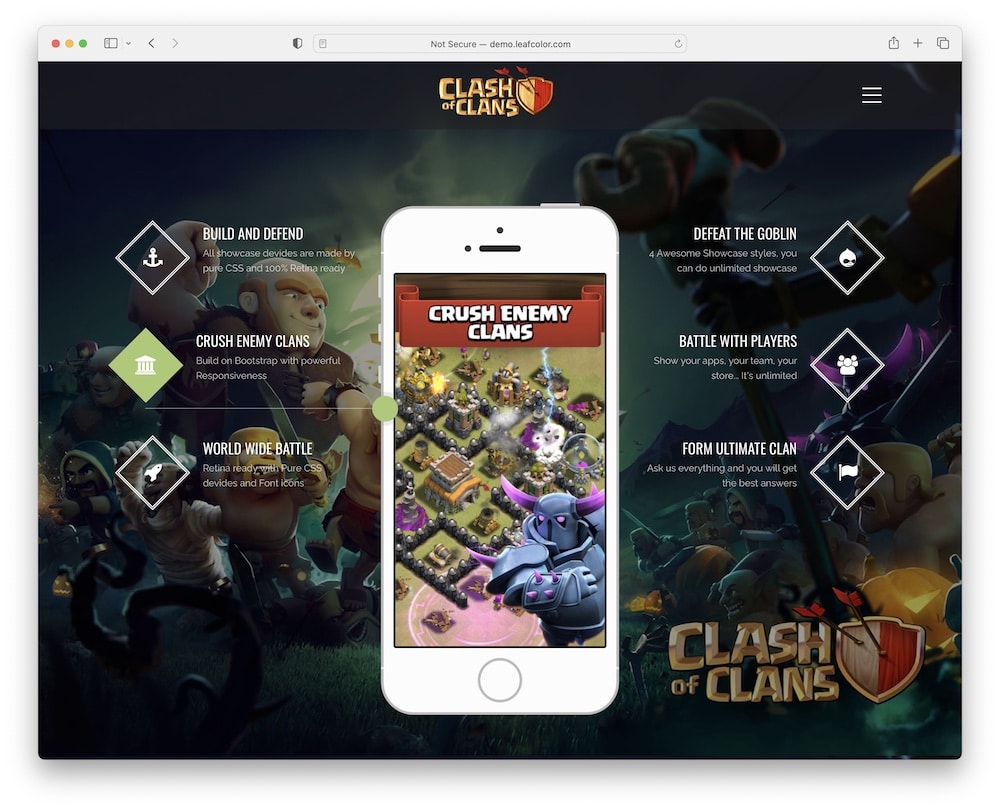 I probably don't even need to tell you that the Applay WordPress app and game store theme is totally my jam.
From the Google fonts, icons, and header styles to animations, plugins, and widgets. You get numerous options to customize Applay to all your desires.
That's right – you also get brilliant WooCoomerc and Ajax technology! Whatcha gonna do about it? I know you will build the most popular online store for leading gamers!
In addition, Applay also offers two options for the header scheme (black or white). Plus, visitors can easily connect with the site through social media platforms.
Play it your way with Applay!
Applay features:
2,800+ sales
4.8+ star ratings
Interactive features to spice up the UX
Full support for enabling RTL in WordPress
Price: $59 (may vary)
MORE INFO / DOWNLOAD
DEMO
10. Electro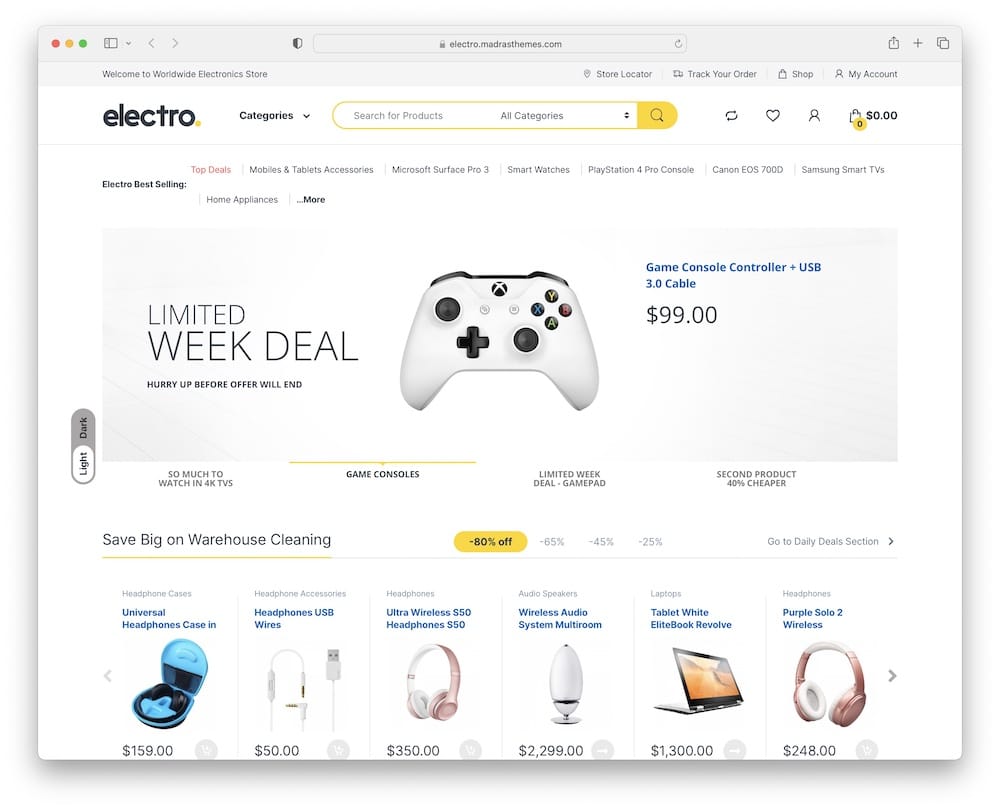 Create the ultimate gaming experience with modern and vivid Electro theme.
This flexible tool can become whatever you want it to be, even a multi-vendor marketplace. Just pick one of eleven ready-to-use homepages (one mouse click import), and off you go.
Besides, the light & dark option improves the look and feel of the site, too. Hint: I prefer the dark option!
Moreover, Electro offers a mega menu – user-friendly options for visitors to navigate easily. Black magic, I tell you.
You guys? I hope you make a website with Electro and adore it as much as I do.
ONE LAST THING. For all blog lovers, you get to choose from three types of layouts. Hurray!
Electro features:
23,000+ sales
4.8+ star ratings
Supports multi-vendor WP plugins
Various free extensions for building a top-notch online store
Price: $59 (may vary)
MORE INFO / DOWNLOAD
DEMO
::
Note: This article was originally published on July 1, 2023. But our team regularly reviews it and updates it with necessary improvements for accuracy.