Are you ready to learn how to add videos in WordPress to boost engagement, increase on-page time, and improve user experience on your site?
Look no further!
This comprehensive guide will explore four practical ways to add videos in WordPress, ensuring your content remains engaging, interactive, and visually appealing.
And NOT slow down your site!
This post covers:
Whether you're a beginner or a seasoned pro, my guide will provide you with the knowledge and tools to incorporate videos into your WordPress site seamlessly.
So, let's dive in!
Benefits Of Adding Videos To Your Site
In today's digital landscape, videos are a POWERFUL tool for engaging with your audience and conveying information.
Videos can capture attention, evoke emotions, and provide visual storytelling that can be more memorable and impactful than text or images alone.
Videos on your WordPress website can enhance the visitor experience, drive engagement, and increase conversions.
There are several benefits of adding videos to your WordPress website, including:
Increased engagement: Videos can capture and hold your audience's attention, increasing their time on your site and the likelihood that they will explore other content.
Improved credibility: High-quality, informative videos can help establish your brand as an authority in your niche, building trust with your audience.
Boosted SEO performance: Video content can improve your website's rankings, as search engines often prioritize websites with multimedia content.
Enhanced social sharing: Videos are highly shareable on social media platforms, thus increasing your website's exposure and driving more traffic.
Why You Shouldn't Upload Videos (Embed Them Instead!)
While uploading videos directly to your WordPress website may seem convenient, it is generally NOT recommended.
Uploading videos can consume valuable server resources and SLOW down your site, negatively affecting user experience and SEO performance.
It's better to embed videos from popular platforms like YouTube and Vimeo.
WordPress supports a wide range of video platforms and simplifies the embedding process. (No coding is necessary – just copy and paste.)
Preparing Your Video Content For WordPress
Before you add videos to WordPress, preparing your video content properly is essential:
Optimizing video files: Ensure your videos are in a web-friendly format (e.g., MP4) and compressed to reduce file size without sacrificing quality.
Creating video thumbnails: Design eye-catching custom thumbnails to entice users to click and watch your video. Otherwise, the thumbnail will be randomly generated from the video.
Adding captions: Provide captions or subtitles for your video to improve accessibility and cater to a broader audience.
You can use professional tools like Adobe Premiere PRO or online tools like Clideo to compress your video clip.
4 Ways To Add Videos To Your WordPress Pages And Posts
Now that you know the importance of adding videos to your WordPress website, let's dive into the different ways to add videos in WordPress like a pro.
1. Copy And Paste The Video URL Directly Into Your Page Or Post
The fastest way to add a video is to copy-paste it into your content.
You can right-click on the video and select "Copy video URL at the current time." This will let you paste the timestamped URL anywhere.
Otherwise, find and select the Share button below the video player window.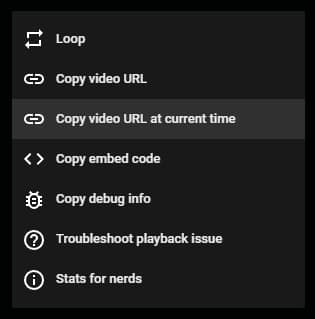 After you paste the URL from Youtube, Vimeo, or some other video-sharing platform to your WordPress content, it will automatically turn into a video.
It won't look very fancy as the video player is copied from the platform, but it gets the job done.
Note: If using the text editor, the video won't appear – you need to switch to the visual editor if still using WordPress's classic editor.
2. Add Video Via Gutenberg Video Blocks
Another way to add videos in WordPress is by using the Gutenberg editor's video blocks.
With this method, embedding videos from popular platforms is a BREEZE.
Here's how:
Go to the post or page where you want to add the video.
Click on the "+" icon to add a new block.
Select the specific video platform block (e.g., YouTube, Vimeo) in the block library.
Paste the video URL in the block settings and click "Embed."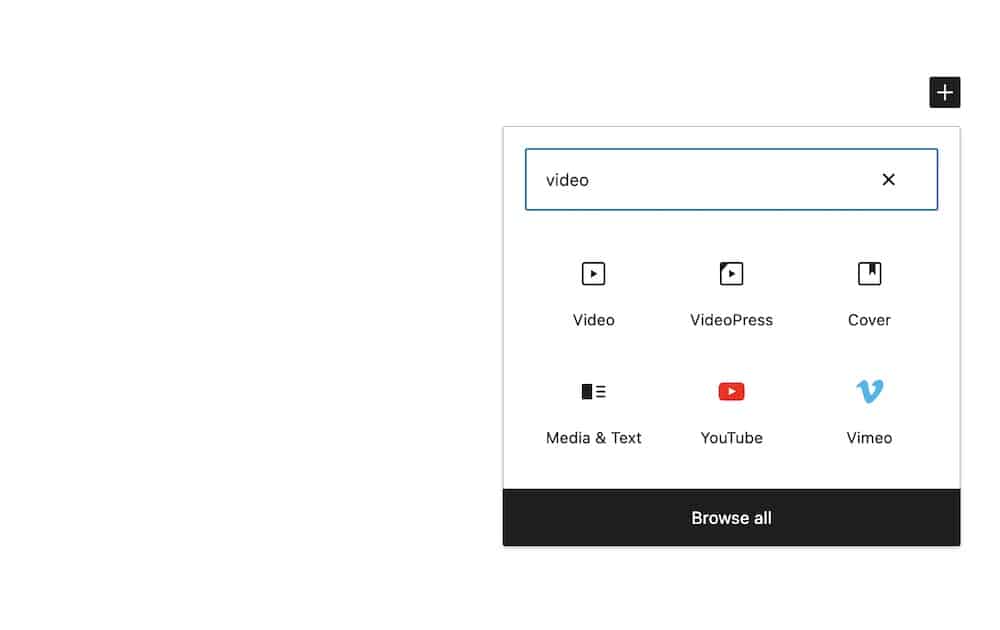 WordPress also offers an auto-embed feature for supported platforms. To use this feature, follow these steps:
Go to the post or page where you want to add the video.
Click on the "+" icon to add a new paragraph block.
Paste the video URL directly into the paragraph block.
WordPress will automatically convert the URL into an embedded video player.
Embed Videos Using The Classic Editor
If you're using the Classic Editor, the process is slightly different but still simple:
Go to the post or page where you want to add the video.
Click on the "Text" tab in the editor.
Paste the video URL on a new line and ensure that it's not hyperlinked (i.e., it should appear as plain text).
3. Use A WordPress Plugin To Display Videos
Several WordPress plugins can help you add videos to your page and provide advanced features and functionality.
1. Presto Player


Presto Player is a powerful video player plugin that offers fast performance, secure video hosting, and a variety of marketing features.
It supports YouTube, Vimeo, and self-hosted videos and includes lazy loading, playback speed control, and seamless integration with popular LMS WP plugins.
You can also enable lazy loading to improve page speed and SEO. (You may also be interested in reading my guide on how to choose a fast WordPress theme.)
MORE INFO / DOWNLOAD
2. ARVE (Advanced Responsive Video Embedder)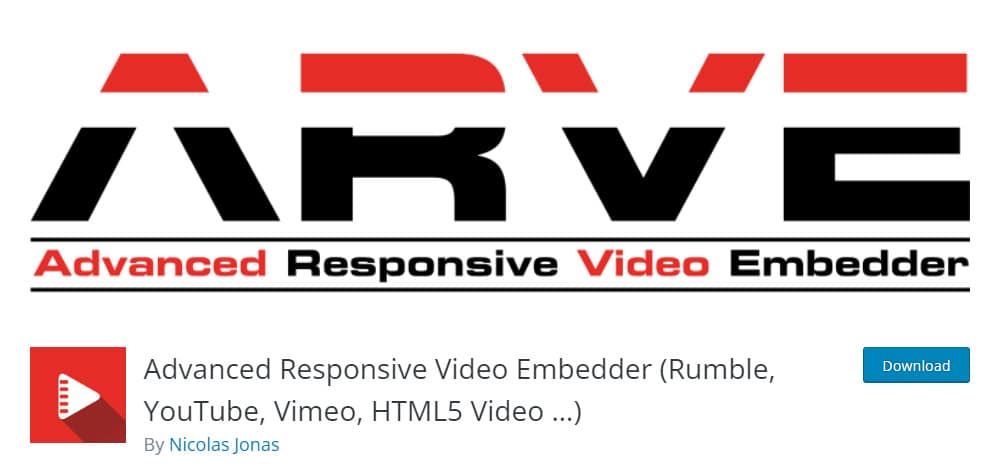 ARVE is a popular plugin that allows you to embed videos from various platforms, including YouTube, Vimeo, TED, and Twitch.
It ensures your videos are responsive and includes SEO-friendly features like adding title descriptions and upload dates.
You can add title descriptions and upload dates to your videos, which can significantly improve the visibility in search engines.
MORE INFO / DOWNLOAD
3. Video Gallery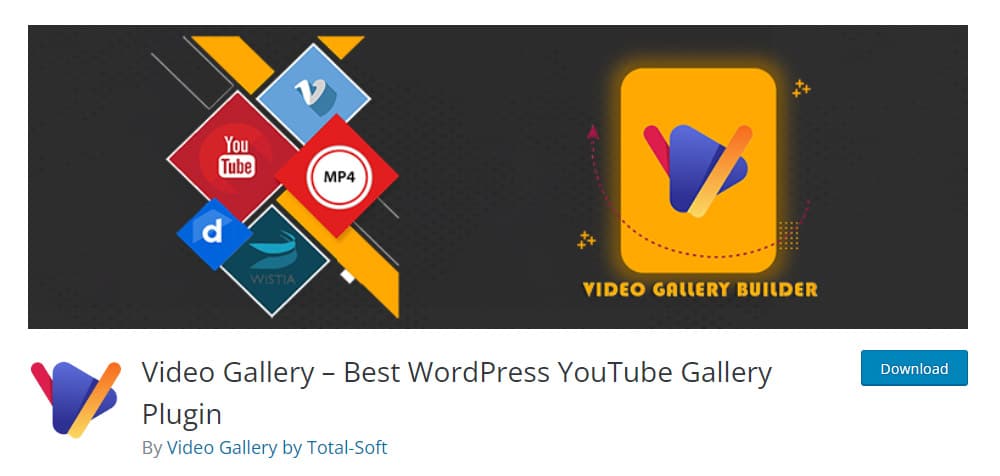 Video Gallery is a user-friendly plugin for creating beautiful video galleries by embedding YouTube, Vimeo, and Wistia videos. It offers customizable layouts, hover effects, and lightbox functionality in WP.
The latter is only available in the PRO version, which costs $19.99 for a single license and $59.99 for an unlimited license.
MORE INFO / DOWNLOAD
If you use a plugin, I also create a step-by-step tutorial on how to install a WordPress plugin.
4. Add Video In Sidebar Widget Area
Videos in a widget area (sidebar or footer) can enhance the design of your website. They can also help you promote your latest products or services.
To add a video to your WordPress website's sidebar widget area, follow these steps:
Navigate to "Appearance" > "Widgets" in the WordPress admin dashboard.
Locate the "Text" or "Custom HTML" widget and drag it to the desired widget area.
Paste the video embed code or URL into the widget content and click "Save."
Please note that some themes have custom WP widgets specifically designed to display videos. In that case, using the custom video widget is recommended.
5. Bonus: How To Upload Video To The WordPress Media Library
While not recommended for performance reasons, you can upload videos to your WordPress Media Library by following these steps:
Navigate to "Media" > "Add New" in the WordPress admin dashboard.
Click "Select Files" or drag and drop your video file into the uploader.
That's it!
I advise against this method for several reasons:
Server Bandwidth: Uploading videos directly to your site can consume a significant portion of your server's bandwidth, potentially slowing down your site and negatively impacting user experience.
File Size Limits: Video files are often large, and most servers have a file size limit for uploads. Uploading too many large video files can quickly exhaust your storage limit.
Slow Loading and Freezing Video: Limited bandwidth and server performance can lead to slow loading times and freezing videos, frustrating your audience.
Varying Video Quality Across Devices: Videos uploaded directly to WordPress may not be responsive, meaning you'll need to create lower-resolution versions for smaller screens and devices.
Platforms That Support WordPress's Auto-Embed Feature
WordPress supports auto-embedding videos from various platforms, including YouTube, Vimeo, Dailymotion, Facebook, Instagram, Twitter, SoundCloud, and more.
A few extra well-known platforms include:
Flickr
Imgur
Spotify
TED
Tumblr
VideoPress
WordPress.tv
Amazon
Animoto
Cloudup
Issuu
Kickstarter
Meetup.com
Mixcloud
Reddit
Scribd
For a full list of supported platforms, visit the WordPress Embeds documentation.
Adding WordPress Videos FAQs
Here are a few common questions people have about adding videos in WordPress.
Can I Embed MP4 In WordPress?
Yes, you can embed MP4 videos in WordPress using the Video block in the Gutenberg editor or by pasting the video URL directly into your page or post. However, it is essential to consider the potential performance issues associated with uploading large video files directly to your site.
Can I Embed Video For Free In WordPress?
Yes, of course. You can add any video that is free to use. If a particular video is protected (with copyright or a paid membership), you can't use it. But that is unrelated to the WordPress platform, which doesn't charge you anything for embedding videos into your content.
How Do I Create A Video Post In WordPress?
Any post that has videos embedded is a video post. But some WordPress themes will have a specific design for posts with video content. If that is the case, change the post format from Standard to Video (this setting can be found in the right column).
If the theme doesn't support customized video posts, try the Essential Grid plugin. With it, you can create any gallery design you envision – whether a WordPress video gallery, WordPress photo gallery, or even an audio gallery.
In conclusion, creating a video post in WordPress is a straightforward process that can significantly enhance your website's engagement level and overall user experience.
Why Is My Video Not Showing?
Ensure the video URL or embed code is entered correctly, and the video is set to public or unlisted on the hosting platform.
Also, make sure the video you are trying to use is not copyright protected and is free to use.
Why Is My Video Not Responsive?
Use a responsive video player or implement proper CSS (this can be very technical, so try to avoid it if possible) to ensure your videos scale appropriately on different devices and screen sizes.
You shouldn't have these issues if you use a WordPress plugin to embed videos. (But the auto-embed method should create responsive videos, too.)
Can I Host My Videos On WordPress?
Yes, you can host your videos on your website, but as I already mentioned earlier, it's not a recommended method.
Instead, uploading your videos to a video hosting platform (e.g., YouTube, Vimeo) and embedding the video on your WordPress website is much better and can save you a lot of hassle.
How Can I Optimize Videos For SEO?
To ensure your video content is optimized for SEO, follow these best practices:
Create enticing titles: Craft engaging and informative video titles with relevant keywords.
Write compelling video descriptions: Provide a detailed description of your video content, including relevant keywords and links to related content on your site.
Use video schema markup: Implement structured data markup for your videos to help search engines understand and index your content more effectively.
Submit a video sitemap: Create and submit a video sitemap to search engines to improve the discoverability of your video content.
How Can I Enhance User Experience For My Videos?
To provide the best user experience when adding videos to your WordPress website, consider these tips:
Choose the right video player: Select a video player that is responsive, customizable, and compatible with various devices and browsers.
Optimize video loading times: Compress and optimize your video files to reduce loading times and improve site performance (Youtube and Vimeo have that by default).
Enable video lazy loading: Implement lazy loading for your videos to load them only when they become visible on the user's screen (very important if you self-host your videos).
Provide video controls: Ensure users can access video controls, such as play, pause, and volume adjustments.
Conclusion: Embed Your Videos To WP Today
In conclusion, adding videos to your WordPress website can significantly ENHANCE user experience and engagement.
You can unlock the power of multimedia and add videos in WordPress like a pro by following the steps and best practices I outlined in this article.
Start embedding videos into your website today and watch your audience engagement and conversions soar.
To measure the performance of your video content, consider using analytics tools like Google Analytics or video hosting platform-specific analytics (e.g., YouTube Analytics).
These tools can provide VALUABLE insights into video views, watch time, audience demographics, and more, helping you optimize your video strategy for maximum impact.