Many asked us if WooCommerce is good for dropshipping after chatting about online business models with many users and friends.
Our quick answer would be: Yes.
This post covers:
In fact, ABSOLUTELY!
Why Is WooCommerce Best For Dropshipping?
People often compare WooCommerce with Shopify.
Sure, Shopify is a great platform for creating an eCommerce store.
BUT!
WooCommerce is an open-source and highly flexible eCommerce platform to have much better control.
So it is preferred by many businesses.
We highly recommend it.
We don't say it for namesake but backed with real data.
Built with data shows that WooCommerce has 29% distribution in the top 1 million websites.
It shows why WooCommerce is one of THE BEST platforms for dropshipping.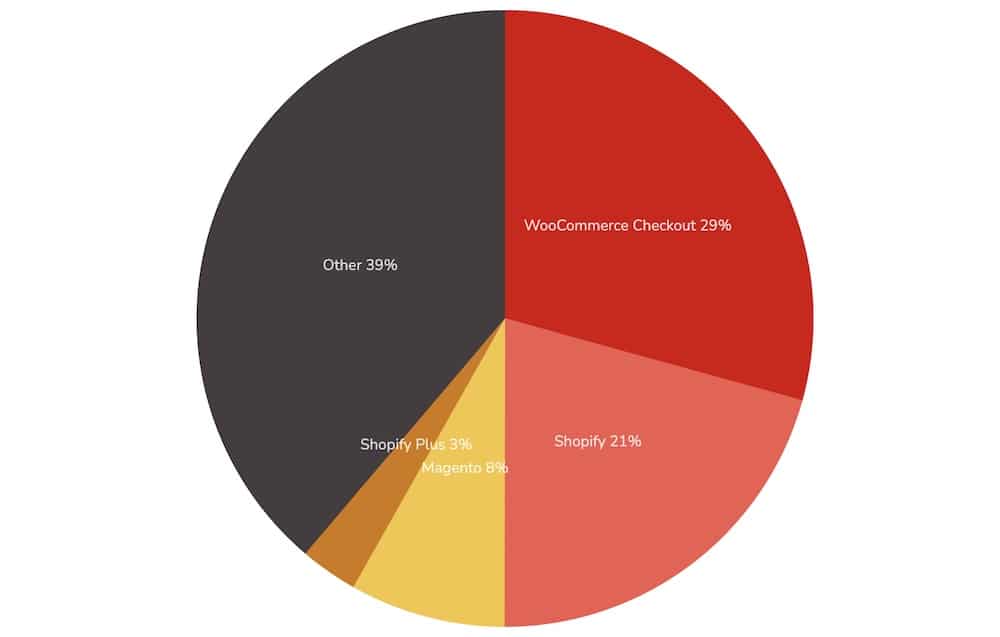 WooCommerce tops it with a chart, followed by Shopify, which has a 19% eCommerce distribution.
Note: Don't miss checking our best Shopify themes.
Benefits of Dropshipping Business With WooCommerce
Simple to get started with an easy process and seamless management of warehouse and shipping.
Eliminates most of your initial cost of creating a perfect eCommerce site.
Easily manageable by a couple of people. Many even do it solo!
Completely flexible in expanding the store or changing the products accordingly.
There is no restriction to your product and location. You can start and sell wherever you are, do it globally or locally.
Bonus #1: How To Start A WooCommerce Dropshipping Store
There are a FEW simple preparation steps before starting your WooCommerce dropshipping store.
It's important to find a good dropshipping product for your store. Remember, the best dropshipping product idea doesn't mean picking a popular product. But it should have good demand and be less competitive.
You can go around popular marketplaces like Amazon and Aliexpress to get an idea of what could work.
Then find the best supplier for the product. The supplier should be reliable (!). Aliexpress is a great marketplace to find perfect suppliers.
Next is creating the WooCommerce store.
The fundamental step is to get a great domain name and hosting.
After picking hosting, install WordPress (sometimes hosting can do it for you – for free).
The next step is to install a theme. Pick any WooCommerce theme to power up your site. We also have a full tutorial on how to choose a WooCommerce theme the right way.
Next, install the WooCommerce plugin, which provides all the important eCommerce functionalities for smooth operation.
To begin with, you need to install a suitable plugin to turn your site into a dropshipping store.
This is the SIMPLEST outline of creating a WooCommerce dropshipping store.
Cost Of Creating A WooCommerce Dropshipping Store
In general, both WordPress and WooCommerce are FREE and open-source.
Is WooCommerce Completely Free?
Even though WordPress and WooCommerce are free, they still provide a STRONG foundation.
However, multiple other costs are associated with running a successful eCommerce store.
But when compared to other platforms, WooCommerce has more flexibility in picking the right tools based on your budget. (The extra tools are exclusive to your preference.)
But let's roughly break things down, how much does it cost to run a WooCommerce dropshipping business:
You can get decent hosting for $100 per year.
A domain costs roughly $15 per year.
There are various free WooCommerce themes available with fantastic performance. It is optional to get a premium theme that costs around $40 to $60. (If you're serious, we recommend picking a premium theme.)
Shipping extension costs are operational costs to consider. WooCommerce has a free shipping extension that connects with USPS and DHL to print labels directly from your dashboard. It is free for flat rate shipping. But if you need custom shipping rates based on distance, zone, or weight, then you need a paid extension. This could cost around $30 based on the plugin you choose.
The next operation cost is the payment gateway. You can use the extension of the WooCommerce payment that has no setup cost or monthly fees but has small transaction charges. The Paypal extensions are also free but have transaction charges and monthly charges for credit card payments.
Other things include getting a good security plugin, cart plugins, SEO plugin, and email marketing tools that are optional.
Why Is WooCommerce Dropshipping Better Than Shopify?
It allows to sell every product without restrictions.
WooCommerce is entirely free to launch and run.
It offers maximum flexibility with a massive collection of plugins for every function you need.
More control over websites and products when compared to Shopify policy restrictions.
Bonus #2: What Is Dropshipping?
Dropshipping is an eCommerce business model where you sell products from other manufacturers or suppliers.
Dropshipping is one of the most cost-efficient methods to run an eCommerce store.
As a retail seller, you don't need to have a warehouse or inventory and don't need to manage the shipping process.
SO. GOOD.
In the traditional eCommerce method, retailers must buy stock and store it safely in the warehouse.
Once the order is placed, they need to pack and ship the product.
Managing the business involves more time, money, and multiple resources.
But dropshipping eliminates all this.
(The fact that you don't need to deal with refunds and customer support is one of our favorite dropshipping features.)
Here is a simple method of how dropshipping works.
The retailer has an agreement with the supplier or manufacturer.
Customers place orders in your store.
Order details are then sent to the supplier.
Then supplier ships the product directly to the customer.
It ELIMINATES most heavy lifting tasks like managing your products in the storehouse and properly shipping it to customers.
The supplier takes care of it. Your only focus is to drive customers to your online store.
So these things make WooCommerce the best platform for dropshipping.
What Is The Difference Between WordPress & WooCommerce?
WordPress is a content management system (CMS) that helps build amazing websites and manage your content.
WooCommerce is a WordPress plugin that incorporates the eCommerce functionalities of the WordPress website.
WooCommerce extension is packed with every feature, including a simple product page template to smart payment gateway integration.
So, WooCommerce is software that quickly helps BUILD and MANAGE a WordPress eCommerce store.
Plus, many high-quality and practical free WooCommerce plugins make this platform even better.
Initially, WordPress was not built for running an eCommerce store.
Later WooCommerce was developed to incorporate eCommerce functionalities into WordPress because the demand was so huge.
Now, WooCommerce suits advanced eCommerce functionalities and is excellent for dropshipping.
That's it!
Go and build a dropshipping business with WooCommerce now.
FAQs About Using WooCommerce For Dropshipping
What is WooCommerce dropshipping?
WooCommerce dropshipping is a method of running an eCommerce store where you sell products without holding inventory. When a customer buys a product, you purchase it from a third party who ships it directly to the customer.
How do I set up a dropshipping store with WooCommerce?
To set up a dropshipping store with WooCommerce, you'll need to install the WooCommerce plugin on your WordPress website, choose a dropshipping-friendly theme, select reliable suppliers, and use a dropshipping plugin to manage inventory and orders.
Can I automate the dropshipping process using WooCommerce?
Yes, you can automate the dropshipping process using WooCommerce by utilizing dropshipping plugins like AliDropship, Dropified, or WooCommerce Dropshipping that handle order fulfillment and inventory management automatically.
Do I need to tell my customers I am dropshipping?
It's not mandatory to inform your customers that you're dropshipping, but transparency about shipping times and your process can build trust and manage customer expectations.
What are the best dropshipping suppliers that integrate with WooCommerce?
Some popular dropshipping suppliers integrating well with WooCommerce include AliExpress, SaleHoo, Doba, and Worldwide Brands. Always choose suppliers who offer reliable integration and good product quality.
How do I handle returns and refunds in WooCommerce dropshipping?
You'll need to establish a clear returns policy that complies with your suppliers' policies. Handle refunds and returns by coordinating with your supplier to see if they accept returns and under what conditions, then process customer requests accordingly through your WooCommerce dashboard.
Is WooCommerce dropshipping profitable?
Yes, WooCommerce dropshipping can be profitable if managed correctly. Profit margins can be slim, so it's important to find niche products, maintain a good website, market effectively, and provide excellent customer service.