Sooo, do you want to learn how to change WordPress title?
Site title defines your website and is the first thing your visitors will see when they land on your page (in the browser tab).
It's IMPORTANT that users can relate the title to your content.
After you install WordPress on your website, you are prompted to set your site title.
It is then displayed in the tab of every browser for easier identification. (And in search results.)
But many don't know that it's also used in the WP backend and is sometimes used by plugins and themes.
This post covers:
Occasionally there is a need to change the site's title.
Whether you changed the nature of your business or rebranded, a new site title is the FIRST step you should take when revamping your website.
In this tutorial, I will show you how to easily change the site title (no experience is necessary).
How To Change Site Title & Tagline In WordPress
There are several methods that you can use. What's best, all of them are beginner friendly.
Method 1: Change WordPress Site Title Via Live Customizer
Since implementing the live customizer feature in WordPress 4.5, you can use this powerful front-end editor to quickly set numerous settings from the WordPress dashboard without extra plugins.
Simply head to Appearance > Customize and click on the Site Identity button.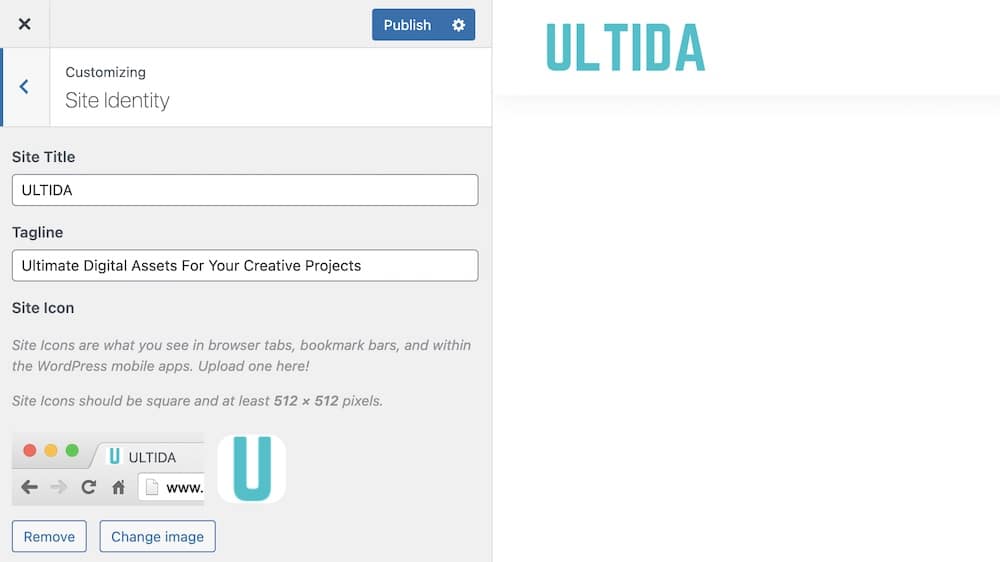 In this section, you can set both the Site Title and the Tagline.
All you have to do is change the text of both fields and click on the Publish button above.
If your theme uses the Site Title for a logo, you can preview the new title directly within the live customizer.
USUALLY, that is not the case because most themes use an image for a logo instead, but you'll be able to see your new title in the tab section of your browser.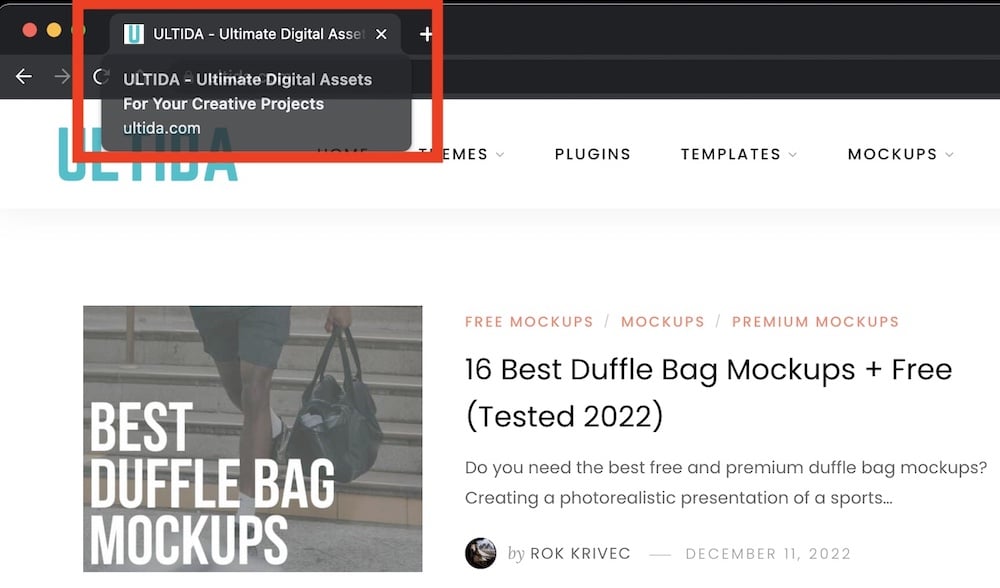 And you're done.
It's really that simple.
If you don't want to have a site title at all, leave this field EMPTY and save your settings (but I recommend adding it).
There are rare cases when the site title can interfere with the image logo you are uploading to your theme, and the only solution is to remove the site title from the customizer.
Method 2: Change WordPress Site Title Via General Settings
When the live customizer wasn't yet implemented, you needed to change the site's title and tagline in the general settings of your WP installation.
This method is still just as effortless as any other.
So if you are more used to changing parameters from the Settings tab, you can easily change or remove the title there.
Go to Settings > General and change the appropriate fields.

Click Save changes, and you are done.
A new site title appears in several areas of your website (logo if a theme uses site title, browser tab, and backend of your WordPress dashboard).
Method 3: Change WordPress Site Title With A Plugin
The site title and tagline are important when it comes to SEO.
WordPress will automatically generate the information for the search engines based on your settings.
However, you might sometimes want to change how the site title appears in search engines to improve your SEO.
This can't be done from the WordPress dashboard by default, so you must install a plugin to achieve that.
Several SEO plugins can help you with that.
I will focus on Yoast SEO because it's the plugin that we are using.
First, install and activate the WordPress plugin.
After the activation, navigate to Yoast SEO (a new label appears in the left navigation menu of your WP admin panel) > Search Appearance.
You can set how search engines interpret your site's title and tagline here.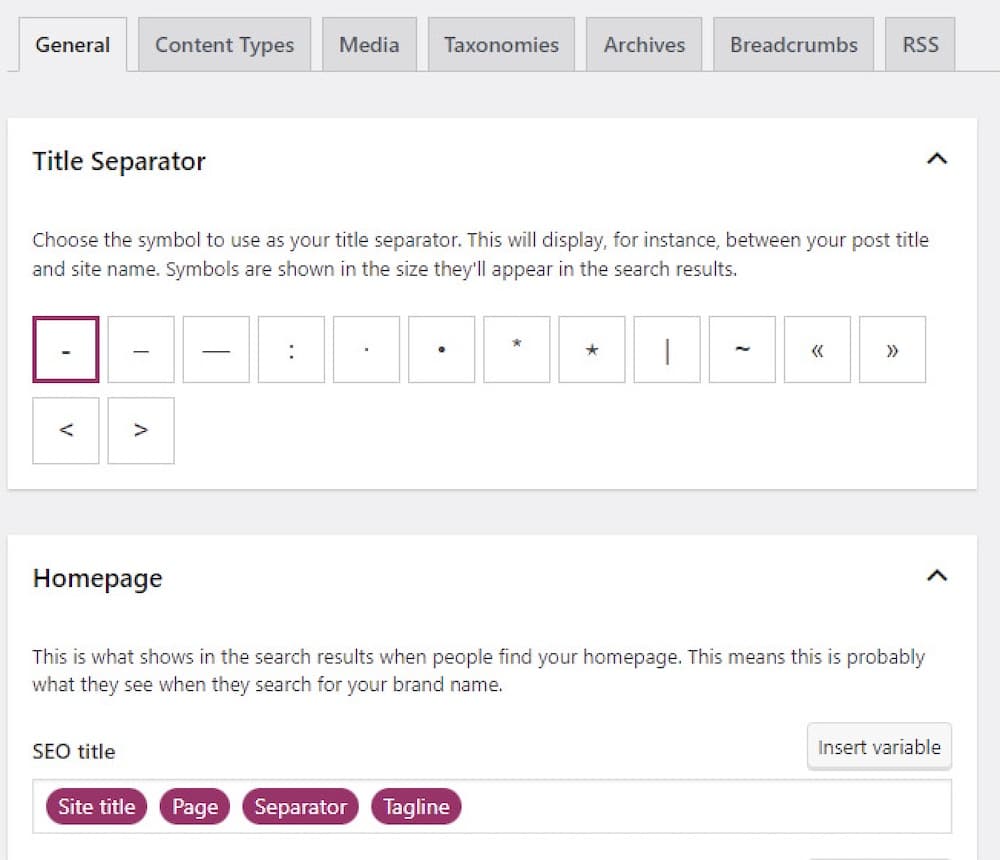 Scroll down to the Homepage & Posts Page section and click the Editing The Homepage Itself button.
The SEO Title field controls what's shown as the main title, and here you can set exactly how it appears in the search engines.
As you can see, we use several dynamic elements that combine the site title, page, and tagline, representing our website for SEO purposes.
This way, we can include all the important keywords we want to rank high for.
You can customize this freely, even with your custom text without any dynamic content, but that is not recommended.
Bonus: Why Your WordPress Site Title Is Important
Site title DEFINES the main content of your brand or blog.
It's the first thing your potential visitors notice when they scroll through the displayed results of a search query in Google.

You can see why it's so important.
You can get many more visitors to your website (you can expect an increase in click-through rate) if the title is eye-catchy.
So give this a lot of thought and create a SIMPLE yet DESCRIPTIVE slogan that you can also use in marketing.
What Is A WordPress Site Title
The definition is very simple.
It specifies to users and search engines what your brand is called and what they can expect to find on the website.
It only contains a few words that define the main purpose of your page.
What Is A WordPress Tagline
On the other hand, the WordPress tagline is a slightly longer presentation of your website.
It's a short description (usually one or two sentences) that defines the content of your page in more detail.
Some admins use the same tagline as the WordPress site title, but I RECOMMEND you give a more in-depth description of your website.
Come up with something catchy.
A good slogan can come a long way.
You can modify the WordPress title and tagline from the WordPress dashboard anytime.
When & Why Change WordPress Site Title
Many people don't really give much thought to a website's title when they install WordPress.
They just set it to something remotely related to their website and FORGET about it.
After a while, most will realize that it's an essential aspect of their website and change it to something more meaningful.
Or if you change the nature of your business, then it's only logical to change the site title and tagline too.
For the end of our tutorial, here are some suggestions to pick the best possible site title for your website:
Keep it simple. Your site title should quickly tell readers what your site is about.
Be specific (focus on the main topic of your page).
Try to create playful phrases.
Find material in quotes.
Say the phrase out loud.
::
Note: This article was originally published on December 13, 2022. But our team regularly reviews it and updates it with necessary improvements for accuracy.